Only love knows our subtle differences…
Poet Robin Coste Lewis reads the poem she wrote, inspired by Barbara Chase-Riboud's sculpture The Albino.
"People often believe that poetry is about words," says Robin Coste Lewis, the poet laureate of Los Angeles. "But what poetry really is about is the experience that it leaves inside the viewer or the reader. What happens after you hear the poem? How do you feel when you walk away? Poetry is art. It travels with the viewer through the viewer's imagination."
In that spirit, we commissioned Coste Lewis to select 11 distinguished American poets to respond to artworks from the collection featured in the Museum's new reinstallation. Coste Lewis explained, "I not only selected this distinct group of writers because they are some of the most rigorous poets working today, but because their work, like all great art, compels the reader or viewer into an experience that is ultimately ineffable. Which is to say: human."
Every week we will publish an original poem, along with audio of the poet reading the poem and a short interview about the artwork they chose. These readings will also be available in the galleries as an audio playlist, which you can find at moma.org/audio. We launch this project with Coste Lewis's own contribution, a poem inspired by Barbara Chase-Riboud's The Albino.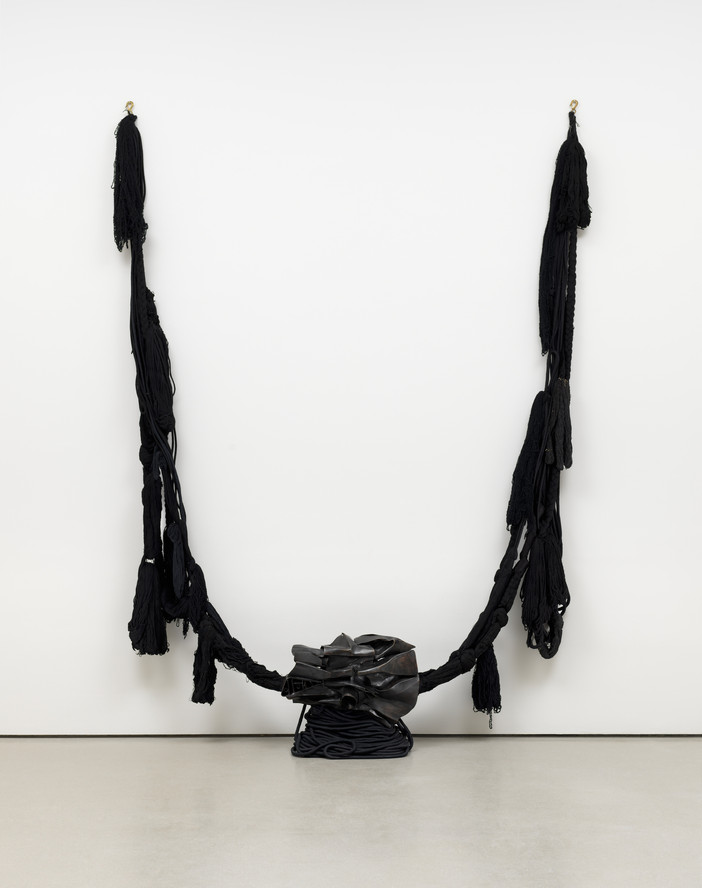 Barbara Chase-Riboud. The Albino. 1972 (reinstalled in 1994 by the artist as All That Rises Must Converge/Black)
Only love knows our subtle differences…
(after Barbara Chase-Riboud's The Albino)
Whiteness is the darkest
state around, while the black
night's a sly mask
for all our milky light
(the whole species still
at war with what we are—
so much power haunched over,
in service, to the fibrous comfort
of our lost minds). Will I ever
have another feeling again?
Yes, just say Yes!
begs the lonely World.
Why did you choose this work of art?
I chose Barbara Chase-Riboud's The Albino because it is a Conceptual piece of art. As such, it engages so many layers of history and representation, both in terms of its content and its form and material. Barbara Chase-Riboud is such an icon to Conceptual artists, and so as a poet, the piece speaks to me so deeply in terms of what art can make possible in one moment. You have this incredible form that's sitting there still, and yet it's so animated and active and so engaged with our imaginations because of the title and the color and the materials that she used. It sent my mind in thousands of directions at once.
What was your approach to writing a poem about it?
I like to write about art. I do it a great deal, but I don't want to just document in some lyrical way what an object or image is doing. That's not interesting to me because I feel the artist already did that. If I were just going to do that then I should write a critical essay about the piece. I prefer instead to sit with what the art pulls from my own history and my own psyche. A piece like this is loaded. First of all it's called The Albino, which is something we don't know nearly enough about. The so-called anomaly of albinism is fascinating by how it's shocked the colonial imagination. That white-looking bodies could come out of black bodies directly contradicts all that we told ourselves about race and science and all of that. The fact that she chooses that as a title is extraordinary, and then proceeds to create an object that is so deeply black in color is liberating, humorous, deeply philosophical, historical, and scientific all at the same time.
Robin Coste Lewis is the poet laureate of Los Angeles and a Guggenheim Fellow. Her first poetry collection, The Voyage of the Sable Venus, won the National Book Award for Poetry. In 2018, MoMA commissioned Lewis and Kevin Young to write a series of poems to accompany Robert Rauschenberg's drawings in Thirty-Four Illustrations of Dante's Inferno (MoMA, 2018). She is currently at work on two new collections, To the Realization of Perfect Helplessness and Prosthetic, both of which are forthcoming from Knopf, and she is the writer-in-residence at the University of Southern California.

Barbara Chase-Riboud's The Albino is currently on view in the fourth-floor collection galleries.