A curator shares images and memories from a recent film festival.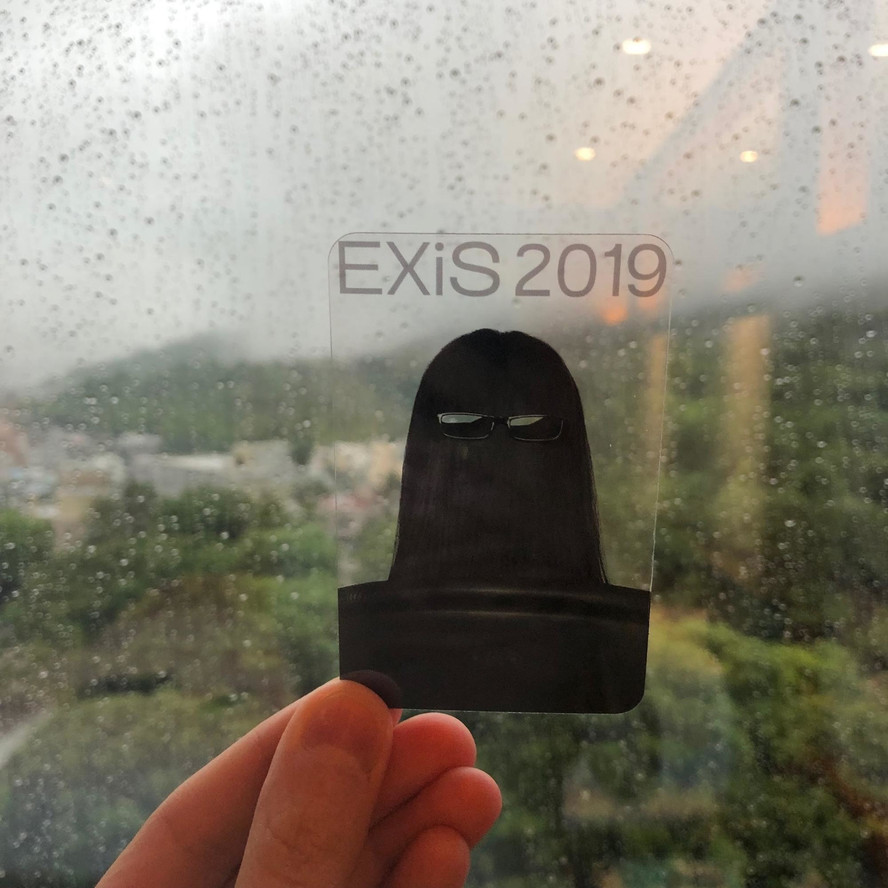 The seven curators in the Department of Film travel far and wide to different film festivals to scout new releases, present MoMA restorations to archival festivals, and spend time with artists and colleagues. I just returned from a research trip to Seoul, South Korea, built around the EXiS Experimental Film and Video Festival, an excellent, intimate gathering, now in its 16th edition, focused on artist's cinema—avant-garde and experimental films. I arrived to a visually pleasing, laminated festival pass...and jet lag. Seoul is massive but verdant: it's definitely rainy season.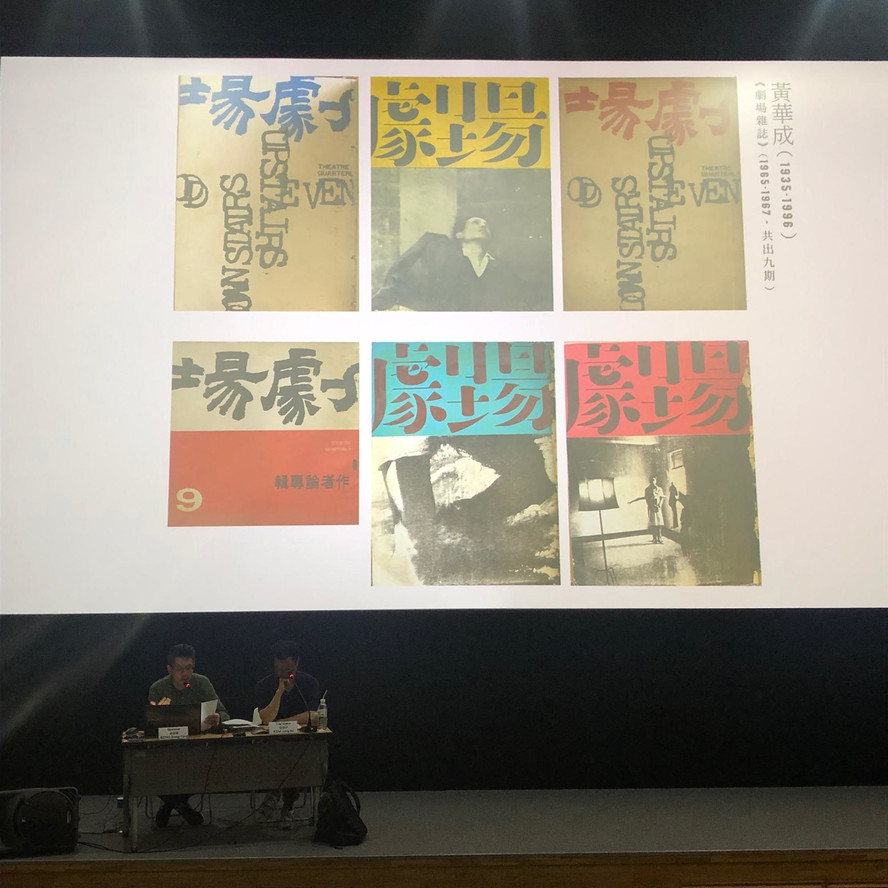 Covers from Theatre Quarterly, projected as part of the presentation "Taiwan's Film Experiments of the 1960s" at EXiS
In addition to a slate of new films from around the world, EXiS has a program of curatorial talks with speakers from throughout the region. For me, the highlight was a presentation from curators at the Tainan National University of the Arts, about Taiwanese experimental film in the 1960s and how publications facilitated the exchange of ideas between Taiwanese filmmakers and others—including some from New York's underground cinema scene. The talk was in Chinese, translated into Korean, but filmmaker Sandy Ding translated into English for a small group of us in the audience.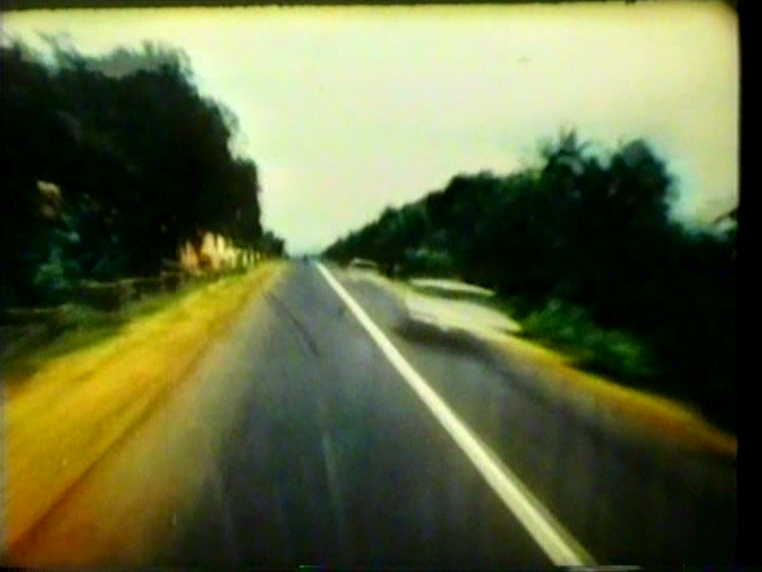 A still from Gotot Prakosa's Jalur (The Line) (1977)
The Asia Forum section also included a program of Indonesian films from the 1970s and '80s, presented by Forum Lenteng in Jakarta. My favorite might have been Jalur (The Line), from 1977. Filmmaker Gotot Prakosa recorded the drive through the Indonesian Parung Line, a disused regional roadway, by attaching a 16mm camera to the front of a bus, and accelerated the six-hour trip to a 15-minute stop-motion film that captured to the effects of government highway development in the period.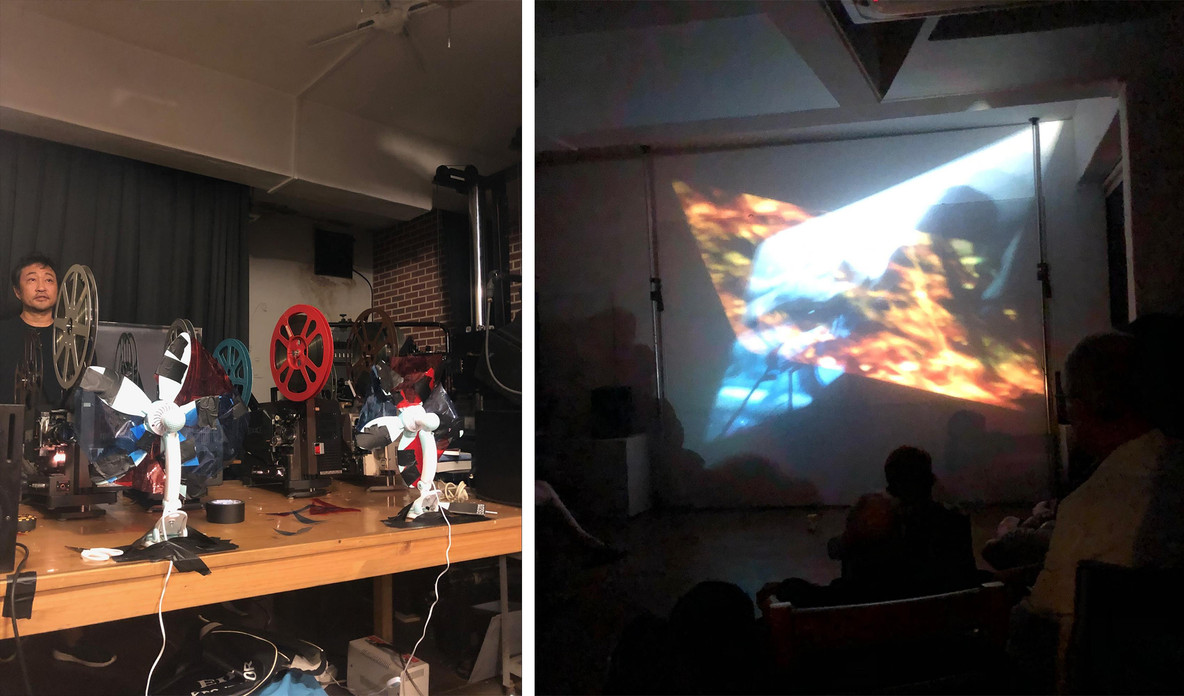 Before and during Simon Liu's multi-projection film E-Ticket (2019)
Work by Brooklyn-based filmmaker Simon Liu was part of the festival's expanded cinema offerings. His screening was all hands on deck: Filmmaker Sandy Ding and EXiS curator (and our wonderful host!) Hangjun Lee performed an electronic score to Liu's vibrant, layered, multiple-projector films. The EXiS festival director helped out with the projection. This was followed by Korean barbecue and rice wine—a perfect summer night.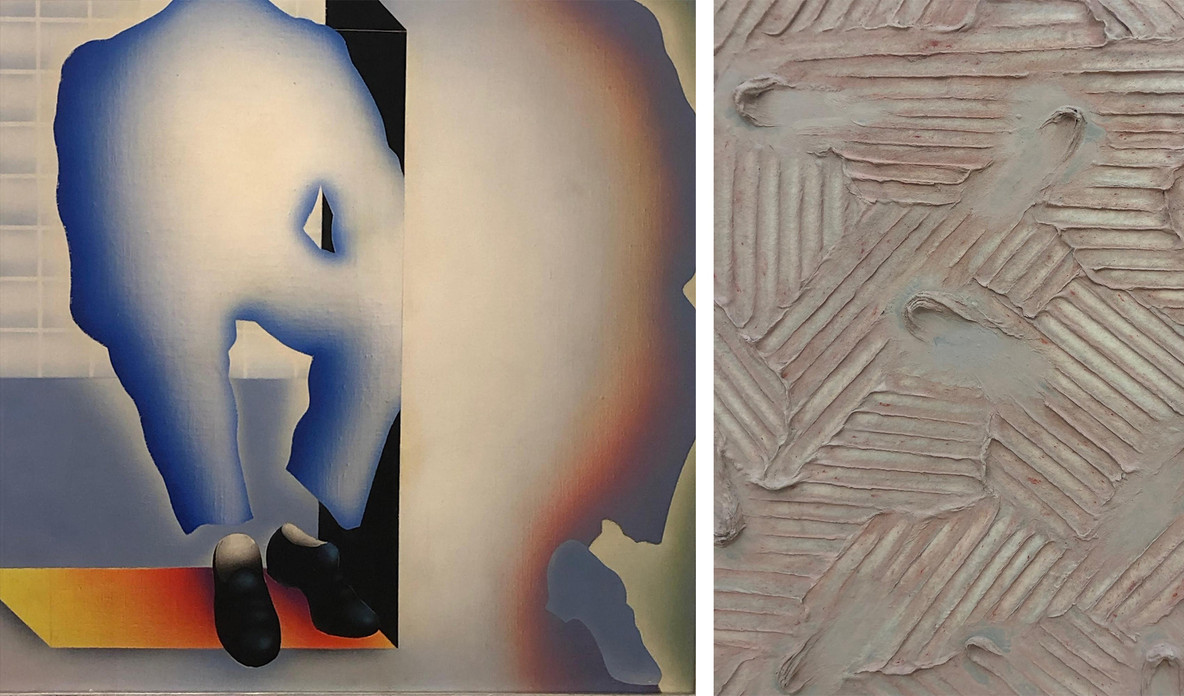 Details from Park Seo-Bo's 1960s zeitgeist-capturing Hereditarius (left) and Ecriture painting series
A few days later, I went to the National Museum of Modern and Contemporary Art (MMCA) and visited a retrospective of Park Seo-Bo, which brought together five decades of his signature monochrome paintings. Amid vast meditative canvases, which often incorporate hanji paper into their surfaces, was a wonderful surprise: a small room of colorful, figurative works that incorporated Pop and Optical art elements.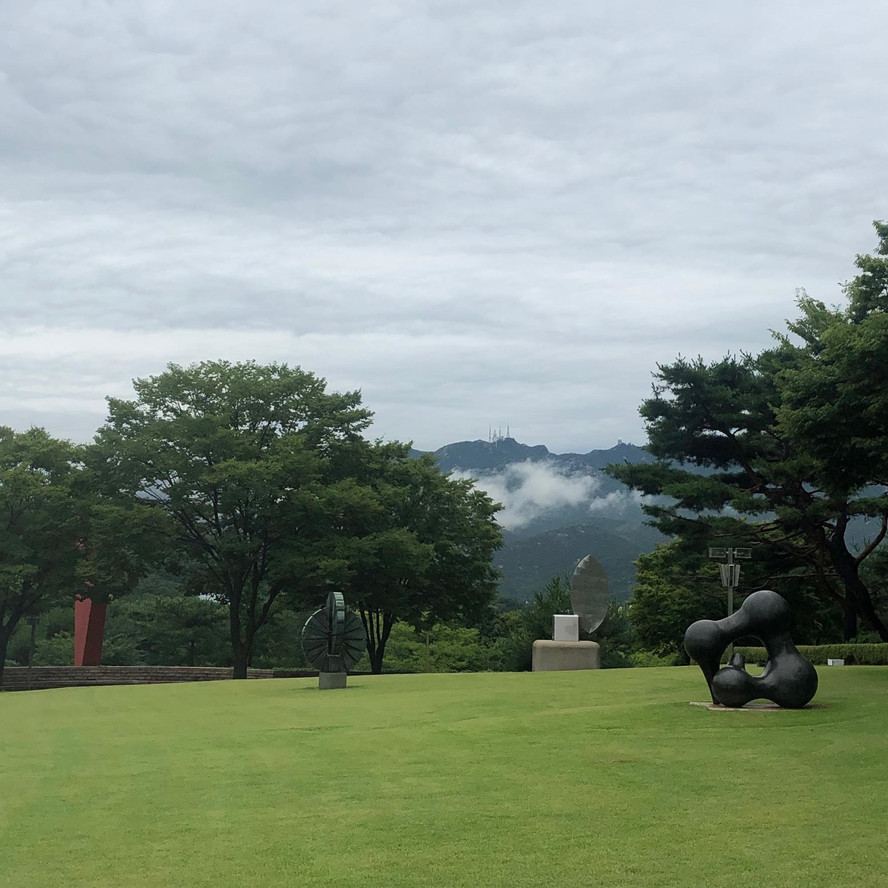 Between rain showers at MMCA Gwacheon
MMCA has several branches throughout Seoul, and later in the week I made my way to the location in Gwacheon, which was built in the mid-1980s in the south of the city as part of a huge parks complex. I met with MMCA's moving-image curators to hear about a major video art exhibition they are planning for later in the year. Before and after my meeting I marveled at the visual harmony of the outdoor sculpture installation and the green, lush surroundings.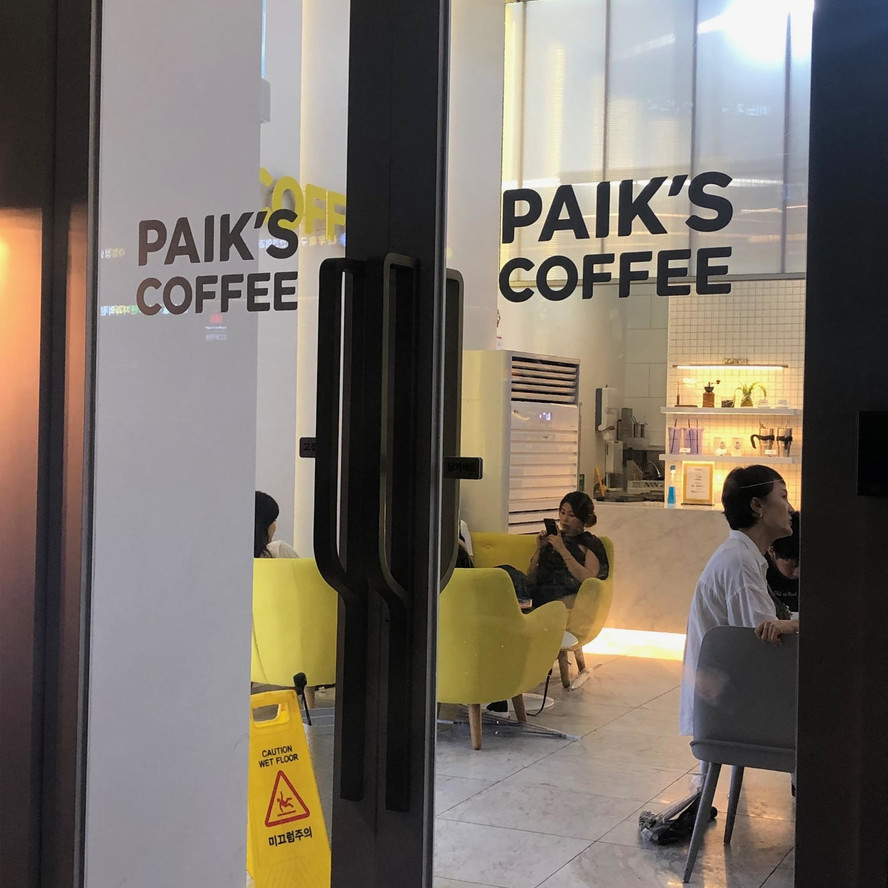 Before my meeting, I walked through MMCA's collection galleries and was delighted to discover Nam June Paik's 1965 installation Moon Is the Oldest TV, which I had never seen before: a dozen monitors displaying consecutive images of the Moon's phases. No smartphone photo can do it justice. So I took this photo instead to remind me to read up on the work and get to the Met's The Moon in the Age of Photography show when I'm back in New York.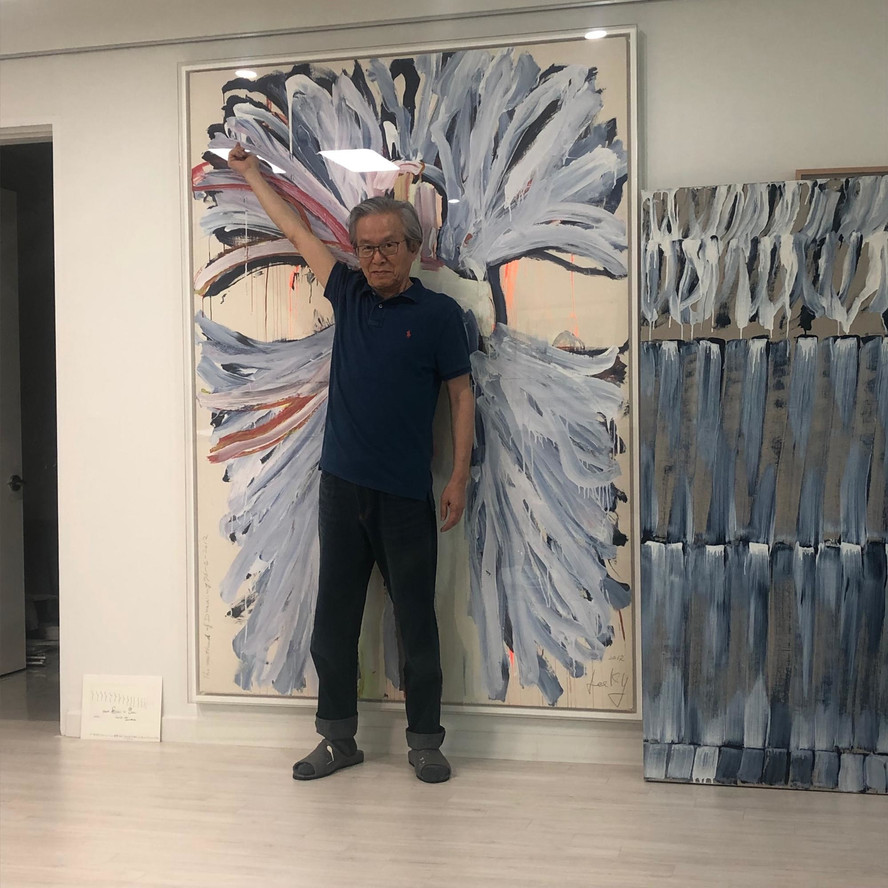 In Lee Kun-Yong's studio, as the artist demonstrates the actions that have animated his work since the 1970s
One of my first mornings in Seoul, I visited a gallery exhibition of Lee Kun-Yong's work, and a few days later I had the chance to visit the pioneering Korean artist at his home. Since the 1970s, Lee Kun-Yong had been developing the field of Korean performance art. He has infused his work with steadfast and radical gestures centered on the relationship between interior and exterior, ephemerality and the body—which he demonstrated for me! The afternoon was a highlight of my trip as the week came to a close.
Looking back, and ahead, at the alternative space POOL
On my last morning, I made my way to POOL, the oldest alternative space in Seoul—I was able to take a peek at their 20th anniversary exhibition opening that night. POOL's curator explained that Seoul's alternative scene is quite young, as such spaces couldn't exist under the military government. In 1999, POOL was born at a moment of intergenerational dialogue between the older, politically oriented Minjung artists of the 1980s and younger artists seeking new forms and platforms. Twenty years later, that history is being carried on and preserved. I thanked my host for the handsome flyers from past shows and before I knew it, I was on my way to the airport.