A photography collection specialist shares images and memories from her recent trip.
As the Photography collection specialist my primary role is caring for photographic works in the Museum's collection. However, I'm also always interested to learn how institutions and artists in varied situations and with different resources care for their collections and archives. I recently spent a week in Havana, Cuba, exploring photography collections, taking in architectural sites, and speaking with artists and curators. I had been curious about practices in Cuba because of the unique storage challenges the tropical climate presents. In an area where materials are not readily available, Cuban people have a legacy of creative and innovative strategies. Below are highlights from my trip.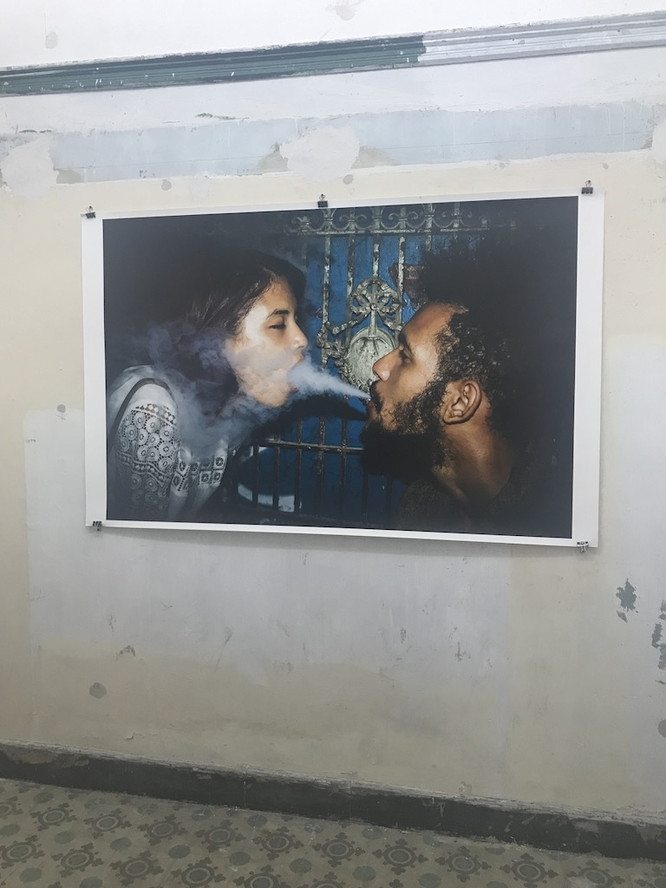 Leandro Feal's series Hotel Roma (2017), from the 2019 Havana Biennial
This image is from Leandro Feal's studio. I owe a special thanks to Feal and his partner Hera for their friendship and assistance on my trip. I accompanied Feal and his friend and fellow photographer Arien Chang as they photographed the busy streets of central Havana. Feal thanked people as they posed for him—each subject seemed proud to have captured his eye. The energy and vibrancy of the city and its citizens comes through in Feal's work. A true lover of the medium of photography, Feal commented that he was not afraid to make references to photographic history. His work speaks to other artists while still remaining his own.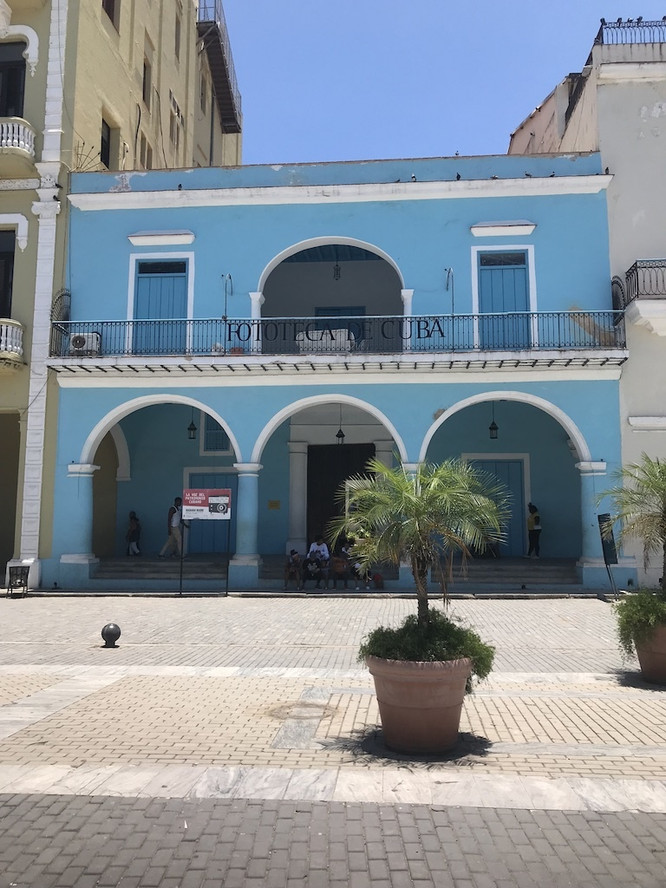 Exterior of the Fototeca de Cuba
The Fototeca is a public institution solely dedicated to photography. Their collection includes 80,000 works, ranging from early prints and negatives to photographs by contemporary Cuban artists. The Fototeca is also home to a photobook library—a resource available to the entire photographic community in Havana. Started in 2017 by the artist collective Image Threads, the library now has over 200 titles. I delivered several photography books to add to the collection, donated by the photographers Ed Grazda and David Rothenberg. You can find more information about the library and potential donations at the Image Threads website.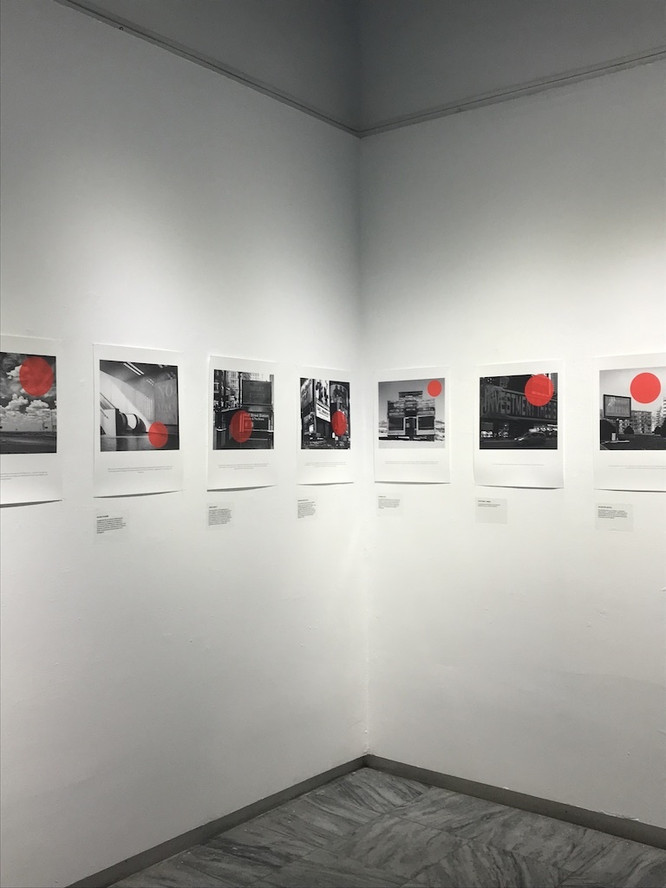 Max de Esteban's Twenty Red Lights (2017), Fototeca de Cuba
Director Nelson Ramírez de Arellano Conde gave me a tour of their collection and the current exhibition Twenty Red Lights, by Max de Esteban. Esteban, a former economist, uses his photographic project to take a critical look at capitalism and the global economy.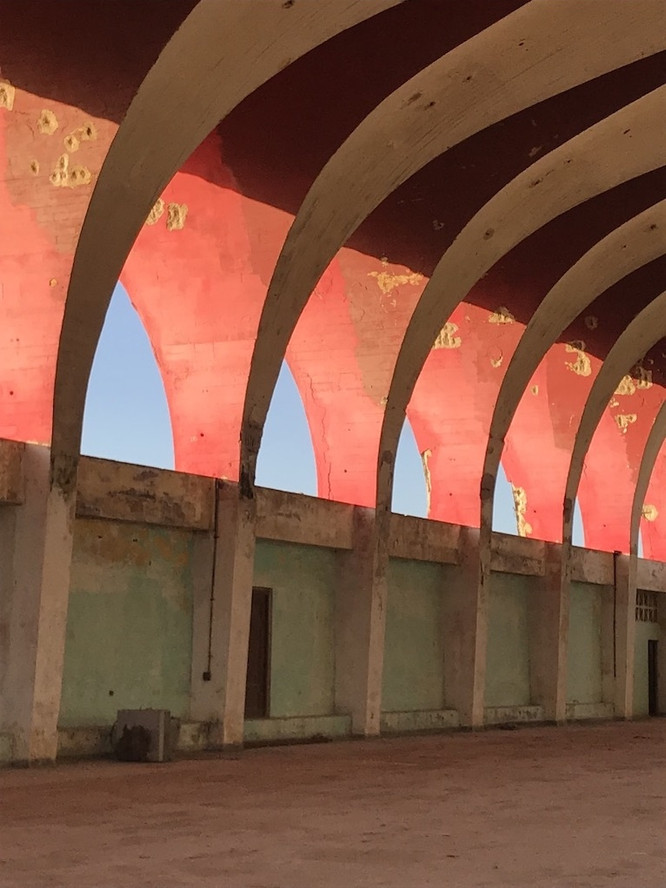 Parque José Martí Stadium grandstand, interior
Designed in 1959–60 by architect Octavio Buigas, who was selected by Fidel Castro, the grandstand at Parque José Martí Stadium features prominently in the waterfront park along the Malecón. Its unusual forms rise up from the landscape like concrete waves, mimicking the breaking waves of the Havana Harbor across the street.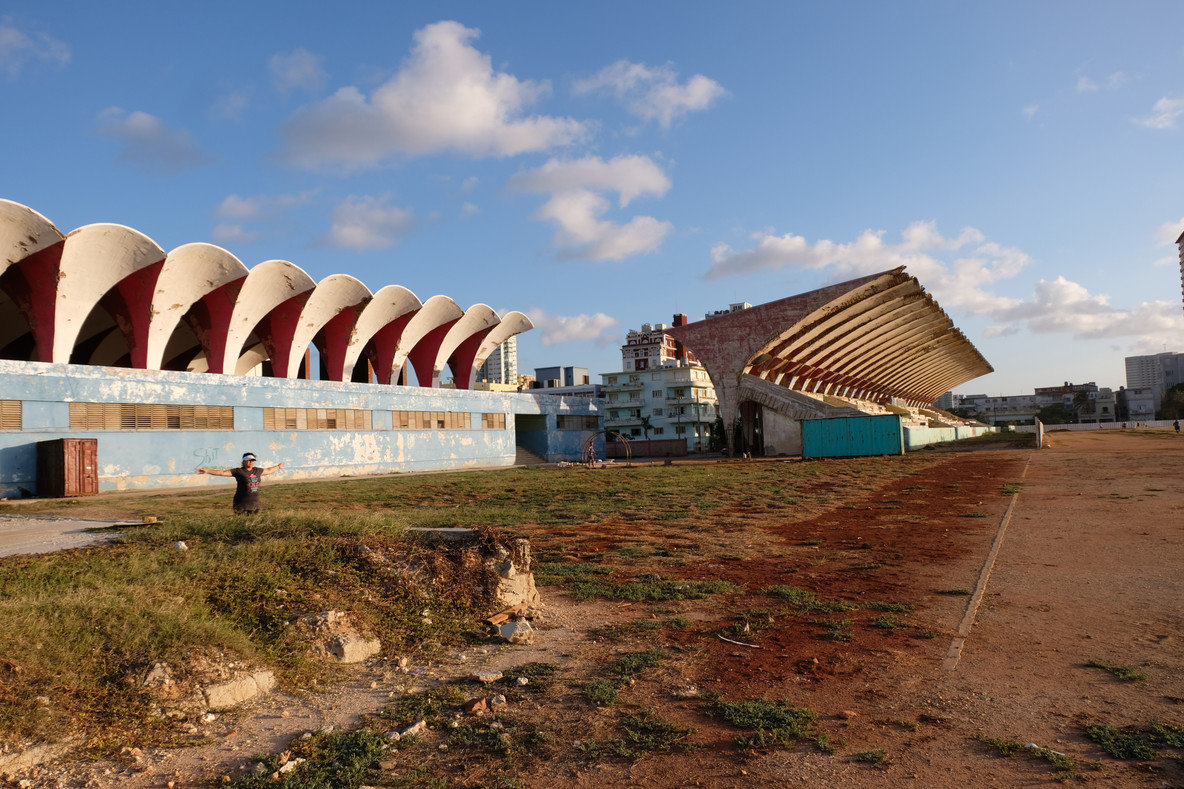 Parque José Martí Stadium grandstand, exterior
The crumbling sports complex has been weathered by sea salt and heat but is still used by Cubans for fútbol matches and daily exercise.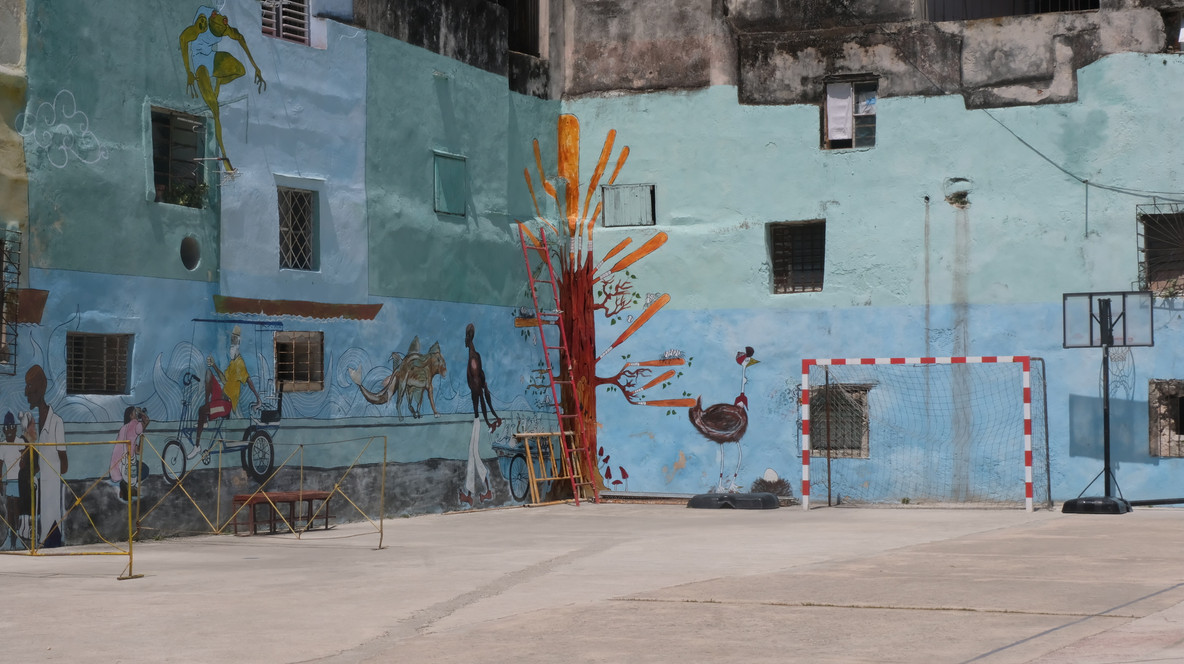 BarrioHabana Community Project
Pavel Garcia, coordinator for the BarrioHabana project, gave me a tour of several public spaces the organization has renovated for community use. The group's goals are to improve the quality of life for members of the community of all ages. They have restored neglected neighborhood spaces by installing fútbol nets, basketball courts, and brightly painted murals. Traditional symbolic Cuban imagery unfolds across the murals, such as the transformation of a cat into a fish, which represents the nightly transformation of Malecón from a bustling mainstreet to a site for gathering and celebration.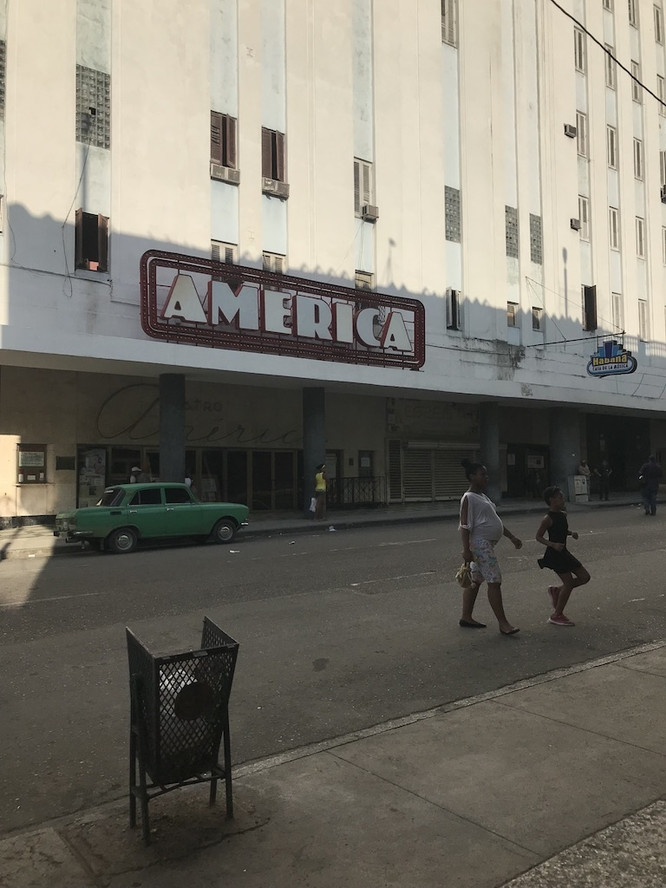 A beautiful example of the Art Deco style, Teatro América was built by architects Fernando Martinez Campos and Pascual de Rojas. The theater, which originally opened to the public in March 1941, still hosts performances and shows. The theater is located on a major commercial street so I passed by its exterior numerous times throughout my visit. As a traveler from the US, it's difficult to resist taking a photograph of the outer sign boldly exclaiming "América," but it also reminded me of the complicated history between our two countries.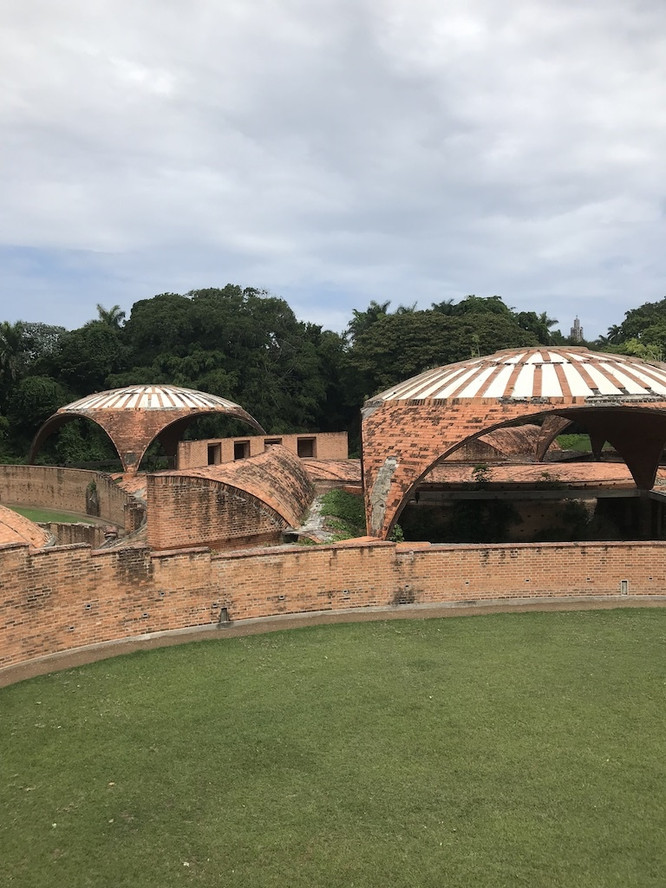 Instituto Superior de Arte
A highlight of my trip was the Instituto Superior de Arte (known locally as ISA). ISA was an attempt by Fidel Castro and Che Guevara to build "the most beautiful academy of arts in the whole world." It was designed by architects Ricardo Porro, Vittorio Garatti, and Roberto Gottardi on the former site of an exclusive golf resort. They rejected the spare geometry of International Style architecture and instead took inspiration from Catalan design and local materials. After the Bay of Pigs invasion and the Cuban missile crisis, funds for the school building were cut. The building pictured here, designed by Garatti, would have housed the ballet school. Although incomplete, it's still clear that it would have been an impressive performance space.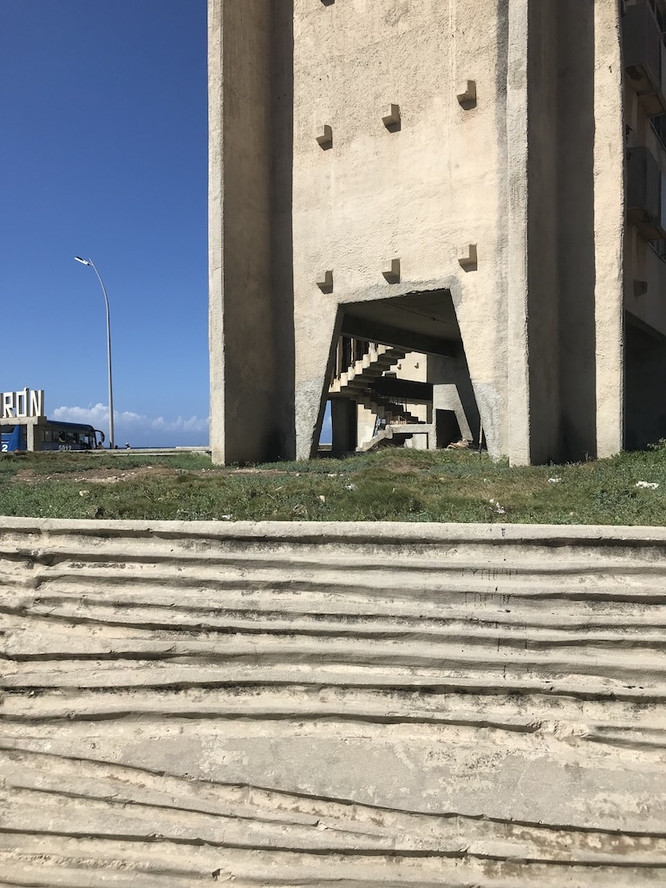 There wasn't a day I didn't walk along the Malecón, the promenade that stretches from Vedado to Old Havana. I was often struck by the unique design of Edificio Girón, an apartment building in Vedado. The Brutalist concrete structure was built in 1967 by Antonio Quintana and Alberto Rodriguez.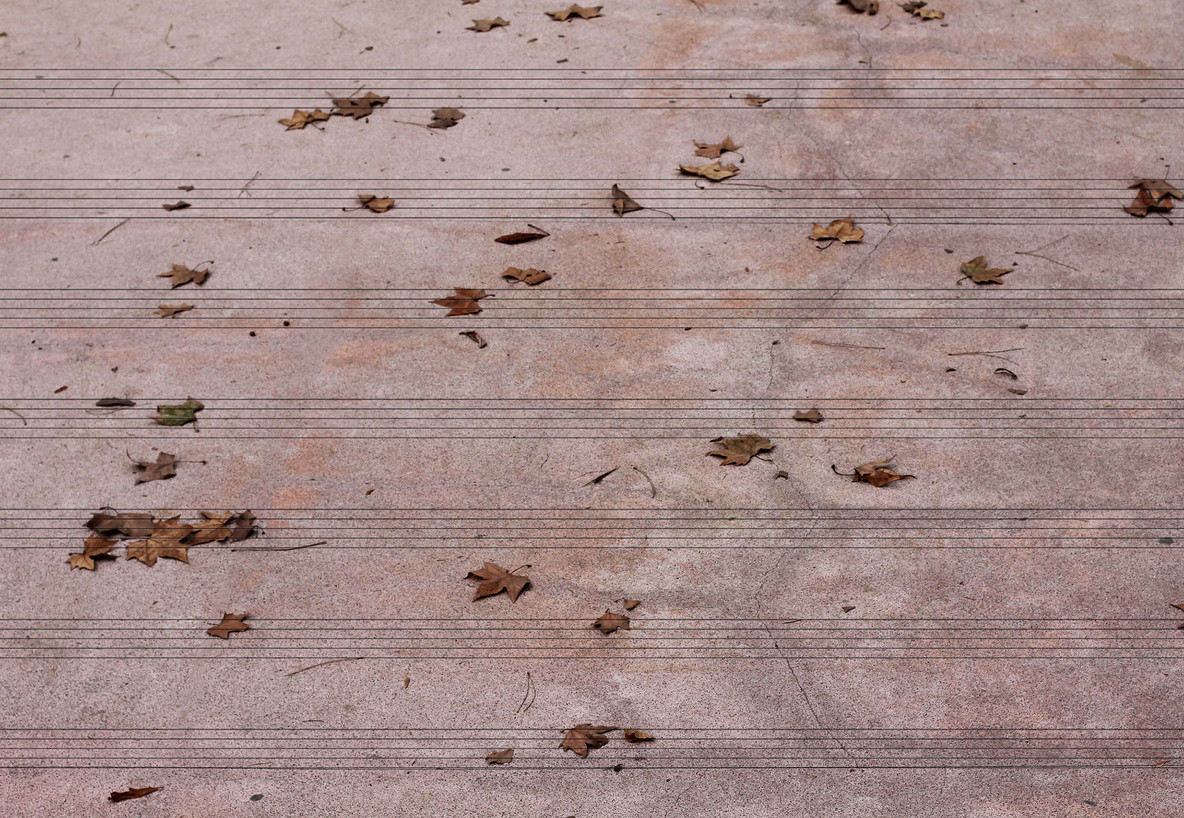 Glenda León. Listening to the Autumn. 2011. Courtesy the artist
Visiting Glenda León in her artist studio was a pleasure. León's poetic work often references musical expression. I was especially intrigued by Listening to the Autumn, in which the artist overlays a musical staff with a photograph of leaves on the sidewalk so that the leaves become musical notes. The piece culminated in a musical performance in which a pianist interpreted the hybrid music staffs.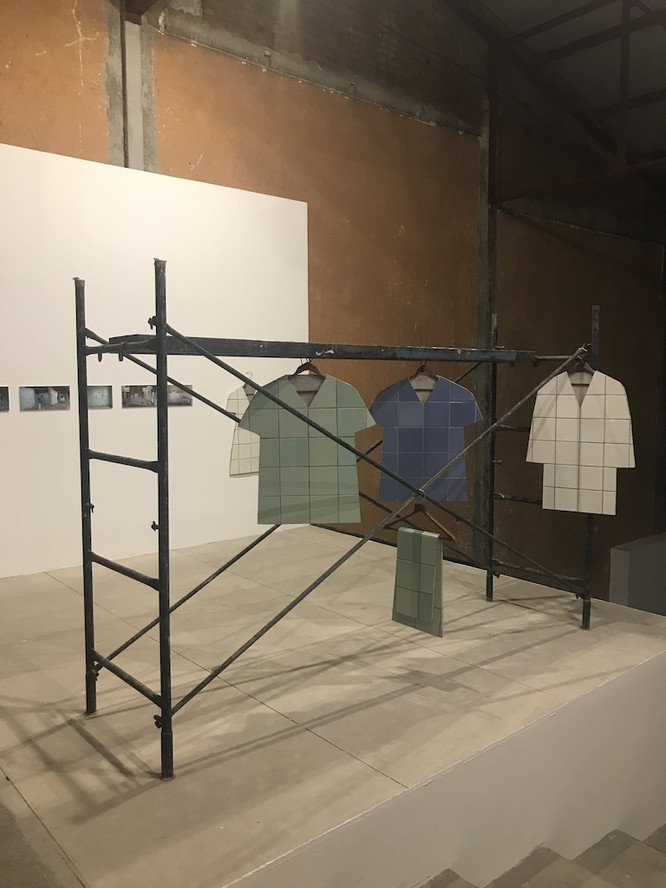 Zhanna Kadyrova, from the Second Hand series (2019), Continua Gallery
Zhanna Kadyrova's Second Hand series at the Continua Gallery showed clothing made from tiles recycled from historic spaces. Here, she took the completed outfits and photographed them in the spaces from which the materials were derived, displaying them next to each other.
All photos by Tasha Lutek, unless otherwise noted