Tschababala Self speaks with us about her infatuation with the city and how she uses textiles to give everyday actions material form.
Tschababala Self's Studio Museum residency was a homecoming for the artist. The real and imagined figures that populate Self's Harlem streetscapes in the exhibition MOOD: Studio Museum Artists in Residence 2018–19, currently on view at MoMA PS1, pay homage to the neighborhood where the artist grew up. The various parts that make up the figures in her work speak to the multiple bodies (and their traces) that make up a metropolis. Self considers in particular the way black bodies move and live in urban space, creating a narrative tapestry of everyday acts through purchased, found, and inherited fabrics. We spoke with the artist about where she finds her materials and how she embeds textiles into large scale paintings.
This interview was edited for length and clarity. Photos by Matthew Septimus
Hanna Girma: How did you arrive at a collage style of painting?
Tschabalala Self: For a long time I was doing monoprinting and made these handmade collographic plates comprised of various textured elements stapled and glued together. From print to print, I was able to manipulate the imagery. That work was formally successful and I was able to get some of the concepts across pretty accurately. But I eventually hit a wall because of scale and because I didn't like the ephemeral nature of works on paper. Long story short, I started making paintings similarly to how I made those original holographic plates. The most exciting and dynamic part of those earlier works on paper were the plates themselves, so I decided to make works in the same exact way. In following that exploration, I landed on making these dimensional paintings with layered and textured materials.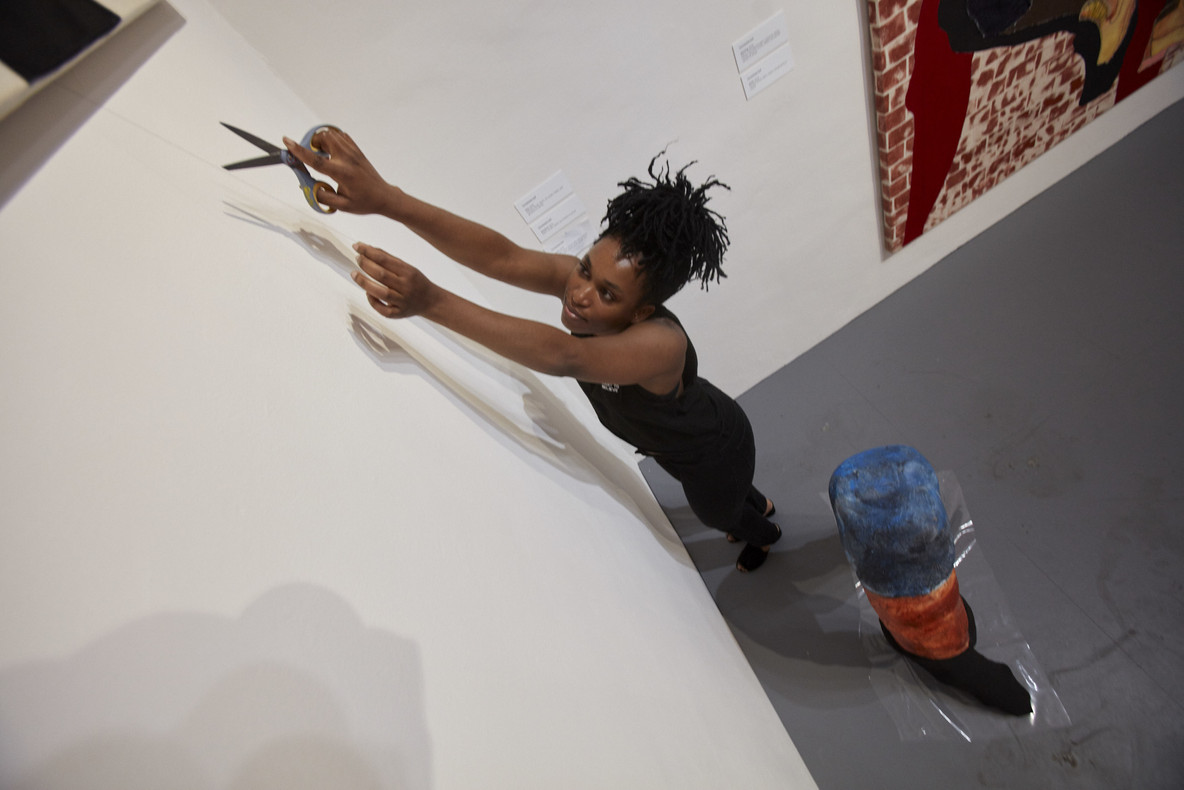 Tschabalala Self cutting a loose thread from a painting
I was drawn to textiles mainly because I like their tactile quality. While I was developing this technique, I was looking at a lot of assemblage art, thinking about found objects and their embedded color and symbology. I felt like textiles and fabric worked similarly. I liked that they were of the world, so they already had this place in reality, even though the figures and subjects I was depicting were mostly fantastical.
It's part of black American culture to reuse things that would otherwise be discarded. That's a big part of my art practice.
[The materials] also began to tie together a lot of the concepts in the paintings. Dealing with the figure, and initially being concerned with identity, I thought having this patchwork, this body that was comprised of multiple elements, spoke pretty accurately to the kind of identity I was trying to disrupt. [I wanted to create] the sense that an individual is made up of a lot of different aspects, some disparate, some related, some that are recognizable, some that are not.
Are you reusing your own clothing, finding materials out in the world, or going to fabric shops? What draws you to a particular fabric?
Some of the materials are purchased, some of them are from the collection at my family's home, some are old clothing; any textiles I come in contact with or anything that's relatively two-dimensional and can be used on the sewing machine. I also think about canvas as being a textile.
Growing up, your mom would sew curtains and clothing. Was that an influence?
Well, my mom had actual training in how to sew properly. So I can't say I have that kind of knowledge of sewing. I sew to the degree that I need to for the paintings. It was a creative outlet I observed growing up. I saw it as a tool to use when I was trying to think about a new, organic language within my own practice.
You've spoken a lot about interior and exterior spaces. Thinking about your sewn works, many see these as an interior practice tied to women's work, though this practice may be less gendered or tied to interiority outside of the West. Can you talk about how the interior and the exterior play into your practice?
My family is from the South, from Louisiana and Mississippi. My mother sewed, and my grandmother sewed. A lot of the women in my family knew how to do those kinds of things. I think it was a creative outlet, but also had a very practical dimension. It had a lot to do with the home economy and conservation, trying to conserve money, conserve energy. If you could make things on your own, it's a huge level of convenience. It gives you an opportunity to reuse scraps or old things and allow them to become new, within a different context. I often do that within my studio. It's a different relationship to waste. I feel like it's part of the black American culture to reuse things that would otherwise be discarded. That's a big part of my art practice.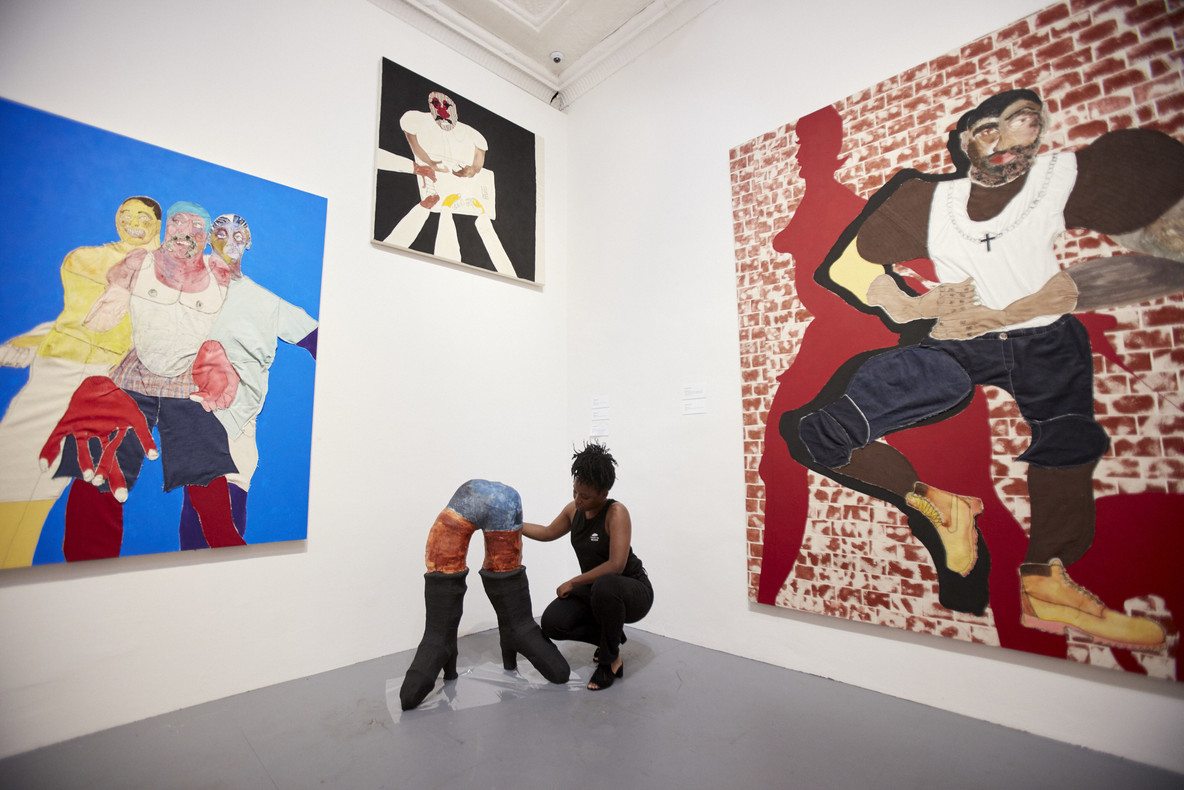 The artist looking at sculpture placement
You mentioned an interest in waste and consumption. Does that tie into your use of waste materials, like the chewed gum in your flooring?
The gum on the floor also relates to the idea of accumulation. I find discarded things fascinating. The gum, in many ways, is indexical of a body because you know that someone would have had to chew that gum for it to be discarded in such a way on the ground. The fabric, especially old pieces of clothing, also functions in an indexical way which evokes a body.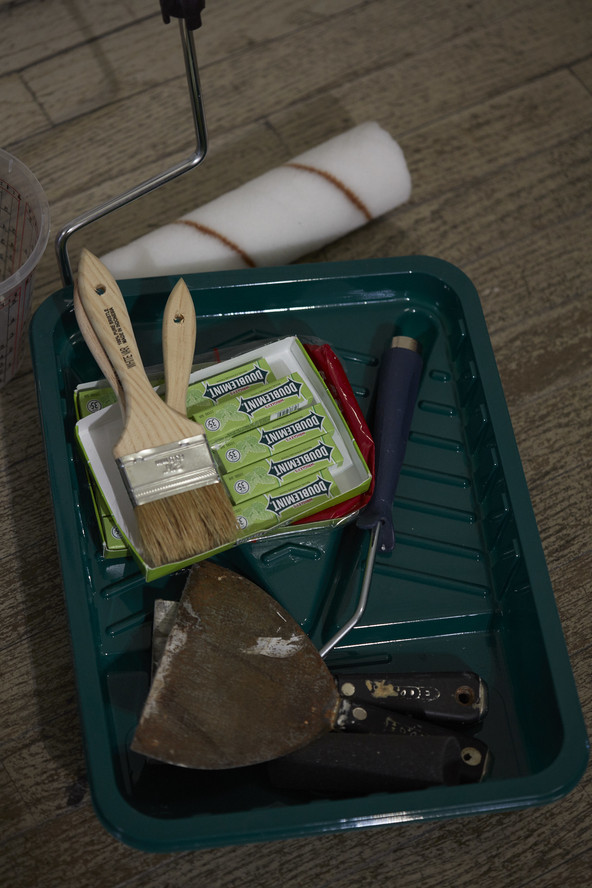 Gum used to cover floor for Tschabalala Self's installation
When you're in a large city, if you just look on the the ground and see all these different piece of gum, in that instance you are aware of your own corporality, you are aware of the other figures that were there filing that metropolitan space. For the installation at [MoMA] PS1, I wanted to find a more subtle way to invoke this idea of current time and space.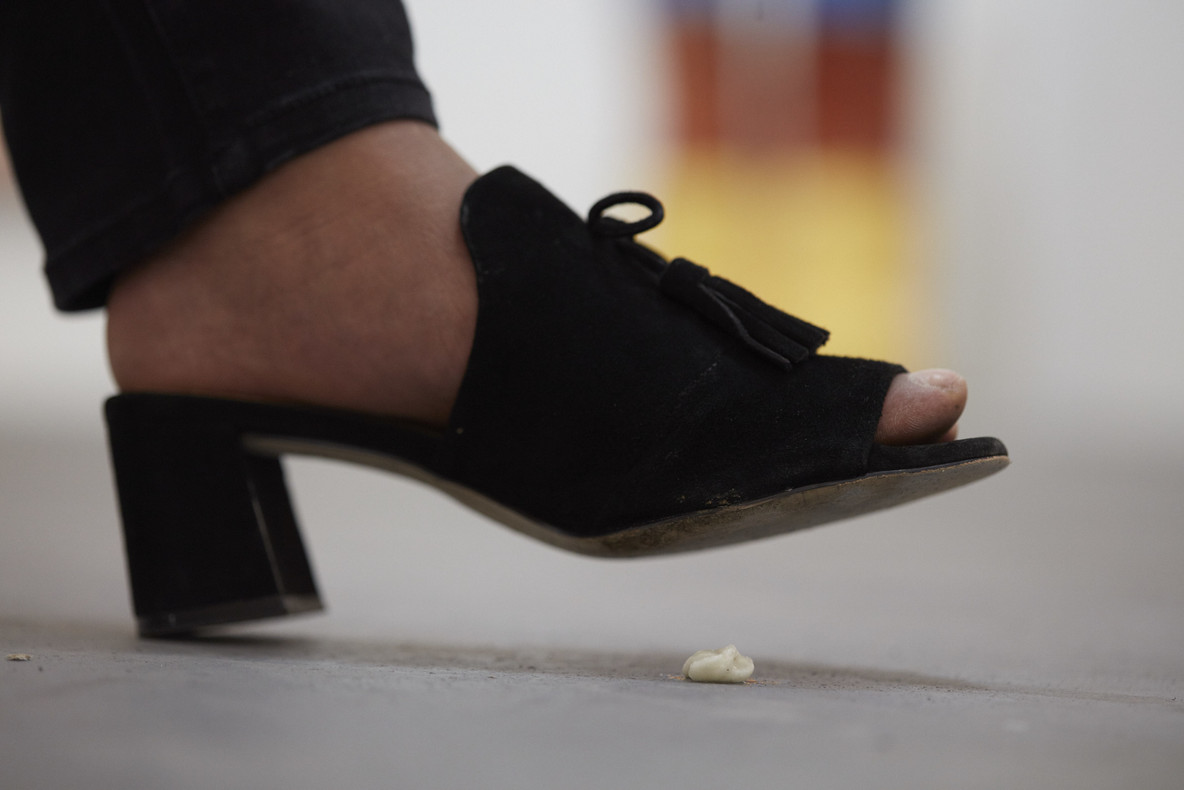 Tschabalala Self placing gum
One thing that really struck me about this particular installation for MOOD was how you were thinking about windows. Can you talk a little bit about that?
The back and forth between macro and micro is impressed formally in how the work is made. It's got all these little miniature details, stitches, bits of fabric, which creates this much larger figure. All of these individual figures create this larger cityscape. Even the audience becomes part of that cityscape. It's odd, because when you're part of a large city your identity is generally heavily tied to that place and space, despite your anonymity within.
So I was thinking about anonymity, community, accumulation, debris, what's discarded, what's kept. I'm also just really fascinated with how the black body functions within the metropolitan space, primarily, because that's what my life has been up until recently. Because I no longer spend that much time in cities, I'm starting to realize how different it is to not be within a city. And I've realized how much growing up in Harlem has shaped my identity. I feel like I would be a totally different person if I hadn't grown up here. I'm more fascinated with what that story is about. Making artwork about it helps me make sense of that.
In and out of the city, how do various cultural landscapes contribute to your work? Are you collecting materials from each place you go?
I still mostly use the fabric collection in my family's home, some fabric I purchase from the garment district in New York, sometimes Jo-Ann's, or I order fabric online. If I travel to different places regionally, I'll buy fabric, or if I travel abroad, I try to buy fabric. The one cool thing about upstate New York is that people love selling antiques. So, I do buy old fabric sometimes from there. Like, old upholstery fabric or fabric by the yard.
The more you travel, the more you learn about yourself and where you come from.
They also have some local folk artists, like Earl Swanigan, who I find interesting. He passed this last year. Each place has something interesting going on—that's why I love traveling. The more you travel, the more you learn about yourself and where you come from.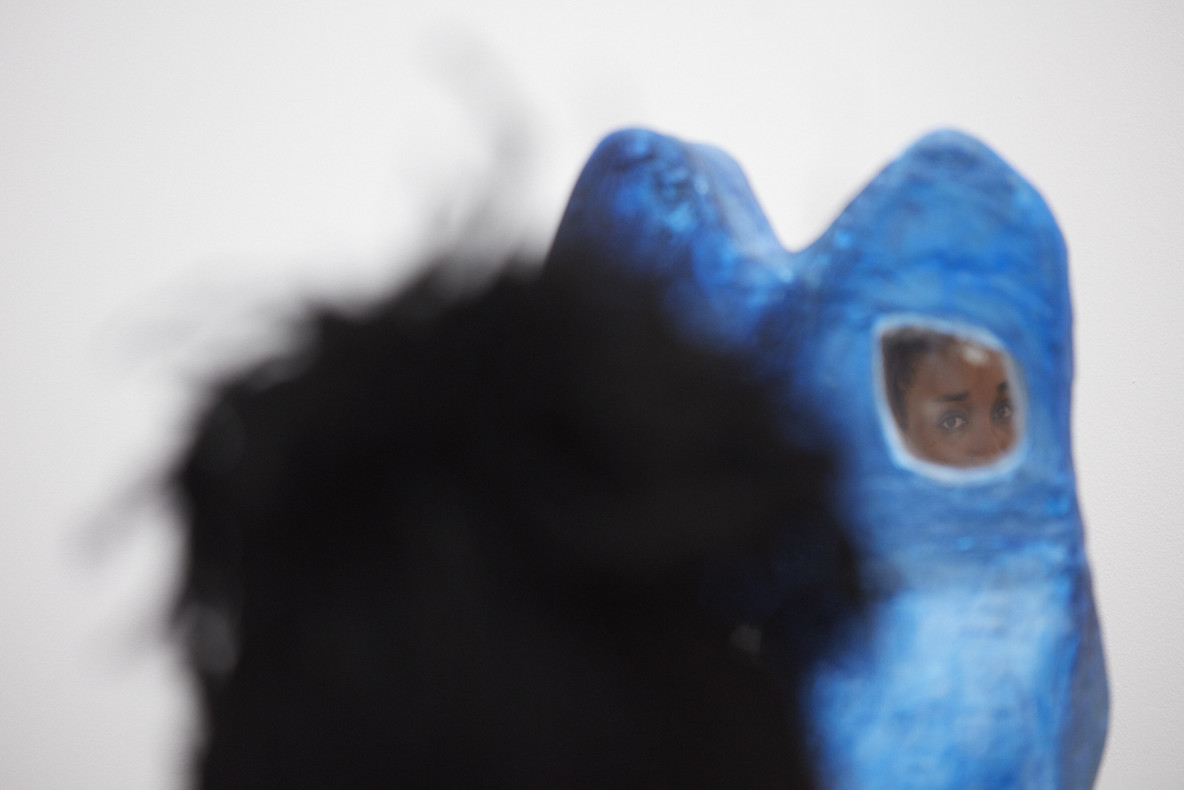 The artist reflected in her work
Most of the figures in your series at MoMA PS1 are drawn from people around Harlem. Do you draw from people you meet during your travels? And if so, how do you tie these figures to certain narratives?
People I meet and see when I travel, people in my real life. Fantasies and daydreams. The figures in the work are half real, half imagined. Some figures are aspirational, some speak to a certain kind of idea or feeling I have, positive or negative.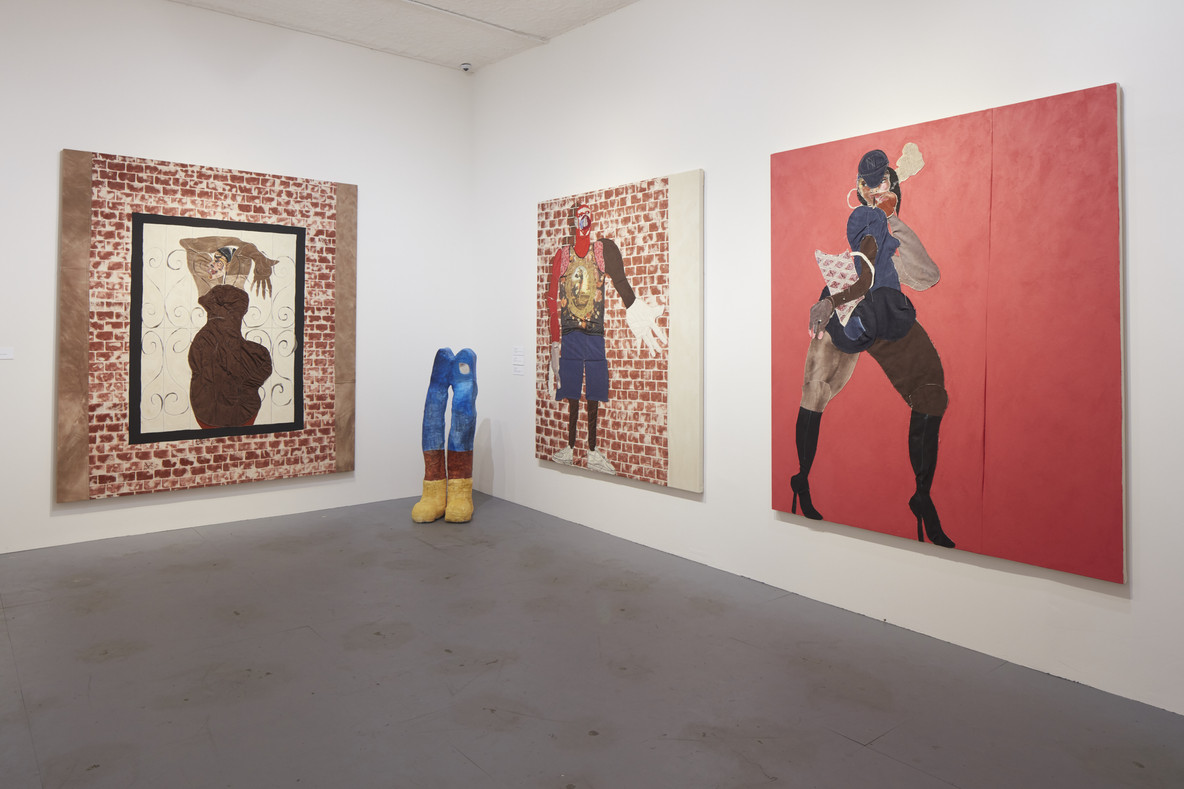 Installation view of MOOD: Studio Museum Artists in Residence 2018–19
If there is a story around them, it's more performative than narrative and primarily rooted in movement. It's pretty loose and open-ended. Maybe they're performing one single gesture, or maybe you are witnessing a single moment. But it's not like an Odyssey-type narrative. Maybe the story is they're going from point A to point B, or that they're smoking a cigarette.