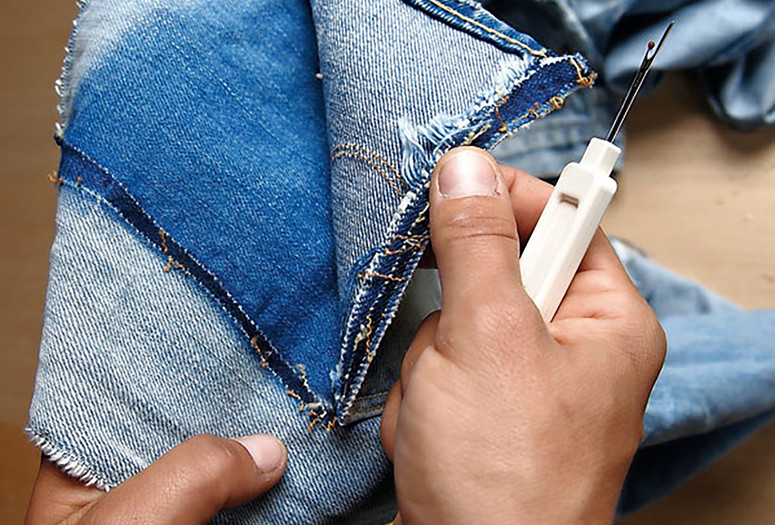 Join artist Emily Spivack for a clothing dissection workshop. We will physically disassemble archetypal garments into their component parts, or "innards," to better understand what they're made of and how they were constructed.
Free with admission. This workshop is designed for adult participants but children are welcome if accompanied by an adult collaborator. Space is limited and available on a first-come, first-served basis. Sign-up begins half an hour prior to each workshop.
Emily Spivack is an artist, writer, and editor whose work draws from contemporary culture, clothing, history, and our relationship to everyday objects. She is the author of Worn in New York (2017), a contemporary cultural history of New York told through clothing, which is a follow-up to her New York Times best seller Worn Stories (2014) and wornstories.com(2010), collections of stories about clothing and memory. In her column for T: The New York Times Style Magazine, The Story of a Thing, Spivack interviews cultural figures about objects in their homes that provide insight into their interests and quirks. Spivack's off-site installation for the Honolulu Museum of Art, Medium White Tee, was a fulfillment of President Barack Obama's stated fantasy to run a T-shirt shack that sold only medium-sized white tees as a respite from his nonstop decision-making. She spent seven years finding stories about clothing from eBay posts for her website, Sentimental Value, which she exhibited in Philadelphia, Brooklyn, and Portland. Spivack created Threaded, the Smithsonian's only blog about the history of clothing, and she made howtodresslike.com, an online archive of nearly 1,000 step-by-step instructions culled from wikiHow. Spivack has lectured and presented at museums and universities including The Museum of Modern Art, the New Museum, the Institute of Contemporary Art Philadelphia, New York University, Brown University, Bard College, and the Fashion Institute of Technology. She and her work have been featured in The New York Times, New York magazine, The Washington Post, and The Wall Street Journal.
Artists Experiment is an initiative in the Department of Education that brings contemporary artists into dialogue with MoMA educators to develop innovative and experimental approaches to public engagement.
The artists who participated in past years of Artists Experiment are:
2017–18
• Michael Rakowitz
• Emily Spivack
2014–16
• Nina Katchadourian
2013–14
• Paul Ramirez Jonas
• Allison Smith
• The Office for Creative Research
2012–13
• Raúl Cárdenas Osuna
• Kenneth Goldsmith
• Xaviera Simmons
• Caroline Woolard