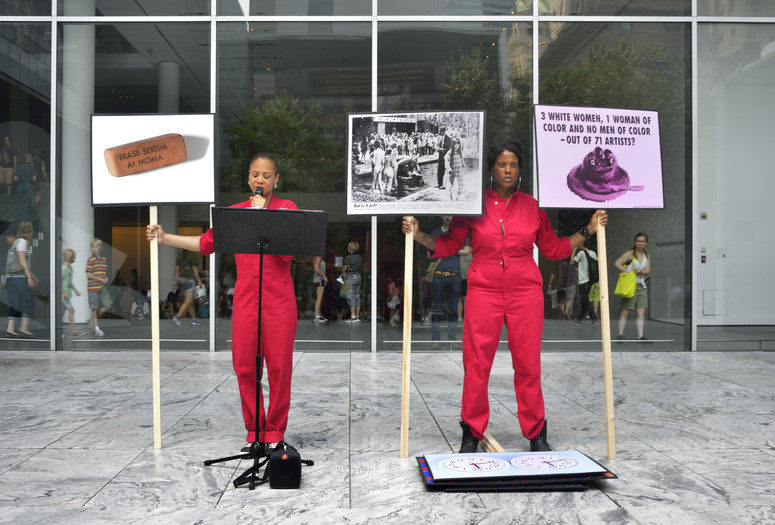 Artist Xaviera Simmons, inspired by the model of the tour guide and the idea of a "museum agitator," organizes a range of "information breaks" aimed at opening up a dialogue about MoMA's vast institutional history and holdings. These performance actions present materials from Simmons's research via public displays of content and images in the Museum. Simmons, along with educators and invited performers, engages visitors with short readings, images, and conversations. This program is part of Artists Experiment, a collaboration between Xaviera Simmons and the department of Education intended to develop innovative and experimental public engagement.
Archive as Impetus (Not on View) constructs a political line through MoMA's early exhibitions, institutional correspondence, artist interventions, collection works, and present-day conflicts, offering a look at how the Museum has presented, collected, challenged, and instigated day-to-day political movements since its inception. A series of in-gallery actions, a screenprinting workshop, and a podcast series illuminate the project. These actions aim to pull historical materials out of computers, texts, and papers in order to bring them into the present moment in a performative and informative manner.
Artists Experiment is an initiative in the Department of Education that brings contemporary artists into dialogue with MoMA educators to develop innovative and experimental approaches to public engagement.
The artists who participated in past years of Artists Experiment are:
2017–18
• Michael Rakowitz
• Emily Spivack
2014–16
• Nina Katchadourian
2013–14
• Paul Ramirez Jonas
• Allison Smith
• The Office for Creative Research
2012–13
• Raúl Cárdenas Osuna
• Kenneth Goldsmith
• Xaviera Simmons
• Caroline Woolard