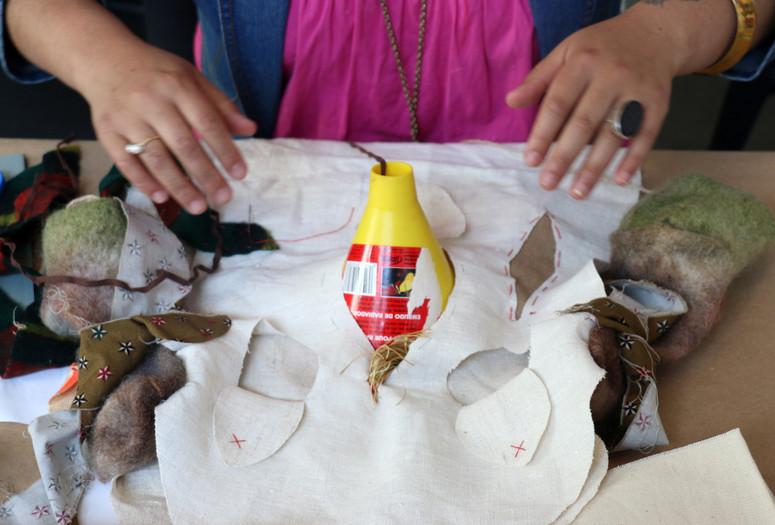 Artist Allison Smith leads a hands-on workshop related to her ongoing project Needle Work (begun in 2010), which looks at early cloth gas masks as remnants of an as-yet-unwritten history of needlework. The workshop is framed in relation to Lygia Clark's "Sensorial Hoods," objects aimed at combating modern alienation through the revitalization of the body and feeling. Where Clark was interested in stimulating a rich, fantastic inner experience with her Hoods, Smith's project recreates wartime textiles in order to set aside time and space in which to imagine the unfathomable. Materials will be provided; no prior sewing experience is necessary.
Space is limited. Sign up is first come, first served in the Cullman Education and Research Building beginning at 1:30 p.m. on the day of the program.
MoMA Studios are free, interactive spaces offering drop-in programs and artist- and educator-led workshops to visitors of all ages in conjunction with an exhibition or a topic related to modern and contemporary art. These experiences complement looking and talking about works of art in the galleries, allowing for engagement with art in participatory, creative ways. Visitors can experiment, play, and create as they make connections between their lives, their own creativity, and the processes and materials of modern and contemporary art.
Artists Experiment is an initiative in the Department of Education that brings contemporary artists into dialogue with MoMA educators to develop innovative and experimental approaches to public engagement.
The artists who participated in past years of Artists Experiment are:
2017–18
• Michael Rakowitz
• Emily Spivack
2014–16
• Nina Katchadourian
2013–14
• Paul Ramirez Jonas
• Allison Smith
• The Office for Creative Research
2012–13
• Raúl Cárdenas Osuna
• Kenneth Goldsmith
• Xaviera Simmons
• Caroline Woolard