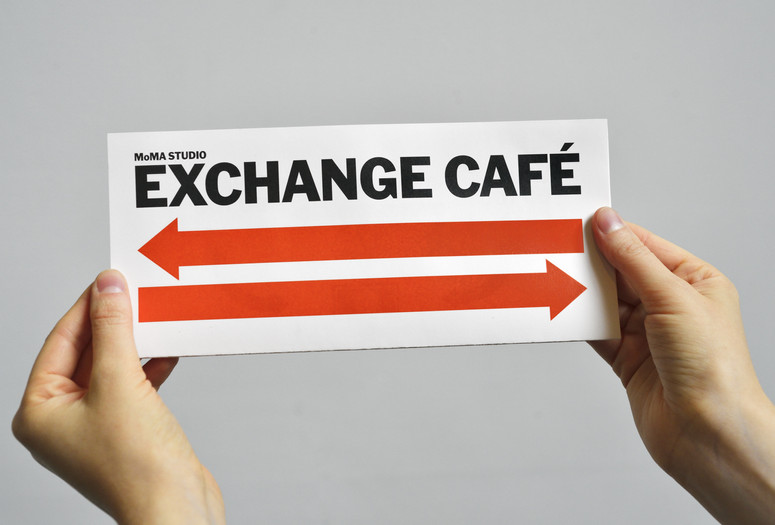 Join authors Ted Purves and Shane Aslan Selzer for a conversation about their book What We Want Is Free: Critical Exchanges
in Recent Art (SUNY Press, 2014) and exchange and reciprocity in contemporary art practices. Organized in collaboration with Brooklyn-based artist Caroline Woolard as part of the Department of Education's Artists Experiment initiative, MoMA Studio: Exchange Café is a social space in the mezzanine of MoMA's Education and Research building that is dedicated to exchange-based practices. Taking the form of a café, the Studio encourages visitors to question notions of reciprocity, value, and property through shared experiences. Tea, milk, and honey—products that directly engage the political economy—are available by exchange. Instead of paying with legal tender, Exchange Café patrons are invited to make a resource-based currency. Exchange Café features an interactive participatory archive, a matrix of exchange projects, and a library of books and ephemera.
Artists Experiment is an initiative in the Department of Education that brings contemporary artists into dialogue with MoMA educators to develop innovative and experimental approaches to public engagement.
The artists who participated in past years of Artists Experiment are:
2017–18
• Michael Rakowitz
• Emily Spivack
2014–16
• Nina Katchadourian
2013–14
• Paul Ramirez Jonas
• Allison Smith
• The Office for Creative Research
2012–13
• Raúl Cárdenas Osuna
• Kenneth Goldsmith
• Xaviera Simmons
• Caroline Woolard