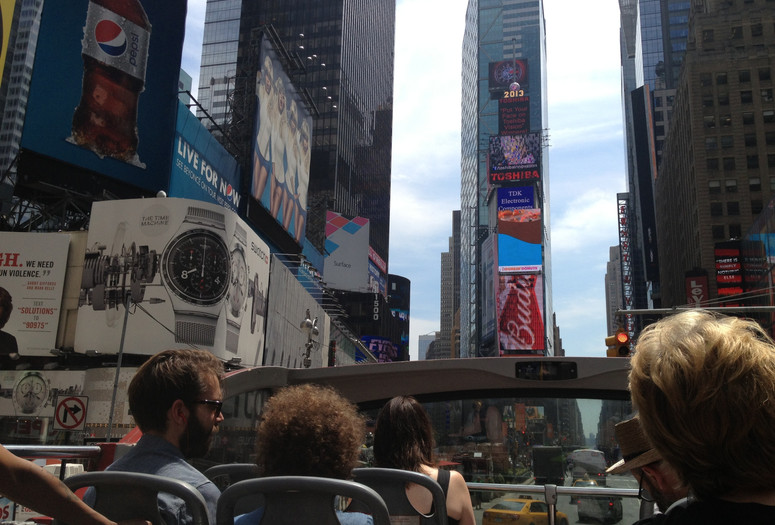 Experience New York through the lens of poetry and architecture. Kenneth Goldsmith ends his residency on a double-decker bus tour of New York City's landmark sites, accompanied by a marathon reading from his work-in-progress, Capital, a poetic history of New York City in the 20th century, inspired by Walter Benjamin's The Arcades Project, which documented the cultural history of Paris in the 19th century. 'Pataphysics—the science of imaginary solutions to imaginary problems—was pioneered by Alfred Jarry in the early 20th century. By leasing a Gray Line open-top tour bus and making it do things it normally doesn't, we'll recast it as a 'pataphysical vehicle, turning a quotidian tourist trap into a magical mystery tour.
Meet at 4 W. 54 St. at 1:30pm
Artists Experiment is an initiative in the Department of Education that brings contemporary artists into dialogue with MoMA educators to develop innovative and experimental approaches to public engagement.
The artists who participated in past years of Artists Experiment are:
2017–18
• Michael Rakowitz
• Emily Spivack
2014–16
• Nina Katchadourian
2013–14
• Paul Ramirez Jonas
• Allison Smith
• The Office for Creative Research
2012–13
• Raúl Cárdenas Osuna
• Kenneth Goldsmith
• Xaviera Simmons
• Caroline Woolard