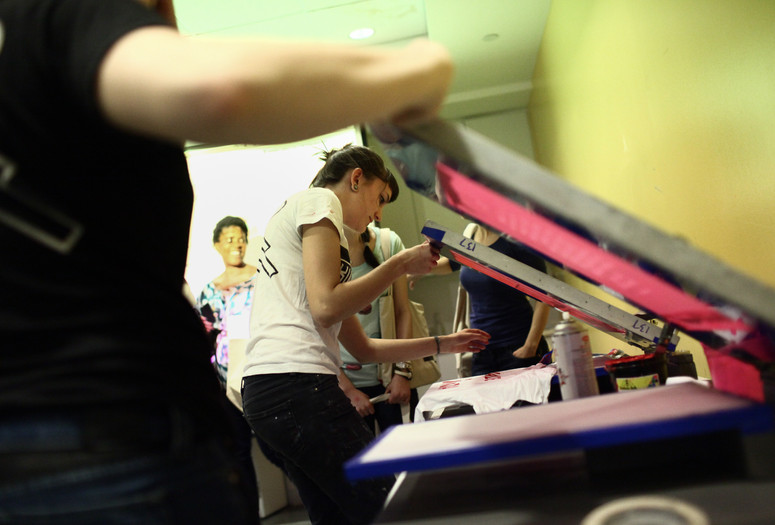 Artist Xaviera Simmons collaborates with screenprint maker Sara Gates of Kingsland Printing to present an afternoon of dialogue and action. Drawing from the MoMA Library and Archive collections, Simmons presents a selection of images surrounding various methods of political action or protest documented, presented, or in response to MoMA throughout its history. Using these images as source material, the workshop explores the ephemeral and performative nature of political action, and the ways in which artists have used various techniques to get their messages across. Following a group discussion, Gates and Simmons lead a screenprinting workshop, allowing each participant to create their own portable political messages via T-shirts and tote bags. This workshop is part of MoMA's Artists Experiment initiative, and is part of Simmons's ongoing Archive as Impetus project.
Xaviera Simmons produces installations, sculptures, photographs, and video and performative works. She received a BFA from Bard College (2004) after spending two years on a walking pilgrimage retracing the trans-Atlantic slave trade with Buddhist Monks. She completed the Whitney Museum's ISP in Studio Art (2005) while simultaneously completing a two-year actor-training conservatory with the Maggie Flanigan Studio. Simmons has exhibited nationally and internationally, including The Museum of Modern Art, MoMA PS1, Nouveau Museum National de Monaco, The Studio Museum in Harlem, Contemporary Arts Museum Houston, Public Art Fund, and SculptureCenter. Simmons is a recipient of numerous awards, including the David C. Driskell Prize, a Jerome Foundation Travel and Study Grant, an Art Matters fellowship, and a smARTpower fellowship. Simmons was a 2012 artist in residence at The Studio Museum in Harlem.
Kingsland Printing is a Brooklyn-based screenprinting and design studio founded by Sara Gates. In 2006, while studying for an MFA in painting from Pratt Institute, she began making T-shirts for Troubleman Records and local bands, but her business quickly grew into something much more. Currently it is a full-scale studio occupying a 1,000-square-foot space and employing an in-house graphic designer, a master printer, and an ever-growing group of eager interns.
Artists Experiment is an initiative in the Department of Education that brings contemporary artists into dialogue with MoMA educators to develop innovative and experimental approaches to public engagement.
The artists who participated in past years of Artists Experiment are:
2017–18
• Michael Rakowitz
• Emily Spivack
2014–16
• Nina Katchadourian
2013–14
• Paul Ramirez Jonas
• Allison Smith
• The Office for Creative Research
2012–13
• Raúl Cárdenas Osuna
• Kenneth Goldsmith
• Xaviera Simmons
• Caroline Woolard