In 2019, we will complete an extensive building and renovation project that expands and enhances The Museum of Modern Art's galleries and public spaces. The goals of the project are threefold: to increase gallery space and allow the display of significantly more of the Museum's collection in deeper and more interdisciplinary ways, to provide visitors with a more welcoming and comfortable experience, and to better connect the Museum to the urban fabric of midtown Manhattan.
We have been working closely with architects Diller Scofidio + Renfro, in collaboration with Gensler, to develop this design. The overall expansion, including the west side currently under construction, will provide 50,000 square feet of new gallery space. In addition, we are making a number of changes to some existing spaces, and the end result will be an overall gallery space increase of 30%. The total square footage of the renovated Museum will be 744,000, an increase of 17%.
To facilitate construction, we have been taking a phased approach. The renovation of the east end of the Museum, which began in February 2016 and is now complete, enhances galleries and public spaces on three floors. This initial phase has resulted in two more spacious and flexible galleries on the third floor; the extension of the Bauhaus staircase to the ground level to connect it with the galleries above; a new lounge facing The Abby Aldrich Rockefeller Sculpture Garden and an additional coat check and renovated restrooms on the ground floor; and a new museum store, the remodeled Cafe 2, and an expanded espresso bar and lounge, also overlooking the Sculpture Garden, on the second floor. Throughout, the history of our 1939 building is evoked and thoughtfully integrated with new design elements.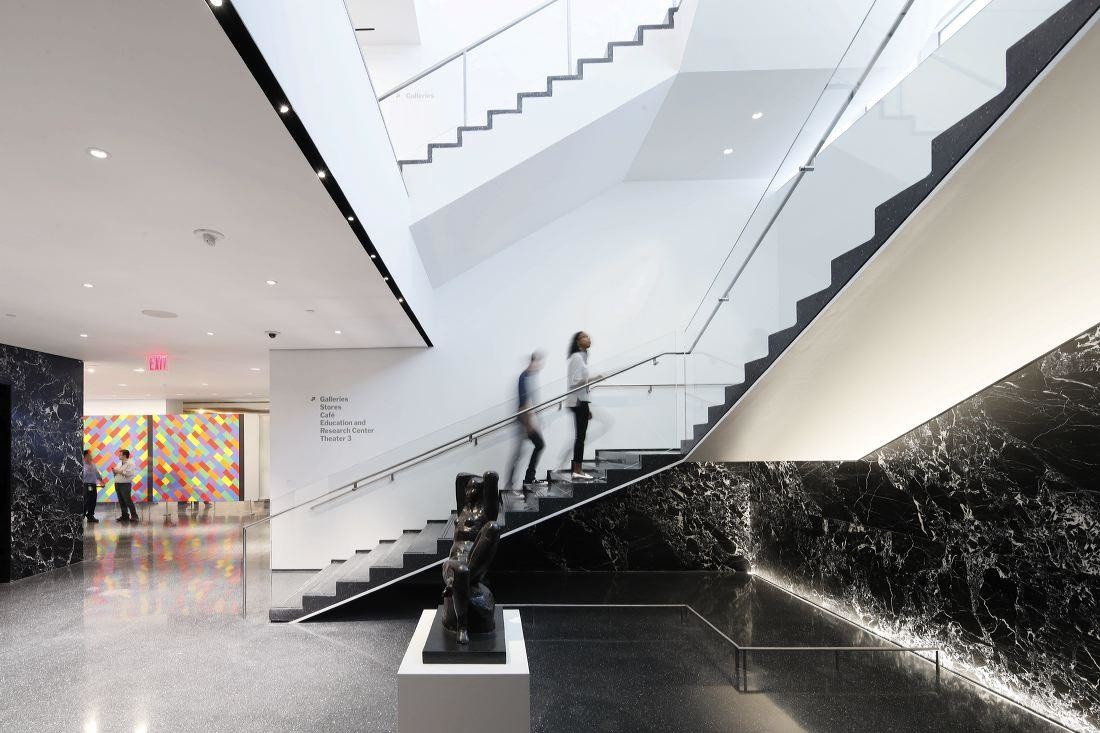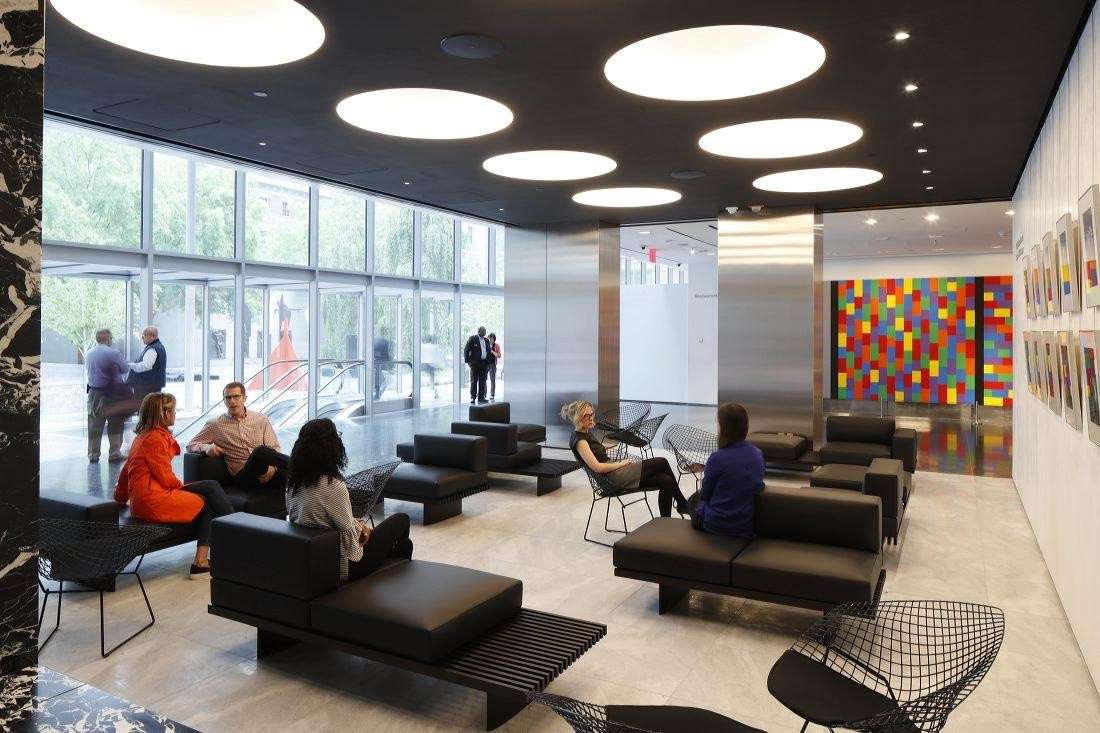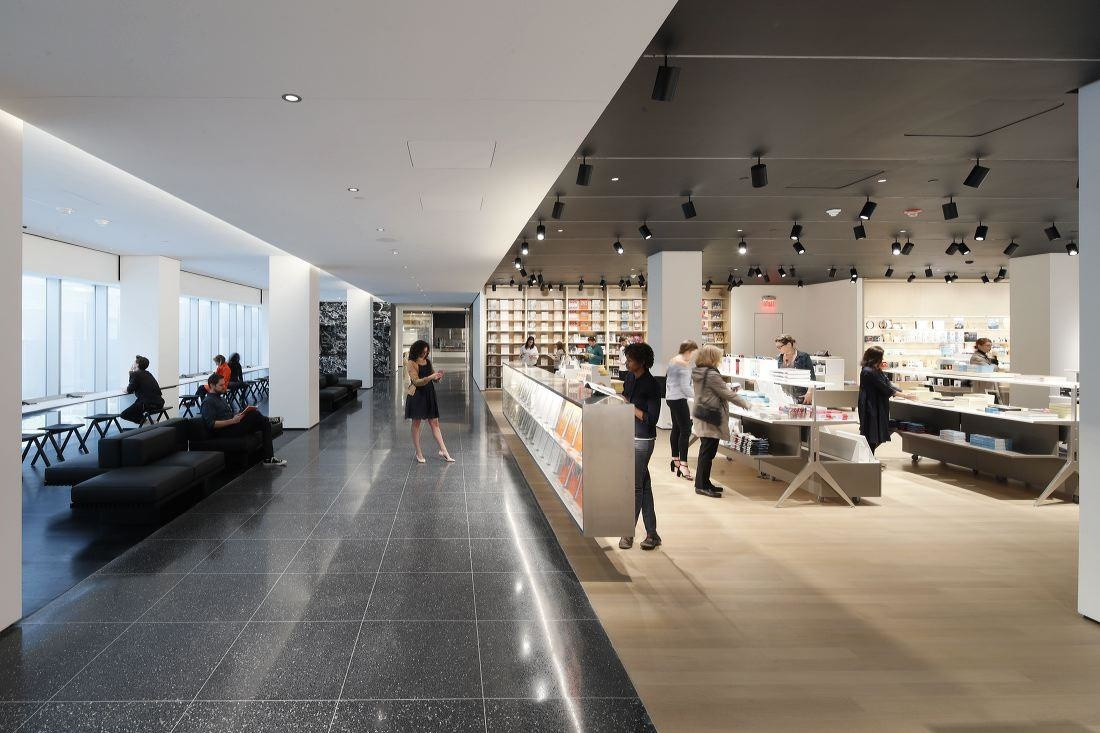 With the first phase now complete, work will focus on the west side of the project as we expand into the new 53W53 building. New and different kinds of galleries—including a customized studio for media, performance, and film—will allow us to reimagine the display of our collection and better present contemporary art. Two new street-level galleries, comprised of a dedicated Projects Room and a gallery for contemporary design, and an expanded, light-filled lobby, will greet visitors. Reconfigured entrances, additional lounges, and significantly improved circulation throughout the Museum will also provide a more welcoming, comfortable experience. A new education space on the second floor will offer programs and activities, and the MoMA Design and Book Store will move to a double-height space in the mezzanine level and be made visible to the street through a glass wall. The entire first floor will continue to be open to the public free of charge.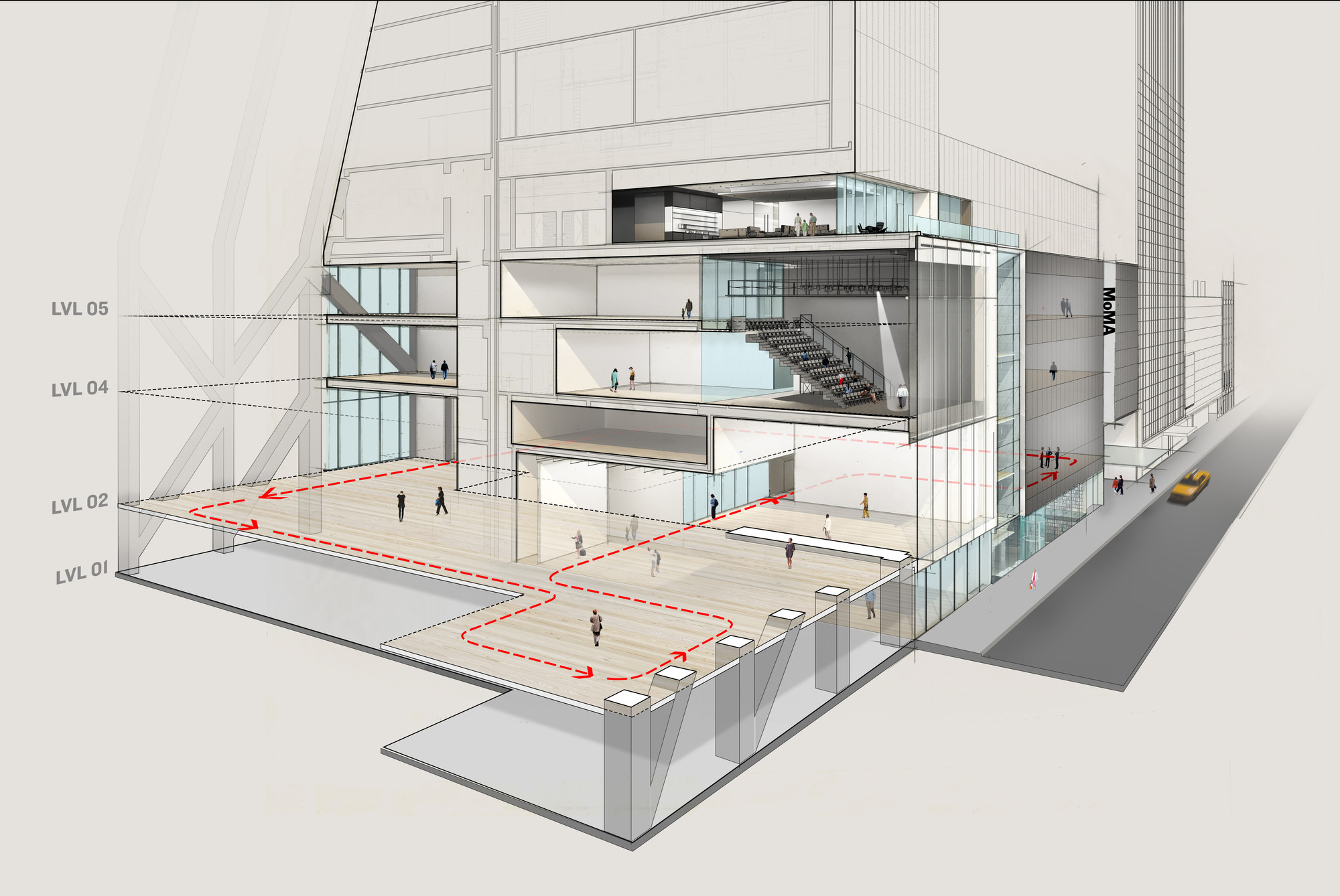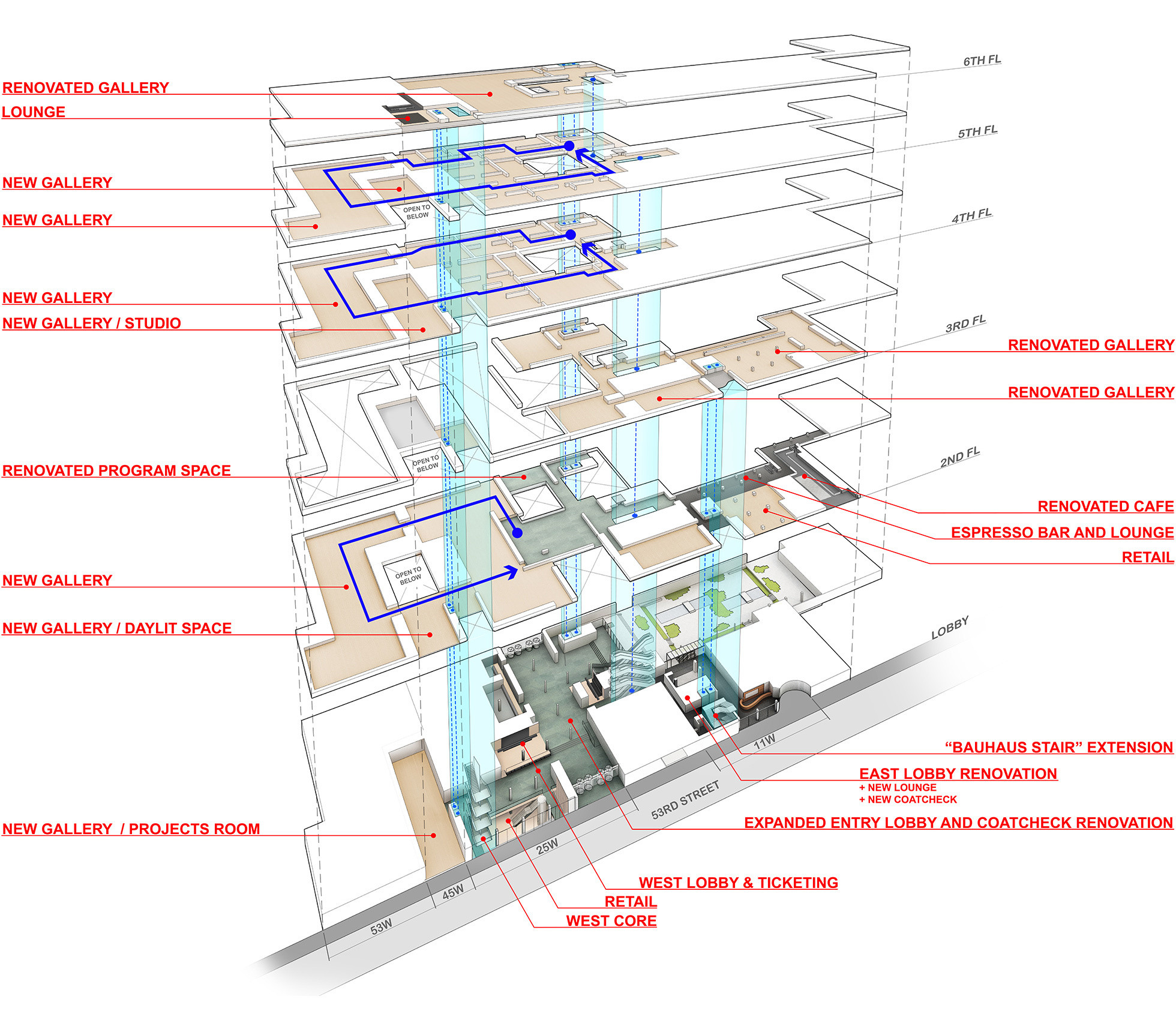 When the project is complete, we'll have a third more space for our collection and exhibitions, and more inviting and accessible spaces for all our visitors. Throughout the construction process, MoMA will remain open and continue to present its exhibition program.
For more information about how you can participate in this transformative project, please contact Caralynn Sandorf, Director of Major Gifts and the Campaign, at Caralynn_Sandorf@moma.org or (212) 708-9762.
Vision Statement
Great art museums not only contain exemplary works of art, they are also places where—in a single visit—surprise, learning, and reflection come together in a liberating set of experiences. They link contemplation and conversation, quiet and excitement. This is especially true for museums of modern and contemporary art that embrace today's most daring artists while also providing contexts for understanding and enjoying this art. As The Museum of Modern Art looks to the future, it is committed to these dual responsibilities and to expanding and enhancing its galleries to better bring art and people together. Our goal is to provide visitors with the pleasure of finding their own meaning within a singularly inclusive constellation of 20th- and 21st-century artistic practices.
A walk through the Museum's expanded and reconceived galleries, in combination with a wide range of interpretive programs, will offer engaging ways of linking the past to the present through exposure to radical ideas that bloomed in the late 19th century and continue to challenge conventional thinking today. The new Museum of Modern Art will be a place where you discover the most creative artists from around the world, revealing ideas that make you think and feel differently; a place where you can intimately study a collage, musical score, or video short, and also create your own; a place that encourages a sense of engagement with what is happening around the world, whether you are at the Museum, at home, or at work; a place where you can enjoy art at your own pace, alone or with family and friends; a place that is at once subversive and affirming; and a place that, with its changing exhibitions, performances, films, and educational programs, never feels the same.
Enlivening and participatory, the new Museum will be a place for people of all ages and experiences to share their thoughts and questions with each other. It is a place for conversation, and a place for many stories.
To help realize this vision, we are working with the architects Diller Scofidio + Renfro, in collaboration with executive architects Gensler, on a comprehensive plan for the current building and for two additional sites adjacent to the western end of the Museum, into which we are expanding. The architects have been exploring the site holistically to achieve a thoughtfully resolved set of galleries and public spaces for the Museum. We asked Diller Scofidio + Renfro to make The Museum of Modern Art the most welcoming museum in New York; to build upon the sequence of galleries created by Yoshio Taniguchi in 2004—without replicating them—to maximize the variety of spaces for presenting our collection; and to ensure that the Museum is more directly woven into the dynamic urban fabric of midtown Manhattan.
With more space for experiencing the collection, which has grown significantly in the past decade, the Museum's programming will expand accordingly. In addition to iconic works in the Museum's renowned collection of modern art, we will be able to show transformative acquisitions made in the last decade, drawing from entire collections including contemporary drawings, Fluxus, and Conceptual art, and the archives of Frank Lloyd Wright. Major recent acquisitions of work by renowned artists such as Matthew Barney, Louise Bourgeois, Marcel Broodthaers, Paul Chan, Lygia Clark, David Hammons, Rachel Harrison, Zoe Leonard, Steve McQueen, Bruce Nauman, Robert Rauschenberg, Gerhard Richter, Mira Schendel, Richard Serra, Sophie Taeuber-Arp, and Cy Twombly, among others, will join the work of many artists new to the collection, enabling MoMA to better share the expansive—and ever-expanding—story of modern and contemporary art. Works from all mediums, including architecture, design, drawings, film, media, painting, performance, photography, prints, and sculpture, will be brought together in carefully choreographed sequences that present the creative frictions and influences that spring from seeing all of these disciplines together.
Our goal is to ensure the continued dynamism of the Museum's unparalleled collection while making the Museum a more open, accessible, and engaging place, one where questions are prized and the diversity of ideas raised by modern and contemporary artists becomes a greater and more resonant part of people's daily lives.
This vision will be fully realized over the coming years, and there is much work ahead of us. As our architectural and curatorial plans develop, we will share more information here. I hope that you will join us as this project unfolds, and we look forward to hearing from you.
Glenn Lowry
Images, from top: Elevation of The Museum of Modern Art on 53 Street with cutaway view below street level (detail). © 2017 Diller Scofidio + Renfro. Animation depicting the renovation and new construction at The Museum of Modern Art. © 2017 Diller Scofidio + Renfro. View of the restored Bauhaus staircase. Photo: Iwan Baan. View of The Marlene Hess and James D. Zirin Lounge. Photo: Iwan Baan. View of the second floor looking east with new Museum Store, espresso bar and The Daniel and Jane Och Lounge. Photo: Iwan Baan. North/south section-perspective through the new gallery spaces at The Museum of Modern Art, looking east along Fifty-third Street. © 2017 Diller Scofidio + Renfro. Stacked plans highlighting the new and renovated spaces at The Museum of Modern Art. © 2017 Diller Scofidio + Renfro