Immerse yourself in ideas and see your world in new ways through art. Classes can help you develop new perspectives and become a part of a community of learners unlike any other. In our studios, galleries, and online, you can create artworks alongside artists and look closely at works in MoMA's collection and exhibitions; on the streets of Midtown, explore the neighborhood with our experts; and dive deep into new concepts and conversations with innovators and visionaries.
Onsite classes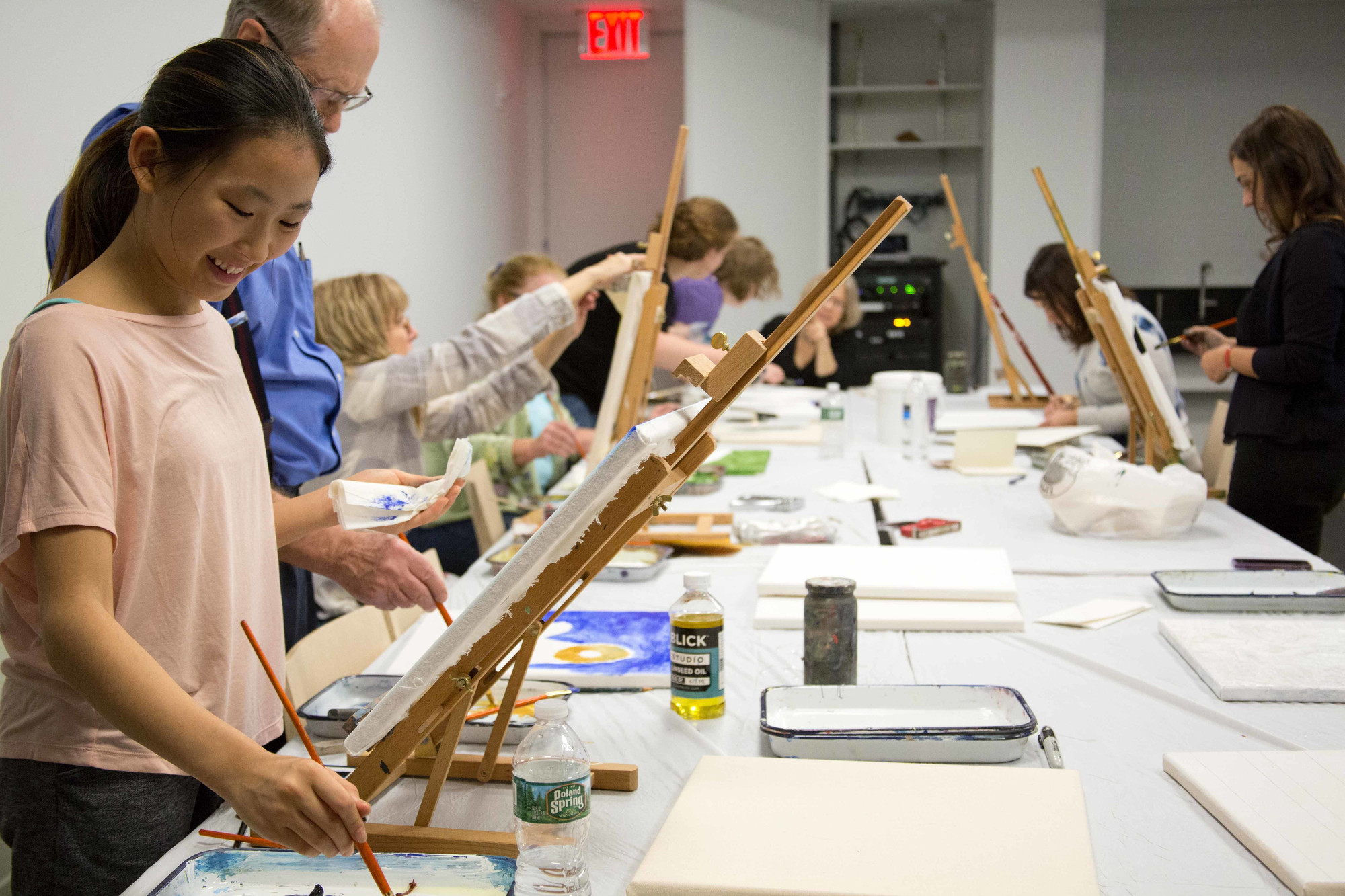 Explore various periods of modern and contemporary art through programs led by MoMA curators and other prominent experts, both inside and outside the galleries.
Online courses
Explore a variety of perspectives and topics related to modern and contemporary art and design in MoMA's free, ongoing Massive Open Online Courses (MOOCs) on Coursera. Courses include a wide range of original texts, audio, images, and videos, including studio visits and dynamic conversations with artists, educators, curators, designers, and others; close looks at works in MoMA's collection; and much more.
Fashion as Design
Fashion as Design focuses on a selection of more than 70 garments and accessories and explores their profound impacts—social, cultural, economic, and environmental—on the world. In this course, you'll hear directly from a range of designers, makers, and historians, and will look closely at what we wear, why we wear it, how it's made, and what it means.
In the Studio: Postwar Abstract Painting
Want to know how some of the 20th century's most celebrated artists made abstract paintings? This course offers an in-depth, hands-on look at the materials, techniques, and approaches of seven New York School artists, including Willem de Kooning, Yayoi Kusama, Agnes Martin, Barnett Newman, Jackson Pollock, Ad Reinhardt, and Mark Rothko.
Seeing Through Photographs
What is a photograph and how has photography been used throughout history? Seeing Through Photographs explores this fascinating subject through works in MoMA's collection and wide-ranging conversations with artist and curators that reveal the many different factors that inform the making of a photograph.
透过摄影看世界 / Seeing Through Photographs (Mandarin)
照片究竟是什么?在历史当中,人们如何利用摄影?纽约现代艺术博物馆的免费在线课程《透过摄影看世界》将带您探索这个引人入胜的话题。通过欣赏MoMA收藏的摄影作品,聆听与多位艺术家、策展人和学者的对话,我们将向您揭露制作一张照片的方方面面。
Modern Art & Ideas
Using works from MoMA's expansive collection as a point of departure, this course encourages learners to understand, enjoy, and use modern and contemporary art through four themes: Places & Spaces, Art & Ideas, Transforming Everyday Objects, and Art & Society.
Art & Inquiry: Museum Teaching Strategies for Your Classroom
Learn how to integrate works of art into your classroom using inquiry-based teaching methods originally developed for in-gallery museum education.
Art & Ideas: Teaching with Themes
This course is designed to help build critical skills that support theme-based teaching practices and build confidence in incorporating modern and contemporary art into interdisciplinary lesson plans.
Art & Activity: Interactive Strategies for Engaging with Art
Art & Activity builds upon the inquiry-based approaches of Art and Inquiry: Museum Teaching Strategies for Your Classroom, while delving into activity-based strategies for making your students empowered participants.
FAQ
Payment
All online courses are offered free of charge. For onsite classes, we accept all major credit cards. To register and pay, visit the online registration system.
How do I register?
To register for onsite classes, use the online registration system.
To register for online courses, select the course above or visit coursera.org/moma to select and enroll in a course.
How do I know if a class is full?
If an onsite class is full the website will indicate that the class is sold out. Please note that updates to class availability are made during business hours and classes may fill up overnight or over the weekend. You will know a class is sold out when you attempt to register and the only option you are given is to add your name to the waiting list.
Online courses have unlimited enrollment and do not fill up.
Can I take a MoMA class for credit?
MoMA onsite classes are not accredited. If you wish to receive credit for a MoMA onsite class, you must organize this with your institution.
Online course learners can take the full online course and access all content for free, or they can choose to pay for a certificate of course completion, issued by Coursera.
What if I am a MoMA member?
As a member at the Individual level or higher you will receive the members rate. We honor a first-come, first-served policy for class registration regardless of your member status.
How do I sign up for a MoMA membership?
If you are not a member and would like to sign up for membership, simply visit the Membership page. If you have any questions about membership, please call Membership Services at (212) 708-9475.
Are Corporate Member employees eligible to receive the member discount?
Yes. A copy of your valid company ID must be faxed or emailed to the Corporate Membership Department in order to receive the discounted price.
Discounts on onsite classes
Students, educators (K–12, college, and university), and staff of other museums receive a discount on the member rate for onsite classes. Student or staff identification must be presented upon check-in on the first day of class.
Refunds for onsite classes
In order to receive a full refund, notice of cancellation must be sent in writing via email, letter, or fax at least one week before the first scheduled day of an onsite class. Payment will not be refunded after this time. Refund processing may take up to four weeks.
Can I get a refund if I drop an onsite class?
You will only receive a refund if you cancel your registration at least one week before the first day of class. You may do this by accessing your online registration and clicking the "Modify" tab. You will be able to unregister yourself from a class and receive a full refund. You may also cancel your registration by phone or email. Refund processing may take up to four weeks.
Can I get a refund after the second or third class?
MoMA is unable to grant refunds after the refund period.
If I miss a class can I receive a refund or a make up classes with the instructor?
No. MoMA provides class schedules in advance to provide prospective students the opportunity to plan ahead and make necessary arrangements to attend classes. Students will receive a syllabus and digital access to the course reader in advance to help them prepare for missing class.
Can I be put on a waiting list for an onsite class that is filled?
Yes. The online registration form includes a waiting list option for sold-out classes. You must fill out the online registration form to be added to the waiting list. Once you complete the registration, you will receive an email confirming that you have been added to the waiting list.
Will the onsite class have access to the galleries?
When possible, as determined by your instructor and MoMA, students will have the unique privilege to view MoMA's collection and exhibitions in the galleries after hours, during class time.
Will these specific onsite classes be offered again?
Yes and no. Some classes recur regularly, for example Modern Art, 1880–1945 and Modern and Contemporary Art, 1945–Present. Some classes may be offered again depending on the instructor's availability, scheduling, and student interest. MoMA cannot guarantee if or when certain classes will be offered again.
If I miss a session of an onsite class and there is another section of the same class being offered on a different day, can I attend the other section of the same class?
No. Each class instructor utilizes a different syllabus. Although there may be two sections of the same class offered, the material covered would not necessarily correspond.
Can I register my friend for an onsite class?
Yes. Once you have entered your personal information and selected a class in the online registration form, click the "Add Person" button. Fill out the registration form for this person and be sure to use a separate email address for him or her. Our registration system will not accept multiple registrants with the same email address. Your registration is complete after you have filled out all the required information for both you and your friend and submitted payment. Please note that you will each receive an email confirming your individual registration. Your confirmation email will NOT include a record of your friend's registration information.
Can I bring a friend or family member to attend one of my onsite class sessions so they can experience the program?
No. Though we welcome interest in MoMA classes, we cannot accommodate guests.
Do I have to register online for onsite classes?
Yes. If you have any difficulties using the online registration system for onsite classes, please call (212) 408-8441.
I have a question about onsite classes that is not addressed here. Whom can I contact?
Email: courses@moma.org
(212) 408-8441
How do online courses work?
MoMA offers free Massive Open Online Courses (MOOCs) on Coursera. Sessions are ongoing, and you can enroll in a new session of a course at any time. Though you can take the full course and access all content for free, you can also opt to pay for a certificate of course completion, issued by Coursera. Access all of our MOOCs by visiting coursera.org/moma.
How often are online courses offered?
New sessions of each course begin every four weeks, but you can access most course content as soon as you enroll. All MoMA online courses are available on an ongoing basis.
What if I want to move ahead in the online course, or need more time?
You can access course content at your own pace. If you want more time in the course, you can opt to switch to the next session without losing any of your work.
What if I need technical help on an online course?
Please refer to Coursera's Help Center.
MoMA reserves the right to cancel or withdraw classes, to change class curricula and scheduling, and to withdraw and substitute instructors. If an instructor needs to cancel an individual class, we will notify you via phone or email and that class will be made up at a later date. Students accept full responsibility for personal injury and/or losses suffered during class hours and while on museum premises. MoMA will not release class participants' personal information to any persons or organizations outside of the Museum without prior written consent.

Education at MoMA is made possible by a partnership with Volkswagen of America.
Major support for Adult and Academic Programs is provided by the Estate of Susan Sabel.
Generous funding is provided by endowments established by Agnes Gund and Daniel Shapiro, The Junior Associates of The Museum of Modern Art, Walter and Jeanne Thayer, and by the gifts of Alan Kanzer. Additional support is provided by the Annual Education Fund.