For the Love of Two Rivers: An-My Lê's Fluid Gaze
Read an excerpt from the Between Two Rivers/Giữa hai giòng sông/Entre deux rivières exhibition catalogue.
As Saigon was "falling," captured by armed Communist forces in April 1975—an attack known to the North Vietnamese as the Liberation of Saigon and to the anticommunist Vietnamese as Black April—15-year-old An-My Lê was lifted out of the city on a cargo plane that took her to Camp Pendleton, in California, via United States Air Force bases in the Philippines, Wake Island, and Guam. It was a decisive moment in history, one that would later inflect Lê's art.
For the past 30 years, the conflicting ideals of American politics, as informed by her Vietnamese heritage and her experience of war and dislocation, have been at the center of Lê's creative practice. Her photographs, films, textiles, and sculptural installations powerfully explore the complex fictions called upon to represent, legitimize, and mythologize warfare. Lê does not take a conventional photojournalistic approach to real-time combat; rather, with poetic attention to politics and landscape, she focuses on military exercises ("pre-enactments" of future combat) and war reenactments (wistful restagings of past conflicts), and on how these simulations collapse the distance between past and present actions and perpetuate a mental state of war—what she calls the "Vietnam of the mind."1 "I'm more interested in the precursor to war and its psychic aftermath," Lê observed in 2005. "There is something about addressing the preparation for war or memory of war itself that allows one to think about the larger issues of war and devastation."2
Rows of Dominos
"My attachment to the idea of landscape is a direct extension of a life in exile," Lê has said. "The sense of home has to do with the importance of culture, food, and location, and it is all connected to the land. Vietnam has always been (and still is somehow) an agricultural society. Its culture and history are deeply rooted in its land."3 In 1994, on her first trip back to her native country since she was airlifted out, Lê stopped at Nam Ha, in the Red River Delta, not far from where her grandmother was born. There, using a large-format Deardorff camera, she photographed a schoolgirl during the rice harvest (right) as part of the Viêt Nam series (1994–98). In this picture, which the artist calls a self-portrait, the child is shown in three-quarter profile from the waist up, wearing a pith helmet, a delicate necklace of plastic beads, and an ink-stained cotton shirt.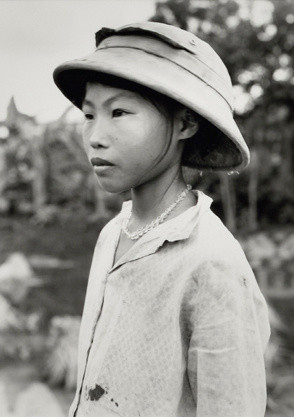 An-My Lê. Untitled, Nam Ha, from the series Viêt Nam (1994–98). 1994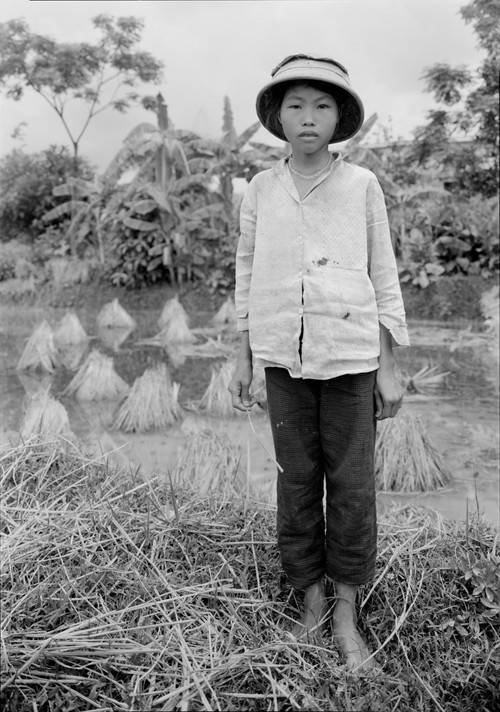 An-My Lê. Untitled, Nam Ha, from the series Viêt Nam (1994–98). 1994
Another photograph of the same girl (left), published for the first time in this volume, shows her frontally, in full, revealing the material realities of her life in Vietnam: her arms are visible, with her prematurely weathered and coarsened hands, like an old famer's, evidence of the hard labor of working the land. This starker image, produced by pulling the camera back from its intimate range, suggests that the body, like the land, holds colonial histories within it, and also that materializing a different future requires reseeding the ground of the past. The women's studies theorist Jill H. Casid notes that "diaspora," in addition to meaning the dispersion of a people, "also signifies the scattering of seed."4 Lê had returned to Vietnam to reconnect with her past but instead found herself in the conflicted position of an "insider/outsider," confronted with the futility of diasporic return.5 She confessed she had gone in search of what Casid calls the "impossible rootless root,"6 only to realize that "whatever it is I was looking for, it was in the landscape."7 Through her camera lens, that landscape becomes a stratified topography of layered histories, of conflict and resilience.

From left: An-My Lê. Untitled, Central Highlands, Vietnam, from the series Viêt Nam (1994–98). 1998; Untitled, Bac Giang, Vietnam, from the series Viêt Nam (1994–98). 1995
Two photographs from the Viêt Nam series present untold stories about a nation in transition. An image from the Central Highlands region (above left) shows a funeral home surrounded by totemic fertility figures from the diverse ethnic groups who settled there during the large waves of postwar migration from 1976 to the late 1990s. An interior shot of a mayor's home in Bắc Giang (above right), a province in northeastern Vietnam, includes a painting of a visit to the village by the Communist statesman Hồ Chí Minh, who led the struggle for Vietnamese independence from French colonial rule and served as the country's prime minister and president from the 1940s through the mid-1960s. These byways into ancestral beliefs and more recent political history reflect coexisting versions of Vietnam and encourage more nuanced perspectives on a land and culture that many Westerners know only through narratives of war.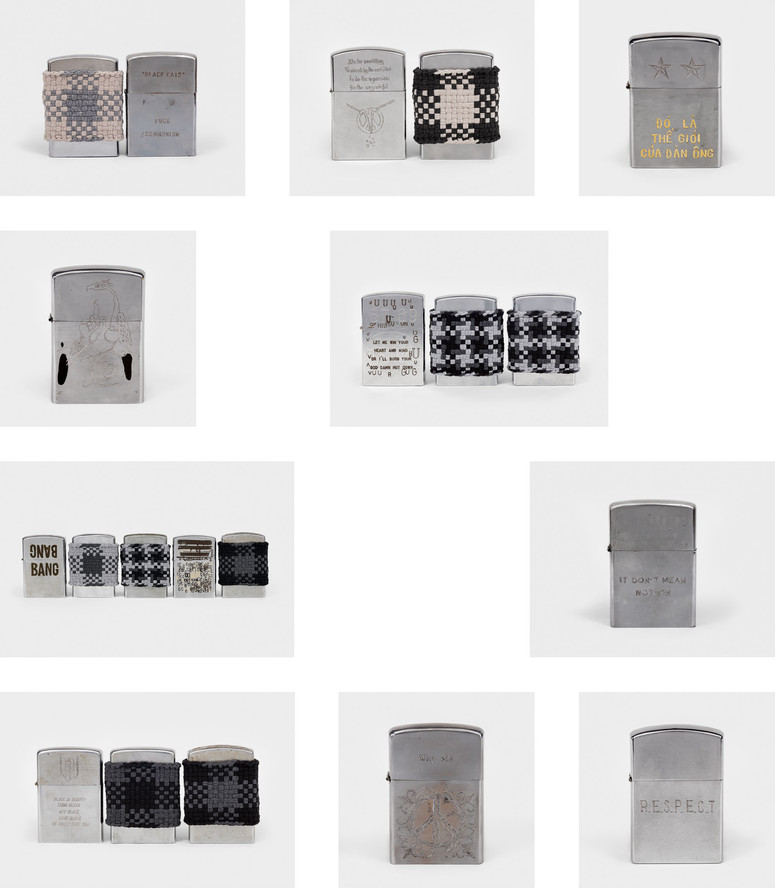 An-My Lê. đô-mi-nô (detail). 2021
As a child growing up in Huế and Saigon during the war, Lê was aware of the ecological destruction being produced by the onslaught of the US military; for her, "any discussion of Vietnam takes place over an open wound."8 Swaths of land were contaminated by Rainbow Herbicides—the chemical agents sprayed over forests, rivers, rice paddies, and farmland to hinder agricultural production and destroy the foliage that provided tactical advantages to enemy combatants. Lê's mother weathered food shortages and prepared for frequent shelling attacks and political coups by stocking their pantry with grains and canned foods. Lê summons that pantry to evoke the mentality of scarcity and vigilance that remained long after the end of the war in the installation đô-mi-nô (2021, above), in the form of a corner shelving unit which she filled not with groceries but with jumbo Zippo-style lighters like those carried by American GIs. The work's title nods to domino theory, a justification for the United States' entry into the war: it asserts that a country coming under Communist control will quickly lead to similar takeovers in neighboring countries, each falling like a perfectly aligned row of dominos. Lê engraved some of the flip-top lighters—American- and Japanese-made novelty items that she sourced on the Internet—with inscriptions reminiscent of those made by soldiers, such as "R.E.S.P.E.C.T." and "Black Cats, Fuck Communism"; she wrapped others in hand-woven cozies inspired by the weaving of the Bauhaus artist Anni Albers and by the potholders that are an arts-and-crafts staple for small children. The lighters functioned as both talismans of protection and emblems of protest, but they were instruments of violence as well: soldiers brought them to Vietnam to light their cigarettes but went on to use them to burn down huts and whole villages in seek-and-destroy missions. Conceived in the isolation of the COVID-19 pandemic lockdown, during the political uncertainty that gave rise to malicious anti-Asian sentiment and heightened xenophobia, đô-mi-nô connects the spectral nature of personal memories with the haunting physical legacy of war.
An-My Lê: Between Two Rivers/Giữa hai giòng sông/Entre deux rivières is on view at MoMA November 5, 2023–March 16, 2024.