Frank Gehry on Ed Ruscha, Now and Then
The renowned architect, a longtime friend of Ed Ruscha's, reflects on the artist's body of work.
The following is an edited excerpt of an interview conducted by Arlette Hernandez. Listen to this and other interviews in the ED RUSCHA / NOW THEN audio guide.
Los Angeles
It was the Wild West, it seemed like. That's something I think Ed liked. Ed came from Oklahoma, and he was a pseudo cowboy, I think. He liked cowboy stuff. He and his friend Joe Goode, who is also from over there somewhere and also an artist, their friends were from the movie world. They got involved with Hollywood a little bit. I went to USC [University of Southern California] and then got drafted in the Army, so I didn't really get the real LA until I got back and started working here as an architect.
LA is a real car city. It's all cars. And everybody's excited about their cars. Some of the artists that hung around, like Billy Al Bengston, were playing with car painting and car surfaces. And I think Ed, probably beginning with the Sunset Boulevard stuff, he got pretty involved with it himself. If you lived here, you couldn't avoid it. You had to make the best of it. Artists tend to build on the life they're in, build on their experiences, and in LA it was all about cars, Hollywood, movies. You couldn't avoid it. Coming from Oklahoma, I think Ed found that quite interesting.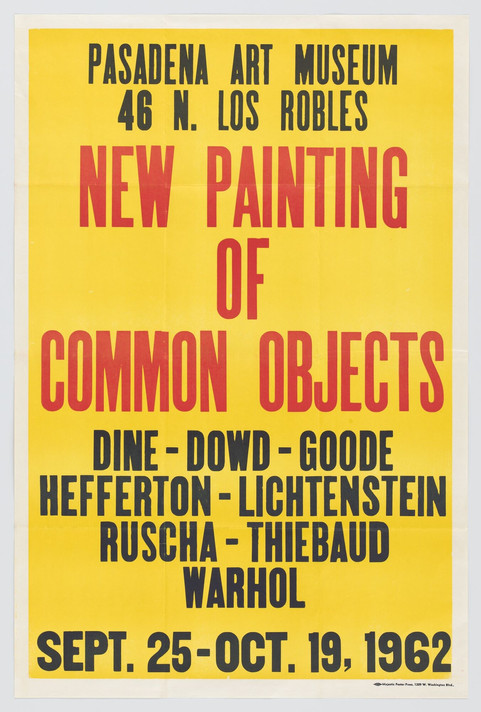 Edward Ruscha. New Painting of Common Objects. 1962
Sunset Strip
The Sunset Strip is where all the action and music are, and I used to go to them all on [the] Sunset Strip. There was a place called the Troubadour where there was folk music and a lot of cowboy-type guys. Ed was comfortable with the cowboy guys. The Garden of Allah was on the corner of Sunset and Crescent Heights. We're now doing a building on that site. That was where the movie stars hung out. There's some great gossip about who was doing what to whom in that hotel. The hotel everybody knows now is the Chateau Marmont. That has been a hangout for years for Hollywood people and events, and the art world got involved with it too.
It was the highlight of Hollywood nightlife. Ed was curious to document it, and he made a book about it. It's very cool the way he represented it. There was no emotion about what goes on there. It was just, look at the Hollywood strip, the Sunset Strip. There it is. It's a bunch of stupid buildings. I guess some of that was in his mind. I don't want to second guess him. It was a powerful piece. We all got copies. I still have that in my library somewhere.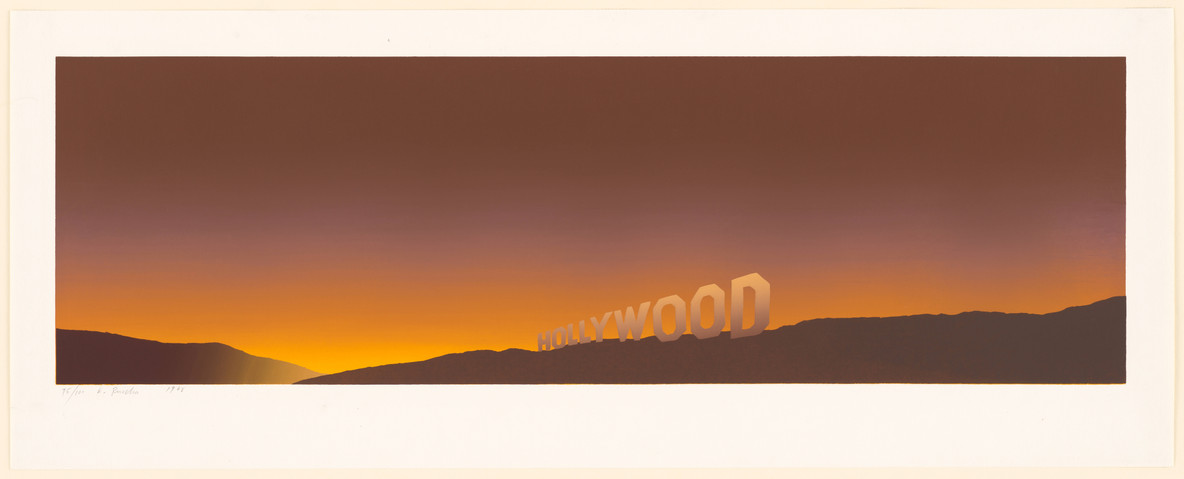 Edward Ruscha. Hollywood. 1968
Hollywood sign
He painted the Hollywood sign. I have two of those prints at home, the one in the print that has the color of the sunset and one that he did in Pepto Bismol.
I always thought that was a weird way to represent the city, just a stupid billboard, cut out letters on the hillside. When I saw it, I thought, why are they desecrating this beautiful hillside with that crap, so I think that was Ed's commentary. He was saying, "Okay, if you like that goddamn shit, I'm going to make it art." I think he was responding to the time. He's a living artist in a living place at a living time, and his way of talking about it was to make a painting. I inadvertently competed with the Hollywood sign a little with the concert hall I did, which now attracts a lot of people, but I think the Hollywood sign is still the essence of old LA.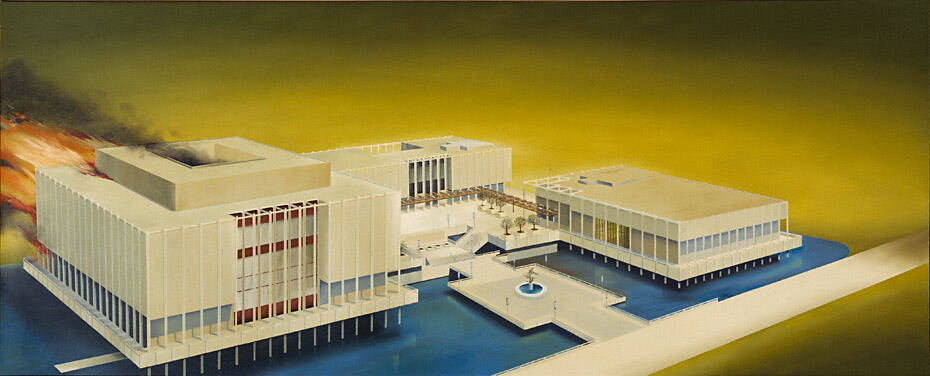 Edward Ruscha. Los Angeles County Museum of Art on Fire. 1965–68
LACMA on fire
At that time they were trying to build this museum in LA. They were going to get Mies van der Rohe to do it, but the community wouldn't let them, so they did a building by William Pereira. No one in the art world liked it. None of us liked it, even though Bill Pereira was my teacher at one point and quite a decent guy. So Ed burned it in his painting, which was the way everybody felt. He put all of our feelings in that piece. He does have a knack for that. He goes right to the heart every time.
Course of Empire
Ed is interested in the mundane and the stupid way things are. It's a commentary, finally, on who and what we are. He finds some interest in talking about that with his work. It's like he's putting up a mirror. That's what's powerful, because when you look at it, you realize this is what's going on.
I don't think he was trying to upset anybody. He was just, in the casual Ed Ruscha kind of way, saying hey, do you realize this is who you are? This is what you're doing. It's like that. Very casual. That's the strength of it. We never talk about it. He's not somebody who sits around and talks about what his intentions were or what he's doing. He's very quiet. He doesn't impose himself on any of us about his work. He just does it. He's part of the gang and we talk about normal, stupid things.
Working with new materials
I think Ed's work encouraged us to accept things the way they are. Here we are in this place where they're building endless tract houses. Maybe I was inspired by him, I don't know. The artists I was looking at were doing things with breaking down buildings—Gordon Matta-Clark, and there were others. He was tearing buildings apart. I just took the materials that existed, that people were using. There's a factory in LA that was building enough chain link fencing in one hour to cover one lane of the freeway from downtown to the beach? I said okay, if they're using it, then I'll use it. But then when I used it on purpose, everybody gave me shit for using it. Why are you doing that? Same with corrugated metal. It's similar to Ed's take. I never thought of it that way, but I suppose maybe that's why I felt so comfortable with Ed's art, because it was just looking at the reality and saying, "Okay, if you're going to do this, I'm going to make something that fits into that story."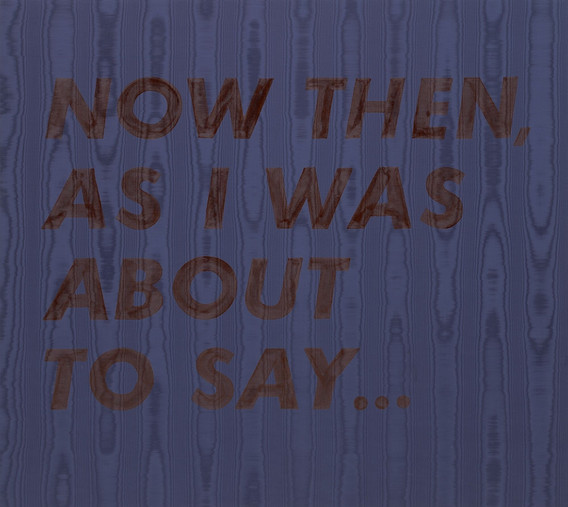 Edward Ruscha. Now Then, As I Was About to Say.... 1973
View of the Big Picture
In my work, we have to show everything in three dimensions, because we have to show the whole project. I make a lot of models so that the people who are paying for it can see what they're getting. It's also my way of designing. I think Ed is working in a different way. There's no reason for him to try to explain a project, except maybe to say, you're getting the frontal version, which is what everybody sees, but hey, look at what this mess looks like behind. That's also in the landscape and you're looking at it almost equally to what's on the signboard.
I love having Ed as a friend. You don't have to do anything. It's just, we are what we are. We have dinner once in a while. I have one of the paintings of his son in my house. Our friendship is a very important part of my life. I like what Ed stands for. I always learn from his art.
ED RUSCHA / NOW THEN is on view at MoMA through January 13, 2024.