Ten Minutes with Monét X Change: On Drag
The winner of RuPaul's Drag Race All Stars reflects on how drag changes us for the better.
Though accounts of the first drag queen vary, one thing is certain: drag has been around for a long time. Long before the 2009 premiere of RuPaul's Drag Race, a television series in which artists from across the United States show off their unique styles of drag, people have used make up, costumes, and performance as a way to express themselves and experiment with ideas of masculinity and femininity. One of these early performers was Modjesko, a drag queen whose striking portrait by Kees van Dongen is currently on view in MoMA's fifth floor galleries.
Born to a Black family in South Carolina during the 1870s, Modjesko began dressing and performing in women's clothing as a teenager. But it was not until they traveled overseas to Europe as a 20-year-old that Modjesko gained recognition for their talents as both a soprano singer and female impersonator, capturing the attention of notable painters like van Dongen. According to historian Donyale Bartíra, the performer was often pursued by law enforcement for reasons related to their race, sexuality, and gender presentation.
Simultaneously celebrated and shunned, Modjesko's life mirrors the life of drag performers more than a century years later. For this month's Ten Minutes podcast, we spoke to the award-winning opera singer and drag queen Monét X Change about the anti-drag movement, which has led to protests across the country in response to the growing popularity of drag. "With all these legislations and bills to try to keep drag away from certain people," says Monét X Change, "it feels like an attack on our livelihood and this, like, way to dehumanize us." But queer people across the country are using their voice and artistry to resist and show that the contributions of LGBTQIA+ communities are crucial to society. In Monét's words, "Drag has been around for a very long time. Something that has been around for so long is living proof that it informs the culture and that it is completely valid."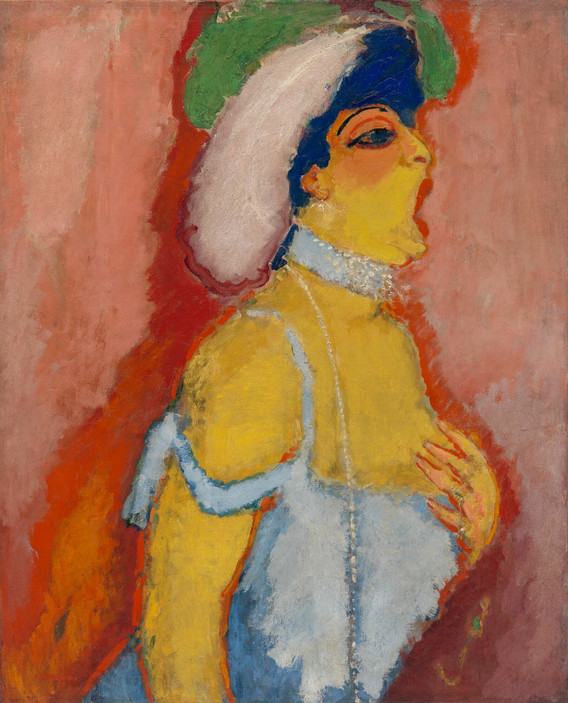 Kees van Dongen. Modjesko, Soprano Singer. 1908
To hear more about drag and its role in society, click on the SoundCloud audio below.
See below for a transcript of the SoundCloud audio.
Performer, Monét X Change: I never started doing drag to be on Drag Race. I started doing drag because it really helped me discover my identity and who I was and my sexuality. It really opened up my eyes to what life could be in, like, full color.
The crayon analogy is really my favorite thing. When I was younger, my mom gave me the eight colors, I was like, "Wow! Red, orange, yellow, blue, green. This is great!" A few years later I got the 16. "I was like, teal? Huh. That's cool." And then I got the 96, I was like, "Citrine? Cerulean? What! This is insane." It, like, blew my mind—all these things I could color with and play with and the worlds I could create by having access to so many different colors and so many tools to make me paint a full picture, and I think that is literally what drag did for me.
So when people come to my shows, their world is just a little brighter because they're allowing themselves to see more color. It's so cool.
Hi, I am Monét X Change from RuPaul's Drag Race and Sibling Rivalry and comedy and opera.
My experiences with the arts, I was in middle school choir and my middle school choir teacher told me, "Hey, you should audition for one of those arts high schools in New York City." So I did. From there, I was in an extracurricular choir where we traveled around the country on spring break and summer breaks, and that got me into classical music. So I went to college for music education and opera performance, and I sang professionally for two years, after I graduated college. And then I started watching RuPaul's Drag Race season two, and I fell in love with drag.
Opera and drag, the two share a lot of drama. They're both just really exciting and very dynamic. And I think that going back into opera now—getting a chance to perform in full drag in an opera—was something I never thought would be available to me, something that I would ever have the chance to do.
In college, I took this class called "The Singing Actor." It was basically a class that you take to find out how to act through singing. It sounds very easy, but it's really not. Because you had to invoke different emotions by just singing pitches as opposed to saying anything. It was very interesting. I think I took a lot of that into my drag with lip syncing, right?
Yeah, you are saying words, there is text there. But, like, what are you finding in between the breaths that Celine Dion is doing in "It's All Coming Back to Me Now"? What does that look like on stage? I've taken a lot of that into my drag and it's really informed my drag and how I perform.
Because drag is such a big and colorful and really fabulous art form, I think that people are very intrigued by how drag exists and how drag is being captured. So you have something like Modjesko, the Soprano Singer by Kees van Dongan.
I would love to have something like this in my home one day, but I could probably never afford it. Maybe RuPaul will buy it for me. Ru, if you're listening, I would love this painting.
Modjesko was a drag performer who worked throughout the 1900s. They were born to a Black family in South Carolina, and began dressing in women's clothing at the age of 15. Baby, the best drag queens start early!
In this painting, I think the thing that strikes me the most is the color. To see how they chose to illustrate this Black man in 1908 in this fabulous blue hair and this green hat and this yellow body. Ooh girl, she's feeling it tonight, honey. She might be singing an aria, she might be giving herself a mammogram—either/or is valid—and she looks stunning. I'm gonna say they went to a very fierce nightclub, and Kees was so enamored by the beauty of the soprano singer that they just had to immediately go home and do this painting.
A soprano singer is a high-voice female singer. The sopranos always steal the show in every opera, and that's fine. For sopranos, you have the coloratura soprano. They are a lighter voice. They move a lot. They do a lot of runs, a lot of trills, because their voices are so light and airy.
You have a dramatic soprano, who is always a princess again or a queen, and the voice is a little heavier. But not as heavy as a verity soprano, those are a little more robust. Then you have the Wagnerian soprano. Their voice is a Mack truck. It will shatter the walls in your home if they sing a beep, bop, or boop.
The thing that let me know that Modjesko was a dramatic soprano was the hand, they call it the singer's claw. But also how they're just leaning ever so forward, because it's like, this sound is so big I need to just lean forward to make sure that I am like nailing it, that I'm sticking it to you. Modjesko is definitely doing that a little bit and to see how that mouth is open, honey, that embouchure is perfect. Whatever note that is being sung is in tune for sure.
When Modjesko was 20, they traveled overseas to Europe where they toured for about 10 years. And then on Modjesko's return trip to the US, they go with their singing partner to New York and they're arrested for corrupting minors. It's literally a mirror into what we're currently facing in these here United States.
You have something like Drag Queen Story Hour, where across the country, drag queens were going to libraries and parents can bring their children, and you could have a drag queen dress up in a beautiful look as a fairy princess and read to children. And it would be this like really fun experience, but it has now turned into this insane culture war where people are saying that drag queens reading stories to children—it is wrong, it is converting their children.
It just speaks to people's uncomfortability with gender and sexuality. And I think that the fear that people have when they see drag queens reading to their children is that a child seeing drag queens is going to make them gay or make them queer, and everyone here knows that's just not how it works. I mean, I watched so many episodes of Saved by the Bell! I saw Zach kiss Kelly 19 times a week—it did not make me straight. That's the fear. That is the concern. Because it is this demonizing of queer people saying that something is wrong with queer people.
I think if Modjesko was transported to 2023, they would be like, "Girl, still?! Y'all have not figured this out?" It sucks that we are still battling the same fight a hundred years later. If I'm teleported to 3023 and I see this stuff still going on, then…I don't know what Modjesko would do. Modjesko would be so tired. Like, "Girl, I'm going back to sleep. Wake me up a hundred years later. Hopefully it's all done."
The current state of drag feels very scary. It feels very volatile. For a lot of us in this country, we wake up and we have no idea what we're gonna see on Instagram today that's gonna be some shocking thing. But I think more so for drag, it feels like an attack on our livelihood and this, like, way to dehumanize us and to send us back into the confines of a late-night club.
But I love how accessible drag has become. Drag queens are making great music. Drag queens are writing great films. Drag queens are directing film. Drag queens are doing these things. So why can we not be ushered into these spaces that we can live and thrive?
It's almost like drag queens are human beings, you know what I mean? It's almost like we are, like, regular people. So why can we not get these same accolades and be allowed into these same spaces like everyone else?
Our art form is valid. Our art form is fierce. Our art form is beautiful.
I think queer people are so resilient. We have had decades of fighting for just basic, fair, equitable human rights and treatment, and we're not gonna stop because of this one thing. We are very resilient and we will fight until there is no fight left to be had.
I think it takes people who are not queer and people who are not drag queens—people who love these people—to speak up and say, no, this is not what this is. So it's just really gonna take strong allyship to help turn the tide on a lot of this legislation. For people who have queer brothers and queer sisters and their families really band with them and to show that queer people, gay people, drag queens—we are normal people with normal families. We eat, breathe, sleep, and work just like everyone else.
Drag has been around for a very long time. And I think that speaks to how important drag is to art and to the world. People may try to, like, brush it off as this silly, frilly thing that has no validity and has no importance to our community, but it's quite the opposite.
We all grew up in a very binary world, and it's hard to see past what we are told that we have to be. So when you go to a drag show or you watch a TV program or you see this person existing in both, it can really open up your worldview of what the barriers of gender and sex are, right?
I think that it allows you to look at yourself and be like, "Can I do that? How does that look like for me? How feminine do I feel today? How masculine do I feel today? How none of it do I feel today?" It allows people to have that conversation with themselves that they're too afraid to have or to say.
That is what drag serves people. It can change you for the better.
Monét X Change is a trained opera singer and drag performer known for winning season four of RuPaul's Drag Race All Stars and being crowned Miss Congeniality in season 10 of RuPaul's Drag Race. Monét has traveled the globe with her one-woman show, Call Me By Monét, as well as hosting and performing in the Werq the World tour. Monét also released her first EP, Unapologetically, cowriting the project and conceiving the accompanying visual album. She is currently focusing her hilarious and oftentimes sociopolitical humor as the host of her own talk show, The X Change Rate, and the cohost of the Sibling Rivalry podcast with Bob the Drag Queen.
This episode was produced and edited by Arlette Hernandez with mixing and sound design by Brandi Howell.

MoMA Audio is supported by Bloomberg Philanthropies.