MoMA Mixtape: Brent Hayes Edwards Slips into Another World
The writer and scholar offers an introduction to the extraordinary music of composer Henry Threadgill.
In the wake of the recent publication of Easily Slip into Another World, which I wrote with the Pulitzer Prize–winning composer and multi-instrumentalist Henry Threadgill over the course of more than a dozen years, I still find myself navigating the city to the soundtrack of Henry's astonishing music. In this playlist, I've woven some of the echoes I heard one afternoon as I explored the MoMA collection galleries into an introduction to the wonders of the Threadgill discography from the past half-century.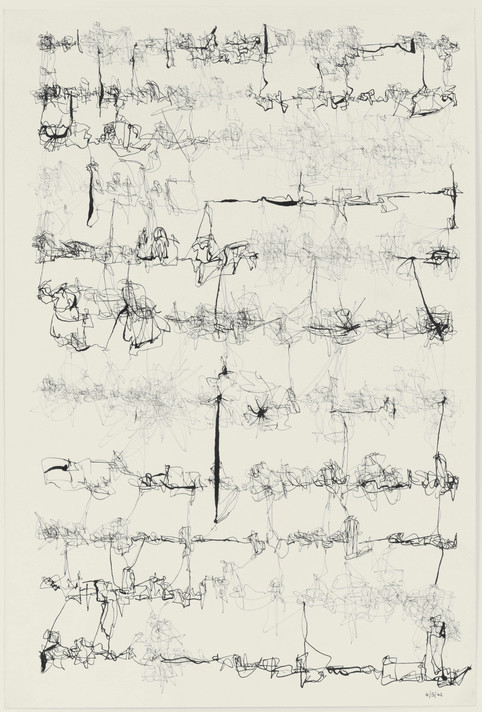 León Ferrari. Untitled. 1962
León Ferrari's Untitled + "Untitled Tango" by Air
Ferrari's ink drawing made me think of "Untitled Tango," the opening track on the 1975 debut of the trio Air (featuring Henry, the bassist Fred Hopkins, and the drummer Steve McCall), less because Ferrari was Argentine than because the song flirts with something it isn't. Just as Ferrari's scribble lingers at the edges of calligraphy without becoming legible, Henry's composition hints at the stately menace of tango without ever quite inhabiting the genre. Threadgill played various woodwinds with Air, but it feels appropriate to open with an example of his work on the instrument that was his first love, the tenor saxophone.
Beauford Delaney's Composition 16 + "Midnight Sun" by Air
One of Henry's most memorable ballads, "Midnight Sun" is suffused with radiance. The tune's title—an allusion to the brief period around the summer solstice when, at certain latitudes north of the Arctic Circle, the sun does not set during a 24-hour period—suggests a bounty that is inexplicable, limitless, like the eerie internal glow that seems to emanate from Delaney's painting.
Brent Hayes Edwards at MoMA with Beauford Delaney's Composition 16 (1954–56)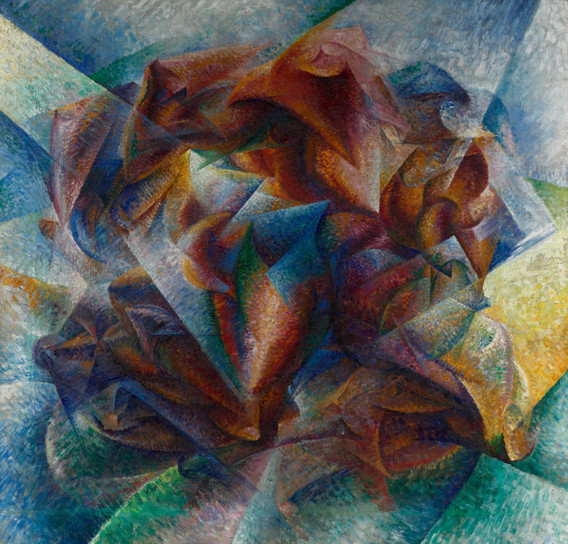 Umberto Boccioni. Dynamism of a Soccer Player. 1913
Umberto Boccioni's Dynamism of a Soccer Player + "Portrait of Leo Smith" by Air
After relocating from Chicago to New York City in early 1976, Air became a fixture at the nightclubs and lofts around lower Manhattan. This composition, featuring Henry on flute, was recorded in concert at Studio Rivbea, the loft performance space on Bond Street in NoHo run by the saxophonist Sam Rivers and his wife Bea. If it brings to mind other "portraits" in jazz, such as Duke Ellington's depictions of Bert Williams and Louis Armstrong, this study of Henry's collaborator, the trumpeter and composer Wadada Leo Smith (a fellow member of the Association for the Advancement of Creative Musicians in Chicago), seems to suggest that abstraction might be the most accurate method of portraiture, as in Boccioni's mesmerizing painting of a body in motion. As Boccioni wrote in a 1910 manifesto, "To paint a human figure you must not paint it; you must render the whole of its surrounding atmosphere."
George Maciunas's Nam June Paik at his Exposition of Music – Electronic Television + "Suisse" by Air
After serving in Vietnam, Threadgill returned to Chicago in the late 1960s and early 1970s and worked in a remarkable variety of contexts including blues bands, experimental jazz units, Latin dance ensembles, and collaborations with dancers, poets, and visual artists. In an early promotional brochure, Henry described Air as "a visual experience as well as an auditory one." The trio cultivated an atmosphere of kinetic drama in their performances, especially when Henry switched from saxophones and flute to the hubkaphone, an invented instrument made of automobile hubcaps strung across a minimalist armature, as he does during a hypnotic passage of Air's concert at the Montreux Jazz Festival in July 1978. Before they left Chicago, Air performed with the pioneering video artist Nam June Paik, whose work demonstrates a similar commitment to multimodal exploration, "action music," and playful theatrical shenanigans.
Brent Hayes Edwards at MoMA with George Maciunas's Nam June Paik at his Exposition of Music – Electronic Television (1963)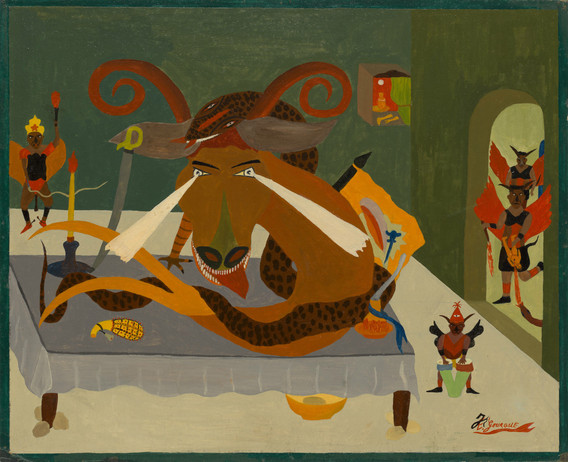 Jacques-Enguérrand Gourgue. Magic Table. 1947
"The tune has a faux-naïve, almost ritualistic opacity that reminds me of the forbidding creatures in the mysterious ceremony depicted in Jacques-Enguérrand Gourgue's Magic Table."
Jacques-Enguérrand Gourgue's Magic Table + "Sir Simpleton" by X-75
Even as Air was starting to record its first albums in the mid-1970s, Threadgill was also composing for other ensembles, some with radically different instrumental configurations. By 1975 he was performing around Chicago with his X-75 band, a combination of four contrabasses, wordless vocals, Henry's alto saxophone, and three flutes. "Sir Simpleton" is a composition that Henry re-arranged for different ensembles, and there is an intriguing contrast between the dense thicket of the X-75 version and the infectious hubkaphone-leavened version performed by New Air (with Pheeroan AkLaff replacing Steve McCall in the drum chair) at the Montreal Jazz Festival in 1983. In either version, the tune has a faux-naïve, almost ritualistic opacity that reminds me of the forbidding creatures in the mysterious ceremony depicted in Jacques-Enguérrand Gourgue's Magic Table.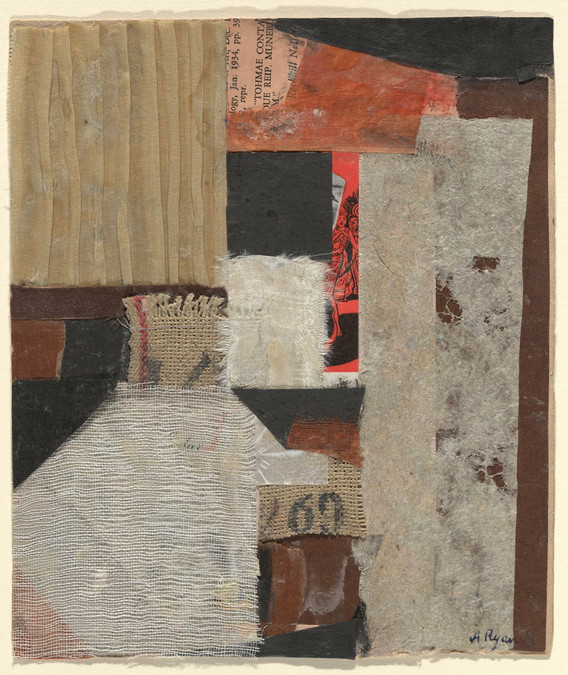 Anne Ryan. Number 13. 1948
Anne Ryan's Number 13 + Air's "The Ragtime Dance"
As a longtime lover and practitioner of collage, I was thrilled to discover the mid-century work of Anne Ryan, whose small and intricate assemblages are feats of understated mastery. Their deft juxtapositions of texture (in compositions using handmade rag paper, Japanese rice paper, hemp, silk, cloth, and various printed and colored paper) made me think of Air's earliest music. In the trio's first public performances, Air provided the accompaniment for The Hotel, a play directed by Donald Sanders at the Columbia College Theater Center near Lincoln Park in Chicago. Sanders asked Henry to arrange a selection of ragtime tunes by Scott Joplin for the occasion. While Air came to be known as one of the great avant-garde units of the 1970s, its music was shaped by this deep revisitation of one of the foundational genres of jazz. Realizing that rags have a suite-like structure, Threadgill, Hopkins, and McCall found ways to rearrange and expand the patchwork quality of the form.
Margaret Bourke-White's Wind Tunnel Construction, Fort Peck Dam, Montana + "Bermuda Blues" by the Henry Threadgill Sextett
The interwoven geometry of Bourke-White's photo of a wind tunnel under construction in the 1930s captures a complex structure designed to channel the energies of air. With its symmetrical structures replicated at an awe-inspiring scale, it brings to mind the blustery largesse of Henry's great group, the Sextett, which he founded at the end of 1979. Approaching the palette of the ensemble—which included alto sax, trumpet, trombone, cello, bass, and drums (the drum part was performed by two percussionists, so the term "Sextett" was a sly way of noting that the group featured seven players rather than six)—like the sections of an orchestra, Threadgill developed a catalog of compositions with breadth, punch, and power, like the irresistible groover "Bermuda Blues."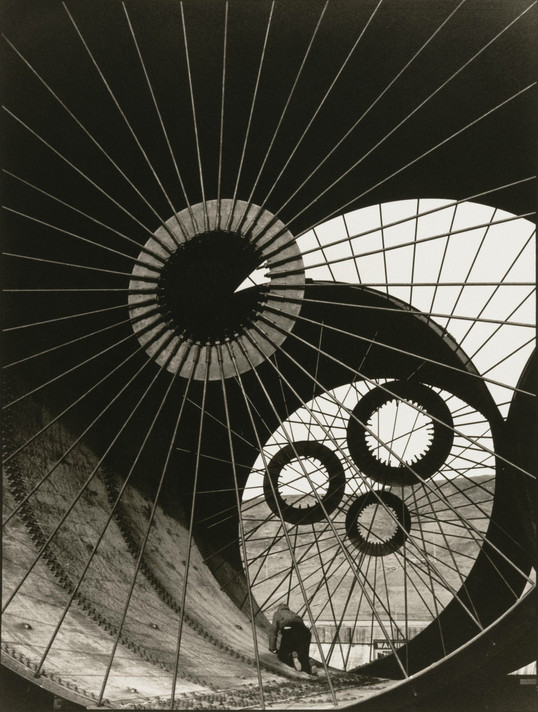 Margaret Bourke-White. Wind Tunnel Construction, Fort Peck Dam, Montana. 1936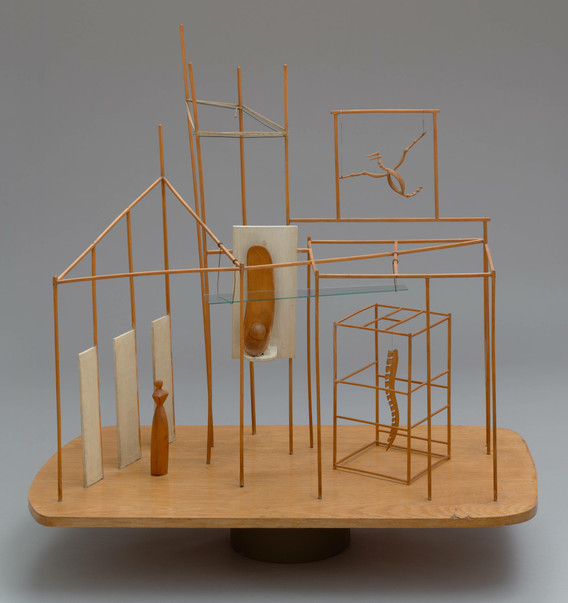 Alberto Giacometti. The Palace at 4 a.m. 1932
Alberto Giacometti's The Palace at 4 a.m. + "T.B.A." by Flute Force 4
Threadgill and James Newton were the driving forces behind a flute quartet that, despite recording a single album, gained a reputation as one of the most compelling of the single-instrument ensembles (including the World Saxophone Quartet, the Baritone Sax Retinue, M'Boom, and the New York Bass Violin Choir) that emerged in the 1970s and 1980s. Henry's composition "T.B.A.," driven by a bass flute playing a clave-like ostinato, achieves miraculous thrust with the lightest of means, a little like the engrossing, enigmatic assemblage that Giacometti built out of what he called a "fragile palace of matches" to commemorate an obsessive love affair in the summer of 1932.
Richard Serra's Equal + "Hope A Hope A" by Very Very Circus
If the flute quartet somehow conveyed the grounded weight of nothing more than air, Henry's next ensemble seemed to jostle an impossible array of dark, ponderous beasts into electric feats of agility. The new band, Very Very Circus, featured Henry's alto and a trombone or French horn darting around above improbable pairings of two tubas and two electric guitars, playing not in unison but in a tortuous counterpoint that kept the beat perpetually off-kilter. The effect reminds me of the eight 40-ton forged steel cubes stacked in pairs in Richard Serra's Equal. Serra switches the orientation of the longer and shorter sides in each pairing, creating a disorienting syncopation as the viewer looks from one stack to the next, with equal elements thrown into a multiplicity of relationships.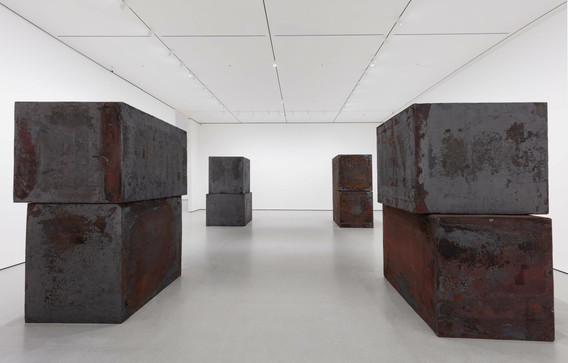 Richard Serra. Equal. 2015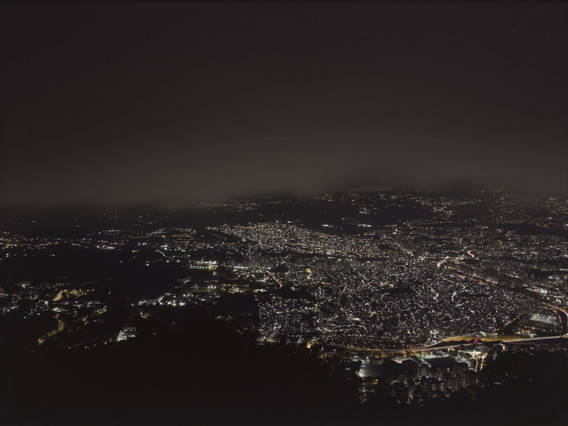 Suwon Lee. The most dangerous city in the world. 2011
Suwon Lee's The most dangerous city in the world + "Come Carry the Day" by Very Very Circus Plus
The Venezuelan photographer Suwon Lee's Crepuscular series features large-scale shots of contemporary Latin American cities at dusk, focusing not on the expected monuments and landmarks of urban life but on unexpected and liminal perspectives. Her La ciudad más peligrosa del mundo (The most dangerous city in the world) is a portrait of Petare, the largest neighborhood in Caracas, taken from El Ávila mountain, which looms above the city. Lee doesn't shoot the iconic peak itself, but instead offers what she calls the "anti-cliché" of the view away from it, a bird's-eye vantage of the city lights below. It made me think of the extended period Henry spent in Venezuela in 1974: he went almost on a whim, without any contacts, but rapidly integrated himself into the music scene. Like his experiences in Vietnam, Trinidad, and India, Henry's time in Caracas left traces in his subsequent music, as in the augmented version of Very Very Circus that recorded the exuberant "Come Carry the Day," featuring the Venezuelan percussionists Johnny Rudas and Miguel Urbina on vocals and the small, slender drums called the culo y puya.
Manuel Álvarez Bravo's Laughing Mannequins + "100 Year Old Game" by Henry Threadgill & Make a Move
In 1996 Threadgill's album Where's Your Cup? signaled another major shift in his music, toward a new ensemble featuring Henry's alto sax and flute along with a single guitar, accordion, bass, and drums. The very name of the new band—Make a Move—sounded like a declaration of the composer's commitment to self-redefinition. Henry had originally written one of the tunes on the album, "100 Year Old Game," for another of his groups from the 1980s, the Windstring Ensemble, a modified string quintet with alto sax, violin, viola, cello, and tuba. In the winter of 1984, Henry presented what he called a "Live Music Imagination Series" in which the Windstring Ensemble played music that was supposed to be the soundtrack for scripts in a variety of mediums: film, radio, television, and dance. (In other words, the series asked the audience to imagine a movie based only on its purported soundtrack.) "100 Year Old Game" came from the imaginary TV show, The Android That Terminated Hugh-Pinkston Sells and Committed Suicide, a science-fiction space odyssey in which society is infiltrated by androids that are nearly indistinguishable from humans. I was reminded of this tune—and of the mind-bending premise of the series—while looking at Manuel Álvarez Bravo's collage-like 1930 photo, with its gaggle of hyper-realistic mannequins hovering in mirth above a shopkeeper and passersby in Mexico City.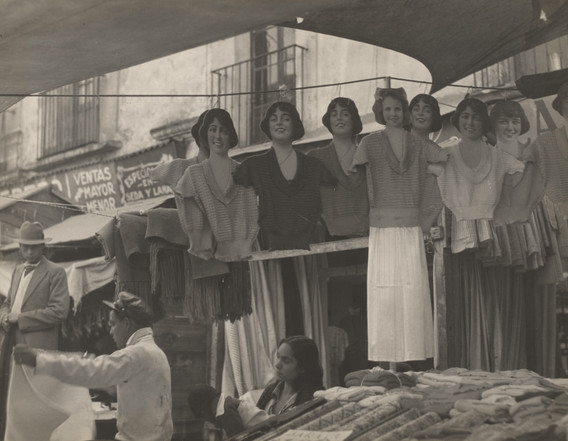 Manuel Álvarez Bravo. Laughing Mannequins. 1930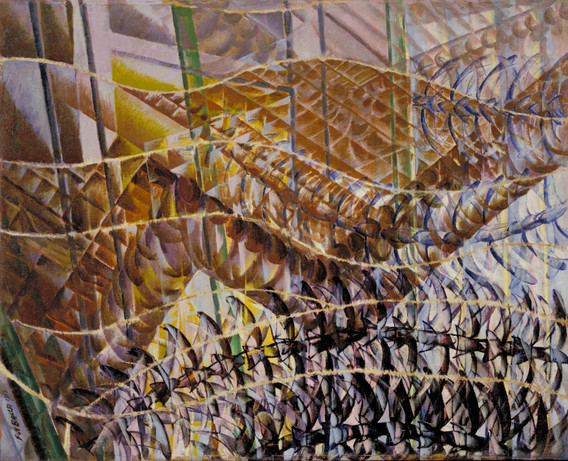 Giacomo Balla. Swifts: Paths of Movement + Dynamic Sequences. 1913
Giacomo Balla's Swifts: Paths of Movement + Dynamic Sequences + "To Undertake My Corners Open" by Zooid
At the turn of the millennium, Threadgill found a way out of the constraints of traditional diatonic harmony, discovering an interval system based on three-note cells that provided the foundation for an entirely different compositional vocabulary. By the fall of 2008, when his new quintet, Zooid (named after a scientific term for an organic cell that moves independently within a living organism), recorded the two volumes of Things Brings Us To, they were playing with dazzling self-assurance. The open corners of Henry's recent music—its refusal to settle, its propulsive ongoingness—makes me think of the Italian futurist Giacomo Balla's experimentation with ways to portray movement in the supposedly static medium of painting, using repetition and refraction to imply the rapid wing patterns of birds in flight.
Julie Mehretu's Invisible Sun (algorithm 5, second letter form) + "In for a Penny, In for a Pound (opening)" by Zooid
Mehretu's work, with its torrential proliferation of overlaid gestural marks, seems to suggest the impulsive and irreverent tagging of graffiti. It also points to modes of contemporary information management: charts of atmospheric weather patterns, traces of troop movements, maps of traffic circulation, diagrams of elaborate communication systems. Her painting seems reminiscent of Threadgill's music not because it could be taken to look like a transcription of any given Zooid record, but because it seems to capture in ink and acrylic on canvas something like the dynamic multiplicity of his music. Mehretu's Invisible Sun dates from 2014, the same year Zooid recorded the suite In for a Penny, In for a Pound, for which Threadgill was awarded the Pulitzer Prize.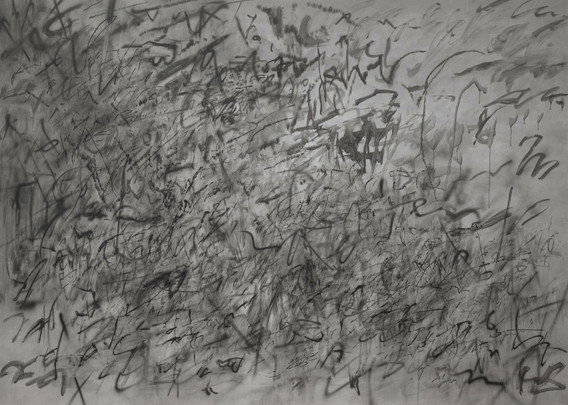 Julie Mehretu. Invisible Sun (algorithm 5, second letter form). 2014
Brent Hayes Edwards is a Ford Foundation Scholar-in-Residence at The Museum of Modern Art and the Peng Family Professor of English and Comparative Literature at Columbia University. His award-winning books include Epistrophies: Jazz and the Literary Imagination (2017).