One on One: Andrew Wyeth's Christina's World
Read an excerpt from the ongoing book series, about one of the most popular—and contentious—paintings in American history.
When asked by a journalist in 1977 to name the most underrated and overrated artists in the history of art, the art historian Robert Rosenblum chose to submit one name for both categories: Andrew Wyeth.1 Wyeth, an American realist painter whose life and career spanned the better part of the 20th century, produced in 1948 one of the most iconic paintings in American art, a desolate Maine landscape with a single figure called Christina's World. This painting, acquired by The Museum of Modern Art in 1949, would become one of the most recognizable images in the history of American art, along with James Abbott McNeill Whistler's Arrangement in Grey and Black No. 1 (Portrait of The Artist's Mother) (1871), better known as Whistler's Mother, and Grant Wood's American Gothic (1930), a painting of a dour Midwestern farm couple in front of their homestead. Christina's World has been so widely reproduced that it has become a part of American popular culture, and it has also ignited heated arguments—about America's self-image, cultural parochialism, and taste—that added a measure of controversy to Wyeth's career, up to his death in 2009. Although controversies surrounding the role of Wyeth's work in American postwar art have shaped his artistic legacy, the popularity of the painting endures.
Christina's World is a modest-sized genre scene, painted in high detail with egg tempera on board. Set in the stark, barren landscape of coastal Maine, it depicts a young woman seen from behind, wearing a pink dress and lying in a mown field. Although she reclines gracefully, her upper torso, propped on her arms, is strangely alert; her silhouette is tense, almost frozen, giving the impression that she is fixed to the ground. Stock-still she stares, perhaps with longing, perhaps with fear, at a distant farmhouse and a group of outbuildings, ancient and grayed to harmonize with the dry grass and overcast sky. The scene is familiar, even picturesque, but it is also mysterious: Who is this young woman, vulnerable but also somehow indomitable? What is she staring at, or waiting for? And why is she lying in a field?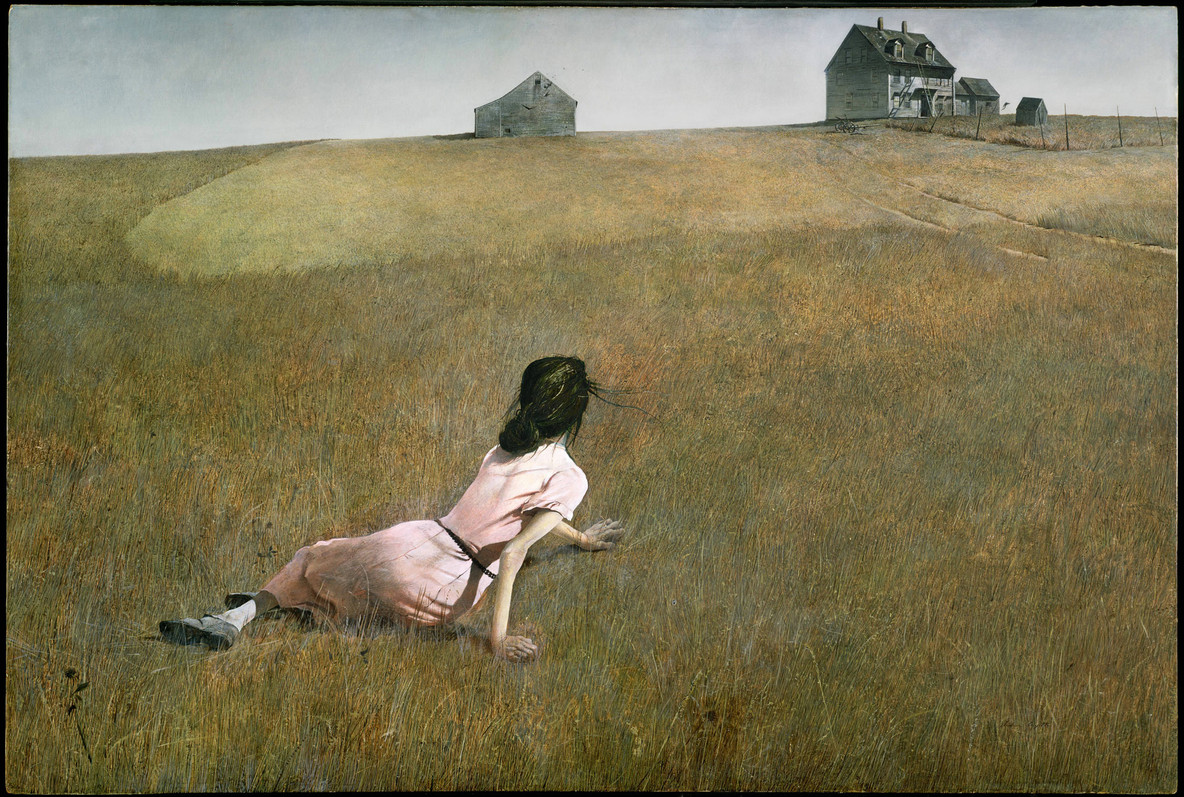 Andrew Wyeth. Christina's World. 1948. Tempera on panel
The painting was acquired by The Museum of Modern Art in 1949 for $1,800—a princely sum at the time—from the Macbeth Gallery on 57th Street in New York City. Wyeth had exhibited his work there for almost a decade, and from his first solo exhibition, in 1937, he had attracted attention and achieved a good deal of financial success. The purchase of Christina's World, however, marked the beginning of a vertiginous rise in Wyeth's career. After its acquisition by the Museum, Wyeth was regularly featured in mainstream large-circulation magazines, such as Time and Life, during the 1950s and '60s and was hailed by these publications as America's most popular artist.2 In 1959 his Groundhog Day (1959) was purchased by the Philadelphia Museum of Art for $35,000, the highest price ever paid by a museum for the work of a living American artist. In 1963 a midcareer retrospective of Wyeth's work at the Albright-Knox Art Gallery, in Buffalo, New York, attracted nearly 250,000 visitors—roughly half the population of the city. Christina's World, the show's centerpiece, provoked outpourings of emotion usually reserved for screen idols. One fan, from South Bend, Indiana, wrote plaintively to the museum, "I would so much like to see Mr. Wyeth's work. The two reproductions I saw in the paper have shaken me tremendously. I have even priced the railroad fare to your city but I'm afraid I can't make it. I have nine children, and little time and money to spare." 3
Thanks in part to the sale of postcard and poster reproductions, Christina's World became so familiar that by the early 1960s it was also widely parodied, the lone figure gazing longingly at a distant goal cheerfully co-opted to sell everything from pale ale to air conditioners. A small industry sprang up around its subject, Anna Christina Olson, and her home, the farm in South Cushing, Maine, shown in the painting: after her death, in 1968, the house and part of the property were purchased by a collector of Wyeth's work and restored with the intent of creating a Wyeth museum. The Olson House opened to the public in 1971 and was immediately swamped by Wyeth admirers who tramped across the property and plunked themselves down on the lawn Christina-style for a photograph against the famous backdrop. The site attracted so many visitors that the residents of South Cushing strongly protested, and the museum was closed barely a year after it opened. The Olson House reopened in 2000 under the aegis of the Farnsworth Art Museum, in Rockland, Maine, and is now on the National Register of Historic Places.
Wyeth first met Anna Christina Olson and her brother Alvaro in 1939, when she was 46 years old. He was introduced by Betsy James, the woman who was to become his wife and whose family home was close to the Olson farm. Christina's World is the second of four tempera paintings of Christina that Wyeth completed from the time he met the Olsons until the siblings' deaths. He also made numerous drawings and watercolors of brother, sister, and house during his 50 years of friendship with the family. . ..
…Wyeth was inspired to paint Christina's World when he happened to observe Christina making her way up a hill after picking vegetables from the family garden. He was in the studio he had set up in an unused bedroom on the third floor of the Olson home, the large, clapboard house seen in the painting at the top of the hill, and although he had a bird's-eye view of Christina, he chose to paint her from the reverse perspective, with Hathorn House in the background. This choice of a worm's-eye view, which sites the viewer slightly below a looming Christina, does two important things: it places us virtually in the grass alongside her, almost encouraging us to join her uphill struggle, and it allowed Wyeth to indulge in what his chosen medium and tools—tempera applied with tiny brushes—do best: the depiction of minute detail.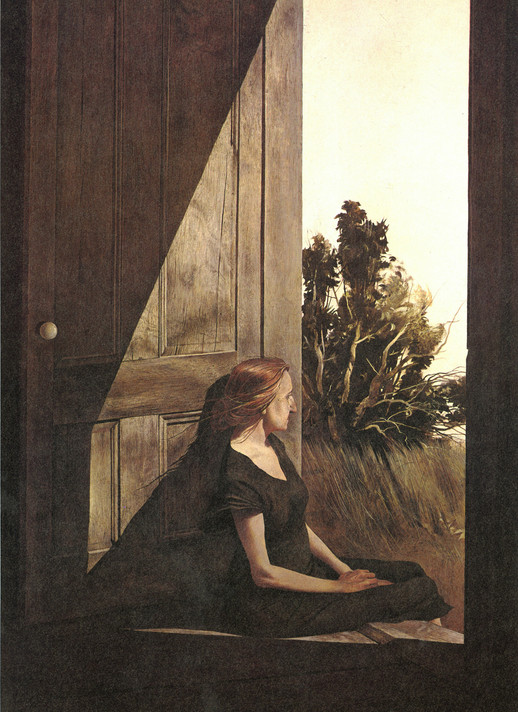 Andrew Wyeth. Christina Olson. 1947. Tempera on panel
Wyeth began painting Christina's World in May 1948 and completed it in September of the same year. After making a quick pencil drawing that included all the painting's main compositional elements, he started the background on a Masonite board covered with gesso, a primer made of rabbit-skin glue and white clay. On top of the gesso, he used egg tempera, a painting material used as far back as the Middle Ages, which he had learned to make from his brother-in-law, the painter Peter Hurd. Egg tempera consists of powdered pigment combined with egg yolk and distilled water; when it dries, it creates a hard and very durable surface. Wyeth used extremely thin brushes—some with only several hairs—and these, together with the tempera medium, which is less viscous than the linseed oil used in oil painting, allowed him to draw with paint with precision and delicacy. At the time of the painting Christina was in her mid-fifties, paraplegic, and weathered-looking, and Wyeth faithfully reproduced only two elements of the real woman—her rickety, elderly arms and pink housedress—and made the rest of the figure's lithe body that of his 26-year old wife. Christina's face is turned away from the viewer in an effect called a "lost profile," which obscures her features completely, something that disappointed Christina when she saw the work for the first time but which allows scope for a viewer's imagination and reinforces the timeless quality of the image.4 If the figure of Christina is fascinating in its specificity, encouraging our curiosity about her identity and the details of her life, it is also deeply enigmatic. For all the detail that the artist provides, his Christina is less a depiction of a living individual than a figure in an allegory of American womanhood.