A Studio in the Studio: An Interview with Lawrence Abu Hamdan
The "private ear" artist offers insight into his latest performance at MoMA.
Lawrence Abu Hamdan: Walled Unwalled and Other Monologues brings together a 2018 video and three live performances in which sound and politics intersect. Abu Hamdan is known for his research-based practice, which involves forensically investigating recorded and archived sounds. In Walled Unwalled (2018), the artist delivers a monologue that contemplates our contradictory relationship to borders and privacy. It was shot through the glass walls of a Cold War–era recording studio in the former East Berlin that was used for broadcasting propaganda. At MoMA, the installation utilizes the Kravis Studio's floor-to-ceiling glass window, echoing the architectural setting of the recording studio and incorporating the cityscape beyond.
By combining the artist's video and live performances, the exhibition foregrounds his use of the monologue as a conduit for his findings. As a site for experimentation, the Kravis Studio offers a platform for the US premiere of three live performances: After SFX (2018), Air Pressure (2021), and Natq (2019). Recently, we sat down with Abu Hamdan to discuss how these performances grew out of Walled Unwalled and how he adapted them for the Kravis Studio.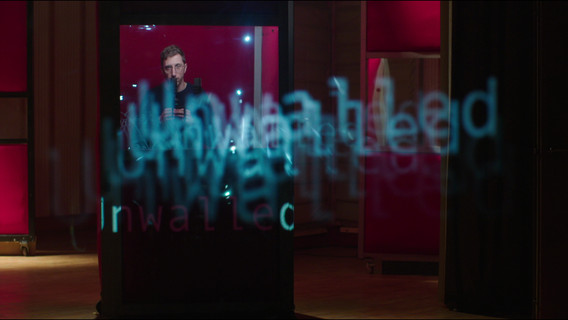 Still image from Walled Unwalled. 2018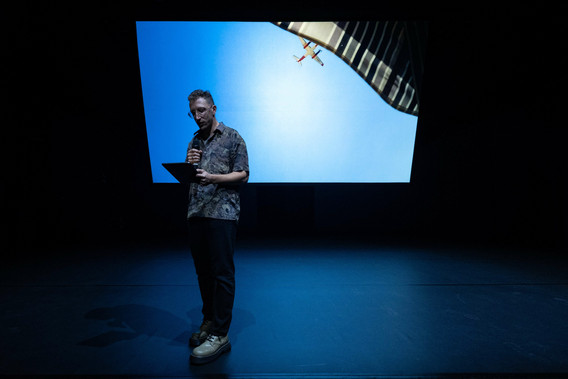 Lawrence Abu Hamdan performing. Air Pressure, Künstlerhaus Mousonturm, Frankfurt, 2021
Ana Janevski: The presentation of Walled Unwalled is accompanied by three existing monologues that you are adapting for the Kravis Studio. When we started discussing this project, you mentioned that during the pandemic you became more and more interested in performance. You even mentioned watching Spalding Gray's monologues on YouTube. Can you elaborate on that?
Lawrence Abu Hamdan: When we had our first meeting about this project in March 2020, I saw the work that was in the Kravis Studio at that time and found it spectacular and impressive, but the scale of it intimidated me. I felt like I needed to make work like that, too, and when I went back to the studio, I furiously wrote down notes about all the audiovisual wizardry I wanted to put into my new performance. Then the pandemic happened. I couldn't access my studio for the entirety of the first lockdown. But during that time I started to re-engage with some of my earliest influences, in particular Spalding Gray. His work reminded me of what I also loved in the work of Lenny Bruce, Stewart Lee, Walid Raad, Harun Farocki, Alvin Lucier, Laurie Anderson, Robert Ashley, Lina Majdalane, and Rabih Mroué, and in the lectures by Eyal Weizman that I saw at Manifesta 7 (2008). I love the monologue as a form—the outwardly simple art of a great text delivered to a microphone or a camera. In my work, I have always depended on the monologue or what I call the "live audio essay." But during the pandemic I began to see the monologue less as a testing ground for ideas, a part of a work's journey toward becoming the final art product, and more as a final form in itself. This somewhat modest epiphany—that all I wanted to do was speak into a microphone—motivated me and lent a purpose for my return to the studio. When I was finally able to go back to the studio some months later, the first thing I encountered was the notes I had written in March 2020 about wanting to create this epic spectacle. The notes seemed so insecure and so fickle. It felt as embarrassing as reading my teenage diaries.
This is not to say I now want to make dry, austere performances. But rather I would like the central substance of these works to emerge from a connections that's often taken for granted—between a voice and it's audience. I want to invoke the dissonance and harmony, tension and comfort of that connection first developed through DIY music, basically shouting at 30 people in a back room of some terrible bar in the north of England. This yearning to connect to my noisier past, coupled with being cooped up during the pandemic, imbued my first post-pandemic performance, Air Pressure, at the Mousonturm in Frankfurt, with quite a bit of that awkward, tense energy born of conflict between the sound and the space in which it is being made. During these performances I may have gotten a bit carried away. For the upcoming performances in MoMA I have spent the time honing these energies.
"The political claim is at the outset of any work I make."
Lawrence Abu Hamdan
May Makki: In Walled Unwalled, you address the political potential of broadcast radio and how sound effects can transport listeners to different places and moments. Your performance After SFX uses sounds you created as mnemonic devices for witnesses. Can you speak about the creative and political aspects of this practice? Which comes first? Where does the creative end and the political begin?
LAH: The political claim is at the outset of any work I make. I begin there. I don't mean to use art to simply propagate my views, but want it to emerge through careful aesthetic craft. Montage, scenography, audiovisual processing, sound design, mic technique, and accent are some of the tools I use to reach the political outcome of a work. I am aware that this is in no way a radical claim; there are carefully considered aesthetic methods that go into the architecture of a courthouse, for example, or the images on cable news or the syntax of a human-rights report. For the most part, however, we have stopped seeing these practices as aesthetic and instead see them as conventions of political mediation and performance. They have become reified forms that no longer take risks with the ways in which they sensitize us to power, violence, and injustice.
I believe experimentation with the form of politics is essential. I don't mean experimentation with the fact of the political claim itself. Rather, experimentation with the ways in which these realities and facts are made audible and visible. This is not only vital in counteracting political crises but the necessity of the "art work" or the space where art is exhibited and performed.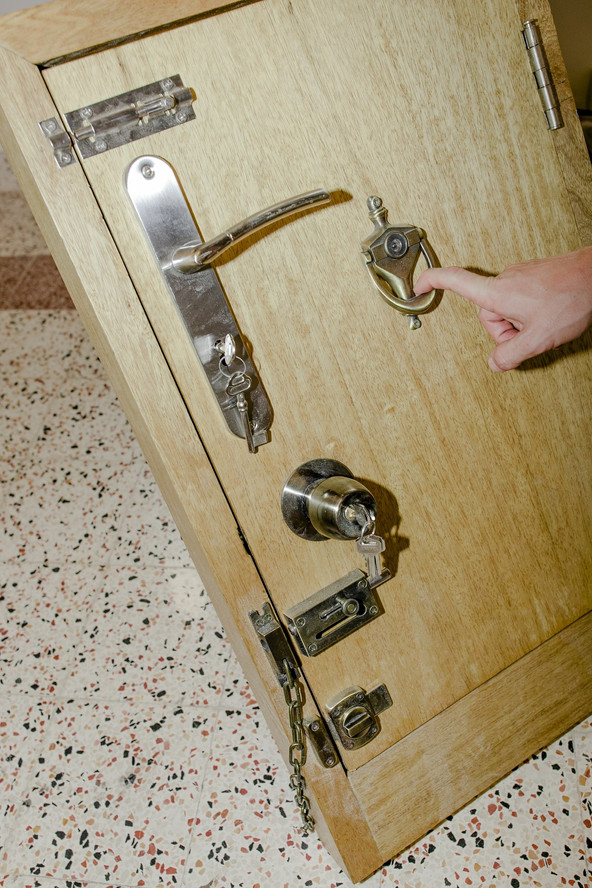 Lawrence Abu Hamdan. Earwitness Inventory (Wooden Door Instrument). 2018
AJ: My colleague Ruba Katrib mentioned that learning with people and working alongside them, as a part of listening, is one of the strengths of your work. This was particularly evident in your performance Natq, which incorporates the voice of Bassel Abi Chahine, a 31-year-old man who believes himself to be a reincarnation of a boy who was killed in combat in the Lebanese Civil War in 1984. You worked extensively with Chahine to develop the work, to create the conditions for listening to his voice, and to reimagine reincarnation as a political tool. Can you talk about this process?
LAH: For me, the propagation of sound is the most expedient way to consider all forms of border-crossing, be they material, interpersonal, architectural, juridical, disciplinary, biological, sensorial, or conceptual. Careful listening is a conceptual and political tool to counter the violent ignorance of isolationism and compartmentalisation. Listening to Natq is a good example of this. Reincarnated subjects are not searching for understanding, but the full embodiment of another person. It is not that they can feel another individual's pain, but that individuality itself becomes undermined. I find this deeply inspiring and in some ways a good way to understand the relationship I am attempting to establish with the voices and sounds one encounters in my work more generally.
I am attempting to access practices of listening. I am not so invested in representing the voices of the subjects I encounter, but rather trying to understand and mediate how they listen and what led them to hear in that way. In doing this I learn to listen with and through these subjects, and I am often able to hear something I previously couldn't. The case with Natq is a good example, because I actually met Bassel Abi Chahine in 2014, but we didn't work together for another five years. Bassel is the reincarnation of a child soldier Youssef al Jawhary who died in 1984 during the Chouf war in Lebanon. Bassel's flashbacks to a time in which he did not himself live have compelled him to become an obsessive autodidactic historian, and he holds vital information for anyone hoping to understand the historical record of a time which has been canceled from history. He told me all this in 2014, but I could not hear Bassel until I had been taught to listen to his story.
And yet, I could not hear the significance of this until I had been taught to listen to Bassel's story. I couldn't hear past my own skepticism of reincarnation. The people who indirectly taught me to listen to Bassel or to Natq were the former detainees of the Saydnaya prison, when I was working in 2016 for the Amnesty international investigation. As an audio investigator, I was asked to interview those detainees who had a primary acoustic experience of detention due to darkness, and being blindfolded when they entered and exited the prison. These detainees didn't only teach me what was happening inside the prison—interviewing them and understanding what it meant to listen in Saydnaya fundamentally changed my understanding of the relationship of sound to architecture, violence and memory. Getting a window into the hallucinatory world of acoustic memory is what helped me to listen to what Bassel had told me years before. Each project is a continuous effort to try to hear more and hear through others, and each one affects my capacity to hear the voices I encounter.

Production still from Once Removed. 2019.
MM: When these investigations take their final form as performances, your voice frames the audience's encounter. I'm curious how this dynamic informs your approach to representing your subjects.
LAH: The work is about sharing the lessons I have been taught. As I explained, these lessons take me years to learn, and so just putting you in front of those people and letting you hear for the first time what they are saying would be a disservice. Because these cases involve violence and suffering, on first listen the people could be reduced to the sum total of their victimhood. Instead, we need to hear them as people whose practices of listening offer strategies for political critique and action. So aesthetic strategies are needed to create the conditions for hearing these voices. These strategies can sometimes seem counterintuitive to the ethics of mediating voices in conventional documentary practices. In extreme cases it may even be necessary to mute those voices and speak over them so that they can be adequately heard.
Lawrence Abu Hamdan: Walled Unwalled and Other Monologues, organized by Ana Janevski, Curator, and Erica Papernik-Shimizu, Associate Curator, with May Makki, Curatorial Assistant, Department of Media and Performance, is on view at MoMA April 8–Jun 11, 2023.