MoMA Mixtape: Larissa Pham Finds Her Focus
The writer goes on a spiritual ride celebrating the complexities of our bodies and minds.
On my most recent visit to MoMA, I found myself especially drawn to pieces that reflected the body. In some of them, the body is suggested and dramatized, as in Senga Nengudi's weighted pantyhose pieces, which gesture at the changes our bodies undergo throughout our lives; in others, like Sam Gilliam's large draped paintings, the body is present in the scale and surface of the work, which invites us to consider how it's made. I wanted to make a playlist that reflected this interest in and return to the body: a celebration of the complexities of embodiment and all the ways that music can inspire us to feel. To reflect that interest in movement, I included a mix of dance and techno as well as more ambient tracks. I hope that this mixtape inspires you to look at these pieces—some of my favorites in the collection—in a new light, and to be fully present in both body and mind.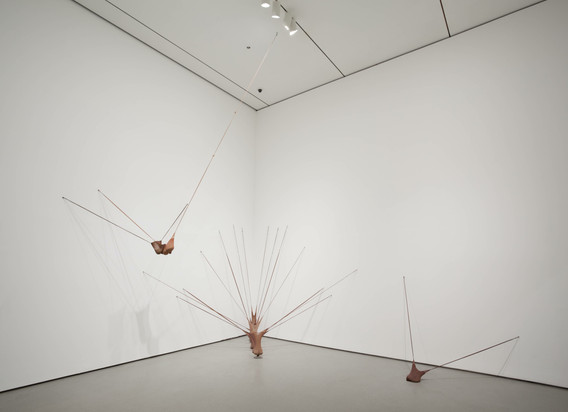 Senga Nengudi. R.S.V.P. I. 1977/2003
Senga Nengudi's R.S.V.P. I + FKA twigs's "Cellophane"
Senga Nengudi's work references both Conceptualism and Minimalism while never shying away from the material realities and complexities of race and embodiment. Her sculptures, made of pantyhose weighted with sand, evoke limbs, flesh, and breasts. This piece reminded me of FKA twigs's music, particularly "Cellophane," a track that's full of longing and yearning, and which rhymes with the stretched and warped nylon. Nengudi's work challenges patriarchal views of femininity, much in the same way that FKA twigs brings a new, feminist lens to narratives of love, sex, and heartbreak.
Just Above Midtown display "Past-due bills ephemera" + SZA's "Broken Clocks"
I was especially moved by this installation in the Just Above Midtown exhibition, which revealed the invisible structure of racism and privilege that keeps Black artist spaces separate from moneyed, white institutions. When the deck is consistently stacked against artists of color, it's hard to create independent, by-us-for-us spaces, further contributing to the stratification of the art world. The wallpaper of past-due bills reminded me of SZA's track "Broken Clocks," which reflects on her own experiences with work and labor.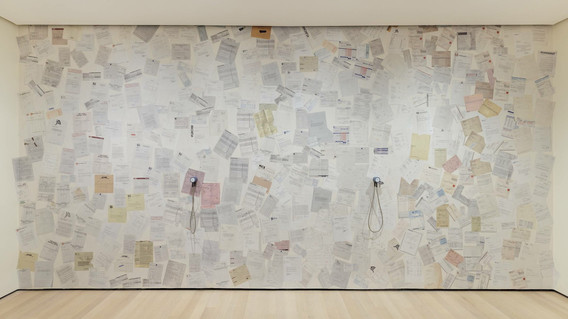 A wall of JAM ephemera from the gallery archives on view in Just Above Midtown: Changing Spaces, September 10, 2022–February 18, 2023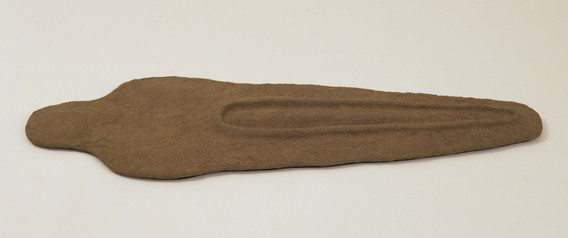 Ana Mendieta. Nile Born. 1984
Ana Mendieta's Nile Born + Bjork's "Arisen My Senses" (feat. Arca)
Ana Mendieta's sculptures and performances often navigated her relationship with the earth and nature, using self-portraiture as a kind of cosmic return. In Nile Born, the figure is made of sand and bound to wood; it is self-contained, perhaps even oblique, its textured surface resembling a sarcophagus or cocoon. At once intriguing and protective, it reminded me of Bjork's sometimes baffling, always transcendent music. The birdsong and chords of "Arisen My Senses" recall nature in the same way as Mendieta's Siluetas.
"I wanted to make a playlist that reflected this interest in and return to the body: a celebration of the complexities of embodiment and all the ways that music can inspire us to feel." —Larissa Pham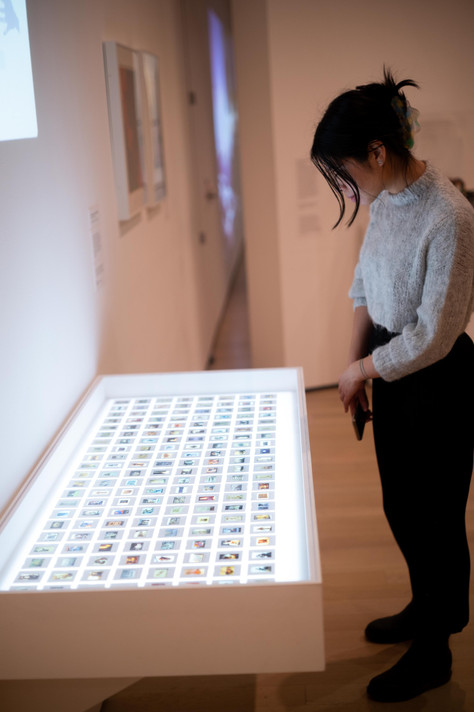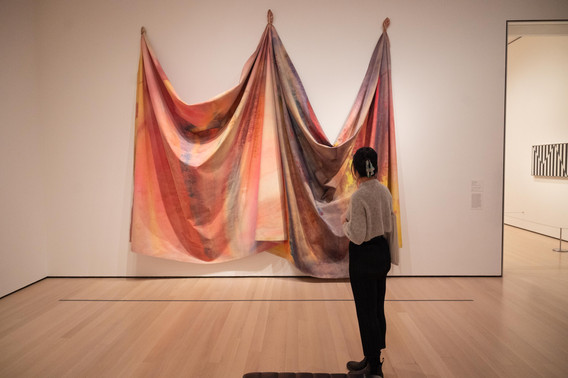 Larissa Pham with Sam Gilliam's 10/27/69 at MoMA
Sam Gilliam's 10/27/69 + Aurora Halal and DJ G's "Off the Top"
Sam Gilliam's paintings are unusual in that they aren't stretched on supports, but are allowed to drape freely, the colors curving and undulating on the canvas. Epitomizing the Abstract Expressionism movement of the 1960s and '70s, Gilliam's paintings invite the viewer to study the drips, streaks, and staining of the paint on the cloth. These internal, layered movements conjure the deep grooviness of this Aurora Halal track, which moves slowly but possesses an unmistakable power.
Shigeko Kubota's Duchampiana: Nude Descending a Staircase + Robert Hood's "The Greatest Dancer"
Shigeko Kubota's playful take on Nude Descending a Staircase injects psychedelic movement into Marcel Duchamp's modernist painting. The video of a woman descending a staircase, repeated and played on four identical cathode-ray tube monitors, gestures to an optimistic vision of futurity that feels like a hallmark of early video art. It feels perfect to pair Kubota's piece with Robert Hood's groundbreaking minimal techno—a meeting of two artistic innovators.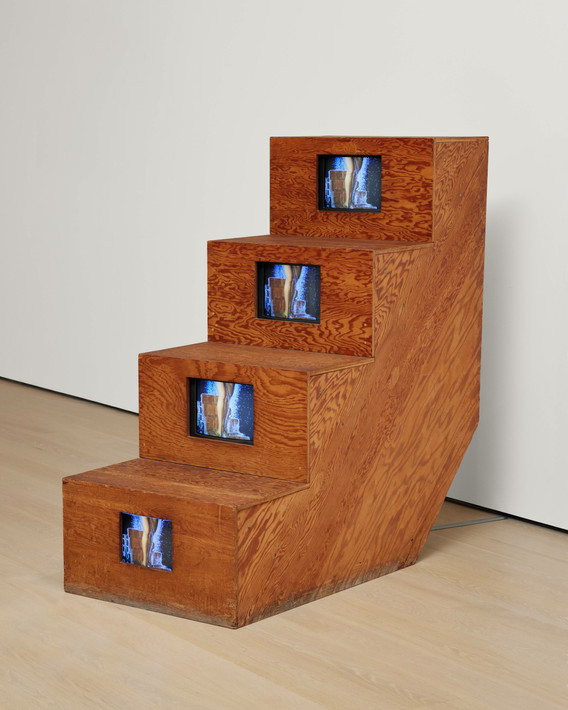 Shigeko Kubota. Duchampiana: Nude Descending a Staircase. 1976
Nari Ward. Vertical Hold. 1996
Nari Ward's Vertical Hold + Four Tet's "Dreamer"
Nari Ward's sculpture references African bottle trees and Shaker quilts, combining two material forms of spiritual practice. The delicacy of the glass bottles and the shadow they cast onto the gallery floor reminded me of Four Tet's ethereal track "Dreamer," which features a percussive beat that evokes the hollow, open sound of bottles being tapped.
Felix Gonzalez-Torres's "Untitled" (Supreme Majority) + ANOHNI's "Marrow"
Art can push us to ask questions and feel emotions in unpredictable ways, sometimes unsettling us. In this Felix Gonzalez-Torres sculpture, the delicate paper cones evoke sharp edges, paper cuts, Klan hoods, and, with its title, the US Supreme Court, which holds a disproportionate amount of political power, and which in 1986 upheld the decision to allow states to criminalize homosexual behavior. More recently, in June 2022, the US Supreme Court overturned Roe v. Wade, revoking the right to abortion, which had been established decades earlier. The menace and elegance of Gonzalez-Torres's sculpture reminded me of ANOHNI's track "Marrow," which imagines the Earth as a victim of our environmental and political mistreatment. More than expression, these two pieces of art are calls to action: how will we respond to the injustices of our world?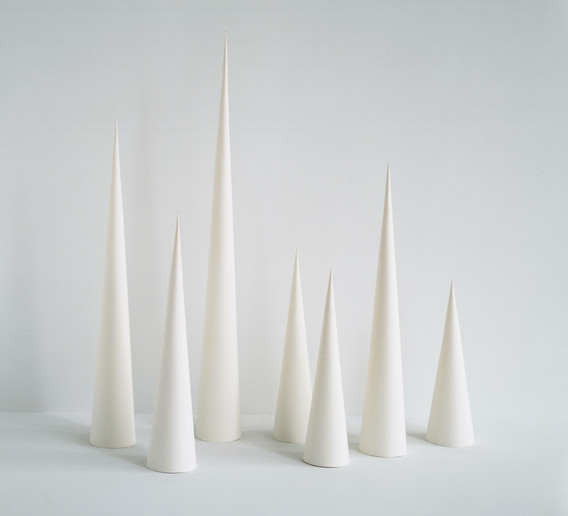 Felix Gonzalez-Torres. "Untitled" (Supreme Majority). 1991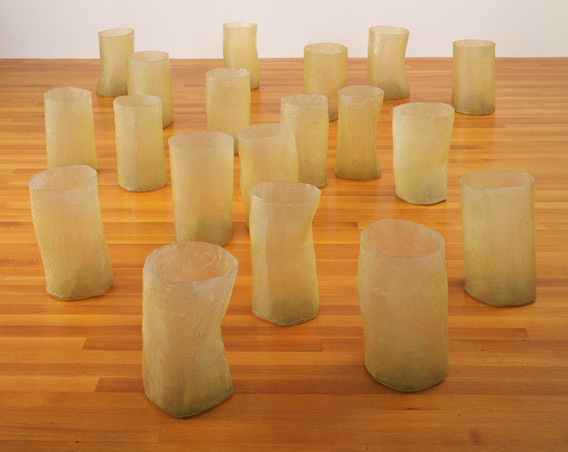 Eva Hesse. Repetition Nineteen III. 1968
Eva Hesse's Repetition Nineteen III + Jon Hopkins, Kelly Lee Owens, Sultan + Shepard's "To Feel Again/Trois"
Eva Hesse's sculptures pushed at the limits of the mediums she used, creating perfectly imperfect forms that were destined to decay. Her use of fiberglass and latex were revolutionary. Though her objects, like the slumping votives of Repetition Nineteen III, no longer look the way they did when she first sculpted them, their changing color, texture, and opacity are a comment on the passage of time and Hesse's enduring interest in materiality. It only feels right to pair Hesse's immaculately present, undeniably aging sculptures with a final banger of a track, "To Feel Again," a collab between Jon Hopkins and Kelly Lee Owens that's been remixed into an end-of-the-night club anthem, combining the heartache of the last track of the party with the optimism of the morning to come.