Legacies of Resilience and Resistance: Jacob Lawrence and Elizabeth Catlett
Watch, listen, and explore an extensive selection of features around these trailblazing artists, the subjects of a new gallery at MoMA.
For several decades, beginning during World War I, millions of Black Americans left the southern United States for the north, midwest, and west—a mass exodus known as the Great Migration. A child of migrants, Jacob Lawrence grew up in Harlem, where he set out from an early age to make art that addressed Black histories. "This is my genre...the happiness, tragedies, and the sorrows of mankind," Lawrence stated. In 1940 he embarked on the Migration Series: 60 paintings featuring bold colors, pared-down forms, and narrative captions.
A peer of Lawrence's, Elizabeth Catlett went to the 1941 premiere of the Migration Series at New York's Downtown Gallery and was inspired by what she saw. Six years later, she completed The Black Woman, a series of prints that chronicles the oppression and resilience of subjects such as field laborers, domestic workers, historic abolitionists, and civil rights activists. Narrative captions written in the first person relate Catlett's experience to that of the women she depicts.
—Cara Manes, Associate Curator, Painting and Sculpture
To celebrate the opening of Gallery 520: Jacob Lawrence and Elizabeth Catlett, we've assembled a rich group of features on both Lawrence and Catlett, from podcasts to videos to walking tours to audio for kids. Explore them all below.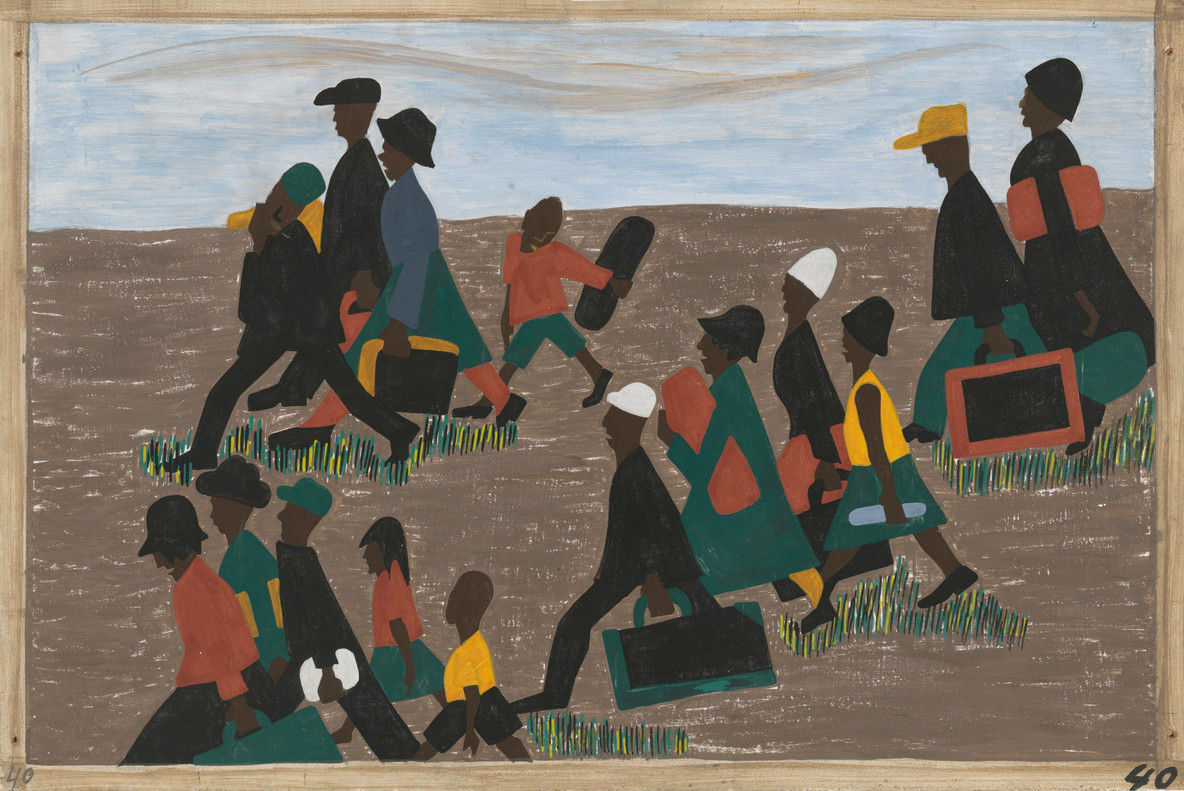 Jacob Lawrence. The migrants arrived in great numbers (panel 40 of 60). 1940–41
Watch
Bryan Stevenson, human rights lawyer and bestselling author of Just Mercy, discusses the legacy of the Great Migration as depicted in Lawrence's iconic Migration Series.
Human rights lawyer and social justice activist Bryan Stevenson joins us in front of a group of paintings by Jacob Lawrence. The Migration Series (1940–41) depicts the reality of the Great Migration and, as Stevenson puts it, "describes the full power that art can have in creating a new relationship to really big ideas like freedom and equality."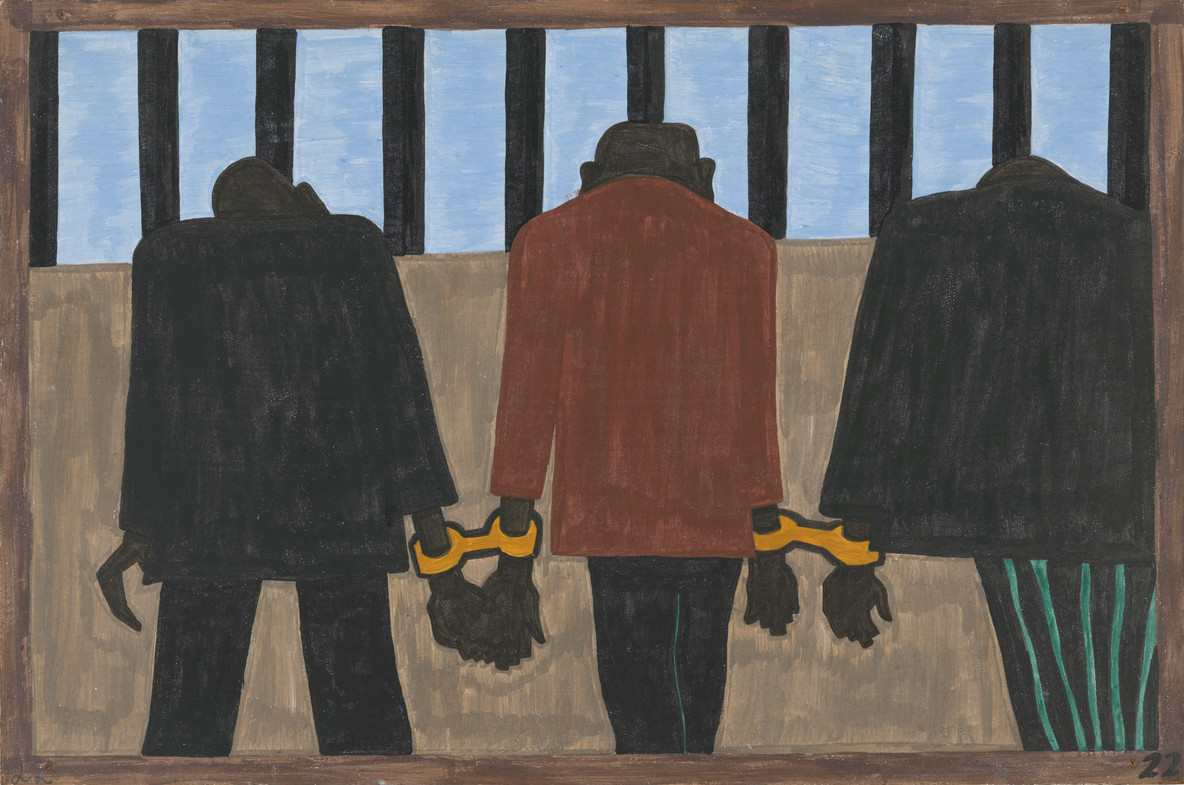 Jacob Lawrence. Another of the social causes of the migrants' leaving was that at times they did not feel safe, or it was not the best thing to be found on the streets late at night. They were arrested on the slightest provocation. 1940–41
Listen
Listen to the acclaimed writer K. Melchor Hall talk about Elizabeth Catlett's sculpture Mother and Child, and its connections to rest, intimacy, and reproductive justice.
Listen to audio about Elizabeth Catlett for adults and kids, featuring K. Melchor Hall.
Listen to audio on Jacob Lawrence's Migration Series, with audio for adults by Shellyne Rodriguez, and for kids by Amber Hunnicutt.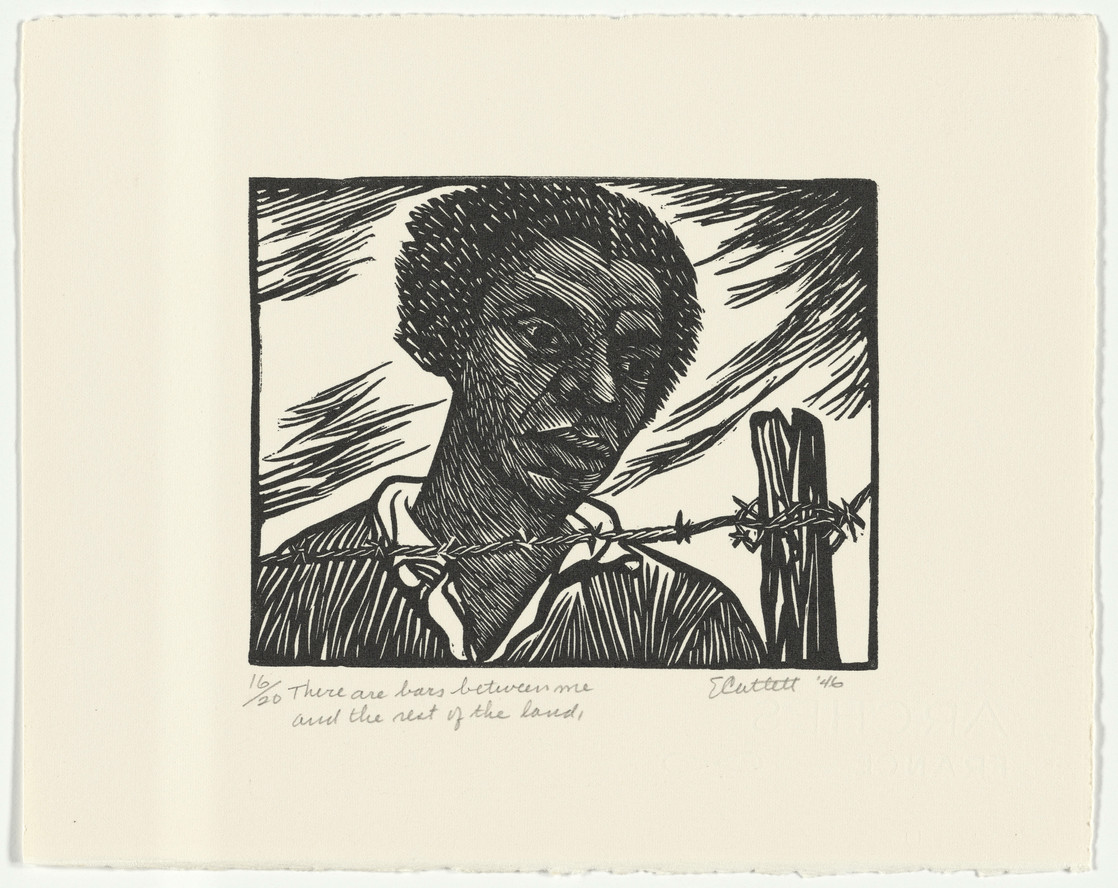 Elizabeth Catlett. There Are Bars between Me and the Rest of the Land from the series The Black Woman. 1946, printed 1989
Explore more about Jacob Lawrence and Elizabeth Catlett
Read about how a small sculpture reveals a lifelong struggle for justice.
Explore music, poetry, a Harlem walking tour, and reflections from the 2015 MoMA exhibition One Way Ticket: Jacob Lawrence's Migration Series.