Agosto Machado's New York
In honor of World AIDS Day, the artist and activist speaks to filmmaker Tourmaline about his work and the city's queer history.
Agosto Machado is a crucial figure in the history of Downtown New York—a Chinese-Spanish-Filipino-American performance artist, activist, and Zelig-like icon who has thrived as a central participant in the city's underground cultural life. With Marsha P. Johnson and Sylvia Rivera, he participated in the Stonewall uprising and first Gay Liberation March in 1970. It was during this heady period that the self-described "pre-Stonewall street queen" met Warhol Superstars Candy Darling, Holly Woodlawn, Mario Montez, and Jackie Curtis, who introduced him to Andy Warhol's Factory at a moment of explosive growth for New York's underground theater and cinema. Machado became a prominent performer at influential venues like La MaMa, the Play-House of the Ridiculous, and the Pyramid Club, collaborating along the way with pivotal figures like Jack Smith, Ethyl Eichelberger, Stephen Varble, Angels of Light, and the Cockettes.
Machado has been a muse to generations of artists, appearing in works by Peter Hujar, Jack Pierson, Tabboo!, Collier Schorr, and Ryan McGinley. He also formed close relationships with Downtown artists like Martin Wong, Thomas Lanigan-Schmidt, and Arch Connelly, members of a generation ravaged by the AIDS crisis. Machado remains not only a witness but an archivist who has amassed a collection of artworks and ephemera that capture the urgency of a historical period marked by both dynamism and fragility. Over the years, in his apartment, he has forged from his collection a series of shrines—unique assemblages of snapshots, funeral notices, news clips, protest banners, prayer cards, and personal relics that powerfully transform his archive into totems for a lost generation. Recently, MoMA acquired one of these memorials, Shrine (White) (2022), from Machado's first solo exhibition, held at Gordon Robichaux, New York earlier this year.
On the occasion of World AIDS Day, Machado is joined in conversation by artist, writer, filmmaker, and activist Tourmaline for an intergenerational reflection on survival, loss, and the possibility of finding transformation by attending to historical traumas.
—Stuart Comer, The Lonti Ebers Chief Curator of Media and Performance
Tourmaline: Your work Shrine (White), to me it feels composed of many little things and it's so alive. Can you tell me a little bit about what sparked your desire to make it?
Agosto Machado: The desire came from being so grateful. I'm gonna start crying. I was so grateful for everyone as a community. You know, I was a street queen, someone who lives on the street. And because we didn't have apartments, we didn't have phones and all that, we spread the news. "Don't go there. They raided this place, stay off that block, careful on 8th Avenue and 42nd. They're doing a clean-up." And you share that just by passing on the street, up and down, so you're helping all the family.
My respect for all these people collectively is why I made the shrines. I have 64 more boxes of things. So it's a life's work. It's about our allies. They were very good, poor people who, well, maybe they had to hustle, but they didn't mug, they didn't steal. And if they had a little apartment, word would spread. This is when the West Village was for poor and working class people, and people understood that you needed a place. Especially come November, December, like now, when it's cold.
You know, you're just painting such a beautiful picture of the ways that you and your friends showed up on the street so that we could survive and make a living, showing up for each other in friendships. I wonder if you could tell me a little bit about how you approach conveying all of this deep meaning in the building of your shrines.
Well, it's really ancestor worship, my gratitude for all these people who came through my life. And—this is way before AIDS—many disappeared or went someplace. But they contributed to our community, and it behooves me to share my knowledge from the street with the new people.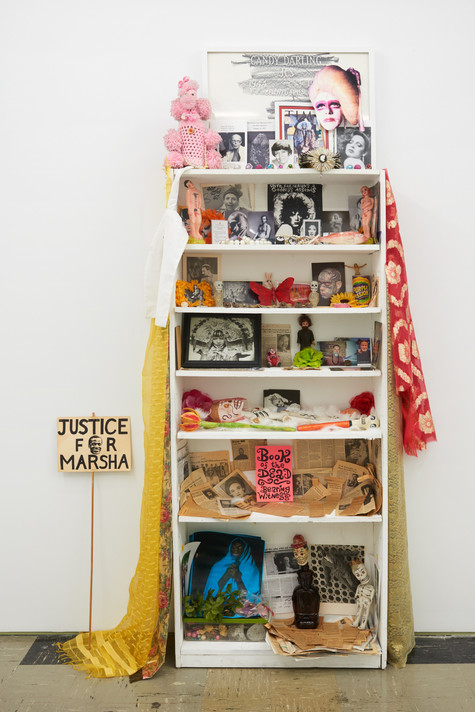 Agosto Machado, Shrine (White). 2022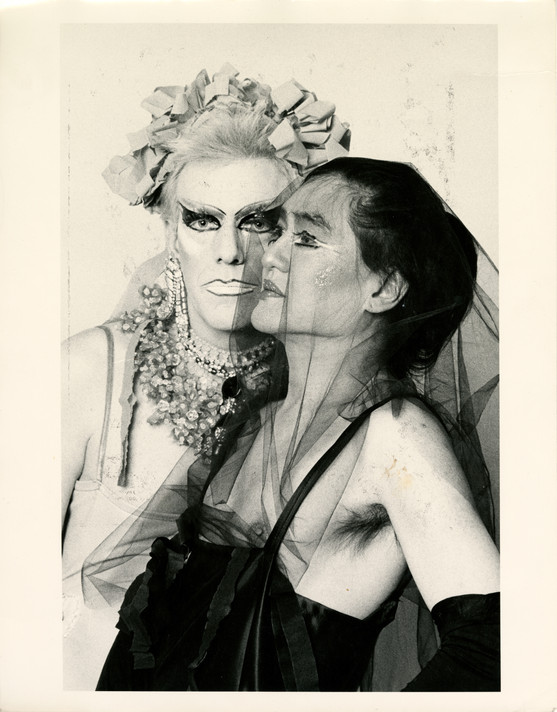 Peter Hujar. Untitled (Ethyl Eichelberger and Agosto Machado). Early 1980s
How does it feel when you are sharing it with the new people?
Well, it feels like family. It feels like brothers and sisters. And you know, I have a sixth-grade education and I know I'm not smart, but I always hung out with people who were a little smarter, who knew things and kept their eyes and ears open. And that's the stuff I shared with the street kids.
This is the only time you'll probably hear me push back gently against you. You're fucking brilliant. And you should know that about yourself. And you are so core to the survival and the culture that we're basking in right now. You did that. Like you, specifically, did that.
We. It's the royal we.
In your shrines, I remember there're two photos of [gay rights activist] Marsha P. Johnson. Can you talk about these photos?
Well, Marsha and Sylvia were the great models; I always felt I was too timid. They put their lives on the line. And then when I joined Gay Activists Alliance, we were at all the demonstrations. Just like voting, we had to demonstrate and show safety in numbers. We believed in this and in being counted.
I remember one of the stories you told me when I came to your apartment, about how Marsha would pass on different kinds of knowledge. Do you remember anything in particular that she would say?
Well, Marsha really was fully formed when I met her. And she encouraged everyone: "This is your life. Try to live it with dignity." We waited until dark and then changed into drag. But it gave us confidence to know that Marsha, dressed as a woman or a man, had the dignity and humility to go about her life not bothering anybody. I remember, once I was walking at night in the East Village where I live and I saw this big black dude in a leather jacket. And it turned out to be Marsha, girlfriend! And she said, "I'm dressed this way because I can get an apartment in the East Village dressed as a man, and all they want is the money and the down payment. And then all my sisters can come and go."
And it was just the forethought: she was getting an apartment for us, people who had no place to go. And she did that a couple of times because sometimes people in the building didn't understand: is this a sorority? This was an intergenerational, interracial group in the East Village and neighbors were like, is this some cult or something?
Why do you think it's so important for us as a community to show up for World AIDS Day?
They were treating people with AIDS like they had the plague or leprosy. And I just couldn't let our peer group...I mean, people turned their backs on the community and were saying, "You know, Agosto's helping them. He probably has it." People were avoiding me and I stopped going to bars and other social places because people would sort of move away. And I understood. But I made my choice. These people needed help.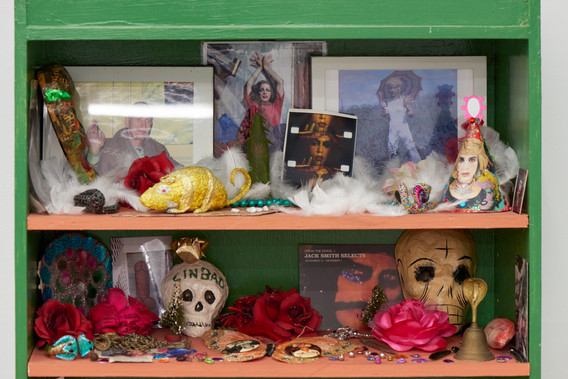 Agosto Machado. Shrine (Green) (detail). 2022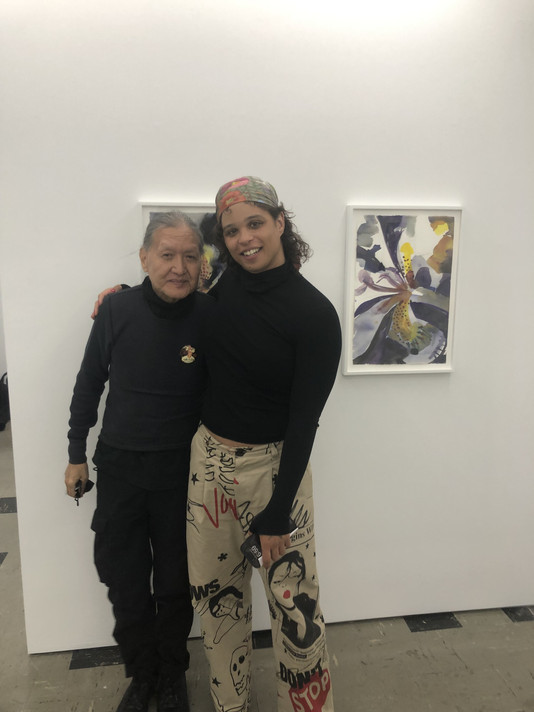 Agosto Machado and Tourmaline, November 2022
You have helped so many people understand this history that's still shaping the present moment. What do you hope people will understand through your work?
I'm glad to be sharing this work because generations from now people will know about the struggle for gay rights at that special time in New York history. It was post-Eisenhower and all the LGBTQ+ young people were coming to the city to express themselves, because they couldn't do it where they were. And the city nourished them. You want to do theater, you want to do dance, come on, you can try it! And forget about uptown being the only place you can sing, dance, or act. You can do it right in the community, and be respected, get feedback, and continue on.
The pronoun generation, they have the torch and they are going forward. And I see the world moving in such a positive way. Slowly, younger curators have opened the door wide for everybody. For example Lola Flash—she is a wonderful photographer, God bless her. She told me last summer that MoMA bought 11 of her photographs. It's so important—curators are acknowledging a black woman photographer photographing her chosen subjects.
What impact does making new work have on you?
Well, it's acknowledgement, the validation of my life, because I'm in the last few chapters and it shows that my street life journey was valid.
And so valuable and so powerful.
But I wish you could have met some of the people who we've lost, because their lives and their struggles were just as important as mine.
But they're living through you.
Yes, they are. In those shrines.