Like many of his leading men, the itinerant filmmaker couldn't be tied to one place.
On the occasion of the MoMA film series Hugo Fregonese: Man on the Run (screening September 1–14, 2022), we're reprinting an article by series curator Dave Kehr that originally appeared in the November-December 2012 issue of Film Comment.
If Hugo Fregonese still has not received his due as an important filmmaker, the problem may lie in part with his particular status as a director without a country. When Fregonese is remembered, by such perceptive critics as Jacques Lourcelles, Bertrand Tavernier, and Blake Lucas, it is for the 10 films he made for Hollywood studios (though not necessarily in Hollywood) between 1950 and 1954. For Fregonese, this was a period of extraordinarily intense creativity that included at least two films with a claim on greatness: his deftly stylized Technicolor western of 1951, Apache Drums (the last film produced by Val Lewton, who died a few weeks before its release), and Black Tuesday (1954), a strikingly harsh and pessimistic crime film, featuring Edward G. Robinson in a late career return to the remorseless killer he created in Little Ceasar.
Yet his American films account for less than one third of his career, which was otherwise spread across Argentina (where he was born in 1908, and where he died in 1987), Spain, England, Italy and Germany, with location trips to Mexico, France, Malta (!) and, for the remarkable British production Harry Black and the Tiger, India. (He does not seem to have gone to China for the 1962 Marco Polo, however, instead allowing China to come to him at Cinecittá.)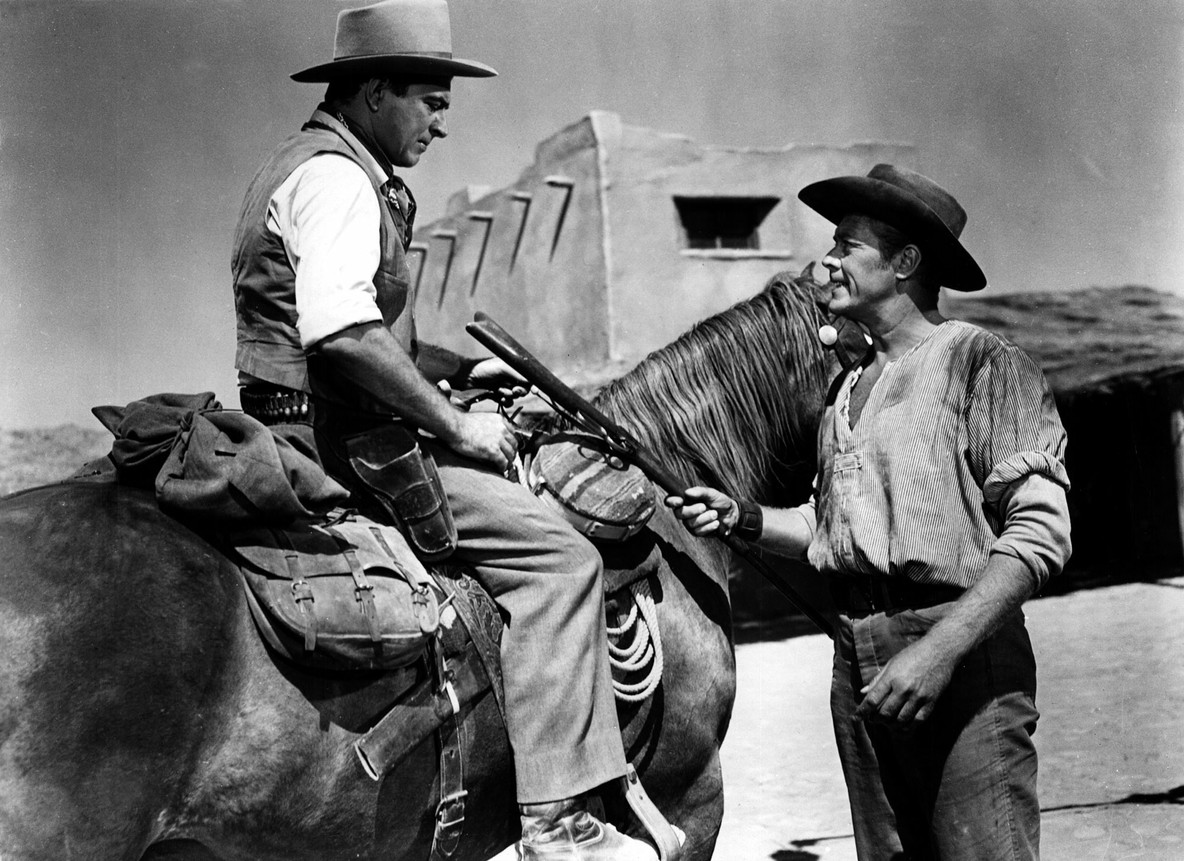 Apache Drums. 1951. USA. Directed by Hugo Fregonese
As the child of parents who had immigrated to Argentina from Treviso, Italy, Fregonese was, in a sense, a born outsider, and his rootlessness and restlessness is frequently reflected in his protagonists—isolated individuals who are either voluntarily on the move, like Joel McCrea's proudly independent drifter in Saddle Tramp (1950), or who have been forced into exile and eternal wandering, like Stephen McNally's Sam Leeds in Apache Drums, a professional gambler who, as the film begins, has been driven out of a western settlement for killing a man in self-defense. In Harry Black, Stewart Granger is a former British army officer who has fled England for India in order to escape from an adulterous love affair without a future—only to find his ex-lover (Barbara Rush) and her husband (Anthony Steel) living in the same remote district where he, now a professional hunter, has been sent to exterminate a man-eating tiger.
In Harry Black, what might seem a melodramatic contrivance becomes, through Fregonese's studied lack of emphasis, simply the confirmation of an eternal truism: his heroes can run, but they can never escape from themselves. In Blowing Wild (1953), Gary Cooper is an itinerant wildcatter who discovers that his new employer (Anthony Quinn) is married to the woman (Barbara Stanwyck) he's been trying for years to forget. In Man in the Attic (1953), an adaptation of Marie Belloc Lowndes's often filmed novel The Lodger, the Jack the Ripper character (Jack Palance) is acutely aware of the compulsion that leads him to kill, but unable to resist it: "I do what I must do," he says, "I am myself."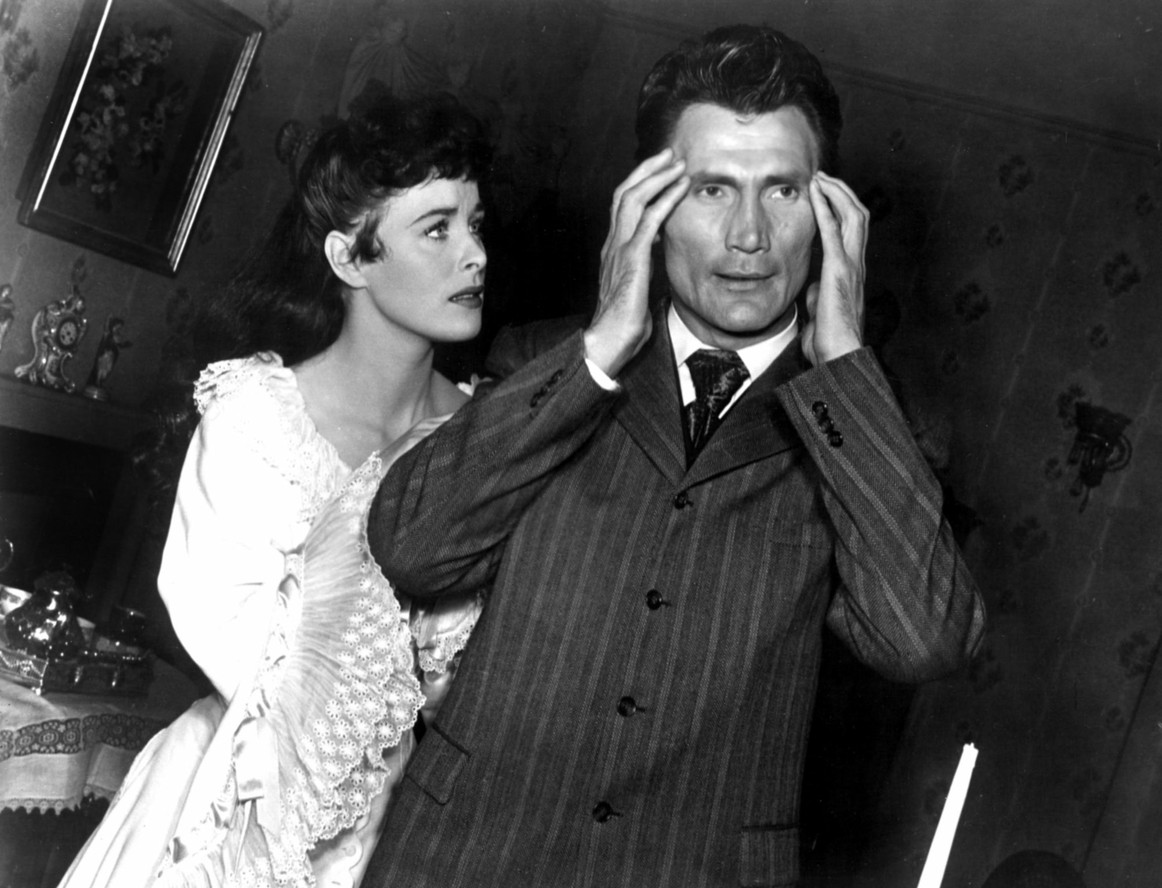 Man in the Attic. 1953. USA. Directed by Hugo Fregonese
Prison escapes figure as plot elements in several of Fregonese's films, including the 1949 Apenas un delincuente, the last film Fregonese directed in Argentina before his Hollywood period; My Six Convicts, a 1952 Stanley Kramer production about a prison psychologist (John Beal) struggling to earn the trust of the inmates placed in his charge; The Raid (1954), with Van Heflin as a Confederate officer who organizes an escape from a Union prison camp and then leads his men in an attack on a nearby New England town; Black Tuesday, in which Robinson escapes from death row with the help of his loyal moll (Jean Parker); Seven Thunders, a 1957 British production about two escapees from a German prison camp (Stephen Boyd and Tony Wright) who hide in the slums of Marseilles. A similar escape, seen in flashback, costs Stewart Granger his leg in Harry Black. (The Raid, Black Tuesday, and Harry Black were all written by Sydney Boehm, Fregonese's most consistent and sympathetic collaborator.)
When the prisons aren't literal, they are metaphorical: a sense of tightly restricted space is integral to most of his films. In Black Tuesday, Robinson escapes from prison but makes his last stand in a barricaded warehouse, from which the only effective way out is a one way trip down an elevator shaft. The celestially bright Mexican village in the 1950 One Way Street (the Hollywood debut of both Fregonese and his star, James Mason) and storybook-quaint New England town in The Raid both seem unreal in their pastoral perfection, but these havens are both traps for Fregonese's protagonists, who inhabit them as fugitives, living under false identities and in constant fear of discovery.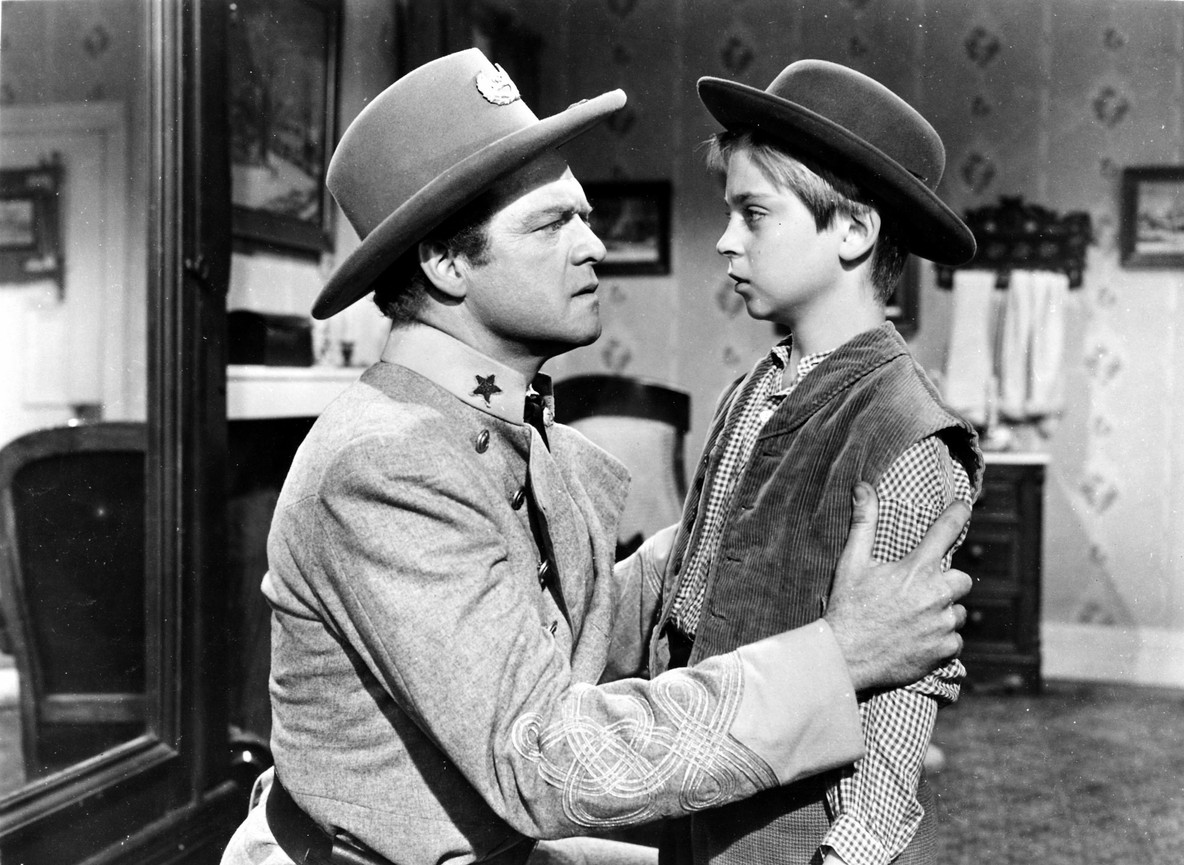 The Raid. 1954. USA. Directed by Hugo Fregonese
Visually, Fregonese creates a sense of tension and entrapment through compositions based on strong diagonals, in which canted horizon lines and angled architectural details often intersect directly on the figure of Fregonese's agitated heroes, pinning them down like insects on a specimen board (most vividly, there is the hapless miner, caught in the collapse of his scaffolding, in the late spaghetti Western Find a Place to Die).
Most memorably, there is the bunker-like mission in Apache Drums, a big, black box of a space in which the townspeople take refuge against marauding Indians. The window openings are too high to allow the townspeople to see out, but not high enough to prevent their attackers from scaling the wall and bursting through the unprotected openings—which they do one by one, banshees covered in bright Technicolor war paint erupting against the darkened interior. Even in open-air adventures like Savage Pampas (both the Argentine original of 1945 and the 1966 Spanish remake), Fregonese reveals a marked preference for overcast skies, which must be unique in the genre.
Fregonese's eye for geometric compositions is strong enough to invite comparison with Lang's, but in place of the cool detachment that Lang's abstractions imply, Fregonese substitutes an impassioned subjectivity: Lang aligns his point of view with the impassivity of fate; Fregonese with the futile struggle against it. When Fregonese has the opportunity to comment directly on the Lang canon in the 1964 Die Todesstrahlen des Dr. Mabuse, his contribution to the producer Artur Brauner's '60s cycle of Dr. Mabuse films, he characteristically shifts the emphasis from the all-powerful master criminal to the oddly ineffectual secret agent played by Peter van Eyck—another Fregonese hero who finds himself trapped in a small town (in this case, the island of Malta) under a false name (though all of the locals seem to know who he is.
It would be good someday to see a subtitled version of his Argentine film Donde mueren las palabras (1946), which was acquired by MGM and played at least one date in New York City in 1948. A smudgy version on YouTube suggests an intriguing anticipation of the morbid aestheticism of The Red Shoes, with the Argentine star Enrique Muiño as the creator of an expressionist ballet based on Beethoven's Seventh. Presented in its entirety in a delirious flashback, Muiño's Gesamtkunstwerk is intended as a showcase to his ballerina daughter, but instead results in her on-stage death from exhaustion. The old man presses on, however, working as a night watchman in a puppet theater where the lead marionette is based on a portrait of his martyred daughter.
The underside of Fregonese's dark romanticism is a certain sentimental streak, represented by the kindly old priests who recur in his films with finger-wagging regularity. Sometimes, the heroes heed their call to moral and spiritual reform (like Mason in One Way Street); more often, like Robinson in Black Tuesday or Stephen McNally in Apache Drums, they wave off lofty talk of salvation, having long since surrendered to their fate as permanent outsiders.
Far more credible than Fregonese's priests are his gentle, patiently loving female characters, who offer the hero a chance to abandon his nervous wanderings and settle down. Most of the time, the romantic interlude proves only a respite (as in One Way Street, with its sudden, brutal reversal at the climax, or Man in the Attic, when it briefly seems that Jack the Ripper might be redeemed by the love of a good woman), or a possibility that remains poignantly unfulfilled (as does the relationship between Van Heflin and Anne Bancroft in The Raid).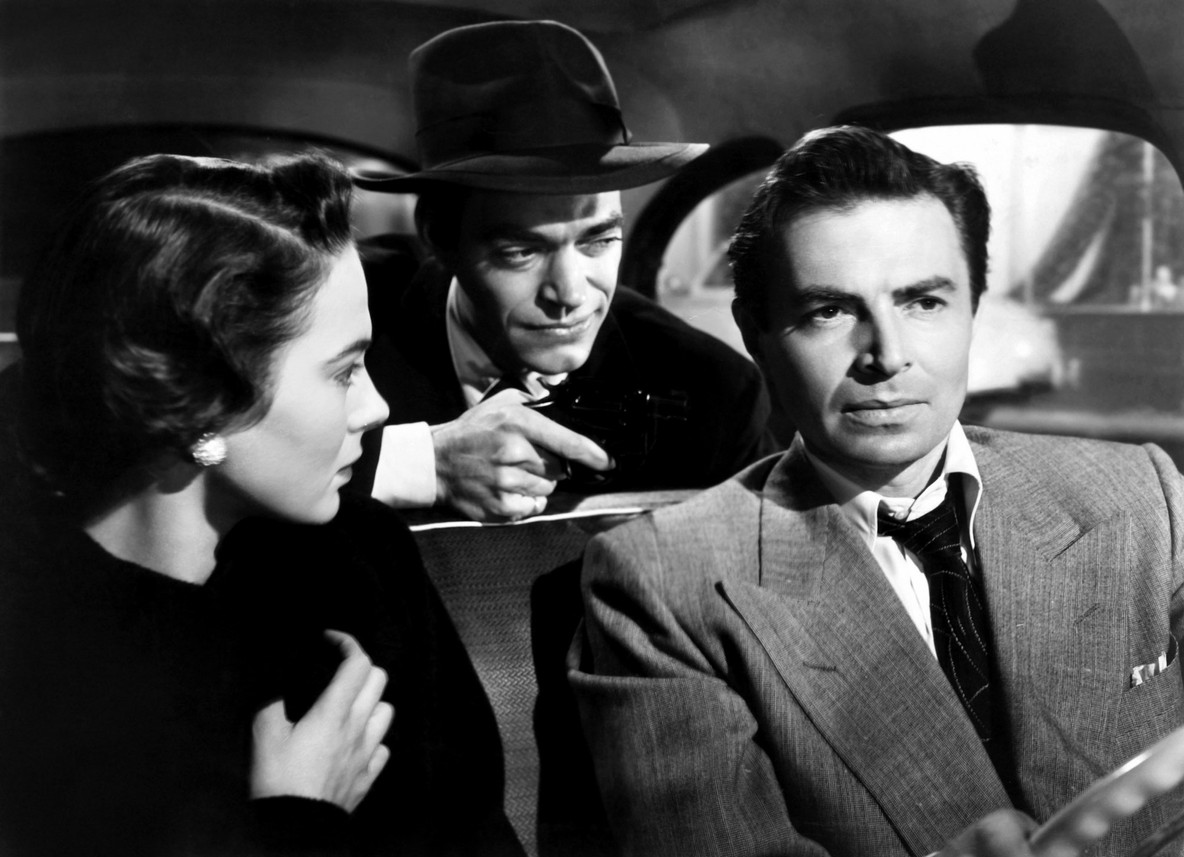 One Way Street. 1950. USA. Directed by Hugo Fregonese
In Fregonese's handful of more light-hearted films, a stable, monogamous relationship seems to offer a more permanent peace (Mark of the Renegade, Decameron Nights, Seven Thunders), though even then there is a hint of ambivalence in the hero's decision to stay in one place—subtly expressed at the end of Saddle Tramp, when McCrea, standing with his new wife (Wanda Hendrix) watches a flock of migrating geese fly overhead, and tries to convince himself, in a voice-over interior monologue, that he no longer identifies with their transitory existence. Undercutting his optimism is the ironic force of Fregonese's characteristic downward camera angle, which seems to nail McCrea firmly to the ground.
In Black Tuesday, the relentless cruelty and callousness of Robinson's character is offset by the tenderness he displays toward his aging, devoted lover (Jean Parker, a ravishing B movie actress of the '30s and '40s, here in her last major role), who has grown into middle age waiting for his release. When, during the climactic siege on the warehouse, a stray bullet kills Parker, Robinson loses his detachment, exploding in a quite moving paroxysm of grief. Still, when the meddlesome priest (Milburn Stone) implores him to release his hostages and surrender to what will be certain death, Robinson calmly refuses. "It's better to live as long as you can, isn't it?" asks Robinson, suggesting that even a few more seconds of life are preferable to any theoretical redemption. For Hugo Fregonese, as his life and films attest, the only real imperative was to keep moving, right to the end.
Hugo Fregonese: Man on the Run, organized by Dave Kehr, Curator, Department of Film, The Museum of Modern Art, and Ehsan Khoshbakht, Director, Il Cinema Ritrovato, comes to MoMA's theaters September 1–14, 2022.