A River of Voices: An Interview with Okwui Okpokwasili
The inaugural artist-in-residence of MoMA's Studio Residency program talks about process, storytelling, and the connection between performer and audience.
T​​he Brooklyn-based choreographer, performer, and writer Okwui Okpokwasili is the inaugural artist-in-residence at MoMA's Marie-Josée and Henry Kravis Studio. The Kravis Studio is a dedicated performance space located within the Museum's fourth-floor collection galleries; as its name suggests, it is a platform for artists experimenting with new art forms. The Studio Residency offers them space and time to develop processes and ideas.
For the duration of the residency, the Kravis Studio will become Okpokwasili's working space—a place for innovation and collaboration. Though the studio will be closed to the public, visitors are invited to experience the evolution of the artist's project during open rehearsals on August 23, 25, and 26 at 3:00 p.m.
I recently spoke to Okpokwasili and her collaborator, Peter Born, about the residency and their project.
—Ana Janevski, Curator, Department of Media and Performance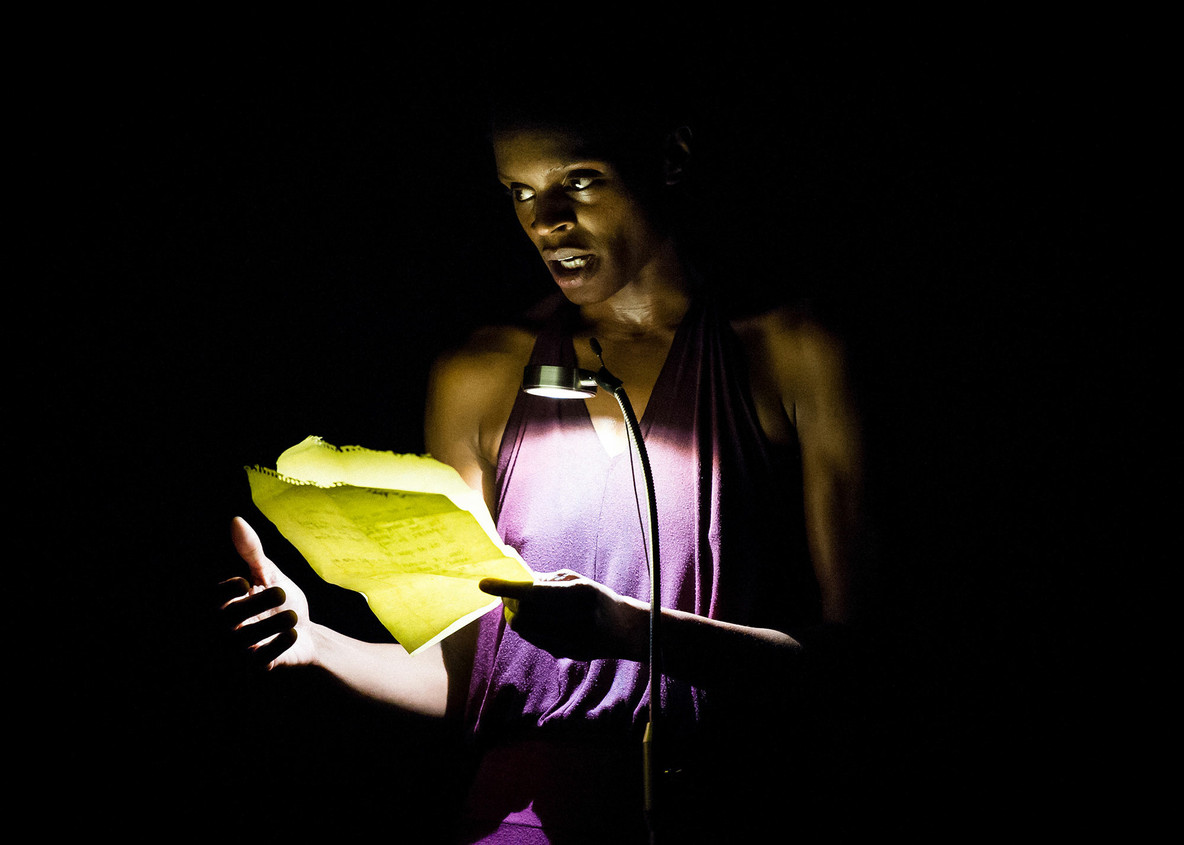 Okwui Okpokwasili. Performance view of Bronx Gothic. On the Boards, Seattle, Washington, 2016. Video by Peter Born
Ana Janevski: This is our first residency, and the Kravis Studio will be transformed into a working space, with the resources at your disposal to develop your work. I am really curious to know how you feel about working behind closed doors in such a big institution? And what are you looking to accomplish?
Okwui Okpokwasili: I try not to game out too many things before they happen. I'm just really excited to have a protected space to make something. And in the context of the institution, I feel like the resources give us a lot of opportunity to play around with how we set up the architecture of the relationship between the viewer and the performer. And to think about the different kinds of media that are going to be involved in the production.
Peter Born: When you work in an institution, it's different than when you're visiting. We visit museums all the time, and there's a certain relationship we have to the work there. I'm looking forward to working alongside the art at MoMA every day, and seeing how that relationship changes.
OO: MoMA is such a charged space, because of the place it occupies in the cultural landscape. I feel like I can't engage with that too deeply. It would be too overwhelming.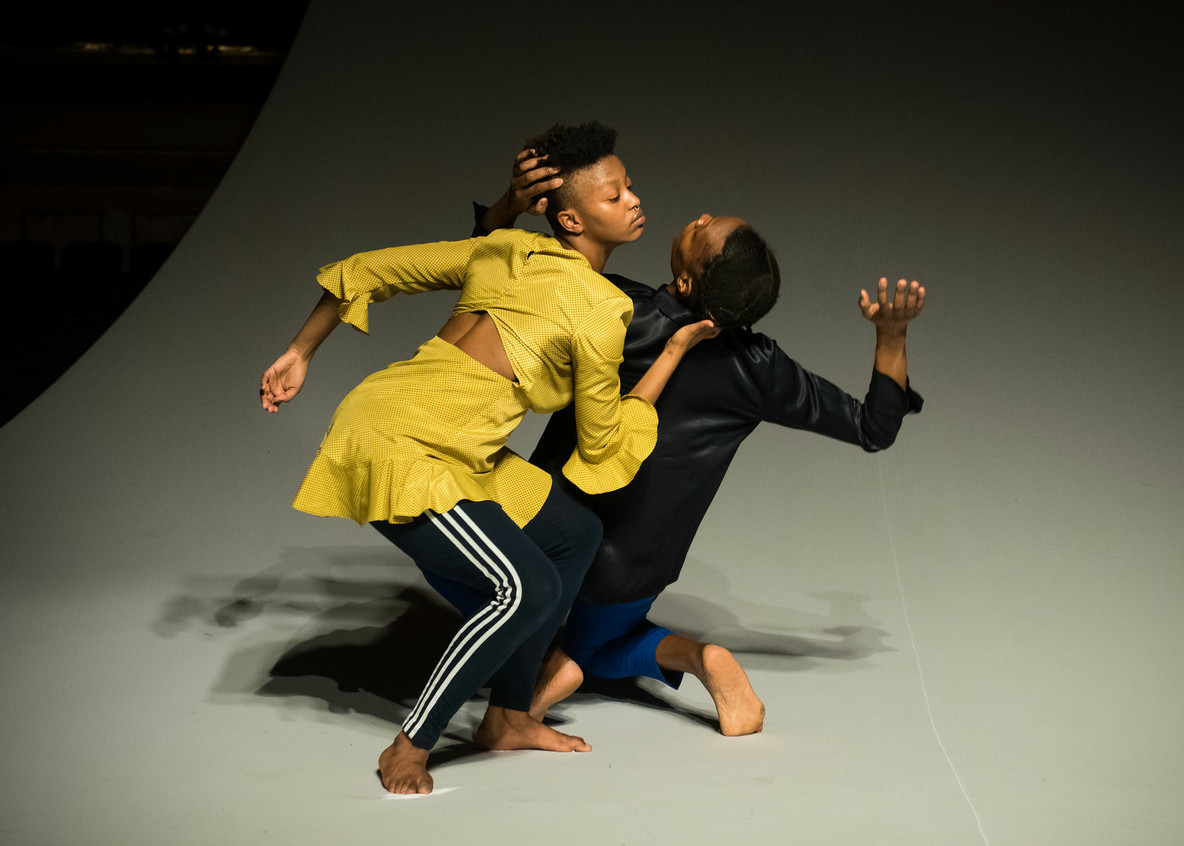 Okwui Okpokwasili. Performance of Adaku's Revolt
I want to protect my ability to imagine. I don't want to be worried so much about whether something in a story is true or absolutely accurate.
Okwui Okpokwasili
AJ: You always say that you start your projects with a text, and that's also the case with this new piece that you will be developing during the residency. The way you describe your approach to it, it makes me think of storytelling.
OO: Often I start with a text and then Peter makes a drawing. The text can also be the language of a song. But as a Nigerian-Igbo woman growing up in the States, I've always felt a lack of texts. I don't need them to be true. I just need them to somehow open up different spaces, potential zones of possibility.
Even when I was a child, I was reading and looking at stories. I feel the imprint of a text even if I can't remember the exact language. I feel such a great opening with language, and feel all of the double meanings, the missed meanings. For me the gaps in between the sentences are really exciting. Maybe it's just comforting to me to have a story to tell.
My parents didn't tell me stories. Their attitude was more like, "get your work done." They were immigrants, going to school, working multiple jobs. I don't remember a lot of vacations and time to tell stories. So maybe I'm trying to create a tradition that I'm supposed to have been a part of, but never was.
AJ: Can you reveal a little bit about the story you're writing for this new piece?
OO: Right now, the story is about hair, as is my previous piece Adaku's Revolt. Growing up as an African American woman, there was good hair and bad hair. You were trying to discipline the hair so you present in public in a way that doesn't alienate or frighten people. So the story is about what happens when a girl loses her hair and meets somebody who is almost like an untouchable in our modern society. She lets this person touch her head, and the girl's hair grows back. It doesn't just grow back as hair but almost like antennae connecting her to a lineage that had been broken. And the story is about what happens when that lineage starts to reconnect, and how it influences the way we imagine the future.
We've begun with a text and a song that tries to speak that story as if it's an epic, about a woman in pre-colonial times whose daughter was taken from her and became entangled in the violence of the transatlantic slave trade. And so we're dealing with the girl in the present who's lost her hair and who is also a product of that theft.
AJ: Women are always at the center of your stories. You've described them as different trees with one root. Can you speak about these African and African American women and their identity, this identity that you are negotiating yourself? And also the need to have fiction in order to tell these stories?
OO: I want to protect my ability to imagine. I don't want to be worried so much about whether something in a story is true or absolutely accurate. In my family, when folks do get around to telling you something, you hear it differently from others in the family. I have this family where one line lives in a pre-colonial tradition around multiple wives, and another line is very Anglican and Christian. And I was recognizing that the stories within my family were shifting and changing depending on who was telling them and what they wanted you to believe about them, which is the best part of storytelling.
Women made up such a big part of my life. I don't feel that men were around in the way that women were. Even though everybody was working, the women were there, they were cooking, they were cleaning. I was always surrounded by a density of women.
In pre-colonial Igbo culture, there were men marrying multiple wives, there were deep relationships between the wives and their children. Different people cooked every night for the husband. It's so interesting to think about the women in those spaces, and how they navigated the relationship not only with each other but with the central male figure. When you look at cultural work or at texts that come from these spaces, you become aware of a river of women that are holding up these societies, that are holding these households together, and are also the bulwarks of the local markets and economies.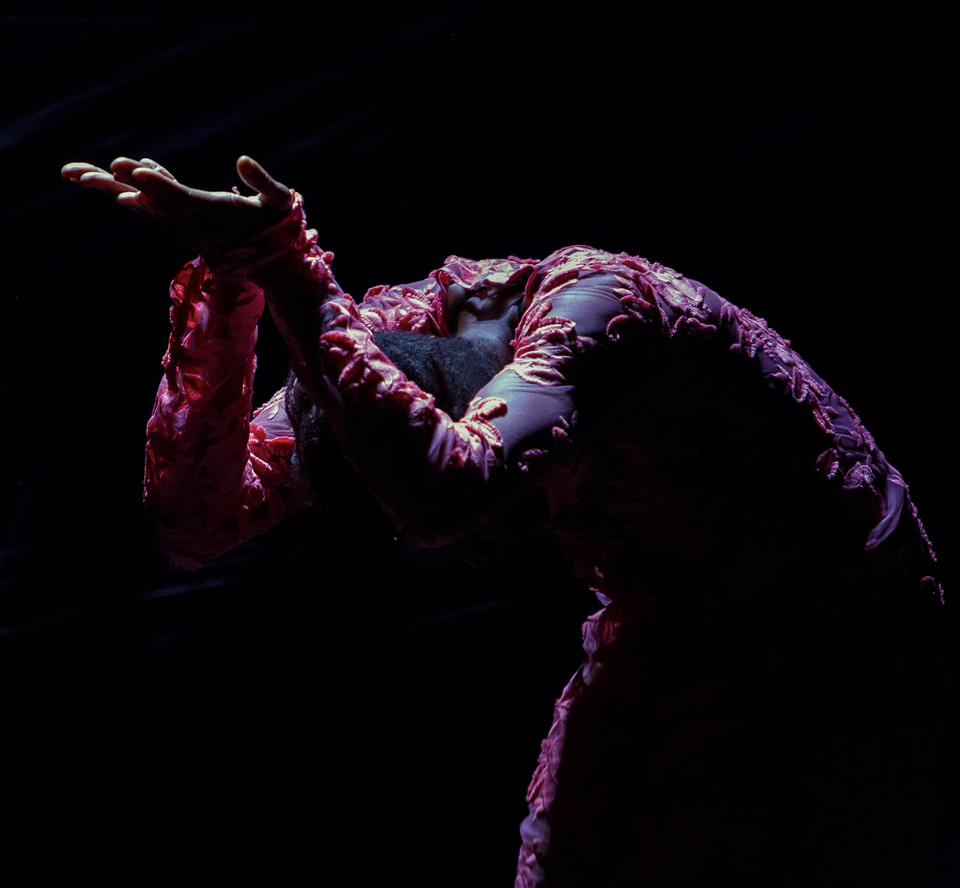 Okwui Okpokwasili. Poor People's TV Room (solo). Performed at Lincoln Center Atrium, 2015
AJ: Okwui and Peter, your work seems to be merging more and more. Can you talk about the process of working together?
PB: MoMA is giving us the space where we get a chance to try out ideas and see what will work or what won't. To say, "Oh, what if it was like this, or have you thought about it like this?" It can be hard in the conceptual stage because I'm not very good at drafting, I don't draft things on a computer. So it's a lot of sketching things.
OO: There are moments in our process where we're away from each other. We live together, but we're away in our minds with our respective ideas. And then we come together. It's such a beautiful thing when we get into a rehearsal because I feel like Peter has imagined and constructed an environment. Sometimes it's just a couple of pieces that really create the texture of a space. And we deal a lot with light. What does it mean to have certain things occluded in darkness? Peter really shapes that space, he brings in sonic ideas. I feel like I'm encountering a world that's unfinished but really dynamic and inspiring. And then I start to put things up against that, and we just keep going.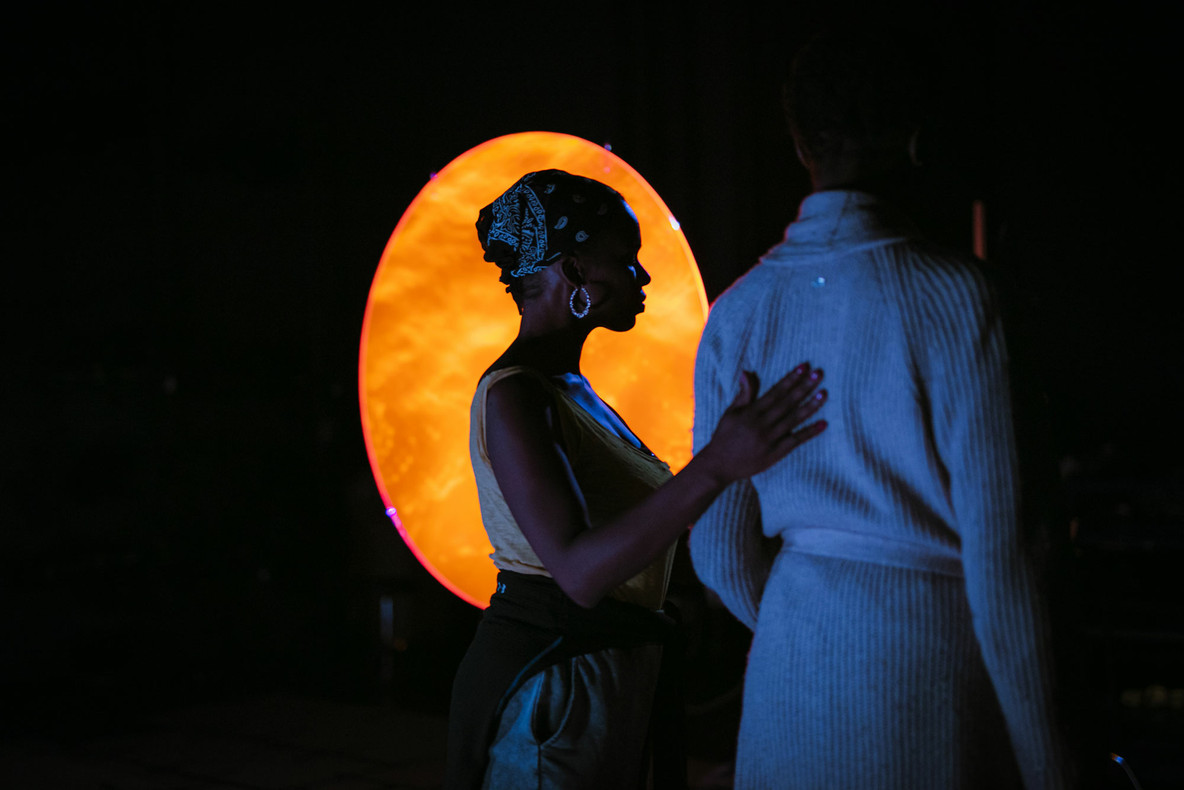 Okwui Okpokwasili rehearsal at MoMA, July 25, 2022, as part of Studio Residency: Okwui Okpokwasili
AJ: Singing is becoming more and more important in your work. How did it start? Were you always singing?
OO: I always sang in choruses when I was young. We didn't have theater programs in the Bronx, but we had lots of choruses and music programs, and then church. There's something about everybody coming together and singing—maybe not singing well or knowing the song—but that river of voices, I find it really powerful. You get lost in it. You hear yourself and you don't. Singing together is about attuning to the bodies and the breath of others, as well as to your own—I feel like it is the most interesting part of performance. The highest point for me is when I am attuning to my body but also to the people who have come to witness. This requires opening up my listening capacity. It is what choral singing requires, and I've been doing it since I was a kid.
AJ: Part of the invitation to this residency was also to have a number of free public events, which is basically opening up a rehearsal or a workshop and inviting people in. How do you feel about that?
OO: Opening up some of the process to people can be a way of building audience, interest, and relationship. At least for me, the presence of an audience is a part of building this project. To do live work and to share this work with people is to acknowledge a desire for a connection, and we're shaping the context and the container for the connection. We're thinking about what it means to be generously listening and receiving in ways that you don't normally get the opportunity to when you're just walking outside or maybe even attending a big concert. And about some of the ways that we can make space for a thoughtful, intentional coming together.