Ten Minutes with K. Melchor Hall: On Black Motherhood
Listen to the acclaimed writer talk about Elizabeth Catlett's sculpture Mother and Child, and its connections to rest, intimacy, and reproductive justice.
Growing up, my mother would often say to me, "It's not that I don't trust you. I just don't trust the world with you." Each time, I met her words with an angsty scowl and pout. When I think back to those moments today, I feel the tight grip of guilt for not realizing then what I know now. For my mother, it was never a matter of trust, but a question of freedom. How could she let me go out alone into a world that does not value and protect the lives of Black and brown children?
Looking at Elizabeth Catlett's Mother and Child—a sculpture on view this spring in Gallery 520: Picturing America—I'm gripped by this memory and a longing for what K. Melchor Quick Hall calls "reproductive justice."
In a 2020 poem inspired by works in MoMA's collection, Hall writes, "Loretta Ross says reproductive justice isn't just the right to have or not to have a child / It's the right to raise a child in a safe environment." Almost two years later, we invited her to revisit these ideas through the lens of Elizabeth Catlett's sculpture.
In this 10-minute podcast episode, Hall reflects on a childhood wrapped in the embrace of Black community and an adulthood of "relearning how to hold" three generations of women in her family. Through tender descriptions of this sculpture and lyrical insights that weave together the personal and political, Hall conjures the spirit of Catlett and the many Black mothers who came before and after. As Hall writes, "The spirits of these women…are never really lost to us, even when we miss them or misunderstand them."
—Arlette Hernandez, Assistant Educator, Department of Learning and Engagement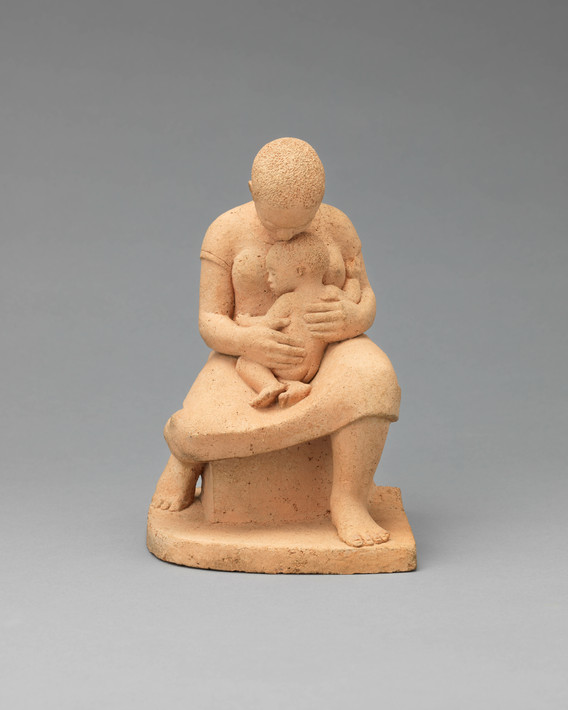 Elizabeth Catlett. Mother and Child. 1956
See below for a transcript of the SoundCloud audio.
K. Melchor Hall: My mother used to cornrow my hair at night and I would fall asleep and wake up not knowing what my hairstyle was going to be. I'm not sure how she did it, but she somehow created a space, with me on the floor between her legs, where I could rest my head just enough to fall asleep.
Hi, I'm Melchor Hall, a caregiver, popular educator, writer, and sometimes poet.
The sculpture Mother and Child was produced in 1956 by Elizabeth Catlett, an African American woman born and raised in Washington, D.C. I was also born a Black woman in the nation's capital and am honored to talk about this piece.
It is a sculpture of a mother who knows how to make her body into a comfortable seat for a small child familiar to her. The right foot with heel raised and toes spread is an anchor. One has to become skilled at holding such a position without the leg falling asleep. It is a kind of skill cultivated in the practice of caring for young, awkward beings.
She has made her breast into a pillow through an intimate caress. Although the child is wearing no clothes, she has created a warmth between them that allows the child to rest. And the expression on her face, which is a slight upward curve of the mouth, not a smile, just a sort of expression of satisfaction. She is pleased that she has been able to make this connection, this home for the child.
Knowing that Catlett made this sculpture after the birth of her third son, I had questions. I was wondering about her life. Did she have time to slow down, more time to hold her child, hold her son? What was going on in her life that allowed her to pause and think and sculpt about a mother's caress?
It made me reflect on rest in one's life. In my life, I think of it as a hint of something that attempts to create balance.
Recently, I've transitioned from working full-time to working part-time, and part of the reason I've made that decision is because I've decided that the caregiving parts of my life are full-time. I'm caregiving for a 15-year-old daughter and a 100-year-old grandmother. And so, for me, rest is being able to create a sense of belonging with the different women in my family and still have room for pauses, for naps, for breaks, for meditation, for reflection.
My grandmother has Alzheimer's. She is more affectionate than she used to be, or open to more affection than she used to be open to, because without memory, there needs to be some evidence in the body, in the artifacts of our affection, for her to know in every moment that she is home and with loved ones and in a form of constant embrace. With every new phase, we are relearning how to hold each other, how to let one another know that we are part of the creation of home for the others.
My relationship with my mother is one that I think allowed me to feel quite emboldened as a child. It created enough of a protective buffer around me that I felt as though I could try things, I felt as though I could imagine things. I never had any doubt of my sense of belonging because my earliest years were really years of a tight embrace of a Black community that believed in the right of Black children to be raised in ways that respected their wholeness and their humanity.
That early affirmation in a right to exist has created an adult who's less likely to look elsewhere for permission. I already have received all of the permission that I need.
In this Catlett sculpture, we see a mother creating a space that is safe for the child. And this idea of creating spaces that are safe and healthy for children is one of the most important parts of something called reproductive justice.
In the context of Reproductive Justice: An Introduction, by Loretta J. Ross and Rickie Solinger, they define it as follows:
"Reproductive justice is a contemporary framework for activism and for thinking about the experience of reproduction. It is also a political movement that splices reproductive rights and social justice to achieve reproductive justice. The definition of reproductive justice goes beyond the pro-choice, pro-life debate and has three primary principles: one, the right not to have a child; two, the right to have a child; and three, the right to parent children in safe and healthy environments. In addition, reproductive justice demands sexual autonomy and gender freedom for every human being."
When we think about that in really broad ways, it's how you want to dress, how you want to express yourself. In that sense, reproductive justice isn't just about the birth of a child or whether the child is not born. It's also about your right to do what you need to do with your body. When people are able to do what they want with their bodies and they're not forced to do anything, it creates a safer and healthy environment for everyone.
Catlett made this sculpture the year after Emmett Till was murdered. Emmett Till was a young Black boy who was in Mississippi visiting relatives, and because of an interaction with a white woman—something that today we might not even think about. He was brutally murdered and disfigured, and part of what is really remembered about this particular brutal murder is that the mother, as a form of resistance, a form of protest, had an open-casket funeral.
With this sculpture we see a mother, who is caring for, caressing, protecting young life and all of its potential. The work is evidence of a kind of ease that would've been, and still is today, hard to imagine in a lot of places. And so we then can think about: What are the circumstances that allowed this mother to cradle this unclothed child safely, without being concerned about having to move the child or go someplace else?
There's so many things that have to come together for a child to have a safe and healthy place to land in the world. So I think that it's an opportunity, this sculpture, to really reflect on the kind of humanity we want to co-create.
K. Melchor Quick Hall, PhD is a popular educator, writer, and researcher. Hall is the author of Naming a Transnational Black Feminist Framework: Writing in Darkness, and alongside Gwyn Kirk, co-editor of Mapping Gendered Ecologies: Engaging with and Beyond Ecowomanism and Ecofeminism. She is both a Resident Scholar at Brandeis University's Women's Studies Research Center (WSRC) and the Executive Director of the African American Education & Research Organization (AAERO) @ Melchor-Quick Meeting House (MQMH), founded by her mother and first teacher, Paula Quick Hall. At Pendle Hill Quaker Retreat and Conference Center, Hall co-leads a writing workshop for people of color, a reparations workshop for US-based, white inheritors of wealth, and an artist-led freedom visioning workshop for individuals interested in our shared liberation.

MoMA Audio is supported by Bloomberg Philanthropies.