Remembering the World of Bettina, Resident Artist of the Chelsea Hotel
A living artist carries on the legacy of another, through important intersections and convergences of their work.
In New York City, artists' orbits occasionally intersect at defining moments in their lives and careers, their influences shaping one another in unexpected and fruitful ways, as they take on such roles as mentor, student, muse, or advocate. Such an artistic relationship formed over the last several years between Yto Barrada and Bettina Grossman, who went by her single first name, Bettina.
Born in Brooklyn, Bettina spent the early years of her career as an artist in Europe, returning to the US in the 1960s. She worked across multiple mediums, including painting, sculpture, photography, and textile design, but her life changed later that decade when a devastating fire destroyed much of her work. She moved into the Chelsea Hotel in 1970 and, recovering from the loss, worked prolifically; but, distrustful of sharing her art with a wider public, she became ever more reclusive. Yet in recent years, her work started to be more widely seen again, thanks in large part to the efforts of Barrada, among other champions. At the time of her death this past November at the age of 94, Bettina's work was on view at MoMA PS1 in the major exhibition Greater New York, and at MoMA in an exhibition organized by Barrada herself, Artist's Choice: Yto Barrada—A Raft. I recently spoke to Barrada about Bettina's influence, and the convergences of their work.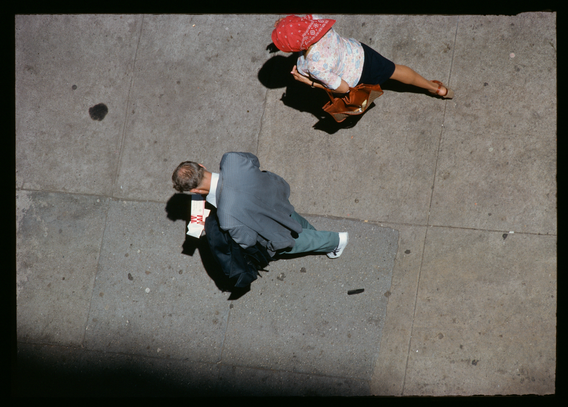 Bettina. From the series The Fifth Point of the Compass. 1977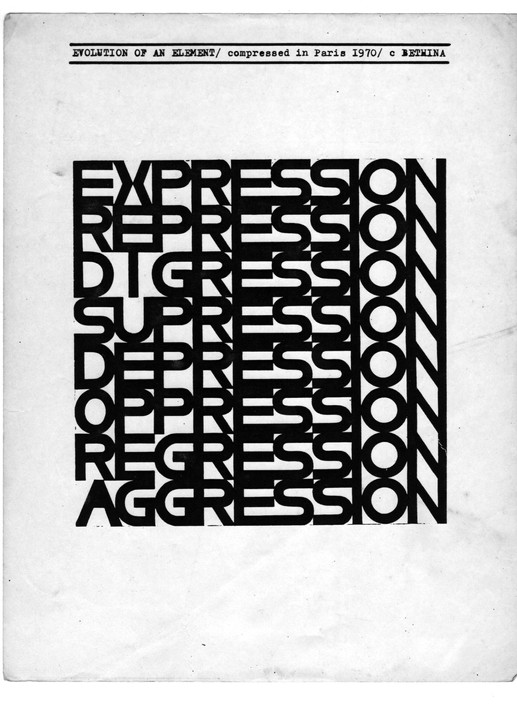 Bettina. Evolution of an element, compressed in Paris. 1970
Lucy Gallun: How did you learn about Bettina's work? I understand that in recent decades she mostly sequestered herself within her apartment-studio in the Chelsea Hotel, surrounded only by her artwork, and is quoted as saying, "The only way you could do beautiful things like that is by isolating yourself from reality, from friends, from the messy situation out there." And yet, somehow, through the extraordinary web of relationships of artists in New York City, you came to hear about her.
Yto Barrada: I saw Bettina's work for the first time in a film portrait called Girl with Black Balloons (2010) that had been made by my neighbor, Corinne van der Borch. Bettina was already well known by a group around the Chelsea Hotel, but she was mostly keeping to herself. Her enigma was intact and even after knowing her for many years, I still have a lot of questions. Abstraction and obstruction are words she would use often in her work, and these were also qualities through which she lived. She created a whole world in her work and life, and you felt very privileged if, by some chance, you were let in.
Bettina's work is currently in the exhibition Greater New York at MoMA PS1, alongside that of other New York–based artists of multiple generations. I learned in the press around the exhibition that at the time of the show's opening, she was the oldest living artist whose works were included. In this context, works that Bettina made decades ago, such as the series of photographs called Phenomenology Project (1979–80), in which she captured distorted reflections in city windows, are in conversation with recent works by a younger generation of artists. Do you think Bettina's works convey something about life in this city during our current moment?
Bettina. From the series Phenomenological New York / Urban Energy Strategies, Traffic Patterns, New York. 1976–86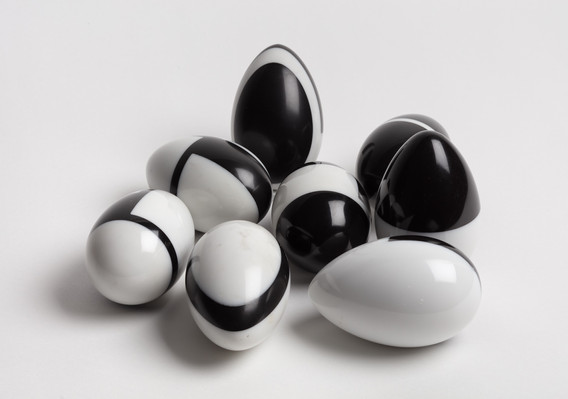 Bettina. Options for an Angle: 24 Inconstants from One Constant. Italy. 1970
Greater New York is an intergenerational exhibition. Like the artist Etel Adnan, who passed a few weeks after Bettina, she was so displeased that every article started by stating her age. Her works do convey something very unique about life in the city. Whether in photographs, film, painting, or sculpture, Bettina's works were serial, modular, and rigorous. Each was part of her application of a larger system; a poem of perpetual renewal. The work was self-referential, with repetitive geometric forms that had a transcendental dimension; there was something shamanic about it. Her work constituted parts that could be moved, separated, and recombined—photography and paper, wood and marble. As well as having concrete materiality, she would play optically with figure and ground, negative and positive relationships. She sustained this repetition over the years, as she embraced and interrupted the rituals she created.
You included Bettina's work Two hours in the life of one hair (1974) in your Artist's Choice exhibition at MoMA, for which I had the privilege of collaborating with you, alongside my colleague River Bullock, former Beaumont Newhall Curatorial Fellow in the Department of Photography. There it was installed near works from the Museum's collection, like Lygia Pape's Untitled woodcut from the series Weavings (Tecelares) from 1960, and a lithograph by Anni Albers from her 1964 portfolio Line Involvements, as well as examples from your own recent series of gelatin silver prints, Practice Pieces (Sewing Exercises). How do you see Bettina's work engaging in this constellation of works in particular, as well as in the wider context of your exhibition, which was organized around the ideas and work of French social work pioneer and writer Fernand Deligny (1913–1996)?
Installation view of the exhibition Artist's Choice: Yto Barrada – A Raft, The Museum of Modern Art, May 8, 2021–January 9, 2022
The themes of tracing, repeating, and producing new iterations are crucial to both Bettina's work and to the proposal of this exhibition. She had a hostile relation to art critical discourses. Her art has its own reality, working on series like building blocks interlocked in various different combinations in accordance with a predetermined system, like the works from MoMA's collection that resonate with Deligny's concepts such as the network (réseau) or wander lines (lignes d'erre). I see connections between her work and my Sewing Exercises, which are contact photographic prints made from paper sewing-lesson exercise sheets that I found in Tangier. The students were practicing sewing patterns on paper before they could advance to fabric; they were literally "learning through doing."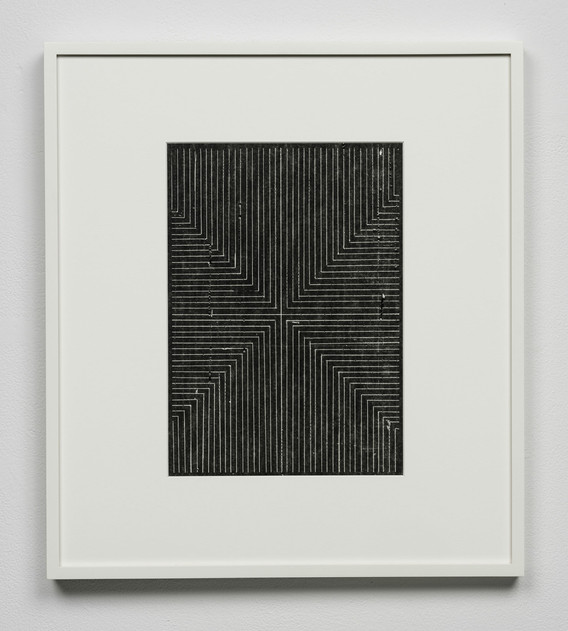 Yto Barrada. Practice Piece (Sewing Exercise 4B). 2019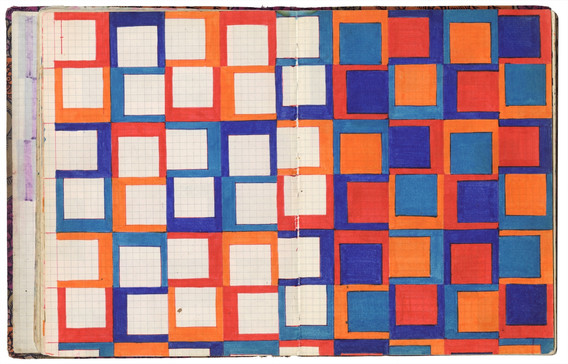 Bettina. Drawing notebook
I've presented my work alongside Bettina's on several occasions already, such as the exhibition The Power of Two Suns at the Arts Center at Governors Island in 2019 and at Sfeir-Semler Gallery in Hamburg, Germany, in 2020. Both of our work is connected to or shaped by nature. For example, Bettina collected leaves and branches and transformed them in compositions of new patterns and series; in my work, I've used botanical classroom models, natural dyes, and materials drawn from plants.
Yes, and the work you both presented in The Power of Two Suns explored how constraints—whether self-imposed or not—can sometimes be generative, resulting in a new kind of grammar through which to understand the world. Bettina's life and career was upended by a major and traumatic event when a fire destroyed much of her work in the 1960s. I understand that after that, she concentrated on her art while withdrawing socially, and even remade much of the work she had lost. In this case her process of remaking and repeating were also, tragically, born out of necessity. But now more audiences have the opportunity to experience Bettina's work, through your and others' efforts. What projects are upcoming?
I believe the scandal was that Bettina was overlooked, like so many female artists of her generation.
Yto Barrada
I believe the scandal was that she was overlooked, like so many female artists of her generation. She had a hostile relation to art critical discourses. She wrote about her art and her ideas. I imagine that Bettina would quote Ginger Rogers: "I did everything Fred Astaire did, but backwards and in heels." Her work has been an inspiration to me and to others and I want to share her accomplishments with wider audiences. We are publishing a book (with EXB and Aperture, co-authored with Gregor Huber, who is also the book's designer), which offers a first overview of a large selection of Bettina's projects, including her Xerox text and image compositions, her paintings with tape, her stained glass panels, sculptures, and prints. An exhibition in conjunction with the book release will open in Arles, France, in July. [The book was the winner of the Luma Rencontres Dummy Book Award Arles in 2020.] There is a long history of artists championing—and being nourished by—the work of other artists; my relationship with Bettina is part of that tradition.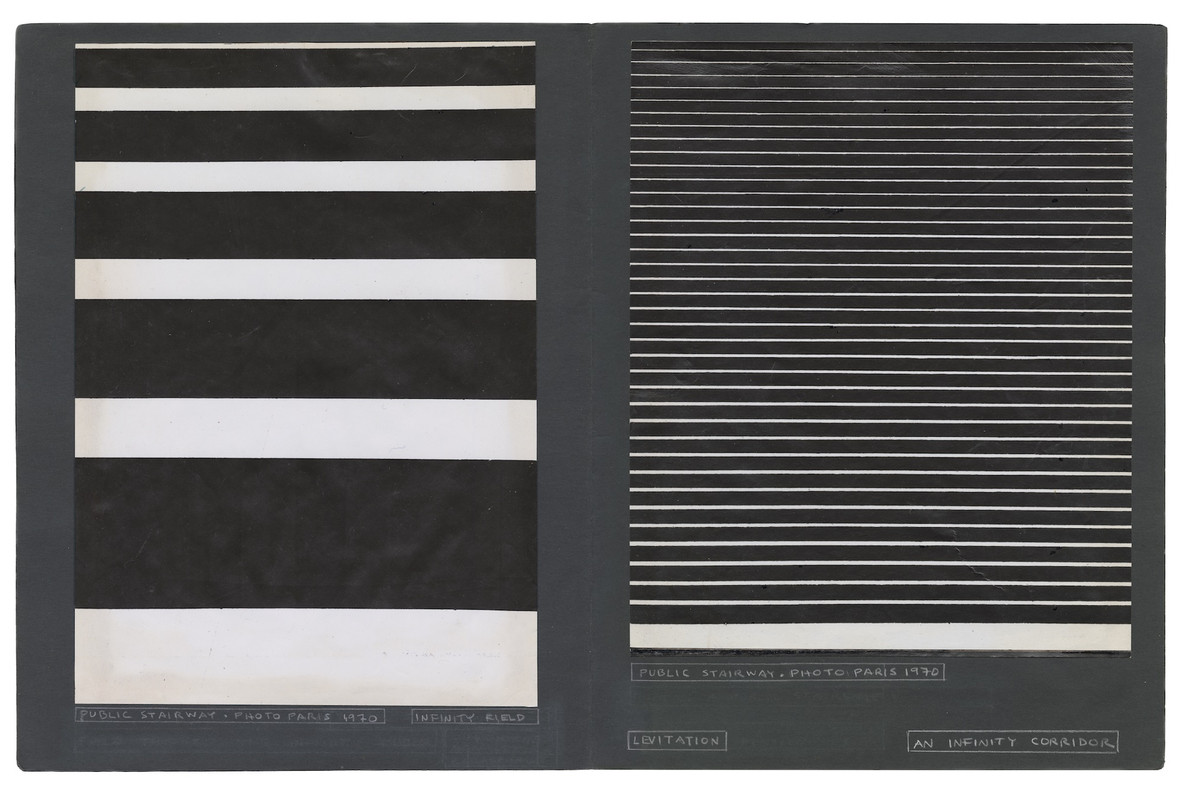 Page of one of Bettina's albums