Cooking with Artists: C. Spencer Yeh
In MoMA PS1's ongoing series with chef Mina Stone, artist C. Spencer Yeh shares an updated version of his mother's Taiwanese fried chicken.
"Cooking has everything to do with my work, my art, and my music because it's a part of me that's been going on all along, you know?"
C. Spencer Yeh is an artist, composer, and master of improvisation. Born in Taiwan, Spencer emigrated with his family to Montreal, settling in Cincinnati, Ohio, when he was five years old. He reflected on how hard it was to grow up speaking Mandarin while adapting to American culture.
Our conversation ranged from his mother's beautiful homemade Taiwanese dishes to the feeling of seeking a buoy while lost at sea, a metaphor for finding yourself, your body, and the things you care about.
The trajectory of our conversation was anything but linear. Rather, it was associative and collaborative. In his own words: "I figured out that I tend to be better and quicker at just sort of associating things with each other, rather than assembling and seeing a linear trajectory."
Here are some more nonlinear moments from my interview—buoys on the journey—which moved me, fired up my appetite, and made me laugh out loud:
Homemade soy milk served warm and sweet, classic scallion pancakes, spring rolls, Taiwanese fried chicken, oyster omelettes complete with that perfect "mouth feel," and delicate dumplings with Chinese leeks. Spencer's memory of the first time his mother went to Sam's Club and came home lugging cartons of soy milk. She exclaimed, "We don't have to make this from scratch anymore!" A moment of both humor and sadness, a combination so potent as we watch things change.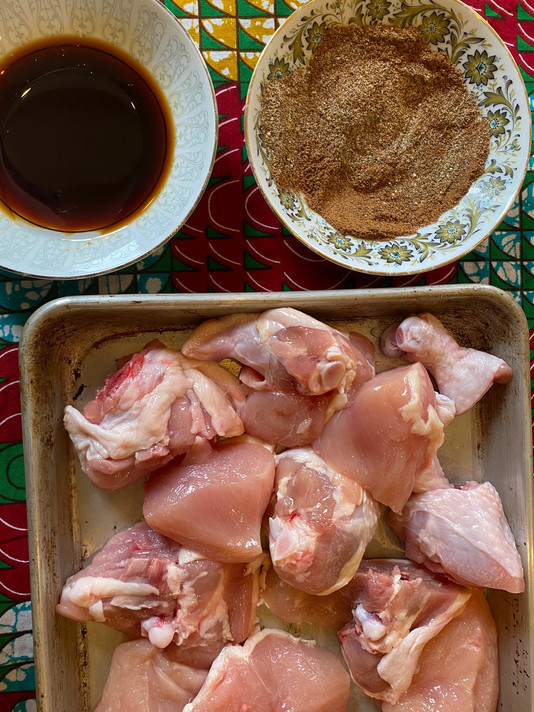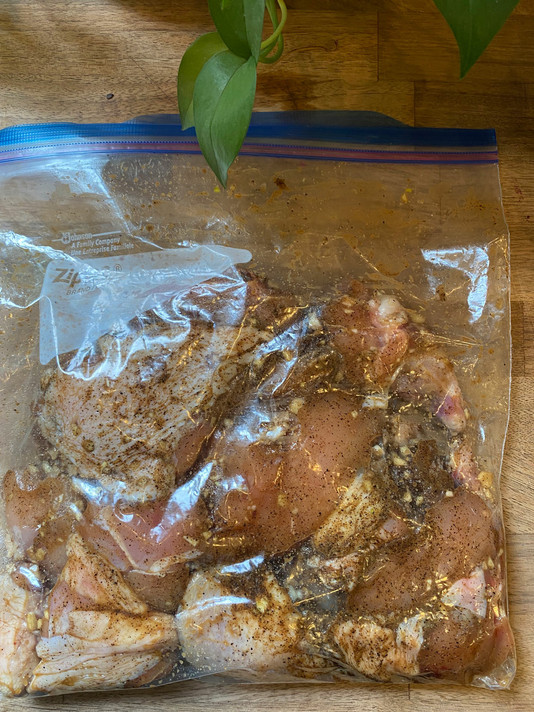 Spencer likes to reflect on this process of discovery, growth, and the importance of questioning as you go:
"What I'm trying to reach for is greater than the skills I have. In the process, I find I'm getting a lot more information. Maybe sometimes it's not good or maybe sometimes it's confusing, but there is something about it that really fascinates me. That can absolutely come through in cooking as well. For every Taiwanese dish my mom made, she also tried to make Western sandwiches and it was a nightmare, you know?"
He goes on to reflect, "I personally am not interested in nostalgia. Thinking about my mom's cooking, I'm not trying to crawl back into the crib. I do not wanna go back in time. Please don't send me back. Or send me back like a year so I could buy a lot of GameStop, Dogecoin, and Bitcoin! You know?"
Spencer chose a recipe his mother used to make, but it is also one that Spencer has revised himself. "A recipe," he said, "should keep changing, as all good ones do."
Spencer's Taiwanese Fried Chicken is crispy, crunchy, and the delicate flavor of Chinese five spice found me at sea. Sometimes, the right flavor can bring you home and take you somewhere new all at once.
Thinking about my mom's cooking, I'm not trying to crawl back into the crib. I do not wanna go back in time. Please don't send me back. Or send me back like a year so I could buy a lot of GameStop, Dogecoin, and Bitcoin!
C. Spencer Yeh
Taiwanese Fried Chicken
Serves four
"Often you'll find Taiwanese fried chicken in a boneless 'popcorn' style at some bubble tea and snack places like ViVi. Dusted with various spices and served in bags, you get a skewer to poke 'em out, like mango slices with chili powder. My mother uses chicken on the bone, typically chicken leg quarters, chopped into pieces. This recipe is the result of a combo of various recipes I've looked at, as well as my own messing around."
This fried chicken is bright, crispy, and crunchy.
Ingredients
2–2.5 lbs. chicken legs and thighs
1–1 1/2 tablespoons light soy sauce
2 tsp Shaoxing wine
1 tsp fish sauce
4 tsp canola oil
4 garlic cloves, finely chopped
1 tablespoon garlic powder
1 tablespoon white pepper powder
1 tablespoon five spice powder
4 tablespoons cornstarch
4 tablespoons coarse sweet potato starch
48 ounces canola, vegetable, peanut or any other mild oil suitable for frying
Extra spices for garnish
Paprika
Five spice powder
White pepper powder
Kosher or rock salt
Spencer's note: You can totally play with the amounts, except I would be careful with the soy and fish sauce, as one time I had made it just a little too salty, and you can always up the saltiness with some rock salt sprinkle later. Sometimes I slip in a little more Shaoxing wine to up the booziness.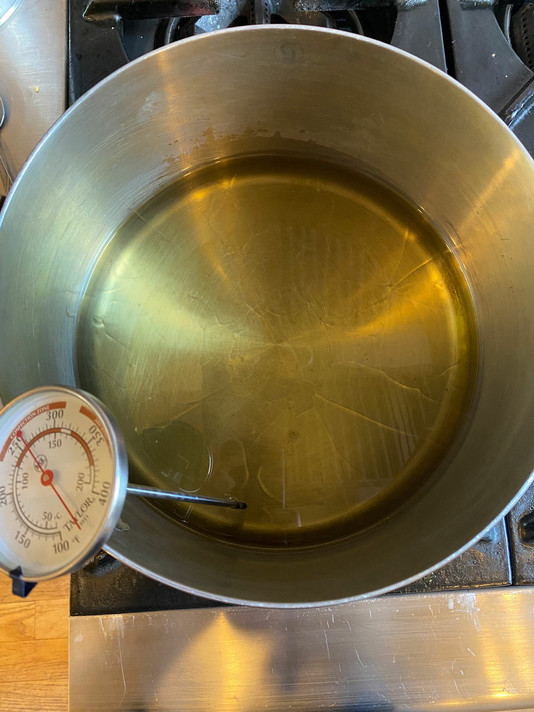 Prepare the chicken
Separate the leg from the thigh and chop them each in half so you have three- to four-ounce pieces of chicken.
Mina's note: I ended up chopping the drumstick about two inches above where the claw would be attached, as Spencer suggested, so you get a fun, mostly skin/cartilage ball to fry up as a snack.
For the marinade
Put all the chicken pieces in a large freezer bag.
Add in all the liquid components of the marinade first. Then, add the finely chopped garlic, followed by the dry spices
(Mina's note: I whisked these together before adding them to the bag of chicken).
Massage the bag well to make sure everything is dispersed evenly over the chicken. You can add a dash more soy sauce or Shaoxing wine to loosen it up a bit if you need.
Squeeze as much air out of the bag as you can and marinate in the fridge for 24 hours.
When you are ready to fry
Remove the chicken from the refrigerator while you prepare your "fry station," so it has a chance to come to room temperature.
Pour the oil into a medium/large pot, so that it comes up about two inches on the side. Clip a candy thermometer to the side and heat the oil to 350–375 degrees.
Set up a rimmed baking sheet with a cooling rack or line it with paper towels.
Prepare the dredge by whisking together the sweet potato starch and the cornstarch in a Tupperware container or a large plastic bag.
Shake any extra spices or garlic pieces off the chicken and quickly and uniformly cover each piece in the starch mixture. Drop gently into the oil and repeat with a few more pieces, being careful not to overcrowd the chicken.
Fry for six to eight minutes (smaller pieces will take a shorter time and bigger pieces longer) moving the pieces of chicken around in the oil with a spider or metal tongs.
Spencer's note: It's very important that you only dredge the pieces you are going to fry immediately. If you dredge them all and let them sit, the coating gets soggy and the color is kinda weird.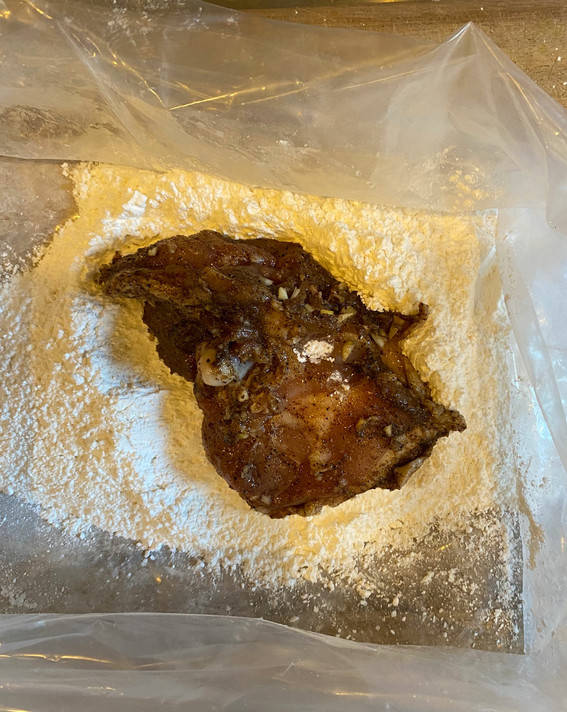 Remove the chicken onto the prepared baking sheet and allow to rest for five to 10 minutes.
Drop the chicken in the hot oil again for a second fry. This will make the chicken crispy and golden brown. Fry for about five minutes or until the color changes to a golden brown. Repeat with remaining chicken, and while the chicken is hot and right out of the fryer dust with desired spices. Spencer likes to serve this with a pile of kewpie mayo for dipping.
Spencer's note on dusting the chicken with spices: My preference is in this order: white pepper, followed by five spice (generously), and then finished with paprika (generously). It's just the way the colors sit on each other. Sometimes little clumps may develop in the crannies of the pieces, and those are pretty cool.
One more note from Spencer I liked: Guests should be told that there may occasionally be a bone shard or something. I usually don't serve the tibia pieces because I keep them as a snack while cooking, but for those who like those parts (I have a joke about how my finished bones from eating wings is like the natural history museum), they are highly recommended.
I'll leave you with a final quote from Spencer (he has so many good ones!):
"My fear is that someone cooking something for someone else, is going to be lost to…Restaurant Week."