Listen to stories about the personal connections people find in art.
When we look at art, what we are actually doing is searching. Searching for something that makes us feel, something familiar reflected back at us. Anyone can make a meaningful connection to art. All you need is to trust in your own experience.
This is the basis for our Shifting Perspectives public program series, and our newest audio guide of the same name. When I began working on the public program series, I was immediately struck by the vulnerability people brought to these programs. It didn't matter that the session was online or filled with unfamiliar faces—people still filled the space with warmth, sharing with others the experiences and passions that make them who they are.
Every artwork has the ability to bring forth the stories within us. And when someone shares a part of themselves, it inspires us to do the same, to become vulnerable and meet the other person where they are. The Shifting Perspectives audio playlist is inspired by these moments of connection. Inviting speakers to choose an artwork in MoMA's collection, the playlist brings together the voices of five speakers who tell stories about experiences that can resonate with all of us: searching for home, questioning our surroundings, finding our voice, breaking generational ties, and building community.
Click on the links below to listen to the audio.
Hear from an artist who works at MoMA about the ways Alfonso Ossorio's work reminds him of home.
MoMA Educator Francis Estrada immigrated to the US from the Philippines when he was 13; he wasn't able to return until 22 years later. "There was a longing and a need for me to go back home," he says. "A need for me to reconnect, not just with my family, but with the culture that I grew up with." Going to the Philippines every few years is one of the ways Estrada finds connection to his culture. The other way is through art.
Estrada is a visual artist who works across mediums to explore ideas of history and memory. For him, art is a way to "confront our understandings of culture." Reflecting on his early art education, he describes scouring library books and museum walls in a constant search for other Filipino artists. The first time he discovered the work of another Filipino artist, "it resonated with me the same way that this piece by Ossorio resonates. I just saw all these images, all these little vignettes that I could latch onto and relate to…. It's important to find these narratives...because you want to find someone whose stories are similar to yours."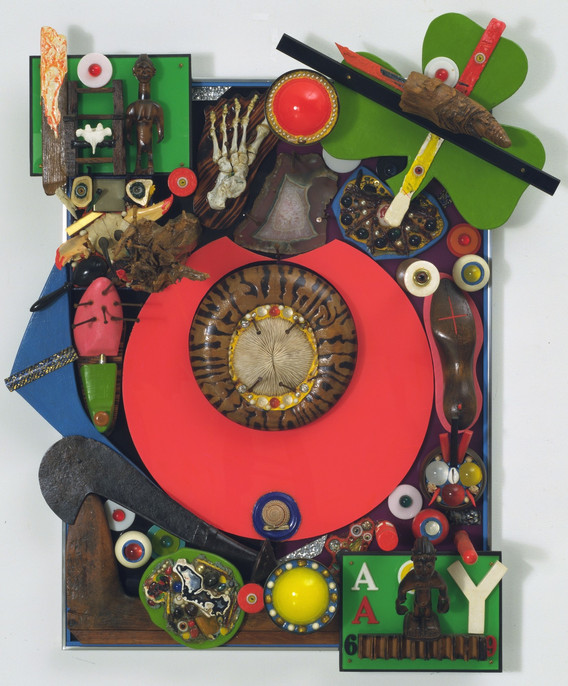 Alfonso Ossorio. Empty Chair or The Last Colonial. 1969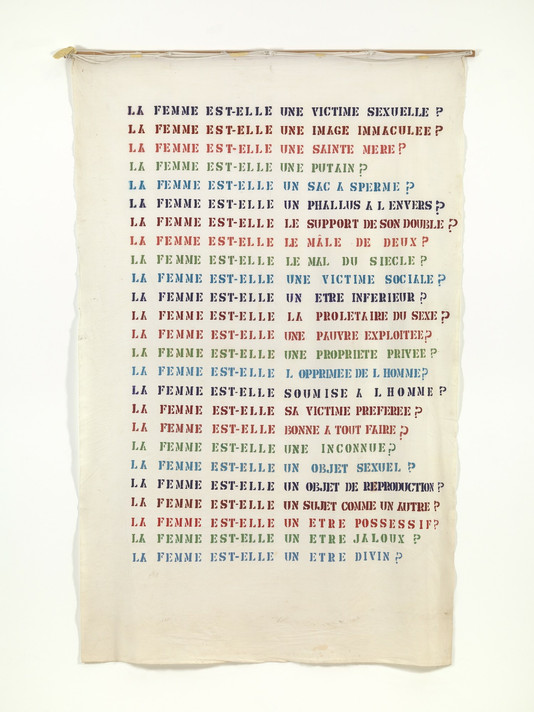 Lea Lublin. Interrogations sur la Femme (Interrogations about Woman). 1978
Join a writer as they look at Lea Lublin's work and consider the importance of asking questions.
Upon first glance at Lea Lublin's text-based work Interrogations sur la femme, Afro-Caribbean writer Joselia Rebekah Hughes immediately recalled the work of poet Audre Lorde. Hughes's own writings examine societal values around disability and chronic illness; like Lorde, Lublin also "asked simple questions that needed hard answers."
In examining some of the questions posed by Lublin, Hughes points to the ways they challenge our self-perceptions. "[A question] like, 'Is woman a sexual victim?,' for example, is a very difficult question to ask oneself...we may come to different conclusions about experiences that we've had."
As Hughes tells us, even the most difficult questions can offer a path toward liberation, as long as we acknowledge them: "Know that you can hold, and let go, and then hold again. To know that your thoughts are waiting for you, your feelings are waiting for you. They're tapping up against you all the time, asking for acknowledgment and attendance. Acknowledge and attend them."
Even the most difficult questions can offer a path toward liberation, so long as we acknowledge them.
Hear from an emerging artist about the inspiration they find in Betye Saar's career.
Multimedia artist and student Taneisha Bailey is a spiritualist who has always been drawn to the divine. She felt drawn to the eyes in Betye Saar's The Divine Face and Hand, seeing them as fragments of a watchful presence protecting the viewer. "That's kind of how the divine works," she says.
Saar herself functions as divine inspiration for Bailey, who notes the similarities she finds between Saar's story and her own. "I take my everyday spiritual experiences and I put that into my own creative works," she states. "It's just very interesting to see that [Saar] showcased that too. Because a lot of people shy away from it...or just don't have a clear understanding of what [spirituality] can be. Everyone has their own personal connection to the divine, whatever that may be."
Bailey was amazed at the artist's travels, her dedication to learning about other cultures, and the journeys it took to get in touch with her spirituality. Looking at this print, Bailey wonders if Saar's black handprint is a way of representing this expansive spirituality: "It makes me think that she created her own chart here...her own sense of self."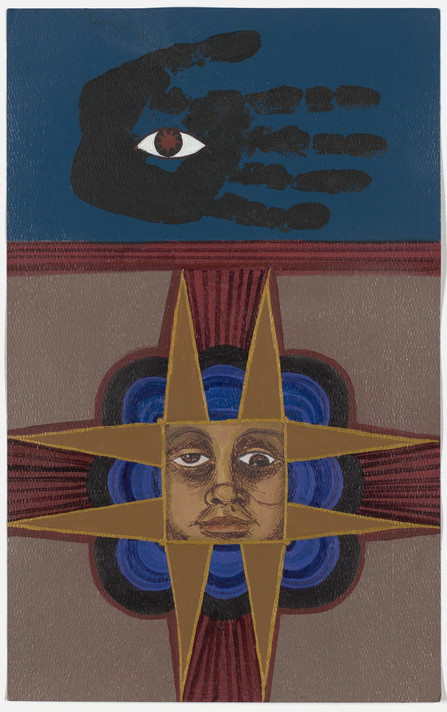 Betye Saar. The Divine Face and Hand. 1971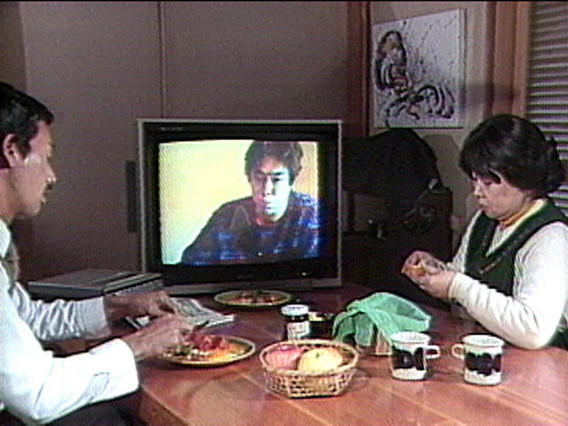 Mako Idemitsu. HIDEO, It's Me Mama. 1983
Hear from an astrologer who encourages us to sit with the emotions of Mako Idemitsu's film.
Alice Sparkly Kat began their practice as a queer astrologer in 2015, while they were experiencing a personal crisis. "The way that queer people use astrology, it's through this process of remixing, of identifying, sometimes through play. You're also listening to each other and connecting and building communities through astrology." Today, they are dedicated to critiquing the offerings and limitations of the field, and even wrote a book about it titled [Postcolonial Astrology].
Alice Sparkly Kat creates astrological forecasts for people, encouraging them to reflect on their lives by grounding them in planetary movements. They note a similar process in Mako Idemitsu's video HIDEO, It's Me Mama, which examines the familial duties of a woman. In both astrology and art, it is about the reaction of the viewer or reader, and the way someone is able to interpret meanings: "You have to sit there and watch the video...and then you have to sit in your own emotions. I feel like that's a really powerful way of getting people to respond to broader cultural narratives. In some ways, that's what a lot of astrologers try to do...they describe a mythology, or a story, or archetype. We're trying to get the client to have an emotional reaction to it so then they [can] understand themselves more."
Listen to a tattoo artist reflect on Shambhavi's work and the ways art can build community.
Art, whether on the walls of museums or inked on our skin, tells important stories about who we are, where we come from, and where we belong. This idea is at the core of Tann Parker's work. A nonbinary African American tattoo artist, Parker is the founder of Ink The Diaspora, a platform dedicated to challenging colorism in the tattoo industry. By highlighting the work of queer and trans tattoo artists and images of tattoos on people with dark skin, Parker pushes for the representation of people who otherwise don't see themselves reflected in the industry. In their own words, "It's about community."
Parker was drawn to the colors and textures of Shambhavi's Cosmic Seeds Light / Beej Brahmaand Ek, noting how the sheets appear fragile, but also powerful, like our skin. Seeing connections between the experience of viewing art and sitting for a tattoo, they said, "It's for me, always like a gift to myself. It's [the] one time where you can sit and be in your body.... It just forces you to be still and [present]." While Parker encourages us to slow down, they also describe the ways that art can give us a sense of community: "It's a go-ahead. It's an affirmation to say it's okay to do something...or to be who you are."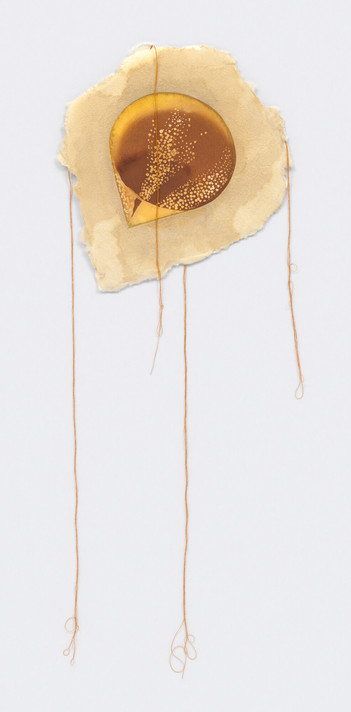 Shambhavi. Cosmic Seeds Light / Beej Brahmaand Ek (detail). 2011
It means making personal connections. To say, "I've been there too, and you are not alone."
Talking about art is so much more than analyzing the composition of a work, or describing how and when it was made. It means making personal connections. To say, "I've been there too, and you are not alone." Sometimes that means sitting with our emotions and trusting that if we give ourselves the space to grow, to question and reflect and honor our experiences, the result will be one of the most liberating and freeing things we've ever known.