Four Cocktail Parties: An Interview with Marta Minujín
The Argentinian artist reminisces about turning her audiences into works of art.
A central protagonist in the 1960s and '70s avant-garde movement and Pop art scene in Buenos Aires, Marta Minujín is widely known for pioneering Happenings and mass media interventions that question deeply embedded social codes and critically analyze political conditions in Latin America.
Minujín's MINUCODE—which will go on view for the first time in MoMA's collection galleries on October 30—is a portmanteau of the artist's name and the word "code." It was commissioned by the Center for Inter-American Relations (CIAR, now the Americas Society) in New York in 1968. Interested in exploring the social codes of the worlds of art, business, fashion, and politics, Minujín decided she would host four cocktail parties attended by people working in those fields. She enlisted participants via newspaper advertisements and received more than one thousand replies, from which she created guest lists. The parties took place over four consecutive nights at CIAR; participants were filmed by the filmmaker and experimental photographer Ira Schneider, and then invited back a few days later to see the films projected onto the walls of the gallery, creating what Minujín called a "social environment." MINUCODE was unseen for 42 years before being shown for the first time in 2010 at the Americas Society in an exhibition curated by José Luis Blondet and Gabriela Rangel.
In this interview the artist reflects on MINUCODE and other works, and on how the world has changed since she created it.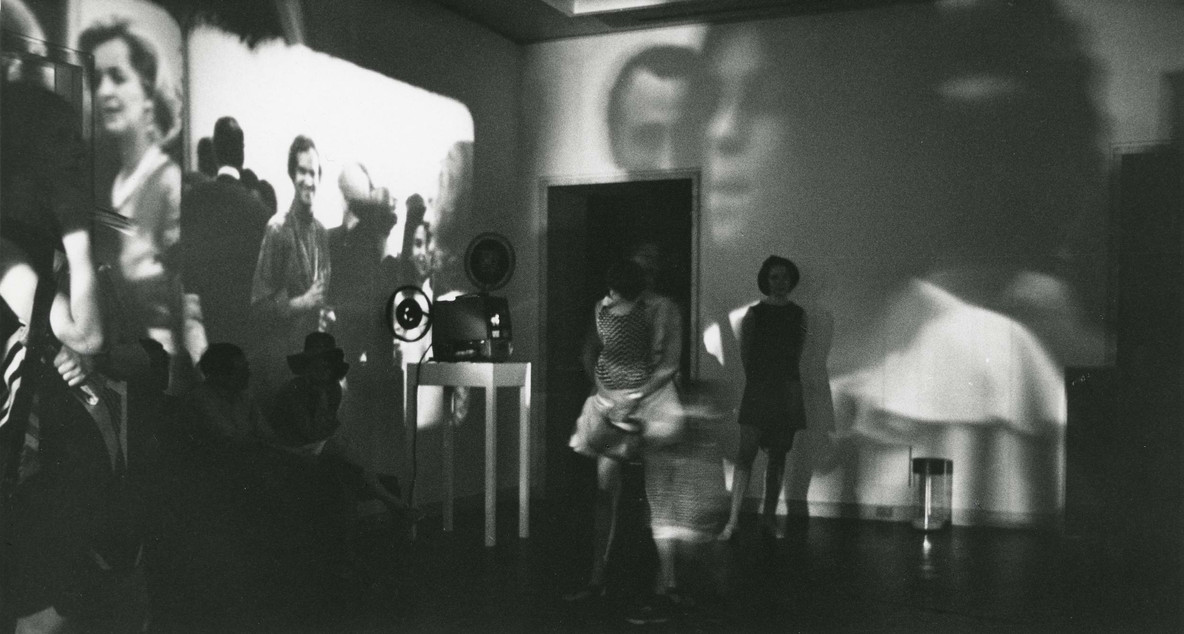 Marta Minujín. MINUCODE. Center for Inter-American Relations, New York, 1968
Ana Janevski: I would like to start by asking you about your experience in New York in the late '60s, when you presented MINUCODE in the galleries of the present-day Americas Society. I understand that you had just finished an important period for your work in Paris. How did New York City feel to you, and in what way was being there a different experience from the Parisian one?
Marta Minujín: I was in Paris only until 1964. Between that time and 1968, when I did MINUCODE, I had a few very intense years: in Montreal I had organized an ambitious Happening called Circuit (Superheterodyne) in 1967, and previously in Buenos Aires I did my "Technicolor" mattresses, won the Torcuato Di Tella Prize, and in 1965 at the Instituto Di Tella I did La Menesunda, a huge environmental installation which was reconstructed by the New Museum a couple of years ago. I also did my interactive installation El batacazo (The Long Shot) twice, once in Buenos Aires in 1965 and, in 1966, at the Bianchini Gallery in New York, where it was presented by Leo Castelli.
At that time, the New York art world was very small, very experimental, and wonderful. I remember that Roy Lichtenstein called Andy Warhol to come to the opening of El batacazo. All the Pop artists came with him and I began to go around to different bars with them. I became friends with George Segal and many others. It was a wonderful time when we discussed ideas and there was a lot of convergence between the artists. In my case, at that time I was influenced by the ideas of Marshall McLuhan, and that is why almost all of my works from that period address the problem of communications.
Inés Katzenstein: What was it like to be an Argentinian artist working internationally at that time?
When I met people, I was asked, "Are there artists in Argentina?" Of course there were thousands of artists! The whole brilliant Instituto Di Tella group was there and it was wonderful!
IK: For MINUCODE, you organized four cocktail parties that brought together people from the worlds of politics, art, business, and fashion. What was the purpose of creating these social events segregated by profession?
At that time, cocktail parties were very important as a social space. Specifically for this work, the idea was to bring together the biggest fanatics from each of the chosen groups: for example, the politicians who did not read about anything other than politics, the economists who knew nothing about the world outside of economics, or the fashionistas like Viva, Superstar, and Veruschka, whom we invited. I was interested in showing worlds that were closed in on themselves. This is the reason why the film that I shot on the fashion night looked mainly pink and gold, the art cocktail party was mostly a warm red, and the politicians' and the economists' parties looked black and there weren't many people there.
At each cocktail party, there were six cameras that filmed for 10 minutes and three waiters who circulated with champagne. The guests were selected by computer from, as I said, the biggest fanatics among each group of professionals. I think there were 80 people at each party. But what happened was that at the third cocktail party—the fashion one—a lot of people came, and they arrived all mixed together. That night was amazing: there were many very interesting people, and Charlotte Moorman came and played the cello naked, surrounded by the gaze of the participants. After the cocktail parties, the films were sent for editing, and about a week later the exhibition opened with the four films projected consecutively onto the walls.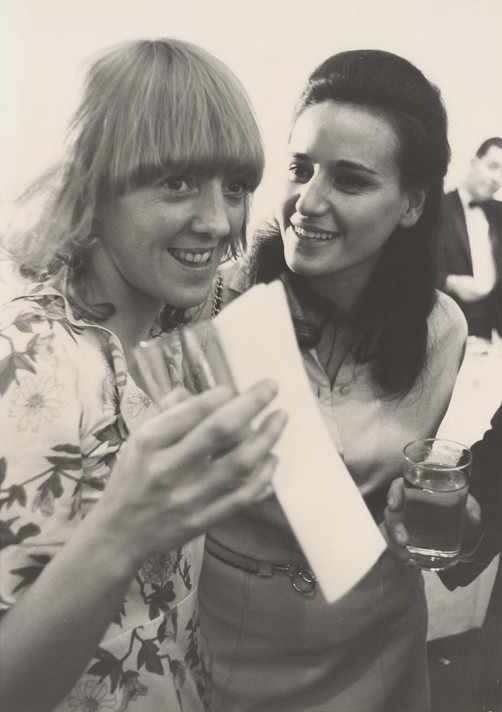 Marta Minujin and friend during MINUCODE, Center for Inter-American Relations, New York, 1968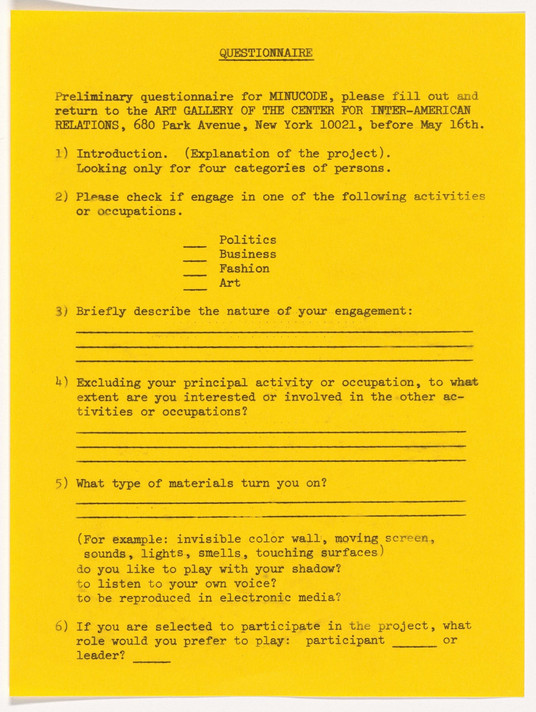 Marta Minujín. Questionnaire from MINUCODE. 1968.
AJ: What was your role during the cocktail parties?
I was basically doing public relations!
IK: For the guests it must have been a strange experience to go to an opening without artworks.
The work was the people. In this sense, MINUCODE was a social work, and also one of the most objective, most conceptual works of my career. It doesn't have the craziness of the other works from those years.
IK: It is also very unusual in comparison with your other works, because while you included your last name in the work's title, you do not appear in the films themselves.
I only appear mingling with people. I am just another audience member.
AJ: For your work Simultaneidad en simultaneidad (Simultaneity in Simultaneity) from 1966, which was shown at MoMA at the exhibition Transmissions: Art in Eastern Europe and Latin America, 1960–1980, you gathered 60 famous people from the city of Buenos Aires via closed circuit TV in the audiovisual room of the Di Tella Institute. And simultaneously the work was transmitted live to Berlin, where Wolf Vostell was located, and to New York, where Allan Kaprow was. How important was Simultaneidad… for the conception of MINUCODE?
In Simultaneidad en simultaneidad, I was interested in manipulating people in connection with the media: I had them come twice dressed the same way, I asked them to move in certain ways, to hold a radio in a certain way, and so on. It was from this manipulation of people that the central idea for MINUCODE was born, which is to work with people as a subject.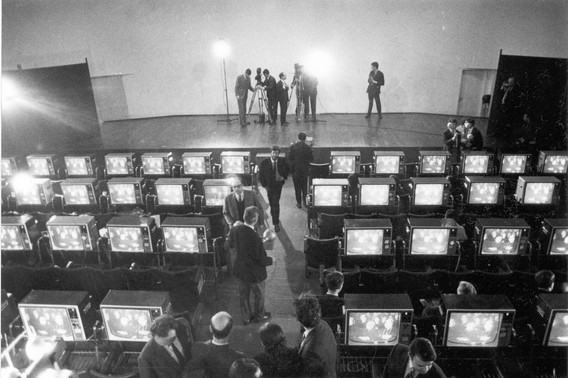 Marta Minujín. Simultaneidad en simultaneidad (Simultaneity in Simultaneity), Instituto Di Tella, Buenos Aires, 1966.
In '68 I started to become hippie, hippie, hippie, hippie!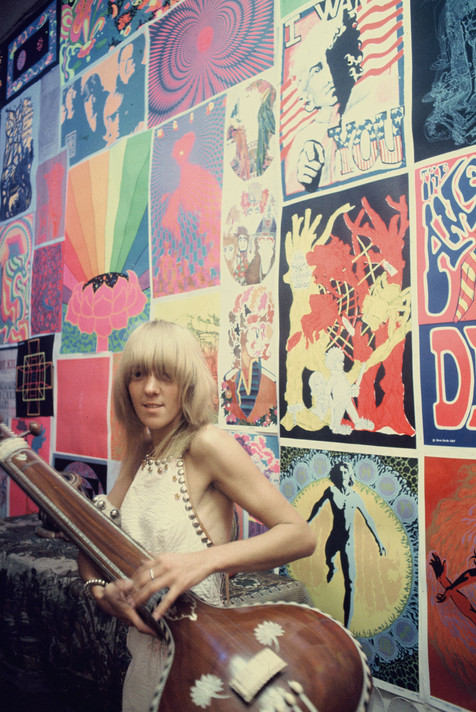 Marta Minujín. Importación-exportación (Import-Export), Instituto Di Tella, Buenos Aires, 1968
IK: And yet, in MINUCODE, you seemed to be especially interested in the different worlds, the different styles, and the different subcultures of New York City. In that sense, I believe it is useful to connect this work with another piece of yours, which you created upon your return from New York to Buenos Aires in 1968, called Importación-exportación (Import-Export). For this work you created in the museum space, using a literal process of cultural and material importation, the environment of hippie culture, which at the time only existed in an incipient way in Argentina. It seems like Importación-Exportación took from MINUCODE your interest in making a record, or rather a portrait, of a subculture, with a strong emphasis on style, fashion, and cultural consumption.
In '68 I started to become hippie, hippie, hippie, hippie! That is when I started to do psychedelic drugs and I lived in Central Park. So before going back to Argentina, I bought whole kiosks like the ones that sold posters, incense, and pipes. And in Buenos Aires, I put an ad in the newspaper looking for young people between 16 and 19 years of age. Together we occupied a gallery at the Di Tella Institute. We even spent the night there! The participants all became hippies, and Luis Alberto Spinetta, Manal, and all those great guys who later were central to the beginnings of Argentinian rock began to come.
AJ: In an interview you said that MINUCODE is still avant-garde, although today, socially, everything is mixed: "Politics is mixed with business, business with art, art with fashion, fashion with Hollywood." And then you said, "So I guess if I had to do it again, I would do it with just one big party or one big cocktail party."
Today I'm not sure that I agree with what I said. If you think about it, with the pandemic, everything has become separated again. I feel that the art world, for example, has shrunk everywhere because of the lack of contact and social life.
AJ: What was MoMA like back then?
MoMA was wonderful. Claudio Badal, who was Alberto Greco's lover, worked at the museum and got us all in for free. The cafeteria was the center of social life because the Downtown scene didn't exist yet. So, we went late and stayed until nine o'clock at night. There was lots of freedom back then. Can you imagine, when I did the work Kidnappening at MoMA in 1973, I was given the key to the museum and a pass to be inside, and stayed with the group of performers with only the guard? During the rehearsals, we ran through the museum's halls!
AJ: Kidnappening combines the words "kidnap" and "happening," and it involved abducting 15 people from the audience and exposing them to various situations, including an operatic component. Was the audience warned in advance?
Yes, they had to sign up. They knew they were going to be kidnapped, but they didn't know much more. I think there were 20 cars whose drivers had their faces painted like a Picasso and there was a companion who sang, whose job was to take the abducted people to a destination like the Brooklyn Bridge or the French Consulate, among other places.
IK: To conclude, I'd like to ask you what the idea of a "social environment" central to MINUCODE means to you today. What is your relationship now with media and social groups?
Now I use Instagram, and there are many people who follow me every day from all over the world. It is a means of communication that is even better than being in magazines or newspapers. It has a direct and very personal reach.
But in spite of this, the pandemic, apart from being horrible and deadly, has an aspect that really interests me: it allowed people to become much more inward-focused, to be more enclosed in themselves. And I think that's wonderful.
IK: So in this sense, was it good for you?
Yes. I like solitude. I also enjoy the company of my followers on Instagram, but what I like most is that I can choose to turn off my cell phone and make them go away.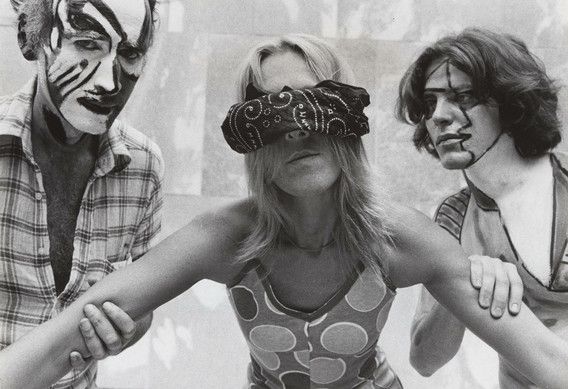 Marta Minujín. Kidnappening, Museum of Modern Art, New York, 1973.