Shigeko Kubota's Self-Portrait
Watch the artist create a new visual language for personal exploration in this exclusive two-week screening.
Shigeko Kubota's Self-Portrait screened here October 13–27, 2021. The video is no longer available for streaming. Join us for the next Hyundai Card Video Views screening, beginning November 10, 2021.
Access to video technology had largely been limited to corporate-run TV studios until the Sony Portapak, a battery-powered video tape recorder that could be carried by one person, was popularized in the early 1970s. This device also allowed artists to see what they were recording in real time and to immediately play it back, prompting investigations of technology's increasingly fluid relationship to the body, language, and time itself. Shigeko Kubota's Self-Portrait (c. 1970–71) embodied the boundless potential of the new medium and the freedom from precedent it represented. This work, in which Kubota interacts with her own image, contains some of her earliest known experimentation with video. Here, she used new tools to manipulate the electronic signal, creating previously unimaginable colors and patterns, and unraveling established conventions of image-making right before our eyes. I recently spoke with Lia Robinson, director of programs and research at the Shigeko Kubota Video Art Foundation, and scholar Gloria Sutton about how this iconic work figures into histories of video art, cross-disciplinary exchange, and feminism. Self-Portrait is currently on view at MoMA as part of Shigeko Kubota: Liquid Reality, through January 1, 2022.
Join us for other screenings in the Hyundai Card Video Views series, which considers artists' engagement with a technology that has become central to our daily lives.
—Erica Papernik-Shimizu, Associate Curator, Department of Media and Performance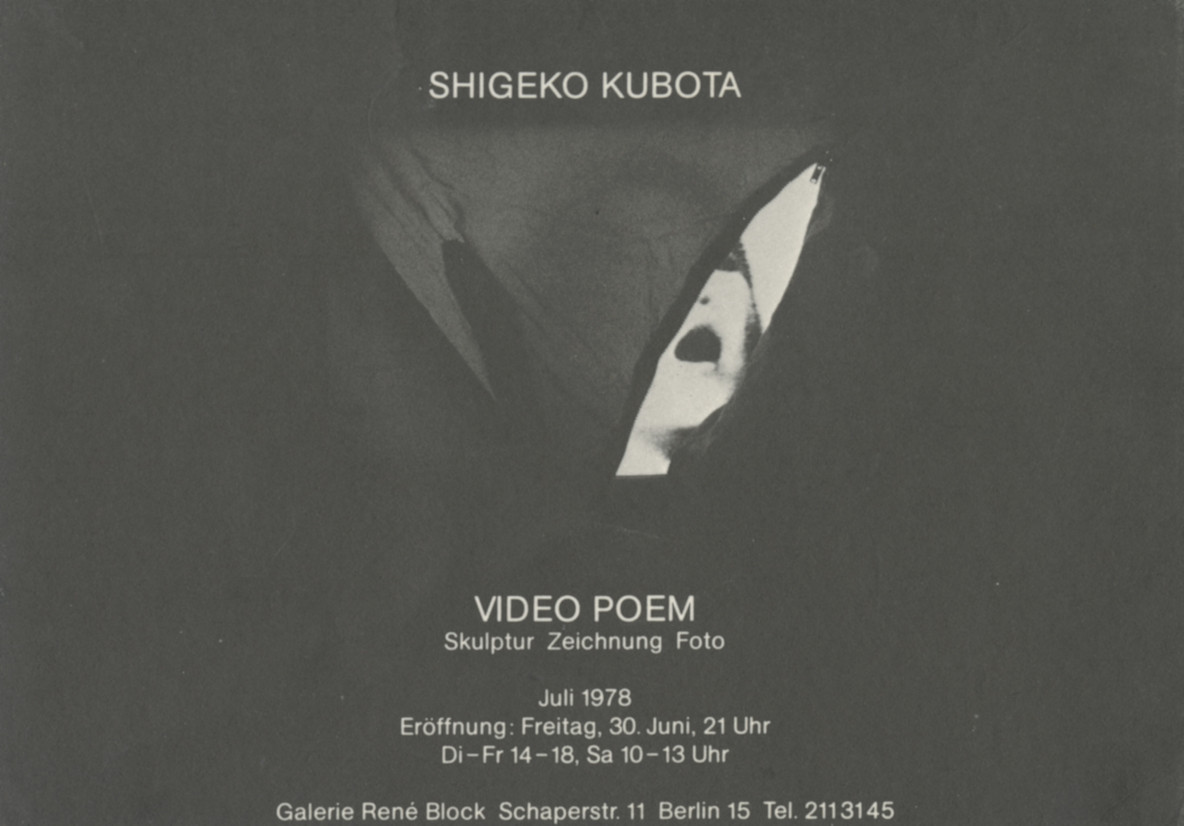 Shigeko Kubota. Postcard for Video Poem, Galerie René Block, Berlin, 1978
Erica Papernik-Shimizu: Lia, I'm struck by the fact that Kubota sustained her diaristic video practice in parallel with the evolution of her video sculptures throughout her career. There are moments when these two practices intersect in subtle ways, but Self-Portrait is one of the most direct examples. This video is generally known as part of the early sculpture Video Poem (1970–75), in which it is shown on a monitor that is mostly concealed by Takehisa Kosugi's Anima 2 (Chamber Music) (1962), a human-sized cloth bag conceived as both a work in itself and a component of a live performance. Kubota placed a fan inside the bag causing it to rise and fall, giving the impression that her Self-Portrait is breathing. Can you share a bit about the new research into Self-Portrait's origins as a single-channel video, and the story of how it was made?
Lia Robinson: Self-Portrait originates from the first chapter of Kubota's video diaries, titled A Day at the California Institute of the Arts (1970–71). She made that early tape in a CalArts classroom in collaboration with video engineer Shuya Abe, working with the newly invented Paik/Abe Synthesizer, which used a colorizer and a signal modulator to manipulate video imagery in real time. This work, which is no longer extant, was shot in black and white and looped to play for 20 minutes when it was shown in the Southland Video Anthology exhibition at the Long Beach Museum of Art in 1975. Shortly after obtaining her own Sony Portapak and synthesizer, Kubota continued these experiments with her own portrait on camera, adding a second, intensely colorized and otherwise manipulated layer and shortening the work to a 5:24 min. loop. She retitled the work Self-Portrait, emphasizing her role behind the camera and as the subject. Kubota then incorporated Self-Portrait into her video sculpture Video Poem at the Kitchen in New York in 1975. I'd like to acknowledge Mihoko Nishikawa at the Museum of Contemporary Art, Tokyo, for her help in reconstructing the video's history.

Shigeko Kubota. 1st.LOVE, 2nd.LOVE…. 1963
Kubota often invoked literary forms, from her use of haiku to allusions to James Joyce. When she premiered Video Poem at the Kitchen, she showed it alongside a written poem projected on the wall using 35mm slides. A critic at the time suggested that, in the video, Kubota was "reciting [this] poem soundlessly." Whether or not this is the case, there is a hypnotic cadence to her gestures and to the video's editing that conjures Kubota's interests in poetry and music. Can you speak about the ways in which poetry and Kubota's own writing have informed her art practice?
Lia Robinson: The full poem was actually composed by the artist as a conceptual piece and accompaniment to a video for an earlier event held at Anthology Film Archives in 1972, "Video Birthday Party for John Cage." The artist typically exhibited the second half of the poem:
Behind the Video Life
Man thinks, "I think, therefore I am."
I, a woman, feel, "I Bleed, therefore I am."
Recently I bled in half-inch...3M or SONY...ten thousand feet every month. Man shoots
me every night...I can't resist. I shoot him back at broad daylight with vidicon or tivicon
flaming in overexposure.
Video is Vengeance of Vagina.
Video is Victory of Vagina.
Video is Venereal Disease of Intellectuals.
Video is Vacant Apartment.
Video is Vacation of Art.
Viva Video. . .
During the 1960s and '70s, Kubota was immersed in an environment that celebrated the cross-pollination of media, and her use of text adds yet another layer to her hybrid video sculptures. Her involvement in Fluxus and proximity to experimental music and performance practices in her neighborhood of Soho in New York City certainly inflected her experimentations with poetic text and video. Many of these texts are reminiscent of event scores, brief written proposals, or instruction pieces described by fellow Fluxus artist Allison Knowles as a "one- or two-line recipe for action." In fact, the invitation to Kubota's first sculptural installation, 1st Love.2nd Love... at Naiqua Gallery in Tokyo, was accompanied by an event score. There is also a record of at least one iteration of Video Poem—when it was shown at DAAD Gallery in Berlin in 1981—where it was accompanied by a recorded Kosugi composition.
Throughout her career, Kubota composed haiku in Japanese, free-form poems in English, and frequently incorporated poetic texts in both languages into her sculptural studies, conceptual drawings, watercolor, and paintings. Much of Kubota's writing can be considered a conceptual part of her practice. Her interest in poetry's ability to destabilize and expand the possibilities of language is analogous to her interest in video's ability to restructure and transform our memories and concept of time.
Gloria, Kubota is often categorized as a feminist artist. Self-Portrait figures into the history of feminist engagement with autobiographical and performance-based video in the early 1970s. Though she publicly resisted this label, your essay in the exhibition catalogue touches on how the very act of getting behind the camera in those years (let alone deconstructing and manipulating the recorded image!) can be considered a feminist gesture. How do we situate Kubota's work within a feminist narrative?
Gloria Sutton: Considering Kubota's work within a feminist framework turns on addressing her own visibility within art history. The fact is that in Self-Portrait, as well as the works in which this footage appears (Video Poem and Video Girls and Video Songs for Navajo Sky from 1973), Kubota foregrounded the lived experience of women—often her own. She countered the notion of video as a medium of transmission and immediacy invested only in the new and the now; instead, her sculptures point to the mutual embeddedness of media and identity that occurs over long periods of time by revisiting and re-editing footage and showing us how feminism, like video itself, evolved through iterative processes.
If at the outset, Kubota, like many women artists of her generation, resisted labeling her work as overtly feminist, her writings and work (especially the text that accompanied Video Poem, which included the phrase "Video is Victory of Vagina") take on a more emphatically feminist stance. She worked tirelessly to advance the representation of women—not only the work of women artists, but also the heavy lifting of women curators, programmers, and film festival organizers who were instrumental in the development of video art. From 1974 to 1982, Kubota was the first (and only) video curator and woman, and one of the few people of color, associated with Anthology Film Archives, an institution that found the variability of video anathema to its Essential Cinema Repertory. While Kubota's work was hyper visible—her international exhibition record is extraordinary—she and her work remained fairly invisible in American postwar art history (even when she garnered any mention outside of her relationship to her male partners) and certainly in the history of modern sculpture, in which she was clearly invested.
In your essay, you speak about the history of video as a "history of marginality," illustrating how the development of the burgeoning medium was largely shaped by networks of artists composed largely of women and artists born outside the US. Can you speak more about how video represented a decentralization of power, and what drew figures "who operated in the margins of American art history" to embrace the medium?
Gloria Sutton: Early video art was cultivated through so-called alternative art spaces. When video was shown in museums, it was often limited to interstitial areas (stairwells and hallways) and lacked the institutional support, including conservation, that was afforded to painting and sculpture. Most notably, the reception of video in the US was largely shaped by women, immigrants, émigrés, and foreigners. Kubota was all of these. Trained as a sculptor, she, like many of her peers, took up video in the early 1970s in order to counter the notions of single authorship and originality associated with painting and sculpture within the history of visual art. Or, simply put, turning to time-based media became a way to foreground the fact that technology is not neutral, and to underscore the political stakes of working collectively to challenge the patterns of patronage and acquisition of an art market that traffics in these notions.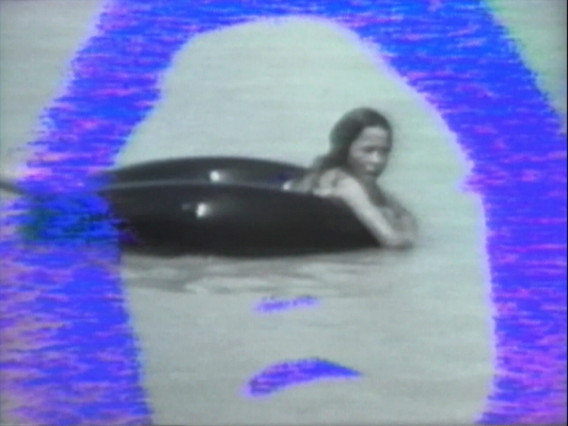 Shigeko Kubota. Video Girls and Video Songs for Navajo Sky. 1973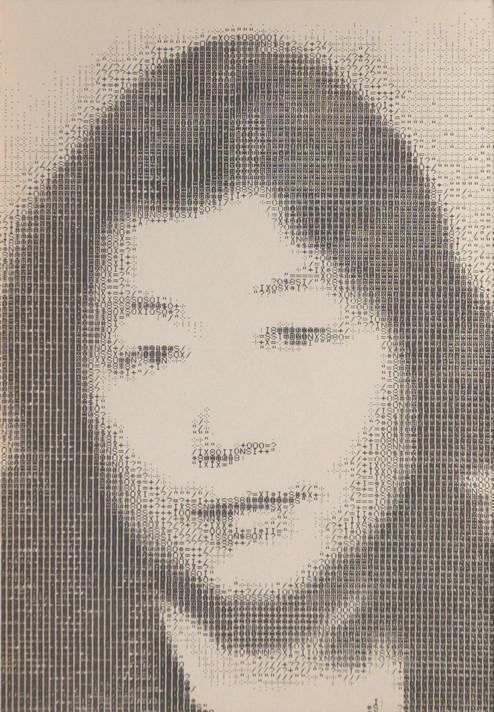 Shigeko Kubota. ASCII self-portrait for personal stationary
In addition to repurposing and remixing passages from this video in other works, Kubota's own image appears in a variety of forms—in her highly personal and expressive drawings and sketches, and in a portrait rendered in ASCII code that she reproduced and used on her personal stationary. She was actively working with her own image as something malleable and easily reproducible. How is the challenge to the idea of originality embedded in her use and handling of the video medium?
Gloria Sutton: A key tactic was to embrace the porousness of mediums as a way to distort commercially driven expectations for seamless image quality, perfect sound, and stable materials. Kubota, for her part, insisted on using a recording technology built to transmit news and information for more personal exploration. Her videos accentuated the format's glitches, loss of color lock, and color smearing—an effect created by an editing cut where a disturbance in the image moves slowly over the screen until the next image appears—which are used to startling effect in Self-Portrait.
Media and Performance at MoMA is made possible by Hyundai Card

Major support is provided by the Jill and Peter Kraus Endowed Fund for Contemporary Exhibitions.

Generous funding is provided by the Lonti Ebers Endowment for Performance and the Sarah Arison Fund for Performance.