Mario García Torres's Have you ever seen the snow?
In this exclusive two-week screening, watch the artist's lyrical tribute to Kabul, Afghanistan.
Mario García Torres's Have you ever seen the snow? screened here September 15–29, 2021. The video is no longer available for streaming. Join us for the next Hyundai Card Video Views screening, beginning October 13, 2021.
The Mexican artist Mario García Torres spent 2005 to 2012 obsessed with a single spot in the city of Kabul: the site of a supposedly destroyed building where the late Italian artist Alighiero Boetti had run the One Hotel between 1971 and 1977. It was a place where Boetti removed himself from the art world while creating one of the most fascinating phases in his body of work. García Torres conducted his research virtually from Mexico and the US, and later—when he located the building as part of a project for Documenta 13—from Kabul itself, where he retraced Boetti's steps, charting his own path between historical reconstruction and fiction.
In light of the recent events in Afghanistan, we spoke with García Torres about his relationship to the situation in Kabul, and about Have you ever seen the snow?, one of the key works created on his journey.
–Inés Katzenstein, Curator of Latin American Art and Director of the Patricia Phelps de Cisneros Research Institute for the Art of Latin America
Join us monthly for screenings in the Hyundai Card Video Views series, which considers artists' engagement with a technology that has become central to our daily lives.
Inés Katzenstein: Mario, having created such a long series of works about a very precise point in the Afghan capital, how did you experience the recent news from Kabul?
Mario García Torres: It hit me very, very hard to see the images of what is happening. Most of the stories I heard there were from people whose families had fled in previous wars, and they had managed to return to Afghanistan in search not only of their homes but to feel home, in order to reconstruct the place where they were not immigrants. They knew it was a very risky situation, but they were willing to come back and try. It's almost unbelievable to see how fast a country and the efforts of millions of peoples just fades away. It breaks my heart.
Your actual visit to Kabul was only the last part of a longer involvement with the city, correct?
Yes. I spent around seven years on and off looking for, and then thinking about, the One Hotel—the hostel that Alighiero Boetti ran in Kabul during the 1970s. The first work I made was a fiction, rendered in the form of short letters addressed to Boetti, that were printed on thermal paper by a fax machine. I was living in the US then, and I felt frustrated that I didn't feel entitled to publicly express my doubts about the invasion of Afghanistan. Written in 2004 but set in late 2001, the work became a poetic story where my symbolic search mingled with the political situation that Afghans were living through at the time, and where both the One Hotel and the original reasons for the invasion had faded away. Just like the country I knew not too long ago.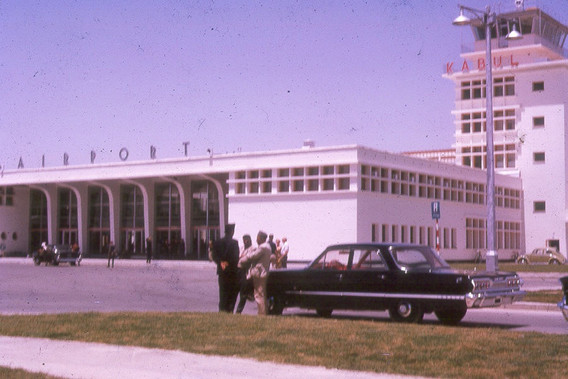 Mario García Torres. Still from Have you ever seen the snow? 2010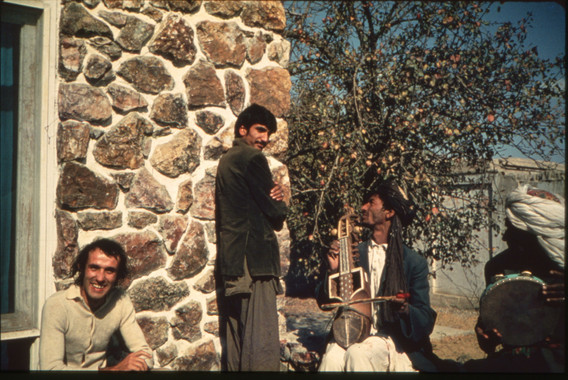 Alighiero Boetti, c, 1970
How do you envision Kabul in the 1970s as a place for contemporary art? What happened in that city that attracted Boetti and then, decades later, attracted you?
I started to be invested in understanding Afghanistan from far away because of the venture Boetti had taken there. But when you look at the geography and history of those lands, you can tell how easy it was for them to become intriguing places. I would say that Boetti maybe had a certain fantasy about Central Asia. He believed he was following in the steps of one of his ancestors, an Italian man who had changed his name to Sheikh Mansur and who had led a Chechen rebellion. I think the anonymity he could enjoy there also played a role. He could become someone else, even become more than one person there. It is said that people in Kabul thought he was one of two twin brothers.
When Boetti first arrived in Kabul, Afghanistan was still a kingdom. After a coup d'etat two years later, it became a republic. Both heads of states during that decade had a policy of maintaining national independence while pursuing gradual modernization. It was a culturally rich but economically poor and secluded country, and I think this contributed to its mystique. It attracted many travelers, most of whom were hippies who arrived there in buses. I imagine the Share Naw, the neighborhood where Boetti would establish the One Hotel—a simple place where young Europeans mingled with the locals, and where they could buy goat clothing, carpets, and drugs. It was a place where an easy Westernized life was possible. I can't imagine that there was absolutely nothing there that resembled contemporary art, but the National Museum of Afghanistan had been established decades before. It displayed a spectacular collection of Buddhist and Islamic archeological finds that told of ancient stories from the region.
Could you speak about the methodologies you used to surround, and finally shed light on, this mysterious episode in Boetti's life?
To create Share Naw Wanderings, the fax piece that started the series, I began to collect archival images of Kabul streets, mostly online. I needed to understand the neighborhood—to get to know the streets, the shops, the daily activities—as well as its history. After presenting the work for the first time, I couldn't stop trying to sort out a lot of questions I had about the One Hotel. Boetti had invited very few people from the West to come there, and had published very few pictures of it.
Before I realized it, I had reconstructed the neighborhood from historical and contemporary pictures made by amateur and professional photographers. The more pictures I found, the fewer facts from the story Boetti had told made sense, so that just kept me going. That, and the fact that I didn't think I deserved to go to a war zone, resulted in Have you ever seen the snow?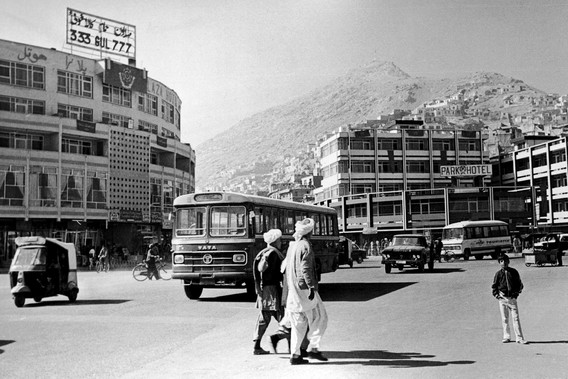 Mario García Torres. Still from Have you ever seen the snow? 2010
Mario García Torres in Band-e Amir National Park
Your work Have you ever seen the snow? is a slide projection narrated with a very odd voice-over. Can you talk about the decision to use this anachronistic technology and the narrator's almost robotic voice?
At the time, I had used slides in other works, intending to create a somewhat cinematic space, and also to tell a historical narrative that didn't feel like the truth. Now we are used to beautiful video, cinematic video, but at the time video felt more TV than cinema, and I didn't want to compete with cinema. So slides seemed to solve this problem, being somewhere between cinema and an art class. In fact, I studied art history using slides. I guess that experience informed not only the choice of medium but also the narrative. The text was loosely based on the most orthodox way of analyzing a historical painting. The voice had to do with the pace and also a voice that I remembered from German documentaries. In the early years of Mexican TV, they showed a lot of those, so you had the impression that knowledge came from there. For me, it was a way to flirt with that format, like creating a fiction about what knowledge was.
Can you talk about the relationship—and the gap—between the imaginary Kabul of your first two works, and the Kabul you experienced after Documenta?
Imaginary Kabul was mediated through the news, mainly, and through some narratives by Western travelers, so it was a more violent city than the real one. When I finally physically arrived there, Kabul seemed so familiar in a way: war was looming, but not present every day. At least not in Share Naw. Seeing the neighborhood I had been reconstructing for so long was a strange feeling: some things, some buildings, made me think I knew it perfectly, and then scratches in the matrix appeared, mistakes in my imaginary Kabul that turned things around. But overall the feeling was of a familiar place. Maybe coming from the north of Mexico, where I come from, also helped. At the time in Mexico we were also getting used to military presence, because of a different kind of violence, and desert, modest architecture, and dust seem just like being back home. My film Tea, the piece I did later, talks about these similarities. The relationship between the familiarity and the remoteness of a place can be an engaging paradox.
Media and Performance at MoMA is made possible by Hyundai Card



Major support is provided by the Jill and Peter Kraus Endowed Fund for Contemporary Exhibitions.



Generous funding is provided by the Lonti Ebers Endowment for Performance and the Sarah Arison Fund for Performance.