How to Make Comics: Where Do You Begin?
Experiment with different approaches to visual storytelling.
This is the third article in our How to Make Comics series for teachers, families, and comics-lovers who are interested in exploring the medium. Read on to learn more about different approaches to making your own comic. Then, try your hand at some creative prompts inspired by Chris's article and works in the MoMA collection.
—Larissa Raphael and Arlette Hernandez, Department of Education



As you probably know by now, the comics form offers a vast world of possibilities for making your own comics. And while all of these choices are freeing, they can be a little daunting too. So for the third installment in this series, I'll focus on the first question every creator probably asks: what's the best way to begin?
That's a useful question—unless you think it has one answer. It doesn't. There's not even one best set of tools. You can start with a No. 2 pencil and a piece of printer paper if you like. Or a high-quality sketchbook and precision pens. I prefer working on a laptop, and even more weirdly, in the archaic graphic program MS Paint. If you're making a photocomic, all you need is the camera app on your phone. So pick up whatever tool attracts you most at the moment and start there.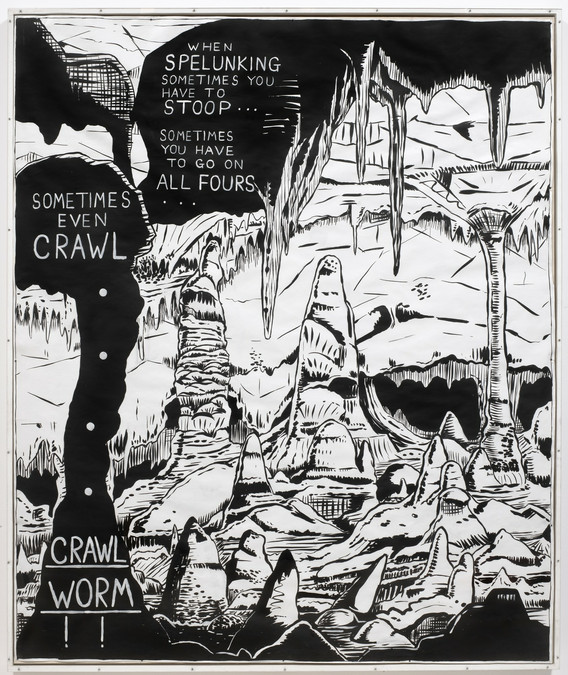 Mike Kelley. Exploring from Plato's Cave, Rothko's Chapel, Lincoln's Profile. 1985
If you're interested in creative processes, you might also want to pick up Leigh Ann Beavers' and my textbook, Creating Comics, which includes detailed examples and exercises. For now though, I can offer the short answer in four words: story, image, layout, and canvas. Though not necessarily in that order.
The Script-First Approach
Most published comics are developed story-first, or more specifically, words-first. Often this involves two people: a writer and an artist—though an artist can do as much "writing" as a writer, if you understand "writing" to mean composing. It's more accurate to refer to the kind of artist who works story-first as an illustrator. They illustrate a writer's story.
Sometimes that story comes in the form of a complete script, which in comics can look a lot like a play or screenplay, but instead of stage directions or camera shots, the writer describes the image content to be drawn in each panel. Even when the writer and the illustrator are the same person, a comic might still start with a script. That's because editors—both of graphic novels and of monthly comic books—like to see and edit early drafts, and words are a lot easier to edit than art.
Though a script might consist entirely of image descriptions, if these images include narrated words or characters talking, you'll need to include them in your script too. Dark Horse Comics provide this sample script for prospective authors. Download it and try it out for yourself.
Writers rarely have to describe visual content in a way that someone else can not only imagine in their head but also draw with their hand. How much description is the right amount? There's no standard ratio, but for his Watchmen script, Alan Moore nearly hit the "A picture is worth a thousand words" aphorism. Other comics scripters keep their panel descriptions to a couple of sentences.
The number of images per page can vary a lot too, but more than two and fewer than 10 is a common range. Experiment by thinking in image units. If you're describing an action or an event, which snapshot-like moments will evoke all of the other connected moments that have to go undrawn? Sometimes a whole sequence can be evoked with a single image. Using more images than is necessary can extend time, and slow pacing, to create entirely different effects.
When you have a page or two scripted, hand it to someone else and ask them to draw a rough sketch. That should give you some idea of how clearly you've communicated your visual ideas verbally.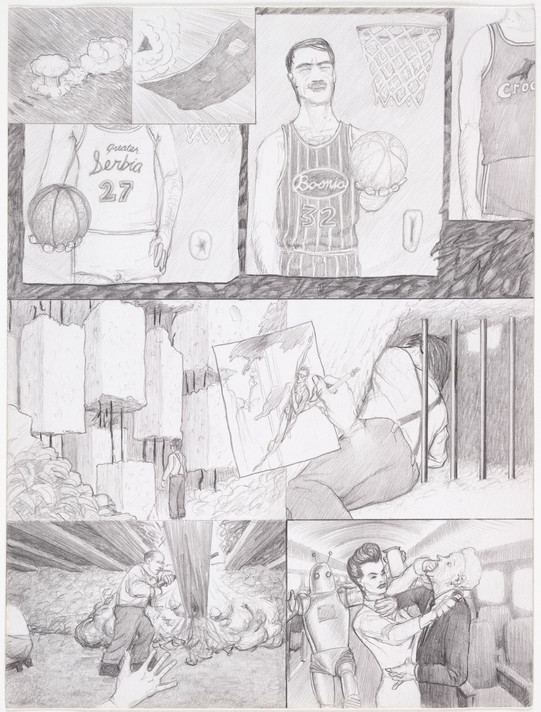 To create the more than 200 works comprising Dream Drawings, Jim Shaw crafted illustrations about the unconscious narratives experienced in his nightly dreams.
The Draw-First Approach
Before beginning a project, many artists create "studies" as a way to practice, test, and explore the visual or thematic elements of a work. This is a study for Lyonel Feininger's comic The Kin-der-Kids.
Words are a strange starting point for a visual art form that doesn't have to include words at all. Because draw-first is less common yet more natural to the comics form, Creating Comics focuses primarily on that art-focused approach. You don't need to "write" the story before drawing it. In fact, you don't need to know anything before drawing. Because instead of making illustrations of something that already exists, drawing can be how you invent the story from scratch—though when it's working well, it can feel more like discovery.
Leigh Ann and I wrote our textbook after teaching a hybrid creative-writing and studio-arts course on comics together. During our first class, we tell our students to sit and doodle. After 20 minutes, their sketchbook pages are crammed full of all kinds of oddities: robots, bunnies, dragons, mermaids, lions, demons, you name it. Then we tell them to pick one doodle and make it their tentative main character. Since a doodle is typically a rough sketch, we set them loose on the Internet to find photo sources to develop specificity. The demon doodle, for instance, had something like bat wings, but the chest looked human, and the face was bird-beaked. So that student found a range of examples of each of those body parts, combined them, and revised their doodle into a wonderfully specific and therefore extremely creepy creature.
Next they redraw their characters. Fifty times. From all kinds of angles, performing all kinds of activities, until drawing the character becomes second nature to their hand. During this process, they also learn new things about the character. When we ask a range of questions the next day—from "What did your character have for dinner last night?" to "What is their lifelong ambition?"—our students have no problem answering them. That's because drawing is "writing." As the characters grow more exact on paper, their backstories and plot lines are taking shape too.
Here's an example from my own art. I began by creating a figure on my laptop—knowing nothing about the character except what I learned through the drawing process. That initial character image eventually developed into the full-page Shine a Light.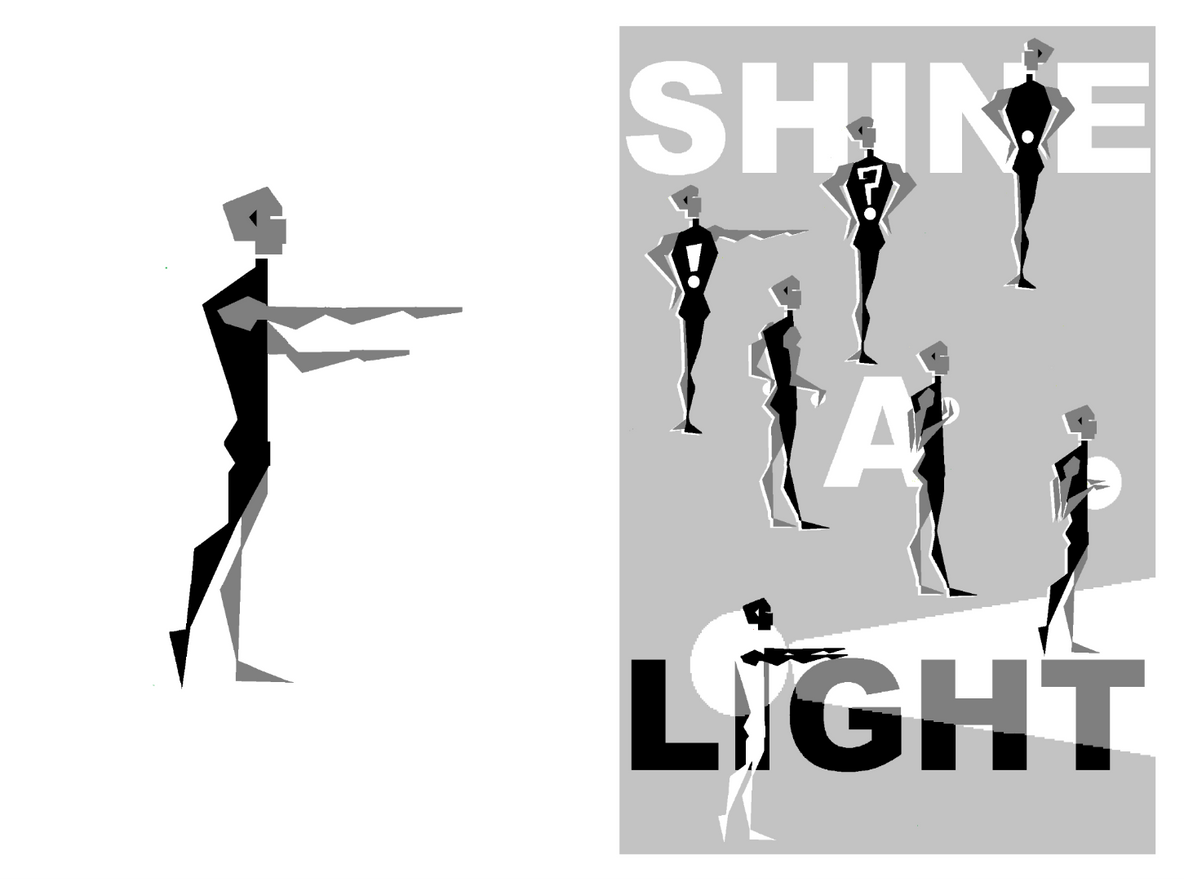 Chris Gavaler. Shine a Light. 2018
The Layout-First Approach
Layout-first is a little like image-first because it starts with drawing too. But instead of the image content, you begin by drawing the frames that will define the edges of those images. Though it may sound unimportant, a pattern of frames is often the most prominent feature of a comics page, if not comics generally. Dividing a page into two halves, or into nine smaller units, shapes the rhythm of the images and the pace of the story they tell. Larger frames can fit many more details, inviting a viewer to linger longer. Because small frames ask for less detail, they prompt not only a faster viewing pace but also a certain kind of drawing style.
Begin by sketching a grid of panels separated by even horizontal and vertical white spaces (called gutters). That uniformity will affect how you tell your story, giving each moment equal weight. But what if the panels aren't all the same size or shape? A larger or tilted or thickly framed panel will accent whatever image content appears inside it, giving that moment greater importance than everything that appears around it. What story moments might fit into the accented panels?
Diagrams demonstrating ways to accent panels (left) and create viewing paths (right)
What if every frame is different—what might this suggest about the kind of content that should appear inside them? Maybe the panels aren't arranged in rows but in columns—what kind of subject matter wants to be read up-and-down rather than side-to-side?
Leigh Ann began this page as a set of empty frames before filling in the images for each. Notice how the overlapping frames influenced how she drew the movement of the dogs, and how the ambiguous path of the frames led to a literal wandering path in the story, and how the wide panel in the concluding image invited a wider range of details.
Try creating an unusual arrangement of panels and then ask yourself: What story does this layout want to tell?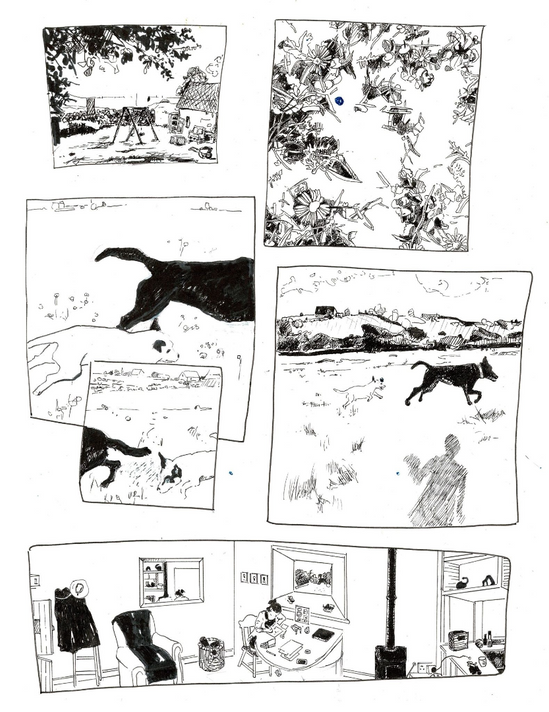 Leigh Ann Beavers. Aughinish Walks: Patch and Jessie. 2018
The Canvas-First Approach
If you like all three of these approaches and can't decide which is your favorite, you're in luck because you don't have to: canvas-first is for you. That's the combination default mode. You look at each page as its own canvas and incorporate as much or as little of each approach as suits your needs.
Maybe you have a personal story in mind (as any memoirist inevitably does), but you're not sure where to start. Well, see what image your hand starts drawing first, and shape the material around that moment. Or before you start drawing images, maybe the story idea can tell you something about layout. Is there an arrangement that seems thematically suited to your material? Maybe begin with a vague sketch, a few scribbled words, a rough layout, adding specificity to all three elements each time you redraw on a new piece of paper.
There is no right way to start a comic—which means there's no wrong way either. Experiment until you find a way that works for you. And then experiment some more until you find another, and another. Each page may be different, asking for a different process to discover it.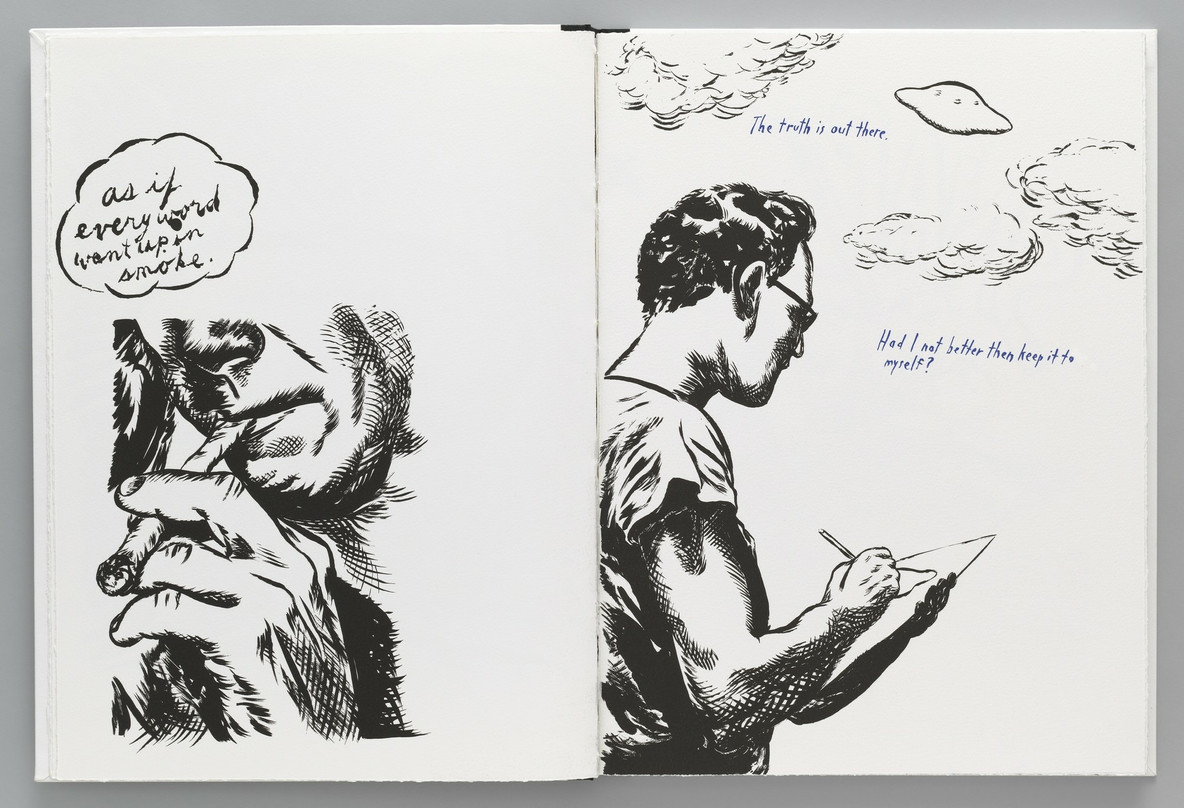 Artist Raymond Pettibon is known for works that blend comic book–style illustrations with words from his own mind and texts he has read. When asked whether drawings or words come first, the artist says, "[It] is not that clear cut." Works like this page from the book Plots on Loan represent a canvas-first approach.
Try This!
Experiment with the following prompts to see which approach to making comics works best for you.
Start with Words
Choose a text based artwork from MoMA's collection, like John Baldessari's I Will Not Make Any More Boring Art. Imagine the words in the artwork as the dialogue for your comic. What images come to mind? Who is speaking these words? If this artwork was a speech bubble in a comic, what would be around it?
Start with an Image
Find a work that features a clearly defined object, person, or place and build a comic around that image. Start by considering what the people in the artwork might be thinking or feeling, and think about how you could depict this in speech/thought bubbles. We recommend using Barkley L. Hendricks's Sweet Thang (Lynn Jenkins). Think about what happened before and what happens next, and draw these additional scenes in frames. Keep adding frames and building your story until you feel it is complete.
Start with Layout
Select an abstract work of art that has a lot of shapes, forms, and lines. Use the composition as the inspiration for your panel layout. For example, what kind of story do you think might fit into Lygia Pape's free-floating squares? Does each panel tell a single story? Or would the panels be connected? In what order might you read the panels?