If and Only If: A Triennial in Brazil Goes Virtual
Curators reimagine exhibitions and collective study in the time of COVID-19.
This piece was written by Thiago de Paula Souza in collaboration with Thomas Jean Lax and Lilia Rocio Taboada.

A swarm of particles gather and dissipate within a black cosmos as the sound of beeps and sirens oscillate. Cut to an expanse in a warehouse: two figures, the artists Davi Pontes and Wallace Ferreira, wearing khaki pants and black boots, hang from a metal pole in the middle of the room. They fall one after the other and then engage in a series of exercises: stomping in unison towards the camera, touching one another's thumbs and pointer fingers as if engaged in a game of Itsy Bitsy Spider, turning and tumbling around one another. Pontes speaks in a voiceover:
The choice of the biconditional to express this image refers to its ability to remove determination from both sides.
These words are borrowed from Denise Ferreira da Silva, a teacher and an artist, who grew up in Brazil and has lived in North America since the 1990s. Ferreira da Silva, whose influence extends across both places and beyond, is known for mathematical formulations that address critiques of universalism and race. These include her notion of "difference without separability," which defends and extends the idea of difference while insisting on our mutuality and interdependence. She also has theorized the idea of the "biconditional" that Pontes describes above: "if only if," as represented by the symbol ↔. We might think of the biconditional using the following example: Let's talk about race if and only if we consider it globally. Pontes named the video-performance (commissioned by Pivô) after being inspired by another of Ferreira da Silva's ideas: "delirar o racial," to wild out on, or madden, race.
Pontes and Ferreira are two of more than 50 artists participating in the Third Frestas Triennial of Arts, on view August 21, 2021–January 30, 2022, and organized by co-curators Beatriz Lemos, Diane Lima, and Thiago de Paula Souza. The Triennial threads the story of Brazil's recent past through the work of artists who began their careers at the start of this millennium, during a period of unprecedented—and unfinished—gains for women, queer and Black folks, and the country's Indigenous people. These included a university quota system that dramatically increased the number of people of color in art schools, and the emergence of a collectivist ethos among artists working in ephemeral media such as a performance and installation, but also sculpture and paintings that change over time. These developments were followed by a right-wing backlash, which began in 2013 and continues today. The exhibition is presented an hour outside São Paulo at SESC-Sorocaba, a social service and education center—a fitting home for such a project. Like Pontes and Ferreira's sense of touch in Delirar o racial, the Triennial is organized with trust and care, and is titled The River Is a Serpent; the curators describe the serpent as a creature capable of creating "strategies from its own movement."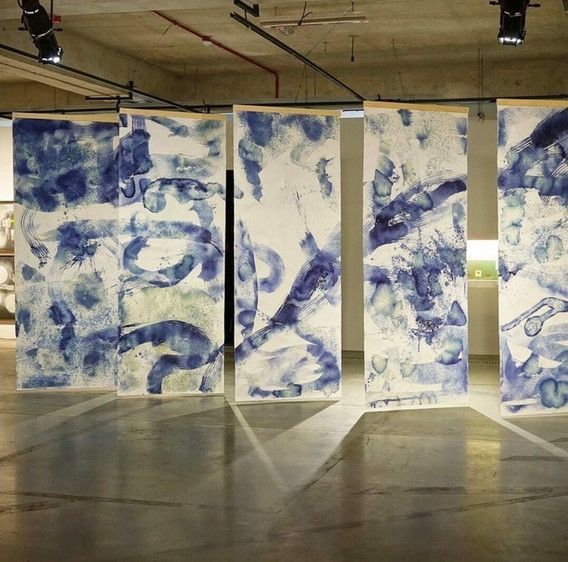 Juliana dos Santos. Sobre o azul e seus tempos. 2021
The project shifted gears during COVID-19 to reshape the exhibition program and respond to the artists' needs. The current political and public health crisis resulted in a series of fiscal cuts to cultural and educational organizations. Arts institutions drastically reduced the budgets initially allocated for their programs. In the case of Frestas, this resulted in twists and turns for the serpent, producing a new series of inquiries for the curatorial team. The circulation of knowledge generated through encounters between artists from various places can be bountiful for artistic practice, so the curators wondered whether arts infrastructures could find a way to nurture these exchanges at a time when physical encounters are no longer possible. They decided to scrutinize what it means to go local at a moment that demands cooperation between national borders. To quote Ferreira da Silva, one must "understand the local ghosts that not only haunt us, but [are] also a major part of the world as we know it."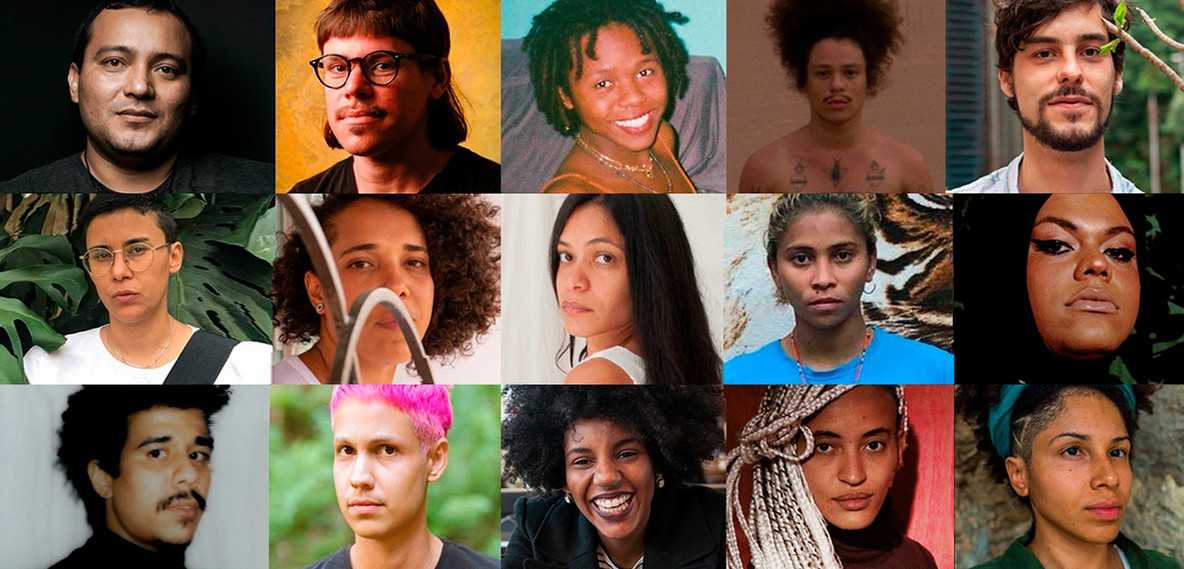 Artists in the study program that took place during October–November 2020, while the Triennial exhibition was delayed due to COVID-19. Shown, from left: (top row) Denilson Baniwa, Ella Vieira, Castiel Vitorino Brasileiro, Davi de Jesus do Nascimento, Denise Alves-Rodrigues; (middle row) Rebeca Carapiá, Sallisa Rosa, Gê Viana, Iagor Peres, Jonas Van Holanda; (bottom row) Juliana dos Santos, Laís Machado, Pedro Victor Brandão, Luana Vitra, Ventura Profana
What does this look like on the ground for a major arts triennial? The first step was a learning program for teachers and educators called Topics for Difference and Social Justice, based on a national bill implemented at the beginning of the millennium. The bill, which contributed to the reorganization of the educational system in Brazil, established Black Brazilian and Indigenous art as part of the official curricula in schools. These laws questioned the curricula and institutional racism embedded across the country's educational and artistic institutions. Topics for Difference and Social Justice aimed to extend the changes catalyzed by the introduction of critical race discourses and histories of antiracist cultural production into a broader context.
At the same time, 15 artists featured in the exhibition joined study sessions with the curators, the exhibition's architect, members of the education and production teams, and invited guests. The participants questioned the limits of the traditional group exhibition format by sharing their practices and discussing their possible projects in the event that the exhibition was able to take place. The curators involved artists at different stages of their careers to foster another element of diversity within the exhibition program, producing conversations between emerging, mid-career, and established artists. Session invitee Dalton Paula, a participant in the exhibition, offered insights from his longstanding practice to artists at earlier stages of their careers.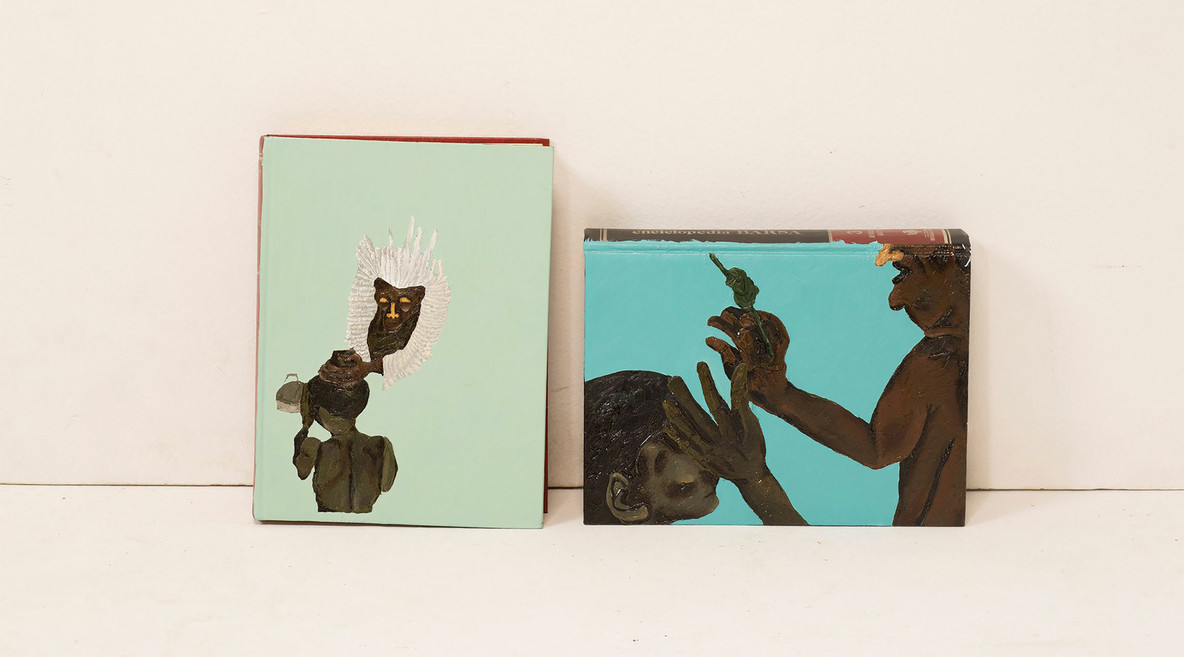 Dalton Paula. Cura B (detail). 2021
In this instance, mutual support required acknowledgement of the exhibition's real-life consequences for the artists' everyday lives. The meetings began with a shared assumption that increased exposure of Black and Indigenous artists in the contemporary art world in Brazil and beyond will not necessarily enhance the interpretation of their artwork or change the conditions under which this work was made. Instead, the program embraced what scholar Tina Campt has called "strategies of refusal": a rejection of the notion that art can be autonomous from those who make and receive it, and a refusal to participate in a system that promotes the use of work by artists of color to satisfy the needs of liberal institutions. In contrast, the strategy of refusal values collaboration, relation, process, and everyday forms of resistance.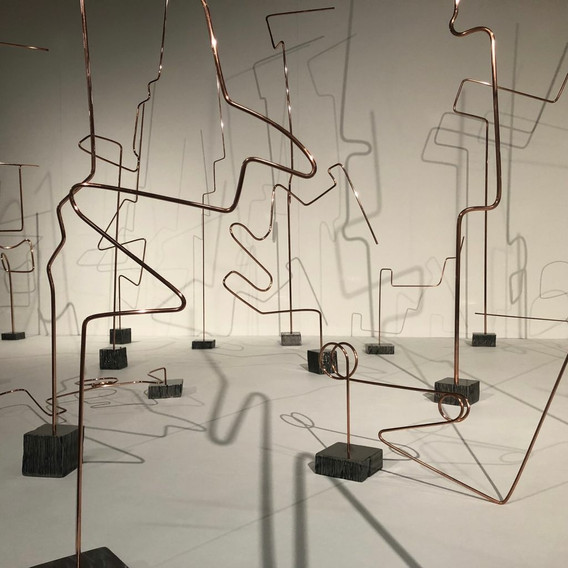 Rebeca Carapiá. Campo Elétrico 01: raiva, sal, saúde e tempo. 2021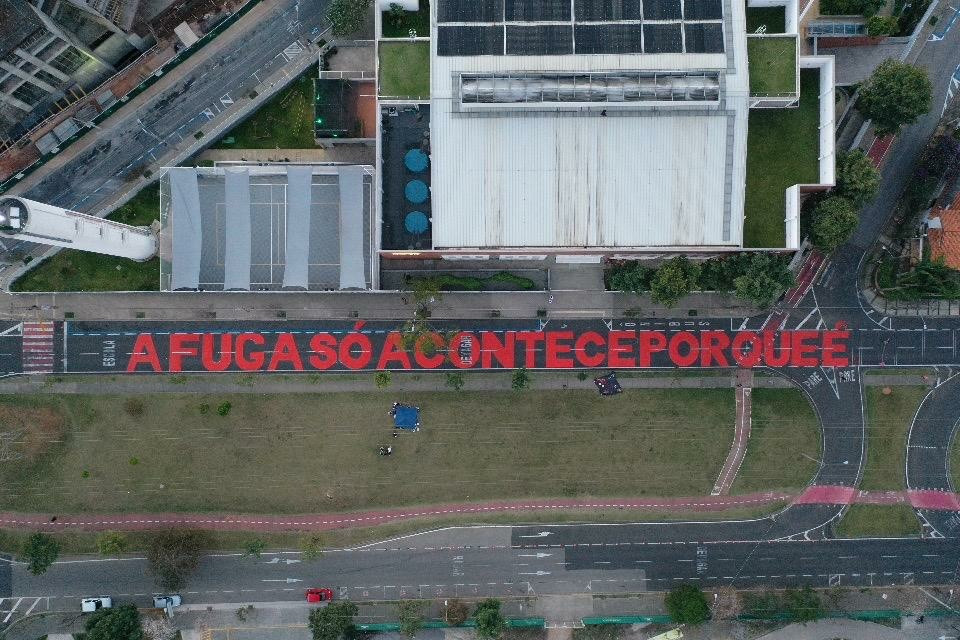 Jota Mombaça. Pavimento n. 1: A fuga só acontece porque é impossível (Pavement No. 1: The escape only happens because it's impossible). 2021. Painted by Coletivo Feminino de Arte de Sorocaba (Cofas)
Earlier this year Collectivo Ayllu, a collaborative artistic research group formed by Latin American (or Abya Yala, a term the Guna use to refer to what is now called "Latin America") immigrants based in Madrid, organized the Subaltern Practices-Oriented Program (Programa Orientado a Práticas Subalternas), or POPS. According to the artists, the sessions "connected and reactivated ancestral technologies" and were organized as a "co-learning territory" against a colonial order that insists in perpetuating itself.
Unconfined by physical space, these initiatives established a direct relationship between the educational program and the format of the group exhibition in which the exchanges provided by the workshop model could be mirrored. Ultimately, these forms of group work offer an opportunity to reimagine the methods of support that art institutions can offer artists, especially the ones who have been affected most profoundly by recent events.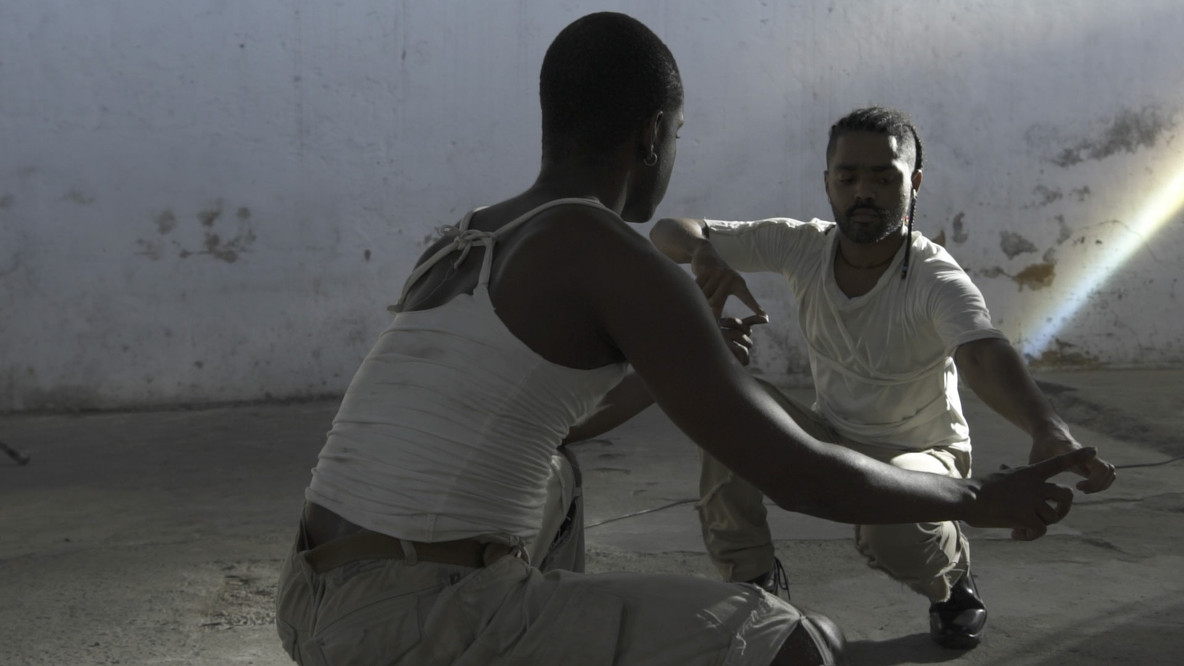 Davi Pontes and Wallace Ferreira. Delirar o racial. 2021
To best understand the radical possibilities in the Frestas Triennial's meandering path to the exhibition opening, we return to Delirar o racial. Toward the end of the video, Wallace holds up Pontes, providing a visual example of what this process of collective learning and mutual support might actually look like. Eventually Wallace lets go, guiding his collaborator gently to the ground. Then they return to the metal pole where they began their choreographies and begin their descents again.