Cooking with Artists: Wafaa Bilal
In MoMA PS1's ongoing series with chef Mina Stone, artist Wafaa Bilal shares his recipe for Najafi Qeema—Iraqi meat and chickpea stew.
"I think for those of us who cross the ocean or borders, food could be a form of pain, unless we slowly try to not replace but embrace what it means. Then, once we create it in the new place, the association can become positive with the past and the present combined."
Wafaa Bilal is an Iraqi American artist whose work forges a continuous conversation between the two places he calls home.
"My life and career is shaped by these two places. I live physically in the comfort zone of the United States, and simultaneously I emotionally and mentally live in the conflict zone of Iraq."
Our interview covered a wide range of subjects, from eating in silence, to the practice of feeding a village, to reinventing ritual in a new place. We returned again and again to the ways that nostalgia might catalyze something new.
Wafaa is a patient and persistent teacher. I absorbed knowledge without realizing it was happening. He was gently insistent, the mark of an excellent educator that quietly holds you to the highest standards.
We watched a YouTube video so I could learn the art of making Najafi Qeema (Iraqi meat and chickpea stew). Wafaa patiently translated each step, the quiet murmur of Arabic in the background as he paused, explained, and pressed play again. We emailed back and forth: Where to get black limes? Where to get red hot onions? What is the right cut of beef and lamb?
Everything that could have been lost in translation, wasn't. Wafaa took pride in the details, the specificity, the nuances.
I was left thinking about how the silence in between our words might contain the real magic. It's where knowledge is absorbed into our cells, taking on a life of its own. The learning is in between, alongside, after the fact. It's from that place of deep understanding that we are given license to invent. Creating something new is rooted in translating memories of the past.
"I love culture. As an artist, I trigger platforms for conversation, and what that does is bring different cultures closer together in order to share something in common. It widens the horizon so it's no longer something that is the 'other.' I always look to food as a continuation of who I am and something I can share with other people."
Wafaa explains that Najafi Qeema is an ancient dish particular to the area of Iraq from which it takes its name (Najaf). The ingredients are very simple: chickpeas, meat, tomatoes, and onions, combined with the specific five spices traditionally used in the region: black lime, turmeric, cumin, cinnamon, and cardamom. The stew is slow cooked, gently pounded, then cooked again, resulting in fragrant deliciousness.
This dish is served on the day of Ashura, during Muharram, the holy month, and it is also served at weddings or funerals. It is a dish that easily feeds 200 people or more, and typically the entire village is involved in its preparation.
If you are interested in more of the specific techniques that Wafaa talked me through, watch the YouTube video that shows you how to slice the onions, and how the stew should be mashed.
The stew is traditionally served over basmati rice (recipe follows) with a plate of fresh radishes.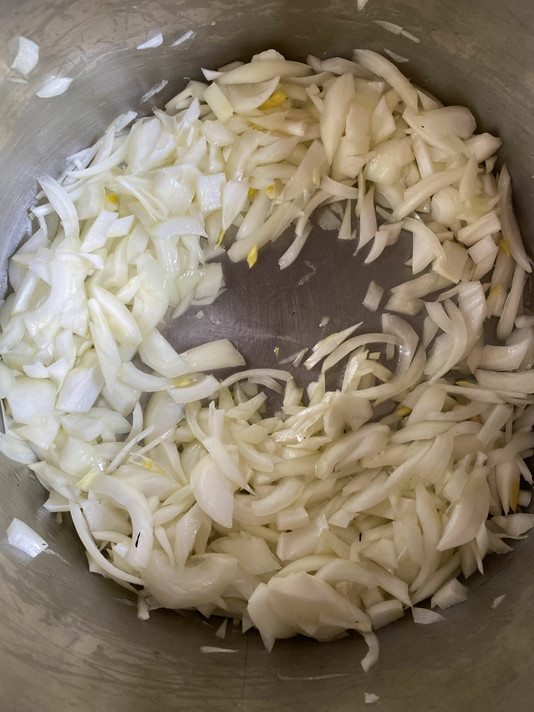 Najafi Qeema
Serves 10–15
2 or 3 red hot or yellow onions, peeled and sliced in half
Neutral oil, such as vegetable or safflower oil
2 lbs dried chickpeas, soaked for 8–12 hours.
1 1/2 pounds beef brisket, trimmed of excess fat
1/2 pound lamb shoulder
2 beef bones (optional)
1 6-ounce container of tomato paste
1/2 teaspoon turmeric
1 tablespoon cardamom
1 1/2 tablespoons cumin
1 tablespoon cinnamon
2 dried black limes, ground into a powder
Salt to taste
Red hot onions are onions that have a light pink skin and white flesh, and not the easiest to find in the US. Wafaa mentioned he found them at Trader Joe's and Morton Williams. I substituted yellow onions to make the Qeema.
Black lime (noomi Basra) can be found at most Middle Eastern grocery shops, as well as available to order, pre-ground, from Burlap and Barrel.
To soak the chickpeas:
Wash the chickpeas well in a few changes of cold water. Cover the chickpeas with plenty of cold water (remember they double in size when fully soaked) and add one teaspoon of baking soda to the soaking water (this softens the chickpeas). Soak for eight to 12 hours and drain. Rinse a few times in cold water to remove traces of baking soda and set aside until you are ready to add them to the Qeema.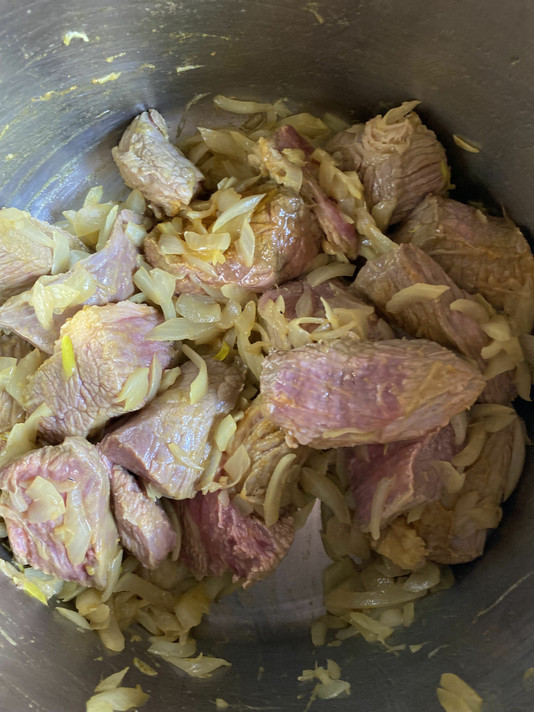 To make the Qeema:
Slice the halved onions lengthwise into thin strips. On an angle, slice them horizontally so you are left with thin slivers, about one inch in length.
In a large pot, add the onions and a drizzle of oil. Sauté the onions over low heat until they are translucent. They should not get caramelized or brown and no salt should be added.
As the onions are cooking, slice the beef and lamb with the grain in large four- to five-inch pieces.
When the onions have softened, add the chunks of meat and the turmeric. Sauté until the meat is no longer red, and everything has a soft yellow hue.
Add the chickpeas to the pot and toss to combine everything. Add enough cold water to cover the stew by six inches. In a large pot, this will be about one or two inches away from the top.
Bring the stew to a boil. Reduce the heat to very low, cover with a lid slightly ajar and allow the stew to simmer for six to seven hours, or overnight.
Remove the stew from the heat.
In a separate pot, using a slotted spoon, add a few spoonfuls of the meat and chickpea mixture to the new pot (the broth will remain in the original pot.)
At this point, using the bottom of an old wine bottle or the bottom of a mug, start to mash the meat and chickpeas. The mashing should be a motion of pushing down and sliding out. It should not be a pounding motion.
Try to mash as well as you can. A part of the unique texture of this dish is the thin threads of meat in a thick and smooth chickpea broth.
Remove the mashed meat and chickpeas to a separate bowl and repeat with remaining chickpeas and meat from the broth.
When you are all done mashing, add the mashed meat and chickpeas back into the pot of broth. Bring to a simmer. The mixture should be the consistency of loose hummus. Add more water if you think it is too thick.
Add the can of tomato paste and whisk to combine completely. Add the spices, the ground black lime (I used a nutribullet to turn them into a powder, but a food processor or mortar and pestle would work as well) and finally, plenty of salt.
Wafaa's note: you can alter the amount of the five spices to taste. For example, you can add a bit more or less of the cinnamon, cardamom, or cumin.
Simmer the mixture, stirring often for another two hours over low heat. The mixture should be a dark caramel brown, and nice and thick.
Wafaa's note: I make a big batch and freeze any leftovers. That way, I have it ready whenever I get a craving for Najafi Qeema. I prepare the basmati rice while it is defrosting.
Basmati rice
Serves 10–15
4 cups basmati rice
12 cups water
Salt
6 tablespoons of butter
Wash the rice well, a few times until the water runs clear. If you have time, soak it in cold water for 30 minutes or so.
Parboil the rice:
Bring a large pot filled with heavily salted water to a rolling boil and add the rice. Boil for five minutes, just until the rice is left with a little bite to it.
Drain the rice in a colander and set aside.
Over low heat, melt two tablespoons of butter in a large pot.
Add the rice, creating a mound in the middle. Poke holes in the rice with a wooden spoon so steam can escape. Add two to three cups of hot water and add the remaining four tablespoons of butter, dotted over the top. Wrap a lid with a towel. (This absorbs the steam so it doesn't drip back into the pot). Cover the rice with the towel lid and steam for 10 minutes until the rice is fluffy and fully cooked. Allow to sit for 15 minutes before serving.