Working on an Epic Scale: Wynn Thomas on Malcolm X
Production designer Wynn Thomas talks about the making of Spike Lee's sprawling period piece.
The film series Wynn Thomas, Production Designer is presented in MoMA's theaters and on Virtual Cinema, June 22–July 14. Be sure to catch Malcolm X in 35mm on June 30, July 1, and July 2.
Working with directors like Spike Lee, Tim Burton, Robert Townsend, Robert De Niro, and Ron Howard, Wynn Thomas has emerged as one of the finest designers of his generation. After getting his start in theater, he began his film career as an assistant alongside production designers Richard Sylbert and Patrizia von Brandenstein, but he soon met Spike Lee—setting off a vital collaboration that has spanned 35 years and a dozen films. With films like Malcolm X, A Bronx Tale, and Mars Attacks!, Thomas has demonstrated his mastery, designing sets that capture turn-of-the-century America, the present day, and beyond. Wynn Thomas, Production Designer is the inaugural edition of a new screening series, The Craft, which celebrates the extraordinary talents working behind the scenes in cinema today.
I recently spoke to Thomas about his work on Lee's 1992 film Malcolm X, which will screen in 35mm in MoMA's newly reopened theaters beginning June 30.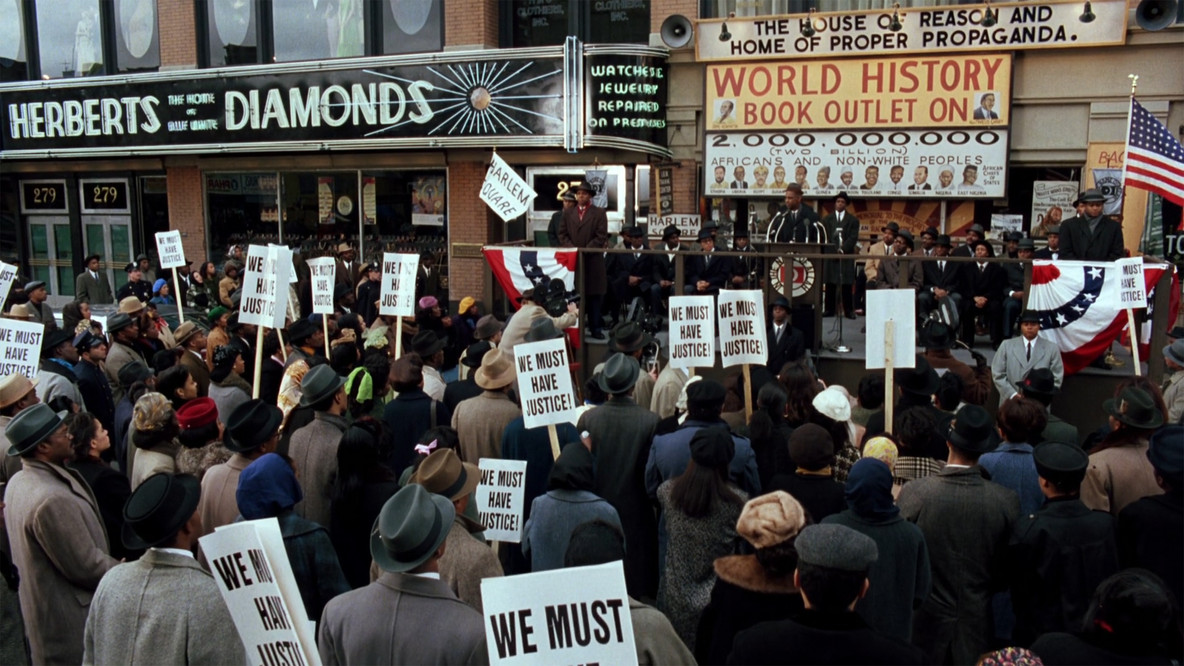 Malcolm X. 1992. Directed by Spike Lee
Brittany Shaw: I'd like to talk about what it's like to prepare for a film of this scale. It's really an epic in every way: spanning Malcolm's life, from his 1920s childhood to his death in 1965. You had just come off of Jungle Fever, which has impressive set pieces in its own right, but nothing as grand as this. So you're not only contending with many locations and eras, but you're building up the physical reality of one of the most important men in history. Where do you start?
Wynn Thomas: Malcolm X is a huge movie. There were over 150 locations and settings. In the fall of 1991 Spike gathered the "family" to work on it. The "family" was made up of people who had worked on every Spike Lee project for the last six years: producers Monty Ross and Jon Kilik, cinematographer Ernest Dickerson, costume designer Ruth Carter, casting director Robi Reed, and me. This was a group of artists and filmmakers who loved and respected one another, and we were always happy to see each other every year to work on another Spike Lee joint. But we knew that this movie was something special. It was about the life of a man we admired and respected…so we didn't want to get it wrong. And it was also the largest movie that we had ever made.
We had six months of prep time. Most films have 10–12 weeks prep time. The art department coordinator, Erik Knight, and I started doing research. We gathered pictures and photos for every single set. Putting together details to re-create different time periods, from 1930s Harlem nightclubs to period street signs and trash cans. There was a research folder for every element in the script. We shared this research with the entire creative team: director, DP, costumes, extra casting. As a first step in designing a film, research is very important because it either confirms what you have in your head, or it will inspire you. The next step is to develop a conceptual approach to the material. I work closely with Spike to develop this concept and then present these ideas to the entire company.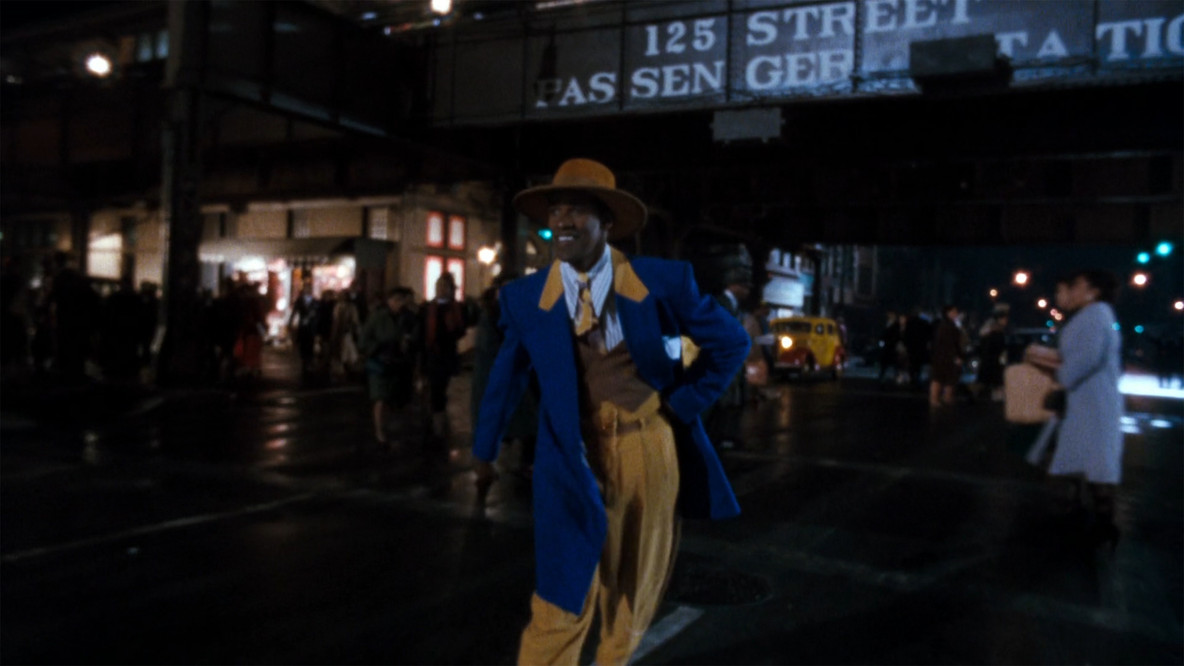 This project is made in a more classical style compared to your previous collabs with Spike—I've heard him compare it to a David Lean film. How did that tone affect your building of the sets?
Early on Spike described Malcolm X as a "David Lean film." Which to all of us meant that the movie was to be classically composed, with huge sets and a cast of thousands. This was a deliberate choice that we made to tell this story because we were making a classical epic about an African American hero. And we wanted to treat it with the respect and tradition that other stories about American heroes have been told. We were making a big Hollywood epic.
I decided to design Act One as a large-scale Technicolor gangster movie, filled with big sets and lots of color. We wanted to pull the audience into the story by making it larger than life. In Act Two, Malcolm has been imprisoned and begins his journey to Islam and a new life. He is reborn. So I drained all the color from the film. It's mostly monochromatic….pale greens and grays. In Act Three, Malcolm has come into his manhood and has taken his place as a leader in the world. The scale of the sets becomes more human, and I used mostly earth tones when designing the sets. I tried not to use any red in the third act—I wanted the audience to be horrified when they see the red when Malcolm is assassinated at the end of the film. I didn't succeed, because the Egyptian locations were filled with red. There was a huge locations department and I spent months scouting locations in Boston, New York, and Egypt. There was an army of assistant art directors and set designers working from my small architectural drawings. And many carpenters, painters, and set dressers working in every borough of New York.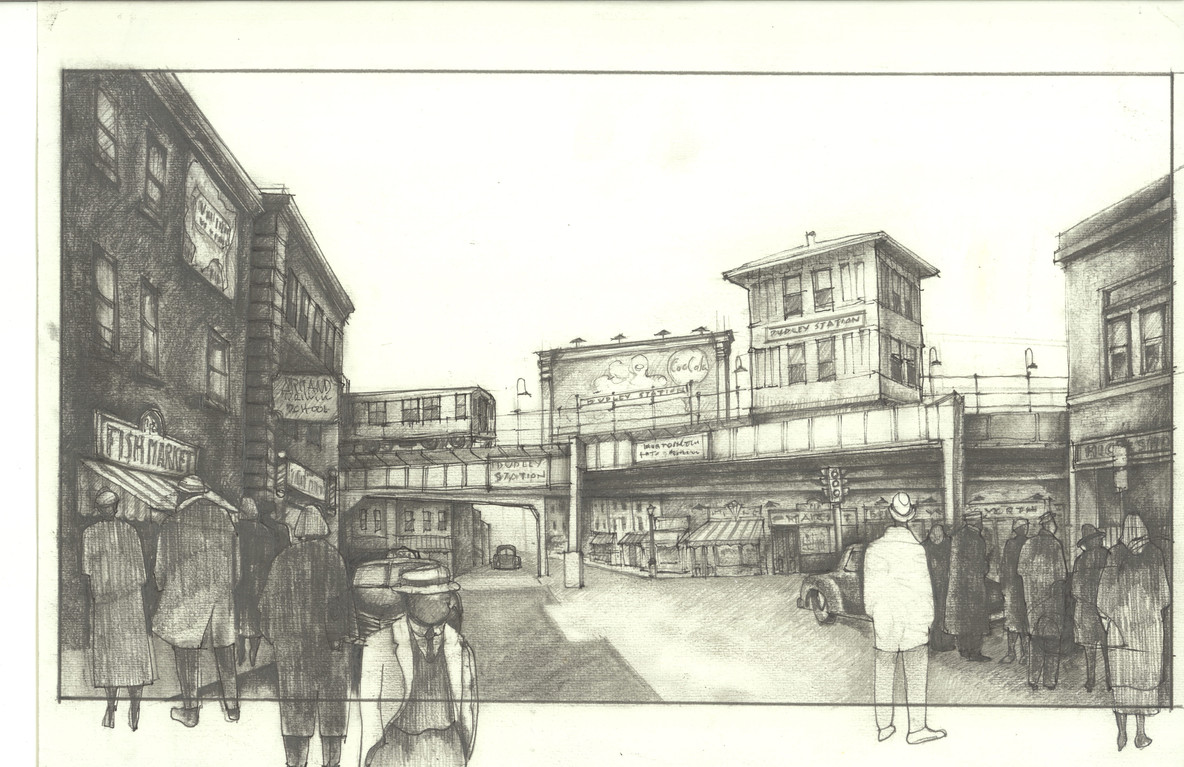 Wynn Thomas. Production sketch from Malcolm X. 1992
The soaring opening shot of Malcolm X, moving all around the Dudley train station in Boston, was shot on the first day of filming. There is an unreal amount of period detail in that one take that clues us into the scale of the film we're about to see.
I wanted to open the movie up in an epic David Lean way, to establish the tone of the movie and to let the audience know that they were in for a special ride. The opening shot of the film is supposed to be Dudley Station in Boston. I found an elevated subway station in the Midway section of Queens where I could re-facade all the storefronts, have traffic coming from many different directions, fill the streets with hundreds of extras and have a period subway car move across the tracks. In the screenplay, Shorty, a character played by Spike, is waiting at a barber shop to straighten Malcolm's hair. There was an empty storefront where I could build the interior of the barbershop. The only problem was the expense. We only had $36 million to make the entire movie (a picture like this normally has a budget of $100 million).
Meetings were called with the producers who wanted to start the movie small. Spike was at the center of this meeting. Heated, passionate arguments were made by all parties. Me: "David Lean, David Lean, big, big, big!!!" The producers: "Small, small, use the money elsewhere." Finally we all turned to Spike, who said, "I want to open it big." So on our first day of shooting we shot the opening shot with hundreds of extras, period cars, and four old period subway cars that we had to rescue from the bowels of the New York subway system. With all the elements in place, that opening shot cost a million dollars. I'll never forget Spike and Monty jumping up and down with excitement when the subway cars were pulled across the track.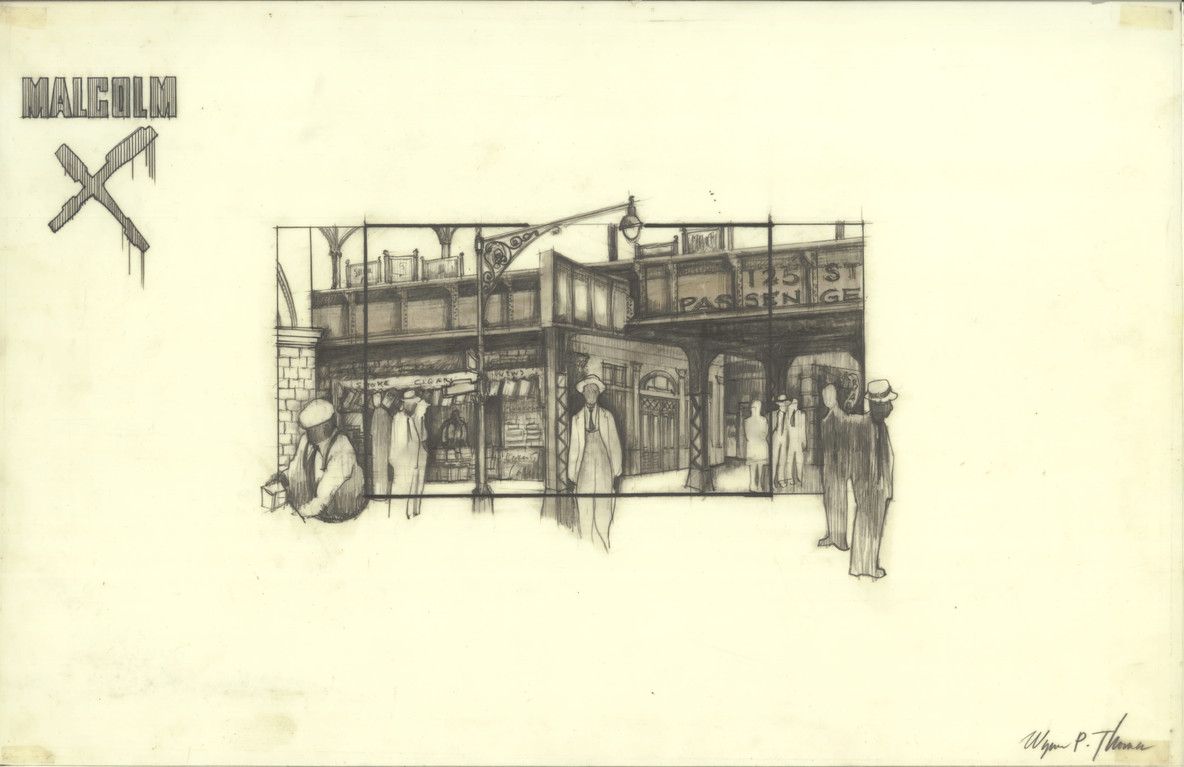 Production sketch from Malcolm X
We're looking at a sketch here of Malcolm X arriving in Harlem, for which you re-created 125th Street. Can you tell us about that?
My sketch is just a storyboard of that sequence. I like drawing but too often don't have the time to sit down and draw up an entire sequence. I'm glad I found the time to draw this one, and when you see the film, they shot it the way that I drew it. I think what most people don't realize is that we re-created 125th Street on Third Avenue between 117th and 120th streets. We would never have been able to shut down 125th Street, and there were too many incorrect period details that I couldn't control or cover up. So for several months we took over that section of Third Avenue because it had a lot of empty storefronts. We built the exterior of the Apollo Theater and the other famous storefronts from that period. For the night sequence, when Joe Louis wins the fight, we filled Third Avenue with thousands of extras in period clothing. No VFX here. There were between 5,000 and 8,000 extras—amazing when you think about it.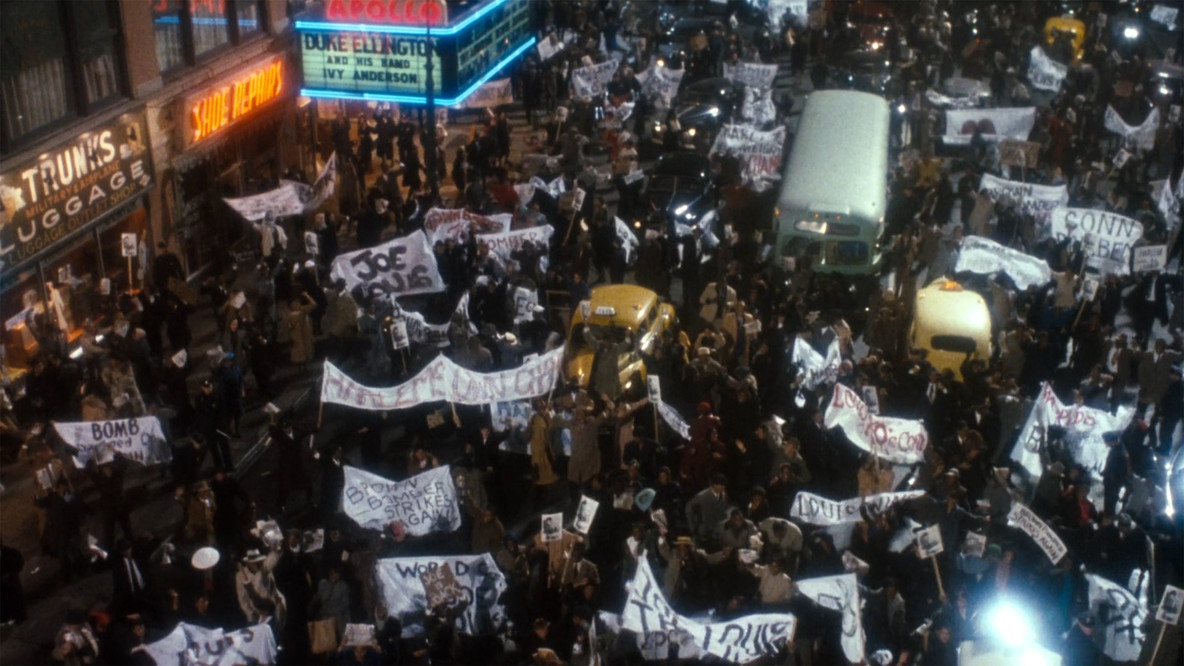 It must be incredibly rare now, to actually have so many extras on set.
If we were to shoot that Joe Louis celebration scene today, we probably would have 500 extras, and then we'd fill the rest of the street through visual effects. And we most likely would build only the lower half of the Apollo Theater and not the full marquee, and would do set extensions for most of the storefronts—in other words, everything that's at eye level of the actors would probably be built in camera, and we would do everything else from visual effects.
But certainly, the way we did it was very exciting for everyone to see. I think it's very hard when actors have to work against green screens and don't see the environment they're working in. That was not the case with these particular sequences on 125th Street, because we had restored the streets to the way they would have looked in that time period, and it really helped the actors with their performances, to get a true sense of time in place, and not have to imagine. It's very rare to bring that many people together. To be in that moment was exhilarating. It was classic filmmaking from old Hollywood.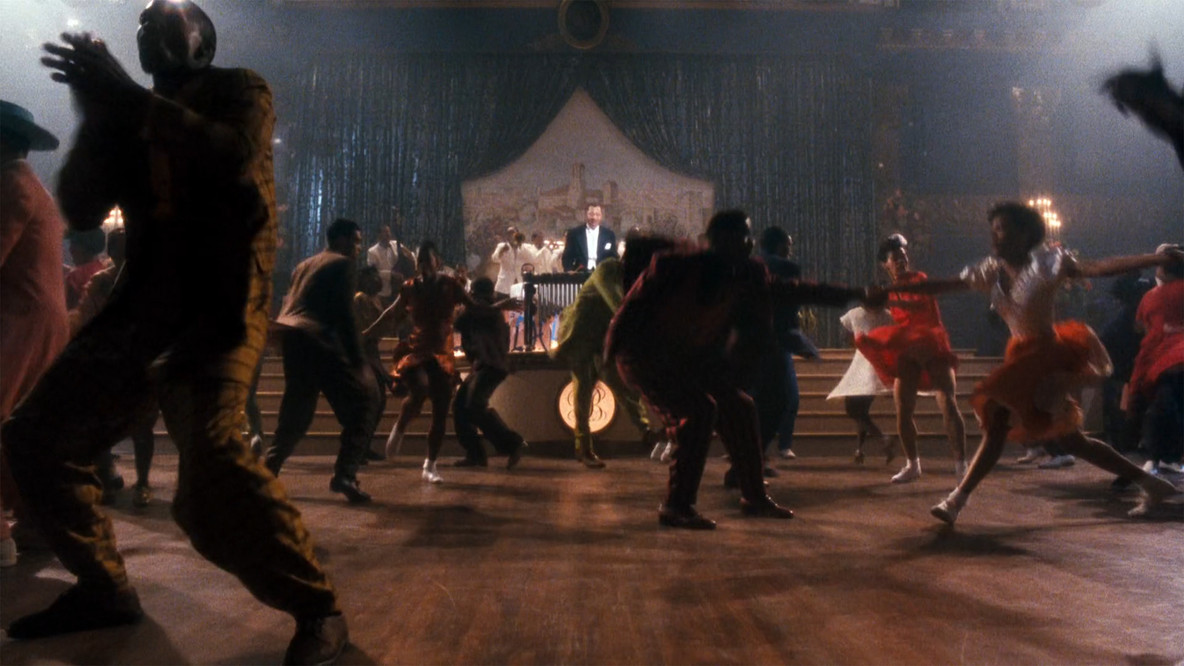 The Audubon Ballroom, where Malcolm X was assassinated in New York City in 1965, was still standing in its entirety (a portion of it is still standing now). Did you film those sequences there?
The Audubon Ballroom was still standing when we were shooting this film. And we wanted desperately to go inside and shoot those sequences there. But it was in such a tragic state of disrepair that we couldn't afford it—it was going to cost us half a million dollars to fix it. So we went back to a location that we used earlier in the film, the Hotel Diplomat, which was on West 46th Street. And we shot the Roseland Ballroom scene there, from Act One of the film. The only thing that we shot at the real Audubon was the staircase, when the killers are being chased down the stairs, as well as the exterior of the ballroom. Now, this was a big problem for me and Spike. I really wanted production to spend the money. We really didn't have the money. And it became one of the few times that Spike and I had a major conflict. I was very unhappy with the fact that I was going to have to go back to the Hotel Diplomat. But I did my job, and till this day Spike will say to me, "Nobody who is looking at this movie knows that it's the same space that we did the Roseland Ballroom." And he's right!
Except for you!
Except for me. And that's the magic of moviemaking.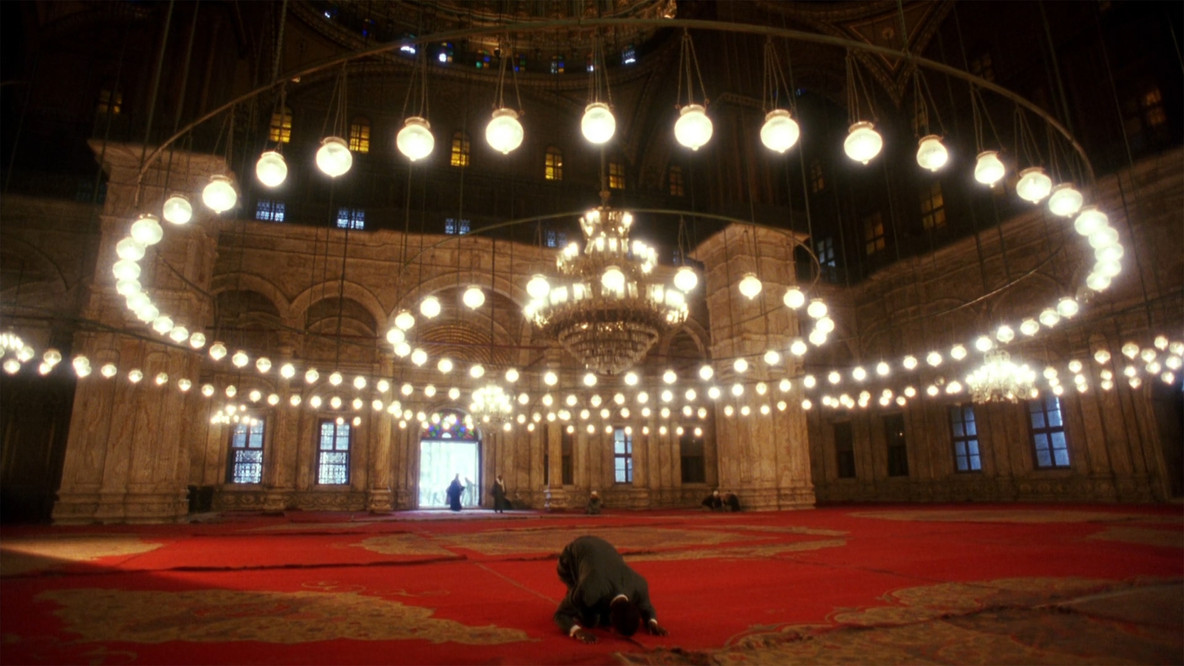 The crew travelled to Egypt to film Malcolm on his pilgrimage. After months of filming sets you designed, what was your experience filming in spaces that he had actually walked through?
We shot in the actual mosque that Malcolm attended. Our local Egyptian crew was very excited to be working on this story about a fellow Muslim. I remember arriving at the train station in Cairo and walking out into the streets—it felt as if I were walking back in time. The film crew there was so gracious about sharing their city with us. I scouted locations with producer Monty Ross while Spike was shooting the film back in the States. He didn't get a chance to scout the locations until he came to Egypt to shoot the film. We bonded completely with the Egyptian crew and it was a mind-blowing experience to walk down the streets where Malcolm had walked.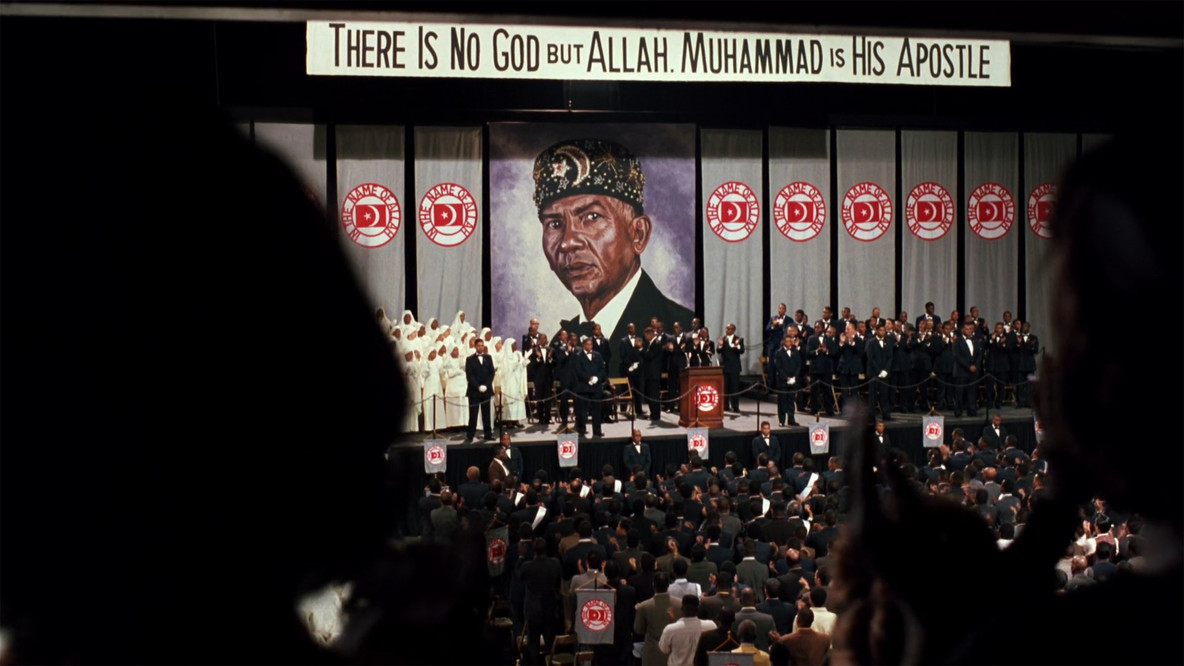 What are the creative differences between doing a picture like Malcolm X, which is based on historical research and real people, versus something like, say, Mars Attacks!?
Every movie offers different challenges. It's the variety of challenges that make this job so interesting. When designing a film like Malcolm X, my research is rooted in what was/is real and accurate for that time period. The choices I make are based on reality, but there is still room to interpret that reality. Hence the living space for Elijah Muhammad in the third act. Those sets were completely made up, but still seem believable to the audience. Mars Attacks! is based upon a series of graphic cartoons from the 1950s and1960s. When designing this film, I was trying to capture the spirit of the cartoons, so there was more room to use one's dramatic imagination to interpret the material. We were also trying to pay homage to the spirit of the 1950s sci-fi films. Therefore the sets took on bold, simplistic shapes to honor the look of those movies. Hence the simplicity of the war room or the control room of the Martian spaceship.
I'm interested in how period set design changes through time, as our personal understanding of the past changes. When designing period sets, are you always working from research and references, or do you also design in a more impressionistic way? Is nostalgia a factor?
When designing a period film the research always has a big impact on the decisions. But there is another factor, and that's the tone of the script. What do I want the audience and the actors to feel? Two examples of this are my designs for Cinderella Man and Hidden Figures. Cinderella Man takes place in 1920s and 1930s New York and North Bergen, New Jersey. I looked at lots of photos from these cities and ended up not using any of them. The emotional tone of that film is one of desperation and despair. So I placed the family in a dark stone basement and a colorless courtyard with porches that looked like they were about to collapse and crush the family. The look is also very monochromatic. There are almost no bright colors. The reason for this is that most of the research photos from that time are black-and-white. Therefore our collective sense memory of the Depression is shaped by these photos. A color movie that feels black-and-white helps transport the audience back to this time.
But Hidden Figures is an aspirational story about three Black women who are traveling on journeys that are taking them into uncharted territory. There was lots of research about how NASA looked in the 1950s. Those images were a great jumping-off point. In the film the astronauts are traveling around the globe, and Katherine Johnson is making her own orbit here on Earth. Therefore I designed a circular room for the Space Task Force where she works, and several long corridors for her to travel from one point to another. Even when designing a period film, you still have to interpret the material.