Free Design: Jazz Posters That Swing
In celebration of International Jazz Day on April 30, we present a selection of jazz concert posters from MoMA's collection.
Aside from the occasional open-window or rooftop soloist, it has been well over a year since I've seen music of any kind performed live. No being blown away by feedback while standing shoulder-to-shoulder with a stranger, clutching a plastic beer cup as my middle-aged feet start to ache. No sitting in the grass with friends at a free concert. No staring in awe (and, occasionally, stifling a yawn) at the coordinated movements of 40-plus symphony players. So naturally I decided to torture myself by diving into the collection in search of poster art from jazz festivals and concerts.
Let me back up: In 2011, the United Nations Educational, Scientific and Cultural Organization (UNESCO) designated April 30 International Jazz Day, which makes 2021 the 10th anniversary. Since MoMA and jazz have been intertwined since the Museum's founding—from live performance to exhibitions to the art itself—we wanted to commemorate the occasion by sharing some related works from the collection. Our Department of Architecture and Design has a trove of posters of jazz musicians and events of every variety, and I naively volunteered to pick out some examples that approach the dynamism, the spirit of experimentation and discovery, of the music itself. But proceed at your own risk: your delight in these works might bring with it an intense impatience for the return of dimmed lights, the clinking of cocktail glasses, murmuring voices, and rooms full of music.
From left: Takenobu Igarashi. 11th Summer Jazz Festival. 1979; 14th Summer Jazz Festival. 1982
Takenobu Igarashi's series of posters for an annual Summer Jazz Festival in a Tokyo park, partly inspired by the work of Max Bill, typifies his hand-drawn "3D letterforms," which blur the lines between typography and architecture, pushing type past the limitations of the page—and even language. As he put it, "I've always wanted to transcend the communicative function of letters and characters... [to] capture their form in a dimension other than the usual phonetic usage."
Though he was perhaps better known for designing rock posters—including the iconic Jimi Hendrix "Medusa head" tour promotion—Günther Kieser started out making posters for Germany's homegrown jazz and blues scene, including this Dixieland-inspired 1963 promo for the Jazz Band Ball at "Hot Club FFM" (a shout-out to Germany's swing-loving, Nazi-defying jazz "hot clubs").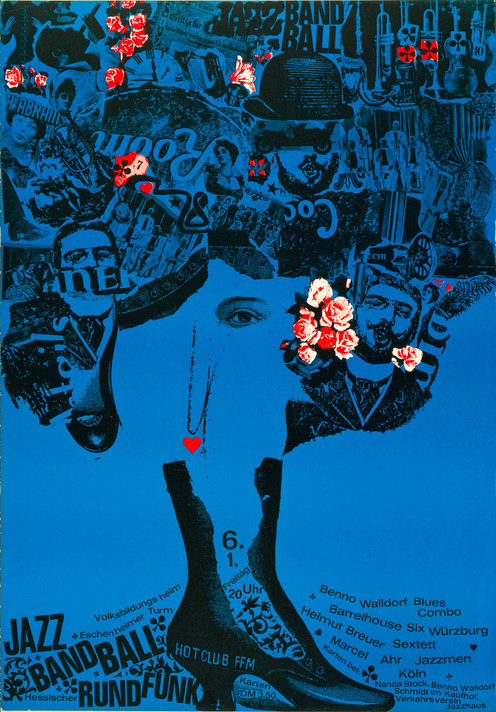 Günther Kieser. Jazz Band Ball. 1963
From left: Wolf Zimmerman. Jazz 5 (Poster for the 5th German Amateur Jazz Festival held in Dusseldorf, Germany). 1959; Jazz 8 (Poster for the 8th German Amateur Jazz Festival held in Dusseldorf, Germany). 1962
Takenobu Igarashi wasn't the first to use a jazz festival to experiment on a visual theme across several years. in fact, Wolf Zimmerman's posters for Dusseldorf's Deutsches Amateur-Jazz-Festival, spanning the late 1950s and early '60s, are similarly based on kinetic, increasingly abstracted treatments of the word "jazz." The festival (which also produced a series of vinyl releases featuring Zimmerman's graphics) showcased both "traditional" and "modern" jazz by such local products as the Oimel Jazz Youngsters, Wallpaper Warehouse Dixieland Jazzband, Occam Street Footwarmers, Spiritual Studio Düsseldorf, and the New Hot Potatoes.
As our own Paola Antonelli said of Milton Glaser, "The not-so-well-kept secret of Milton's success has been simple and bold messages conveyed with devastating elegance and talent." Bold is the key word here. Glaser's poster for a 25th anniversary celebration of the Newport Jazz Festival uses shocks of blue to detail faces and bright, psychedelic reds to outline every fold of fabric. It's hard to decide what "swings" harder: that saxophonist hidden in her skirt is the obvious choice, but her necklace, caught in midair, provides an almost giddy sense of movement.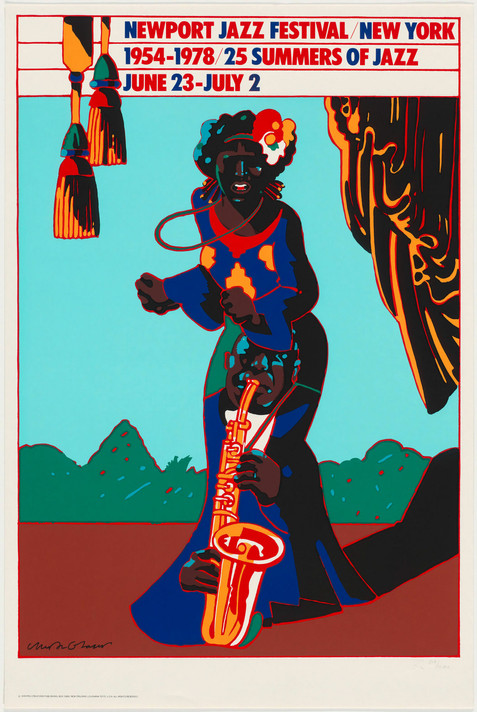 Milton Glaser. Newport Jazz Festival New York, 1954–1978 25 Summers of Jazz, June 23–July 2. 1978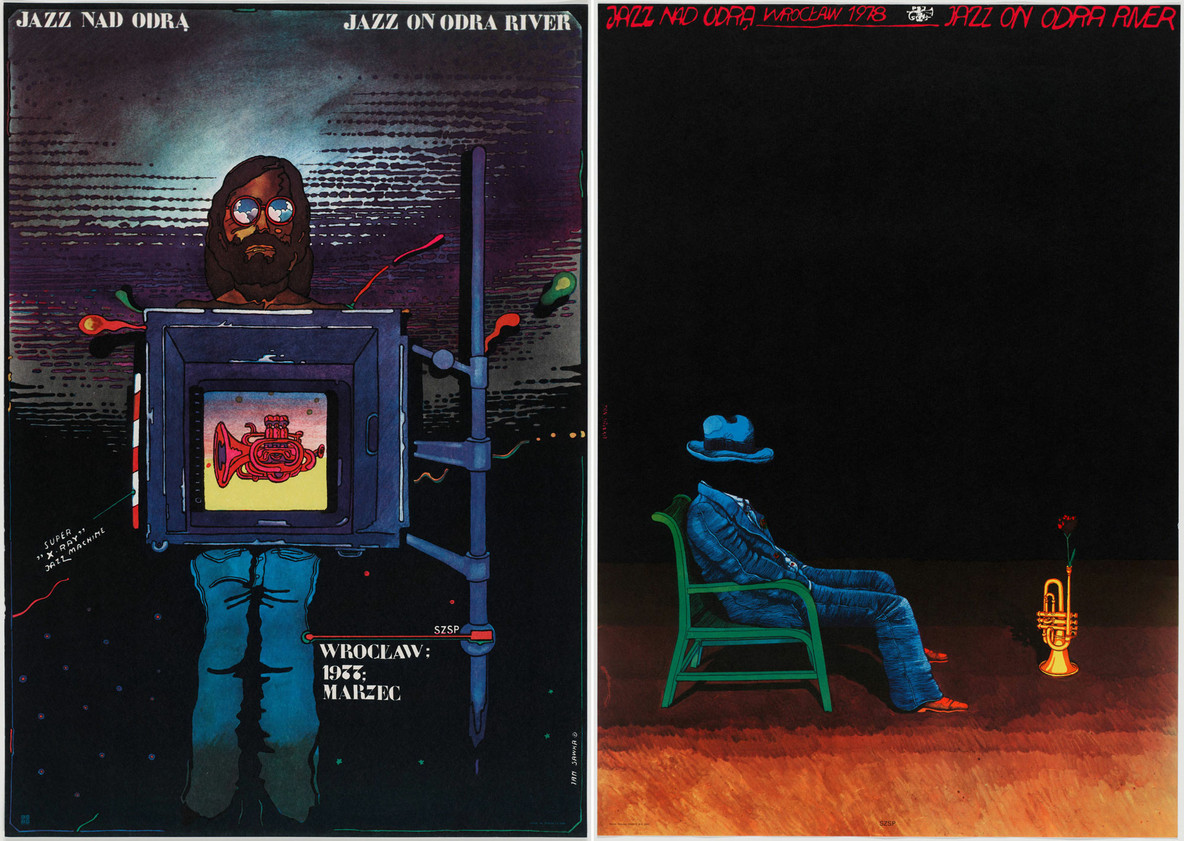 From left: Jan Sawka. Jazz Nad Odra, Jazz on Odra River. 1973; Jazz Nad Odra, Wroclaw 1978, Jazz on Odra River. 1978
Jan Sawka, a member of the "third generation" of the Polish School of Posters, designed a number of posters for the Jazz on the Odra River festival in Wrocław, Poland—which is still going strong after more than 55 years. The examples above, from the 1977 and 1978 editions, were printed shortly after Sawka's political exile from Poland.
Several months prior to his stint as an artist-in-residence at the Aspen Center for Contemporary Art, Roy Lichtenstein's trademark Ben-Day dots made a prominent appearance in this poster for an Aspen Winter Jazz concert on February 26, 1967. A lifelong fan—he studied clarinet and piano in high school, and even formed his own jazz band—Lichtenstein first started painting jazz musicians after seeing Benny Goodman at Carnegie Hall in 1938.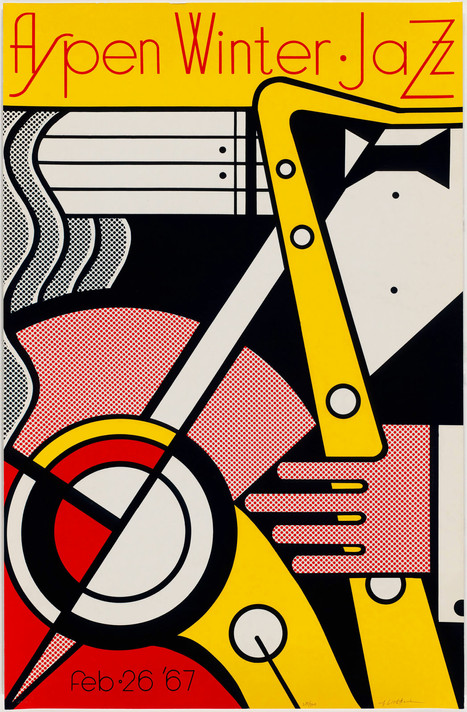 Roy Lichtenstein. Aspen Winter Jazz. 1967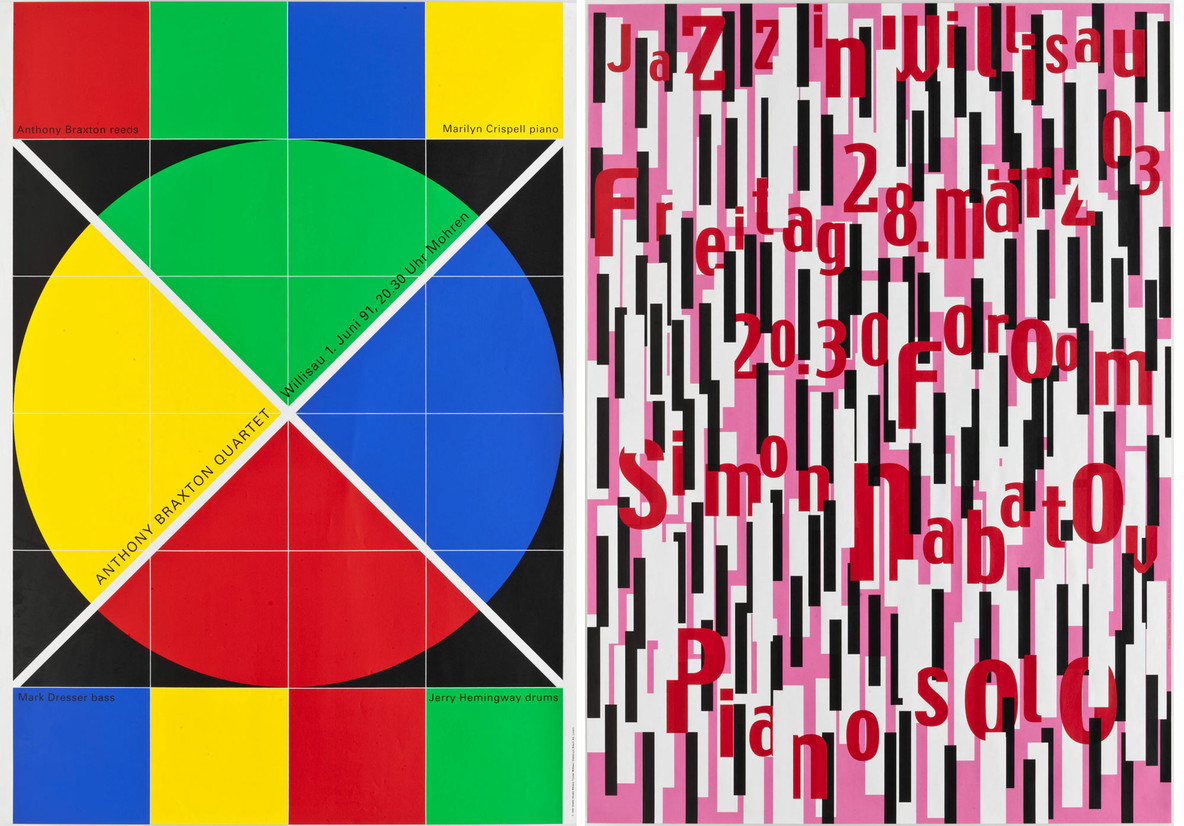 From left: Niklaus Troxler. Jazz in Willisau:, Anthony Braxton Quartet. 1991; Jazz in Willisau:, Simon Nabatov Piano Solo. 2003
Swiss designer Niklaus Troxler started putting on jazz concerts in the town of Willisau in 1966, and in 1975 he organized the first Willisau Jazz Festival, which he continued to manage until turning it over to his nephew in 2009. In the 55 years since the first "official" year, the festival has hosted everyone from Charles Mingus to Ornette Coleman to Sun Ra. It's hard to imagine how Troxler managed to run the show for 40-plus years given that his festival duties included designing a truly staggering number of performance posters. The two examples above give an inkling of the sheer stylistic breadth of his output.