Notre Dame, an Inspiration
In the aftermath of the Notre Dame fire, MoMA curators reflect on works that depict the cathedral not only as an enduring work of art, but as a landmark for modern artists.
When the terrifying fire that erupted on Monday at Notre Dame in Paris shot flames through the great cathedral's fabled spire, destroying most of its roof, it felt like a beloved friend was under attack. Monuments like Notre Dame are defenseless against such incidents, and so we feel doubly wounded by their damage because of their vulnerability. As a beacon of French culture, built collectively by artists and artisans from many places over many centuries, its splendid architecture is admired around the world. All of us at The Museum of Modern Art join our colleagues and friends in France in mourning the destruction that occurred and in supporting the rebuilding of this cherished monument.
Here, our curators discuss several works from the collection that depict Notre Dame (or its influence)—presenting the cathedral not only as an enduring work of art but also a landmark for modern artists.
—Glenn D. Lowry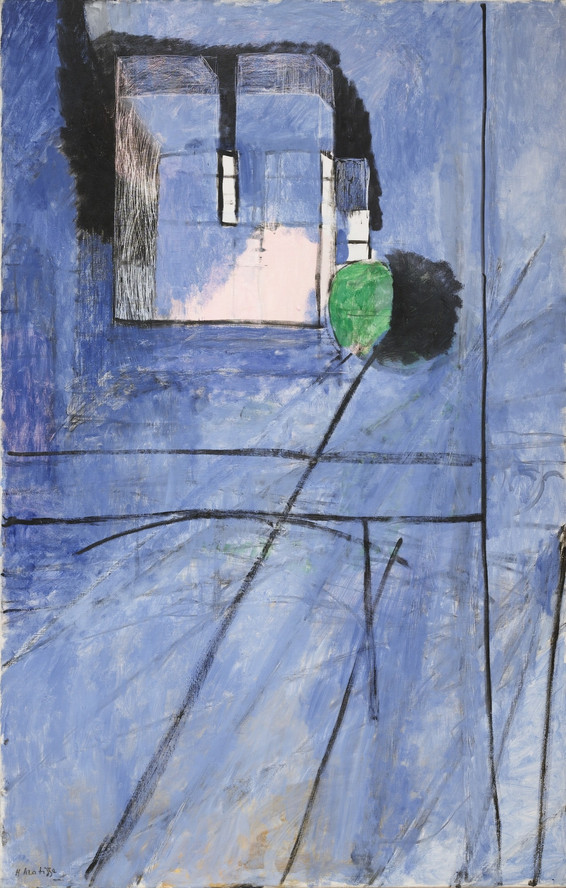 Henri Matisse. View of Notre Dame. 1914
One of my favorite pictures by Henri Matisse in MoMA's collection is his 1914 View of Notre Dame, made early in that year, when he had just moved back to a building on the quai Saint-Michel, where he had a view of the cathedral. He had lived in that same place from 1894 to 1907, and he had painted Notre Dame several times during that first spell.
MoMA's painting is one of two contemporaneous versions of this scene. As he often did, Matisse made the two versions in opposite keys. The other, now in a European museum, is very descriptive, and you see very clearly the scene of the river, the church, and the surrounding area. But in MoMA's painting, without the title it would be difficult for most viewers to say what the subject is. It's a radical picture for Matisse. In fact, this is a painting that he didn't exhibit until 1949, 35 years after it was made. I think he understood that it was something that contemporary viewers weren't quite ready for.
What you see here are the black outlines of the architecture of his apartment window and balcony, which structure the main part of the composition. In the upper left, you have the very blocky portrayal of the cathedral with its two towers. None of the Gothic detail of the church has been depicted; it looks almost like a modern building in its boxiness. It has an extremely dignified presence in the painting. And then that beautiful bit of green tree on the ground to the right situates it in space for you. And you have Matisse's amazing decision to paint the towers blue, like the sky. There's a pinkishness at the foot and then black-gray behind and at the top, but essentially the blue of the sky and everything else on the surface of this painting fills the very solid cathedral, too.
This painting came to MoMA's collection in 1975, and its reception is not unrelated to how we became enthusiastic about Claude Monet's Water Lilies in the '50s, when we were thinking about all-over paintings by artists such as Jackson Pollock. View of Notre Dame became interesting to our curators at a time when Robert Motherwell and Richard Diebenkorn had painted big expanses of color broken up into certain linear segments in a way that might suggest they were familiar with this very painting. Matisse was an artist always ahead of his time, but I think this painting reads particularly so.
Looking at it today, there's an elegiac quality. That comes perhaps from a much more personal place for the artist, who was here in this building that had been a home for him in his early and struggling years in Paris, and now he's back at this address as one of the recognized greats of his time. There's something very profound about repainting a scene he had painted more than a decade ago in very different circumstances. It may have brought with it a lot of emotion that makes its way into the painting.
Matisse wasn't a religious man in terms of practice, but for him art was certainly sacred. I think capturing that notion by portraying a cathedral—and yet portraying it abstractly—is part of what makes this painting so powerful.
As told to managing editor Prudence Peiffer. Ann Temkin is The Marie-Josée and Henry Kravis Chief Curator of Painting and Sculpture.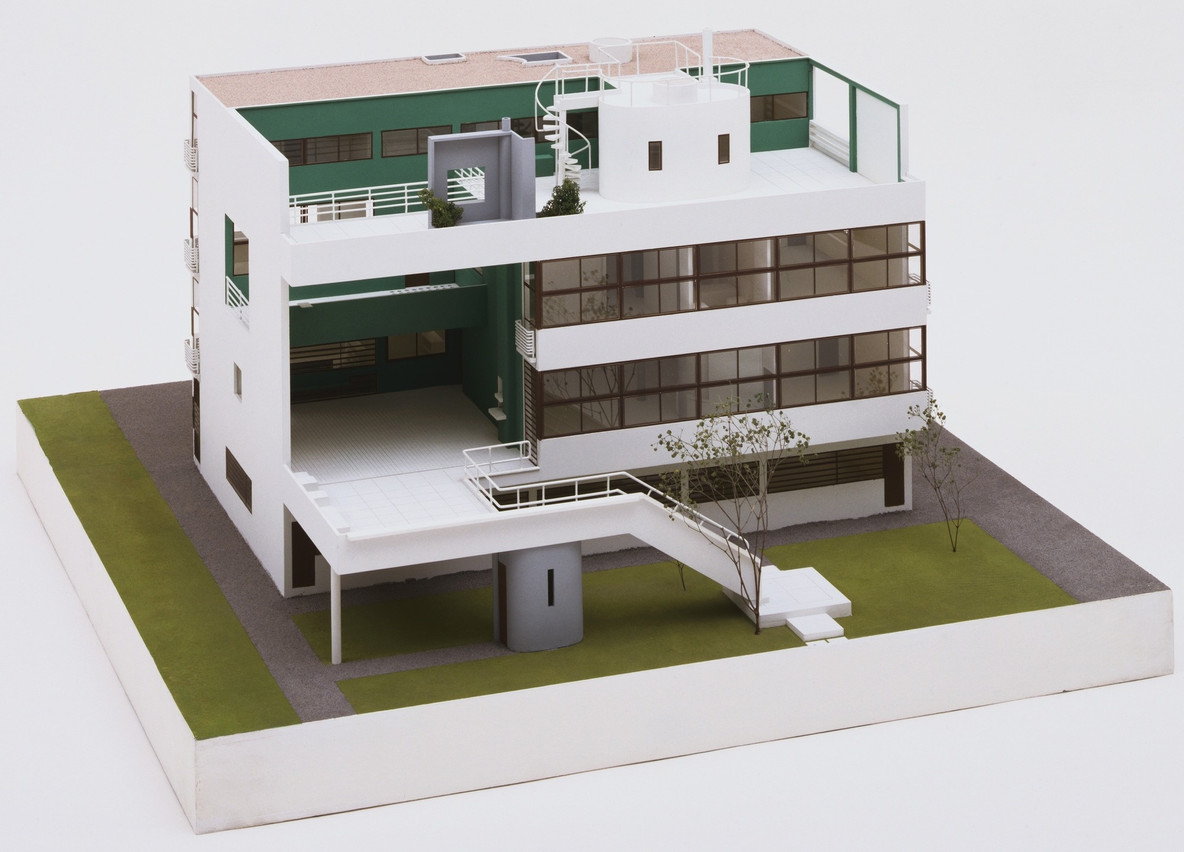 Le Corbusier (Charles-Édouard Jeanneret) with with Pierre Jeanneret. Les Terrasses, Villa Stein-de-Monzie, Garches, France. 1926-28
Modernist architecture is often thought of as a complete rejection of history. This is in part based on the protagonists of the modern movement in the field, who argued against the eclecticism of late historicist architecture and the system of Beaux-Arts training, with its privileging of proportions of facades over the organization of spaces. And yet Le Corbusier, as one of the pioneers of the modern movement, was an avid student of a select number of revered historical buildings, among them Notre Dame de Paris, to which he dedicated a substantial number of notes, sketches, and watercolors while spending the summer of 1908 in Paris as a 20-year-old itinerant student (at that time still working under his given name, Charles-Edouard Jeanneret).
In a letter to his teacher Charles L'Épplatenier back in his Swiss home town of La Chaux-de-Fonds, Jeanneret wrote that Notre Dame was his "laboratory," indicating his admiration for and deep investment in the writings of Viollet-le-Duc, the leading French architect who had been in charge of substantial renovations and reconstructions of the church in the mid-19th century, including the spire that was lost in the recent devastating fire. While Jeanneret's interest in Notre Dame lay first in atmospheric qualities such as the quality of colored light produced by the stained glass windows or the play of light and shadow in the church's interior, his attention would later switch to structural concerns. One of the key lessons that Le Corbusier would take away from analyzing the proportions of Notre Dame's facade is his system of tracés regulateurs, or "regulating lines," to which he would dedicate a separate chapter in his seminal treatise Toward a New Architecture (1923), a foundational manifesto for the new architecture of the machine age.
In Le Corbusier's understanding, these regulating lines were essentially a system of proportions derived from historical precedent, signaling an eternal, harmonic order. Notre Dame was one of the buildings where he saw such an order in place, and remarked: "The determinant surface of the Cathedral [i.e. the main facade] is based on the square and the circle." Only a few years later, this system of regulating lines would be applied to his first radical projects in a new architectural language, among them the Villa Stein-de Monzie in Garches (1926-28), of which MoMA owns a model. Even though this masterpiece of the new machine age architecture, with its abstract white planes and horizontal expanses of transparent windows, couldn't formally be more distanced from the verticality and plasticity of the west facade of Notre Dame that Le Corbusier had theorized on earlier, it is remarkable to see that he himself acknowledged the existence of a shared—and allegedly universal—organizational principle in both buildings.
Martino Stierli is The Philip Johnson Chief Curator of Architecture and Design.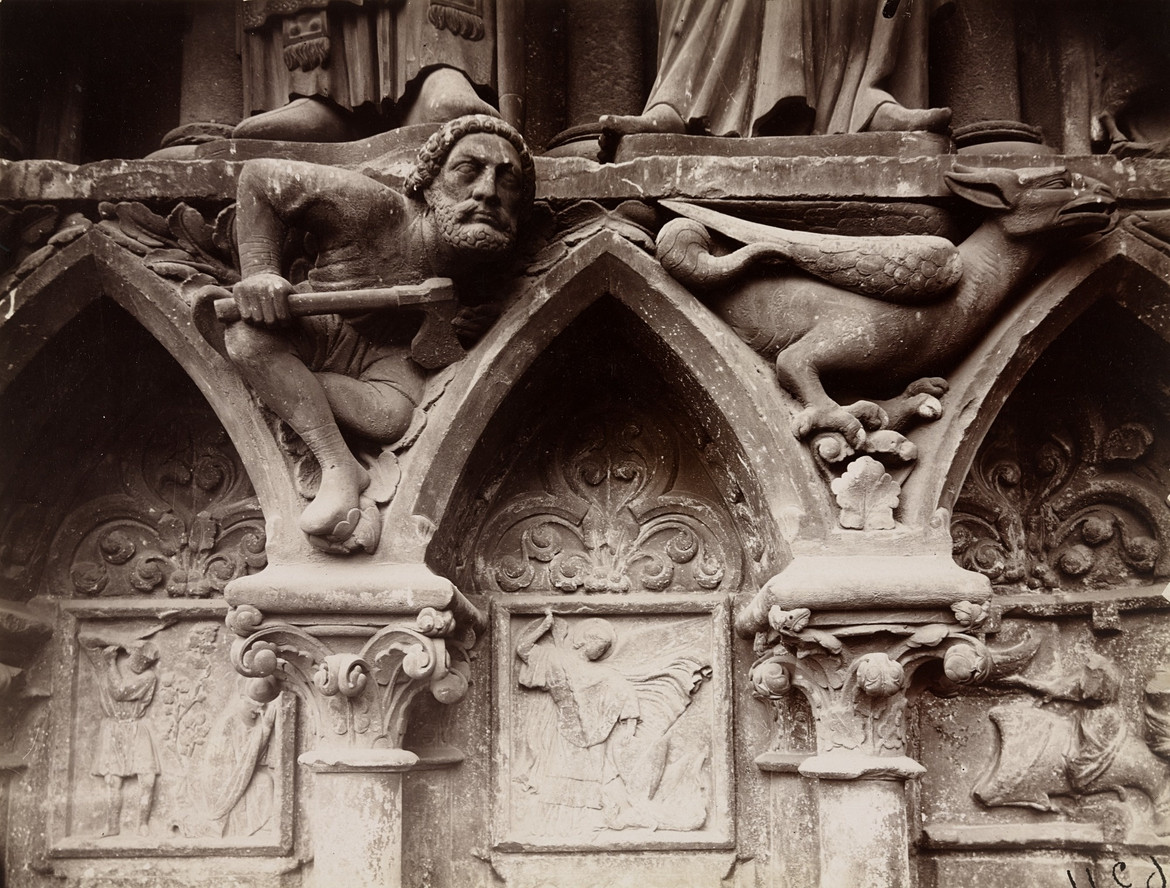 Eugène Atget. Notre-Dame (portail), detail. 1921–22
Eugène Atget's photographs of Notre Dame bring me some sense of solace in the aftermath of this devastating fire. He, too, loved this cathedral, and he photographed it repeatedly for more than a quarter-century, until the end of his life in 1927. Atget would place his camera across the Seine to get a full view, knowing this majestic structure could hold its own through a scrim of bare branches. His large glass negatives also register the tactility of the stonework, including this bearded figure holding an ax beside a dragon. These may have been the mid-19th-century creations of another Eugène (Viollet-le-Duc; Atget also photographed more obvious evidence of his work), but they would be right at home in Game of Thrones.
Sarah Meister is a curator in the Department of Photography.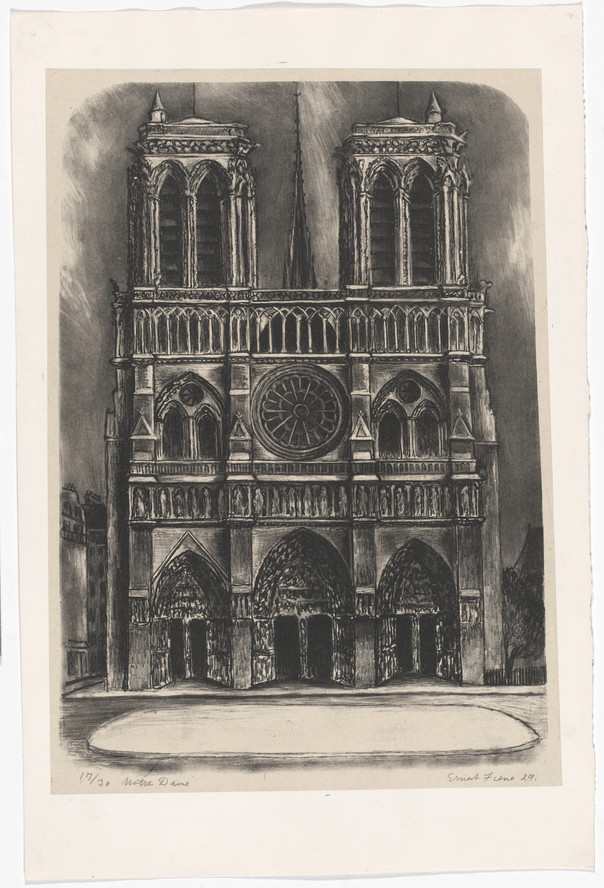 Ernest Fiene. Notre Dame, Paris. 1929
When the news about Notre Dame burning began to spread, the social media feeds of colleagues and friends in the arts lit up with a common response. Many of us had studied in Paris, and the fire devastating the august Gothic cathedral seemed also to be threatening our collective memories of youthful, heady exposure to the very possibilities of beauty. The German-born American artist Ernest Fiene must have made this lithograph of Notre Dame in a similar state of romantic awe. He is best known for scenes closer to home; trained at the National Academy of Design and the Art Students League, he depicted Washington Square and the Brooklyn Bridge, a snowy house in Connecticut and a riverboat on the Hudson. But in 1928–29, he went to Paris, studying at L'Académie de la Grande Chaumière, and mixing in the cafés of Montparnasse with artists like Georges Braque and Jules Pascin. This moody, frontal view suggests the experience of an initial approach—being dwarfed by the church's physical grandeur, and by the grandeur of the long history that it represents. The crispness of Fiene's depiction fuzzes out at the rounded corners dictated by the lithographic stone. Art and architecture are subject to disaster, we are reminded. But memory is imprinted.
Samantha Friedman is an associate curator in the Department of Drawings and Prints.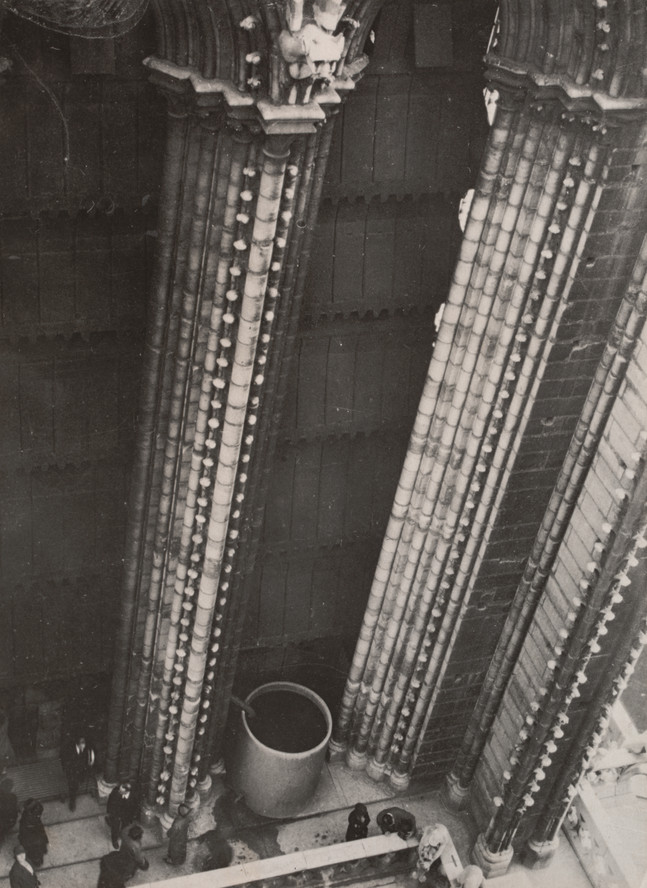 László Moholy-Nagy. Notre Dame de Paris. 1925
Buildings are events of finite duration, but they can be renewed in unpredictable fashion. That László Moholy-Nagy would photograph Notre Dame is somewhat surprising, since he is known for his vertiginous views of and from unadorned modern steel structures, like Radio Tower Berlin or the Pont Transbordeur in Marseille. But he understood both architecture and photography as technologies that shaped the nature of vision itself.
Almost a wry joke, his photograph of Notre Dame showcases the capacity of the camera to transform even a Gothic icon into an avant-garde test case. From the terrace of one of the cathedral's belfries, Moholy framed an oblique view down the opposite tower. The presence of craning and gawking visitors underscores that this is a picture about looking. But the artist seems to have been attracted to a leaky cistern collecting rainwater from a gutter spout. In drawing the eye to this circular shape adjoining the dark vertical band, which together suggest a tube projecting outward, Moholy identified forms that he also used in his abstract paintings to transform space. Photography's transcription of light and shadow dissembles our normal perception of the scene. Routed through the muck of earthly realities, the soaring transcendence of Gothic verticality was made thoroughly modern by Moholy's encounter with the dazzling cathedral.
Phil Taylor is a curatorial assistant in the Department of Photography.