Carolyn Lazard's CRIP TIME
Watch Lazard's film about the labor of care during this exclusive two-week screening.
Join us each month for exclusive two-week screenings to discover highlights from MoMA's acclaimed collection of video art. Ranging from recent acquisitions representing urgent new voices to rarely seen historical works, Hyundai Card Video Views makes space to consider artists' critical engagement with a technology that has become central to our daily lives. Video continues to shift and morph in response to both established traditions of the art museum and new forms of broadcast and transmission. Building on MoMA's groundbreaking role in championing video art through programs like Video Viewpoints, an influential forum organized between 1978 and 2002 by the Museum's first video curator, Barbara London, Hyundai Card Video Views will share key examples and a broad range of approaches by artists at the forefront of the field. Accompanied by introductions and interviews with the artists, the first season includes recent videos by Carolyn Lazard, Sohrab Hura, and Sara Cwynar, and a work from 1988 by Victor Masayesva, Jr.
–Stuart Comer, The Lonti Ebers Chief Curator of Media and Performance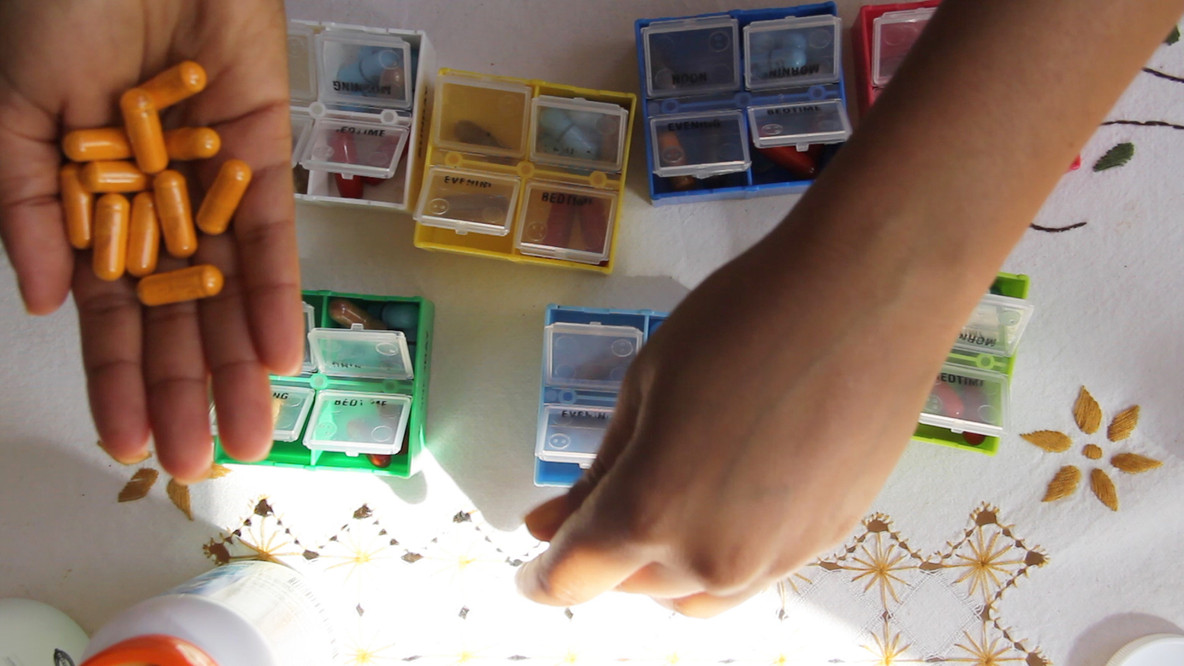 Carolyn Lazard. Still from CRIP TIME. 2018
Carolyn Lazard's CRIP TIME screened here April 7–21, 2021. The film is no longer available for streaming. Read an interview with the artist below, and join us for the next Hyundai Card Video Views screening, beginning May 12, 2021.
The interdisciplinary artist and writer Carolyn Lazard has written, "Sometimes my body is transparent, exemplary of karma, of action and reaction. Sometimes it is a solid mass of impenetrable, unknown matter." Working across video, sound, sculpture, and performance, Lazard investigates the temporal and political dimensions of illness under capitalism. Recently I spoke to them about their video CRIP TIME—a meditation on the task of organizing weekly medications and pills—which explores cinematic time and the essential work of care.
–Danielle A. Jackson, Curator at Artists Space, New York, and former Curatorial Assistant, Department of Media and Performance Art


Danielle A. Jackson: Carolyn, I thought we would start by talking about the process of making CRIP TIME, and thinking about the pace of the piece, particularly its slowness and its relationship to the mundane.
Carolyn Lazard: It is a durational work, and duration plays a large part in my practice. My own interests in terms of the medium of video have a lot to do with video's capacity to represent real time, a kind of duration that matches with our lived experience. I think it is really different from how we normally relate to video or cinema, in which we're often put into a temporal pace that is accelerated and manipulated. And I think slowness has a lot to do with the mundane in some ways because our lives are made up of myriad slow experiences that are the foundation of keeping us alive.
In CRIP TIME, as you're putting these pills into containers, I was really struck by the sound of breathing. Obviously, in this moment, we all are thinking about breath because of COVID-19. And it struck me that, in doing this sort of action, you're also thinking about the act of staying alive.
Yes, definitely. There's something to be said about the breath and then the repetition of the motion of filling the pill bottles or the pillboxes. That relationship does have to do with the kind of work, care work, that is required to stay alive, and there's a kind of muscle memory that's involved in that. So in the same way that my hands know how to fill the pillboxes, the breath in the chest is also a kind of mechanical muscle memory. There is always a body making the work, you know? Often when watching hand-held video, you can see the influence of breathing on the unsteady frame of the camera. The body is an integral part of the process of making the work.
To go back to this idea of patience, this is a demanding video for some people. It brings with it an expectation we have of watching something unfold, which is different for different bodies.
Yeah, totally. I think if you're somebody who has to spend a deliberate amount of time tending to your body, who has some experience of debility or has some experience of being out of sync or being slow in relation to the normative pace of things, you just have a different relationship to time. So that slowness might be more familiar for some than for others, right? Some people have access to bypassing some of that slowness in order to keep up with the pace of capitalism or the pace of production, and some people are not able to to bypass debility or vulnerability or the inherent rhythms of a body. And well, eventually no one is able to bypass it.
But also, in terms of the experience of watching it, yeah, it is demanding and, at the same time, I like to think that it's kind of generous, too, because the minute you see the video, you know where it's going, you know? You're watching a task. You know how it starts. You know how it will end. And I think there's something about a durational work that gives you an outline of what is going to happen that can actually be transformative, because then it allows you to settle into it. So you're not on the edge being, like, "Okay, when is this going to end?" You already know that this is a process, and so you can allow yourself as a viewer to actually be present and in time with it.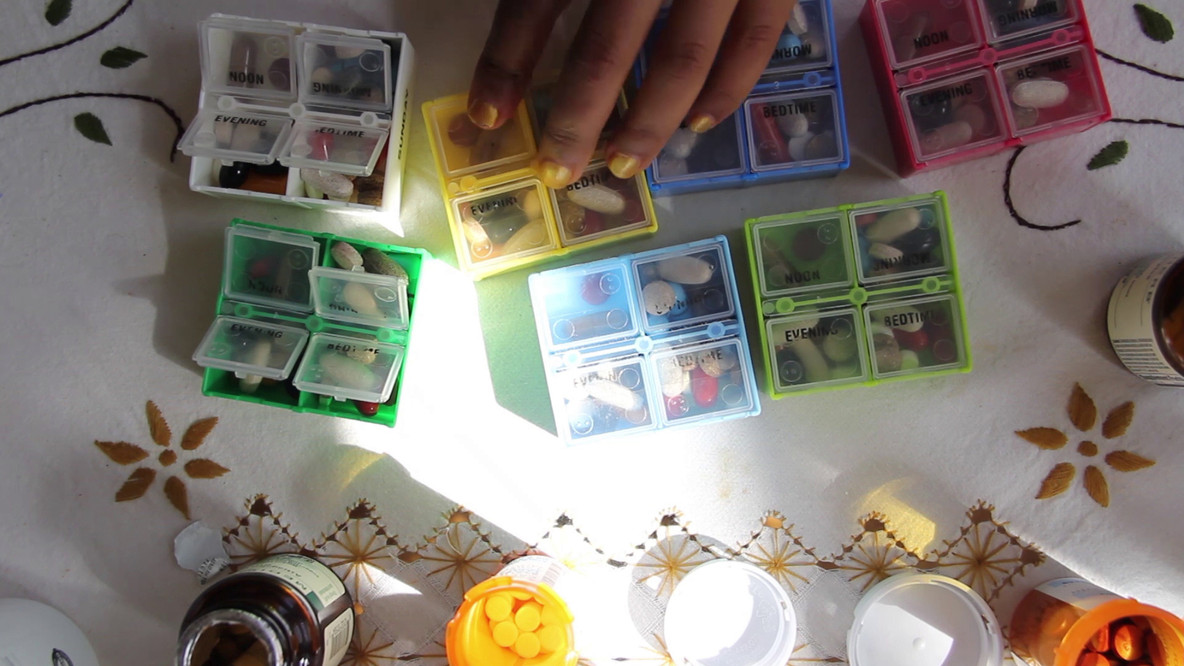 Carolyn Lazard. CRIP TIME. 2018
Can you talk a little about the influence of the filmmaker Chantal Akerman?
When I made this work, I was thinking a lot about Akerman's film Jeanne Dielman, and how it is also an incredibly slow durational work, but also narratively driven, which is really different from my work in some ways.
But what I loved about it is that it also has this relationship to real time, and the domestic—the main character is cooking and cleaning and doing all of this domestic work, and she's also a sex worker. I think the work that disabled people do to live is also related to these other kinds of work. And in some ways, the film was instructional for me in terms of how to explore these kinds of unseen, hidden, underemphasized, exploited, uncompensated forms of labor—these kinds of work that are not recognized as valid. And in her film, Akerman is like, you don't have to explain it, you can literally just show it. You can actually force somebody to be in the real time of domestic labor and be like, "Damn, that's a lot of work." And maybe you can't really come to that revelation until you're stuck watching it in real time.
So I think part of cinema's power is actually forcing us to sit with it because durational work can be unsettling. And the reason why it's unsettling is because it doesn't allow you to escape the object that you're engaging with. It forces you back onto yourself in some ways and then you're anxious. You're stressed: "Why am I sitting here? When is this thing going to end?" And all of a sudden, you and your experience become an integral part of the work—there isn't any more separation.
When you sent me a few notes on the work, I became interested in some of the phrases you're using around CRIP TIME. You said it's slow. It's nonlinear. It can make you feel very old quickly. It can snatch you out of a normative timeline, loop you back around, again and again, which kind of reads like a set of different manifestos. And so I'm curious what your definition of CRIP TIME really is. How are you thinking about that particular title or that phrase?
For me, what's been revelatory is the way in which disability pulls you out of the normative progression in which we generally understand ourselves to experience dependency in the beginning of life when we're babies, and again at the end of life when we're elders. But also, there's no way that you can live in the world without experiencing harm, without experiencing pain. So maybe we need to reconceptualize or reconceive our relationship to these kinds of vulnerabilities, instead of seeing them as being exterior to a normative timeframe. Maybe we need to find a way to think about the progression of life in which experiences of vulnerability are integrated into it. And as shared experiences that we can organize around and find joy in.
Dependency is something that we all experience: we are all dependent, we need each other, we need others. I think that is really a huge part of my understanding of what CRIP TIME is. It's time shaped by dependency.
Media and Performance at MoMA is made possible by Hyundai Card



Major support is provided by the Jill and Peter Kraus Endowed Fund for Contemporary Exhibitions.



Generous funding is provided by the Lonti Ebers Endowment for Performance and the Sarah Arison Fund for Performance.