Why Did You Stay? On Maroun Bagdadi's Landmark Film Little Wars
The author reflects on his own connection to a 1982 film about Lebanon's civil war that continues to resonate today.
The first time we see Nabil Srour, the war photographer, chronic liar, and part-time drug dealer affectionately known as Abou el Nobol, he is running across sniper fire in Beirut to get American journalist Mitch Dubin "the shot he needs." Nabil (played by Nabil Ismaïl) is one of three main characters in Little Wars (1982), by Lebanese filmmaker Maroun Bagdadi (currently available for streaming on Netflix). Bagdadi is perhaps Lebanon's best-known director, a cinematic chronicler of the nation's debilitating civil war (1975–1990) who committed himself to the subject in all of his five features. In effect, Bagdadi's filmic project was the war. He sought to represent it over and over again, as a series of small and big wars, and to highlight the absurdities of life under it.
Little Wars screened in the "Un Certain Regard" section of the 1982 Cannes film festival, which highlights innovative film styles, and was mostly shot with an American crew—including cinematographer Edward Lachman—provided by the American director Francis Ford Coppola, for whom Bagdadi had worked years earlier.[1] The plot of the film revolves around a love triangle. Soraya (Soraya Khoury, Bagdadi's wife) is a bourgeois Christian living in West Beirut—"their turf," as her uncle says, referring to the Muslim majority on this side of the Green Line—who is in a relationship with Talal (Roger Hawa). Talal, a scion of an old Feudal Lebanese family, is forced to leave Beirut for the Beqaa Valley after his father is kidnapped, returning home to a mother who implores him to "forget about Beirut and its rotten atmosphere," and take up his responsibilities as a family patriarch.
After Talal leaves, Nabil meets Soraya and falls in love, attempting to woo her with fabricated stories of his military exploits, calling from a bar called "American Dream" and asking his friends to fire their guns over the Rod Stewart jukebox to feign being out on "the Front." Talal grows distant with Soraya, preferring the freedoms of playing king. In a bout of the war-abetted delusion that permeates everything in the film, Soraya decides to kidnap a prominent Lebanese businessman in order to exchange him for Talal's father and thereby win back Talal, using flattery to enlist Nabil in the effort. Aided by Nabil's jama'a (group), the pair grab the businessman at gunpoint and take him to an abandoned club where, having finally seized the autonomy she has been denied by Talal and by the war, Soraya is set free and lets herself dance, the colors of the room reflecting off its mirrored walls.
This is hardly the only example of Little Wars's high melodrama: at later turns, Soraya runs across the Green Line in high heels and a Fred Perry sweater; and in the final scene, the two male suitors square off in the Beirut market in a hallmark of Arabic soap opera conventions. In Bagdadi's hands, these moments emerge as a sad satire. Nabil, for all his masculine bravura, is a tragic character, part of a lineage of Bagdadi's men who are portrayed as traumatized and unraveled by the war.[2] After Nabil loses a major drug package, he gets in deep with the city's dealers. With his various enemies closing in, Nabil descends into paranoid mania, deciding to photograph himself for martyr posters—maybe to fake his own death or maybe to come to terms with it.
Bagdadi is tackling this despair as part of a larger project of understanding how the Lebanese people responded to war. Consider his earlier feature, Whispers (1980), a documentary account of life during the civil war, featuring vignettes of different Lebanese citizens—farmers, students, hoteliers—interviewed by poet Nadia Tueni. Whispers occupies itself with those who did not leave, but Little Wars attempts to answer an upstream question: why did they stay? After the explosion at the Beirut Port this August, this was a question I found myself asking about my own family—most of whom live in Beirut—not so much in response to this particular horror, but to all of it, to everything Lebanon has suffered for so long.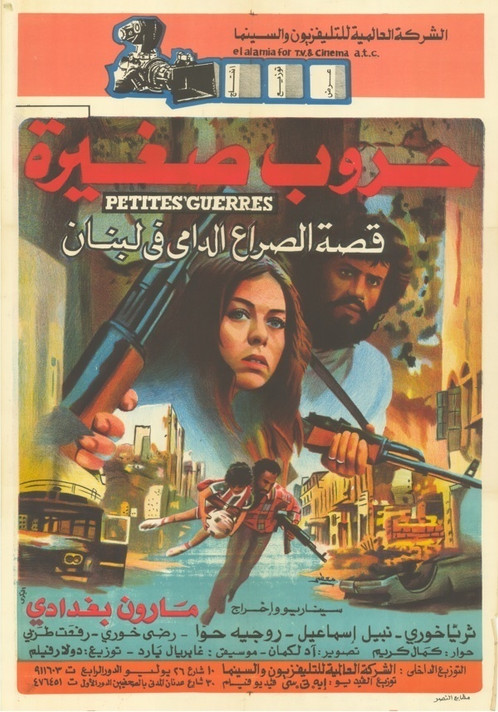 Film poster for Little Wars, 1982
The answer to this is complicated. Like Tomás Gutiérrez Alea's anticolonial classic Memories of Underdevelopment (1968), Little Wars begins at an airport. Soraya is saying goodbye to her father, who is leaving Lebanon for France. She will be pressed on the issue of staying throughout the film: by her doctor ("Tell me, why did you stay in Beirut?"); by her best friend Joyce ("I'm going to miss you, come with me!"); by Talal's friend ("And you, why are you staying?"). Soraya, for her part, replies, "So what, are all the ones staying heroes?"
The twin concepts of "staying" and "leaving" are common tropes of post–civil war cinema, but in Bagdadi's view, those who leave don't ever come back, which creates a fissure between the leaver and the left behind, between life on one side and (in this case) Beirut on the other. Bagdadi's views here are perhaps informed by his personal history. In Beirut Oh Beirut (1975), his intimate first feature, Bagdadi used his characters to showcase his own political evolution, from the complacency of the French-educated Lebanese-Christian upper classes to a more revolutionary spirit. Rejecting his past, he moved to West Beirut from East Beirut, and directed a flurry of documentaries about the war—among them his films about the South, The South Is Well, Assure Us (1976), The Steadfast Majority (1976), and We Are All for the Homeland (1979). But later, Bagdadi's politics re-aligned more closely to power, and he found himself spurned by his old radical colleagues. In the mid-1980s he left for France, where he continued making films from "exile."[3],[4]
Bagdadi's films are filled with incredible beauty. A snowball fight in Beirut Oh Beirut or images of the ruined city in Whispers are hard to forget. But it is the abject that stands out in Little Wars. In one of the film's opening scenes, the main characters are gathered at the wake for their friend Foad, who died by suicide. A photo of Foad is passed around and Bagdadi chooses a picture of himself to be the stand-in—Talal later reflects on that picture: "It's unbelievable how defiant his eyes are. And when? When he was shattered, defeated." Bagdadi himself would die just 10 years later after falling down an elevator shaft. He barely glimpsed the end to the very war that so consumed his art, and Lebanon's burgeoning "reconstruction era," which would cause only more pain. In The Ruin to Come (2016), a book of essays by the Lebanese public intellectual Walid Sadek, Sadek reflects on the death of Bagdadi in 1993:
For a while his death galvanized left wing cultural politics: He was eulogized as a martyr of an extended memory murdered by an artificial rush towards amnesic reconstruction; grieved for as the victim of flagrant privatization of public institutions by banks and transnational corporations and extolled as the cinematographer whose dedication to his mercurial city was truncated by a decreed return to a normality impatient with mourning. . . . Martyr, victim or mere casualty, his death was written as a loss in a city expropriated by a partnership of financial entrepreneurs and warlords, and made meritless.
Sadek evokes the wreck that came for Beirut after the war: the American-backed neoliberal capital projects under the now-assassinated Prime Minister Rafik Hariri; the Hezbollah parastate in the South; and the Syrian proxy-complex to which so many Lebanese political leaders swore fealty. To me, the explosions at the Beirut Port this summer are inseparable from these developments, part of a long arc of everything that has gone wrong from the war until today.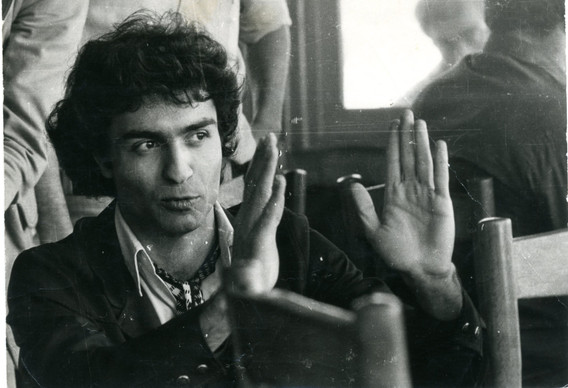 In a recent review of the film for the New Yorker, Richard Brody writes that Little Wars's "only element of hope is in the title card at the beginning—the claim, and the wish, that it's a film not of the present but of the past." But like a ruin, this film is the present, it is Beirut today, it will always be Beirut. Attempts to circumscribe traumas as "past" implicitly suggest a clean slate upon which a future can be built, detracting from the material urgency of that present. We shouldn't be afraid of that catastrophic present; it's where lives are lived. And it's also why people stay.
Kaleem Hawa has written about art, film, and literature for the New York Review of Books, The Nation, Times Literary Supplement, and other publications.






Notes
[1] Roy Armes, Roots of the New Arab Film (Indiana: Indiana University Press, 2018).
[2] Lina Khatib, "Violence and masculinity in Maroun Baghdadi's Lebanese war films," Critical Arts (Volume 21, Issue 1, 2007), 68-85.
[3] Abdo Wazen, "War as Subject for Cinema," al-Hayat, December 15, 1993.
[4] There, his projects became decidedly more mainstream, with the most famous being the Jury Prize–winning Out of Life (1991). That film, which depicted in lurid detail the kidnapping of a French photojournalist accused by Hezbollah of being a spy, was inspired by the 1987 kidnapping of Roger Auque as part of the Lebanese hostage crises that spanned much of the civil war. But if its intent was to highlight the senseless violence inflicted on an innocent during the war, the film aged poorly; in 2014, an ailing Auque would pen a deathbed autobiography mea culpa, titled In Secret Service to the Republic, in which he admits to having been a spy for the Mossad and CIA after all.