Conservators and curators chronicle the making of Josh Kline's Skittles.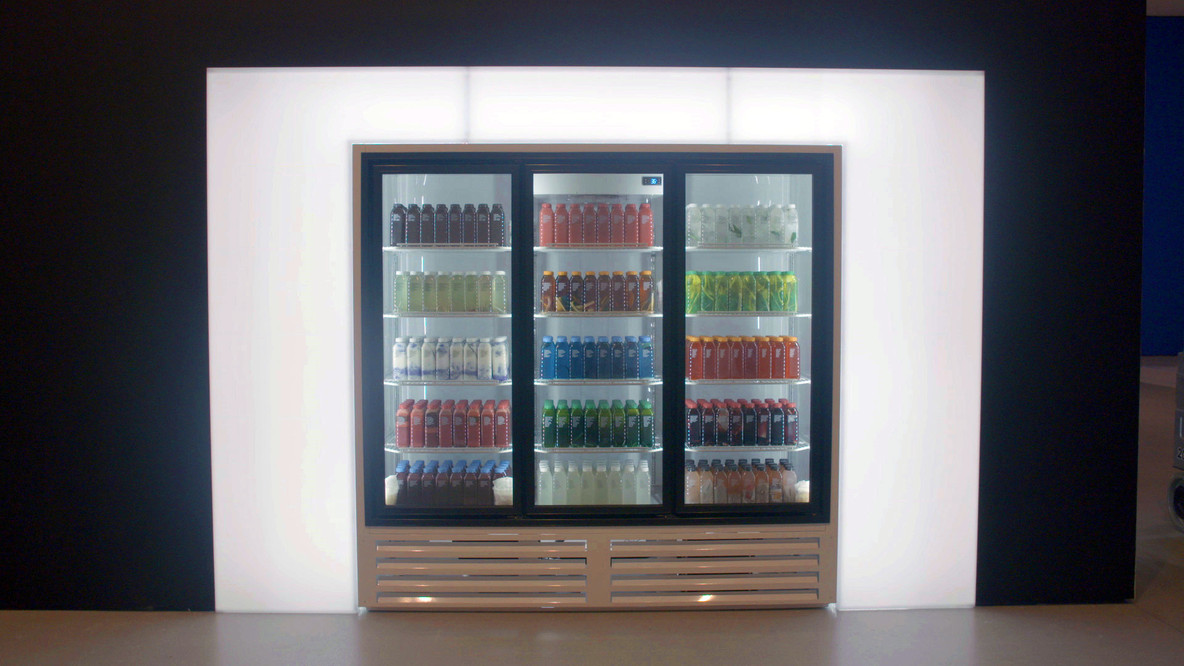 Josh Kline's Skittles (2014), fully stocked
"The work comes out of thinking about Downtown New York's class problems and the meaning of $15–$20 luxury juice in the wake of the financial crisis."
—Josh Kline
Josh Kline's Skittles is a light box–encased commercial refrigerator. Behind its glass doors, 15 different "juice" flavors line its shelves, as if prompting those passing by to take one. But each bottle has a surprising list of ingredients—a purplish-brown slurry called "Supplements" features Rogaine, blueberries, and Viagra, while "Big Data" contains fragments of Google Glass eyewear, shredded Verizon phone bills, Omega-3 fish oil, Purell, and porn. "Minimum Wage" mixes Mr. Clean, money orders, medical scrubs, phone cards, and french fries. Each formula evokes the economies of goods, services, and technologies that surround us, infecting everything from our diets to our sex lives.
Kline and his studio manager, along with MoMA staff, mixed these indigestible drinks in the Museum's conservation lab for the exhibition New Order: Art and Technology in the Twenty-First Century, on view until June 15. MoMA acquired Kline's work in 2015, yet this is the first time it is on view. Skittles has to be made anew each time it is shown, and it will morph and decay during the course of the exhibition. The ever-shifting solutions suggest the ways in which our bodies have been engineered, chemically altered, and transformed by technologies of consumption.
In this photo essay, Ellen Moody, The David Booth Associate Sculpture Conservator, Michelle Kuo, The Marlene Hess Curator of Painting and Sculpture, and curatorial assistant Lina Kavaliunas capture the process of making and installing a work that requires a recipe for each future iteration, even as many of the work's ingredients are destined to become obsolete.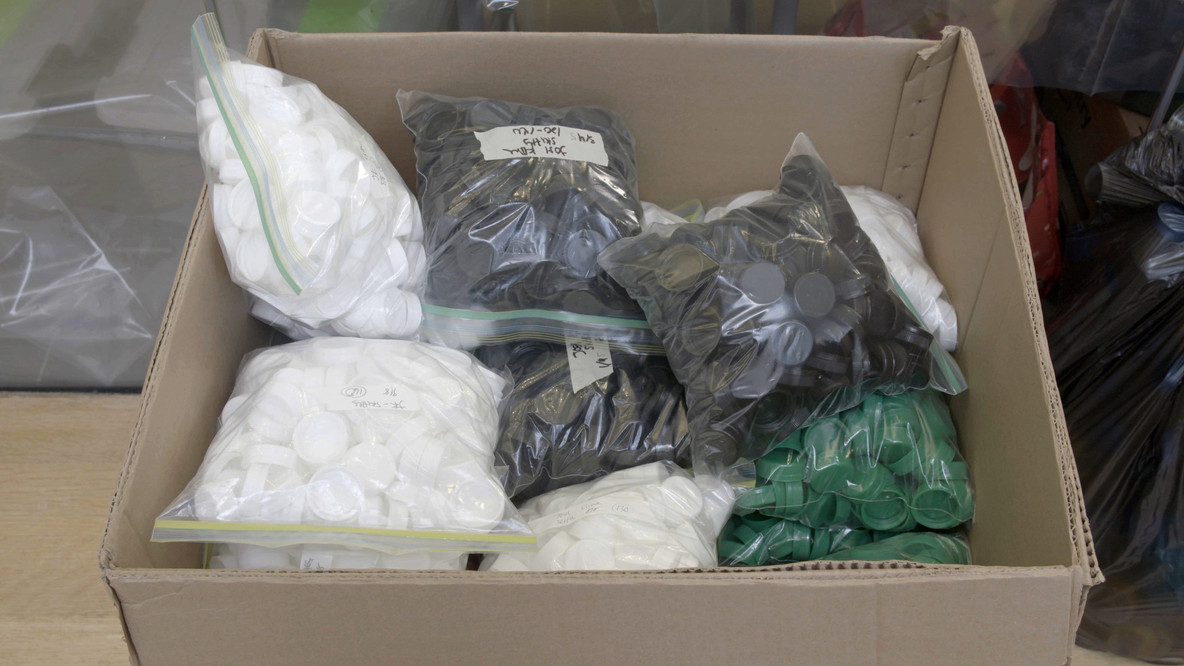 As part of the acquisition of the work, MoMA received bottles, colored caps, a refrigerator, an LED light box, files for the bottle labels, and a list of ingredients.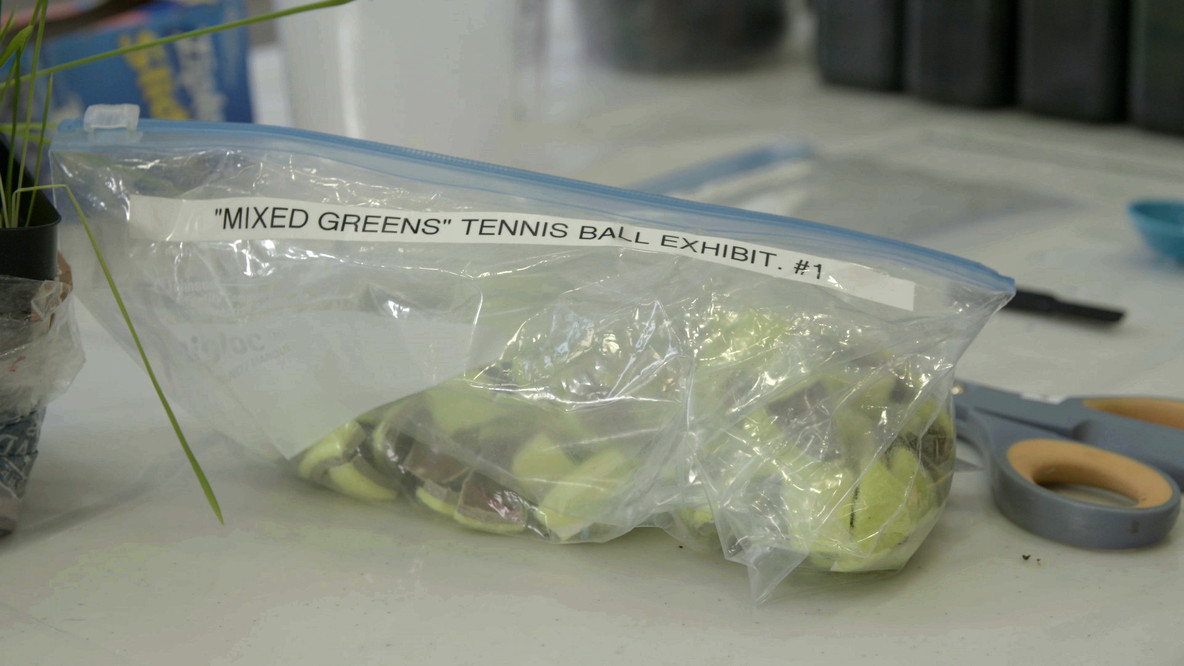 The team identified chemically inert ingredients that could be safely stored in MoMA's warehouses alongside more traditional paintings and sculptures. Things like tennis balls, yoga mats, and Google Glass were deemed stable enough to stockpile.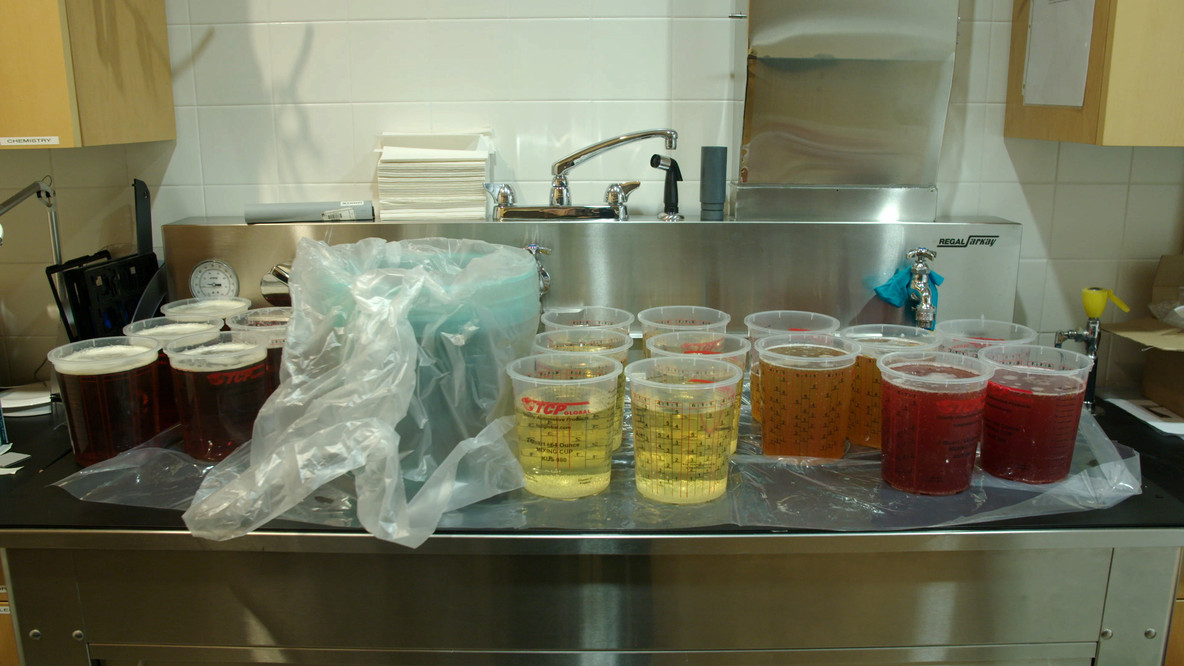 The containers in this image hold all of the carbonated liquid ingredients—including microbrewed beer and kombucha for "Williamsburg" and champagne for "Bottle Service"—for blending into the drinks.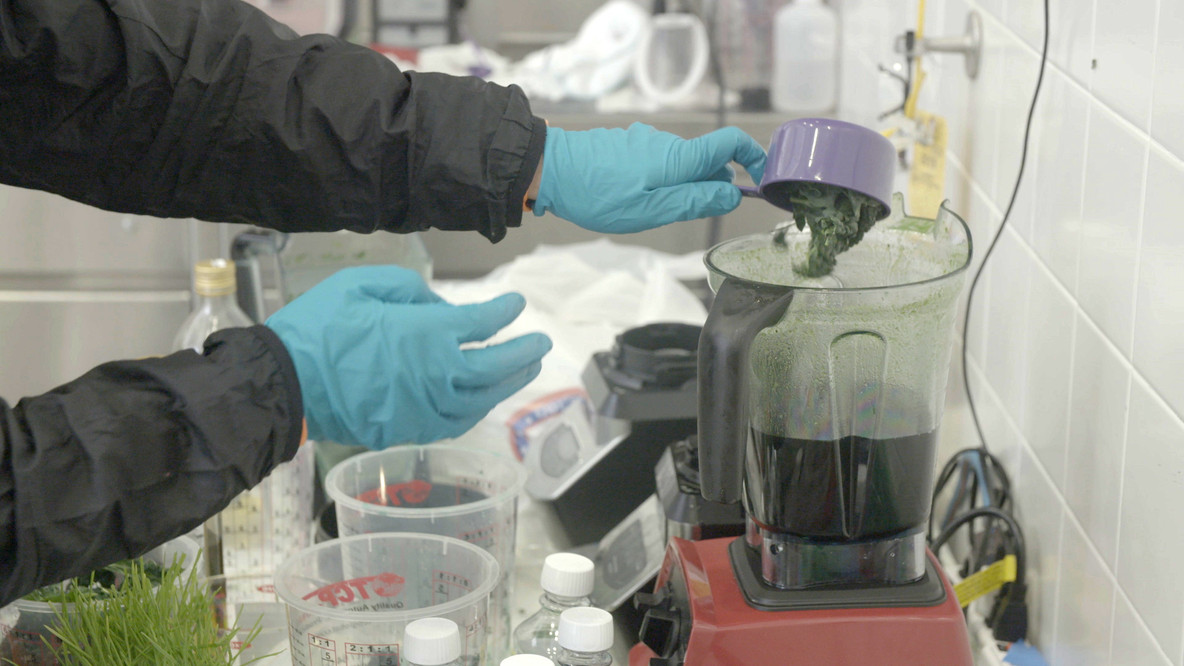 Adding kale to a blender filled with Nyquil for "Mixed Greens"—a combination of baby spinach, baby kale, lacinato kale, Nyquil, tennis ball, wheatgrass, spirulina, olive oil, and dollar bills.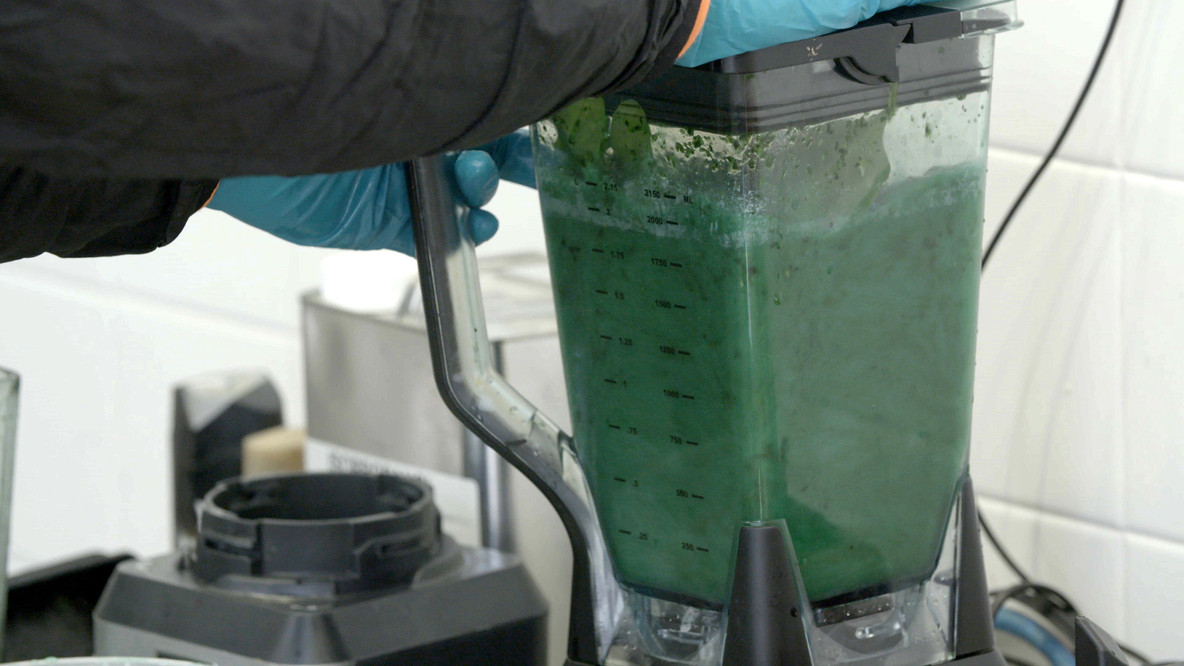 Three blenders were used to pulverize the solid ingredients into liquid form.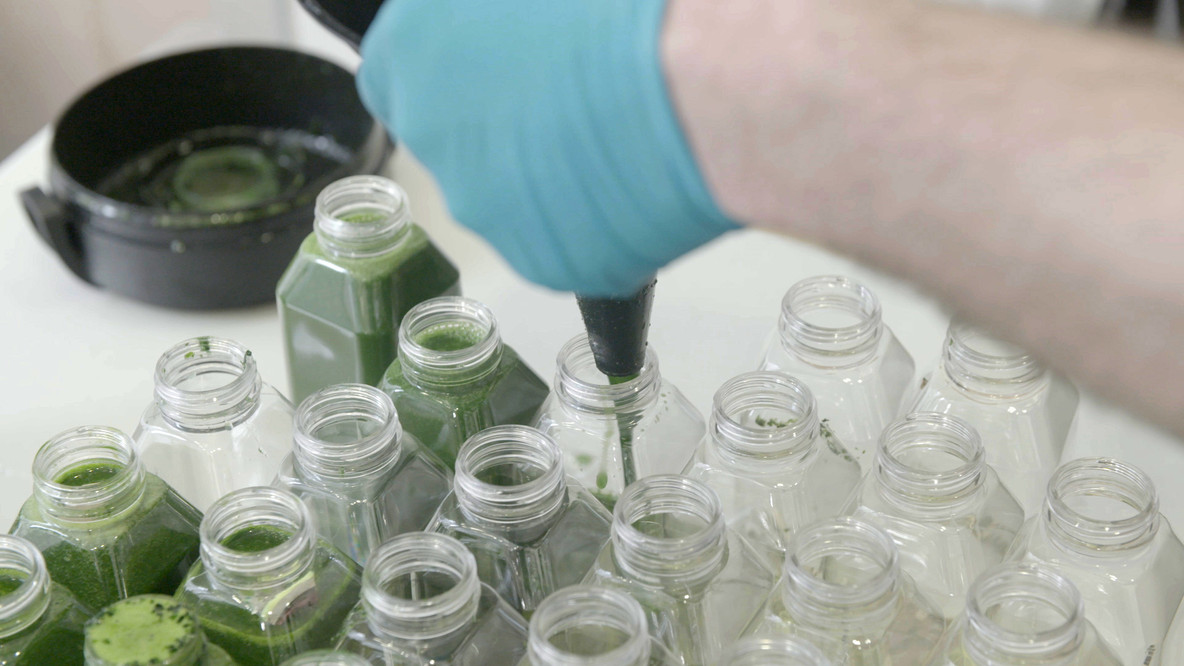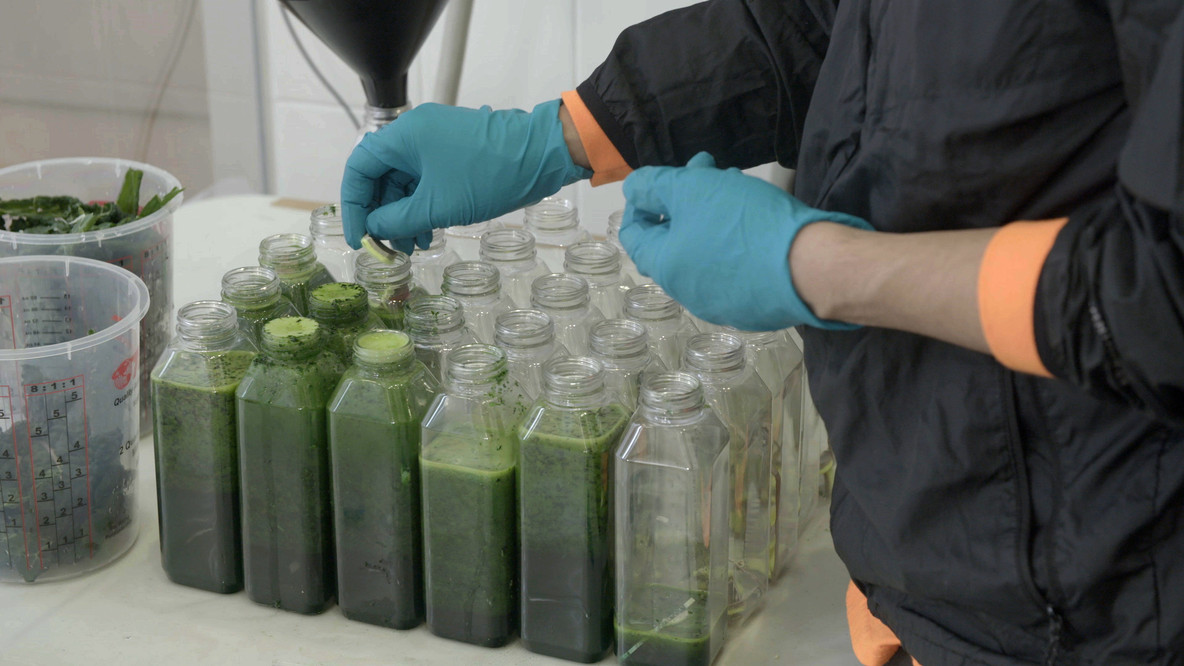 Some ingredients were not blended and were simply added at the very end. Here, the artist places pieces of the cut-up tennis balls.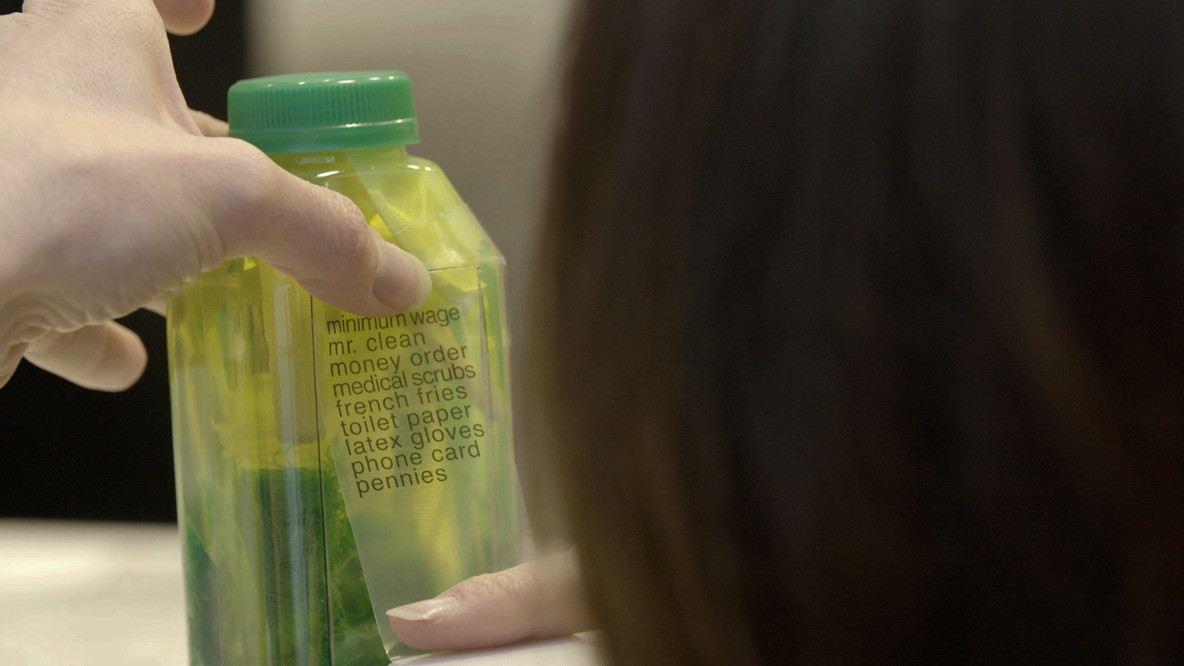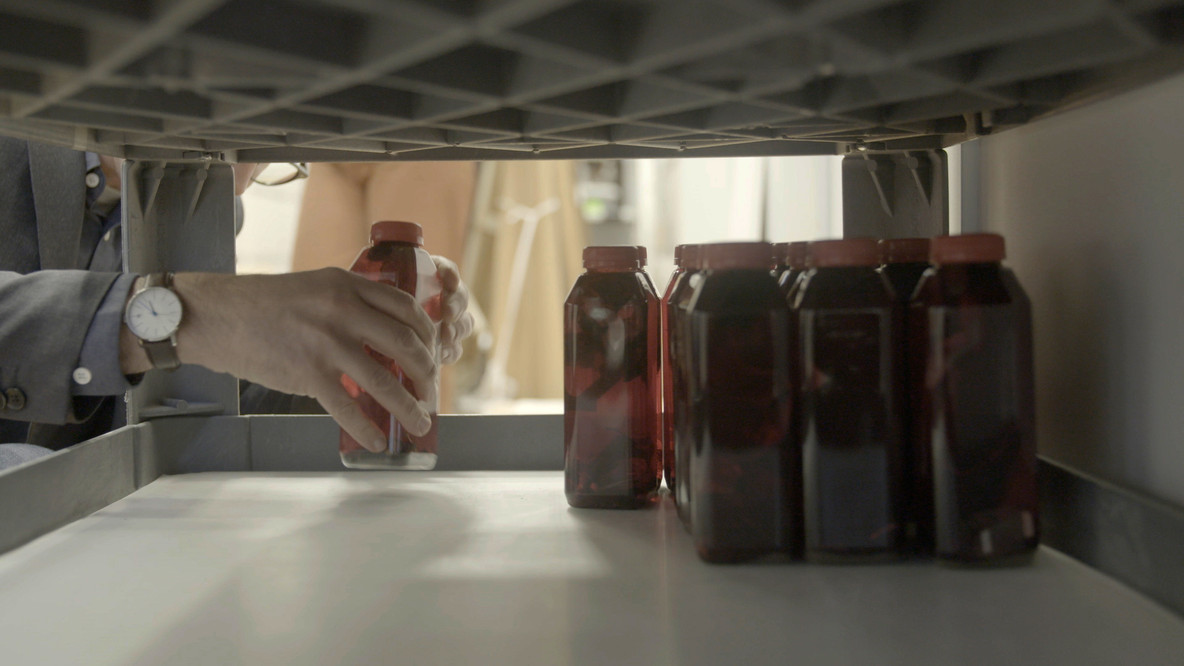 The drink you see here, "Crowd Control," contains pieces of duct tape that are intentionally varied–some segments are wadded and some are kept long.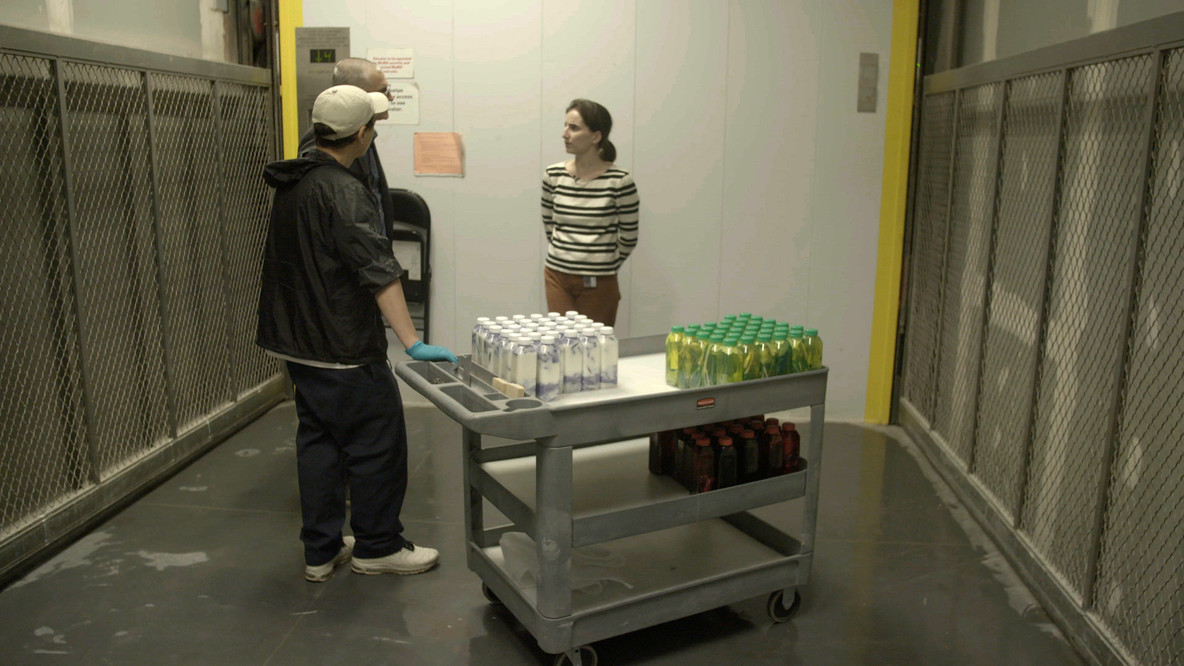 Because proper ventilation and documentation equipment were needed, the drinks were made in the Museum's conservation lab, then shuttled to the gallery in the freight elevator.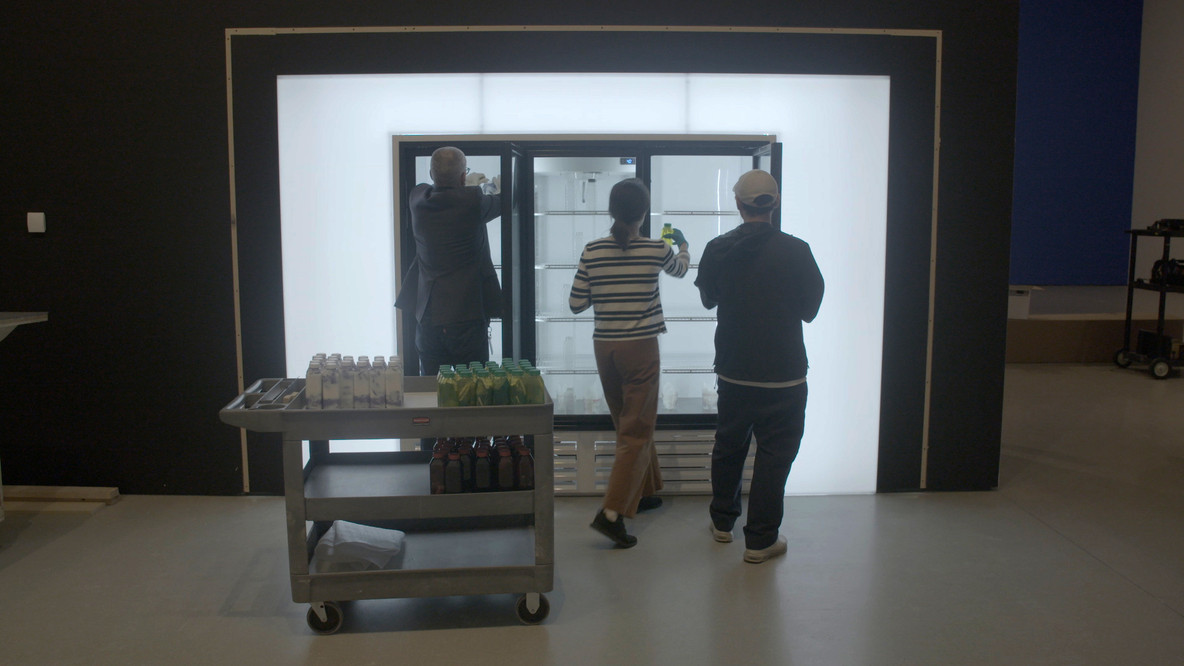 This is the first batch of drinks going into the fridge at the entrance to the exhibition New Order: Art and Technology in the Twenty-First Century. Over five days of installation, an average of three drinks were made per day.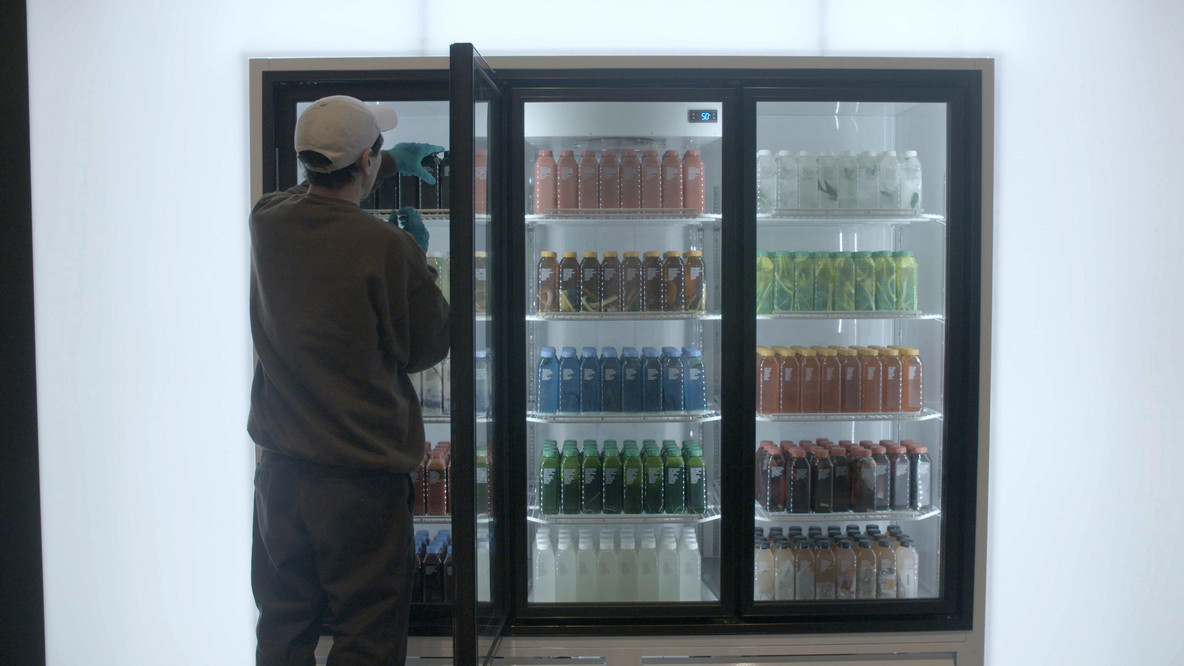 Once the drinks were loaded, Kline styled the bottles so that they look appealing and draw the viewer in. The team is creating a recipe "cookbook" to serve as a guide for future installations.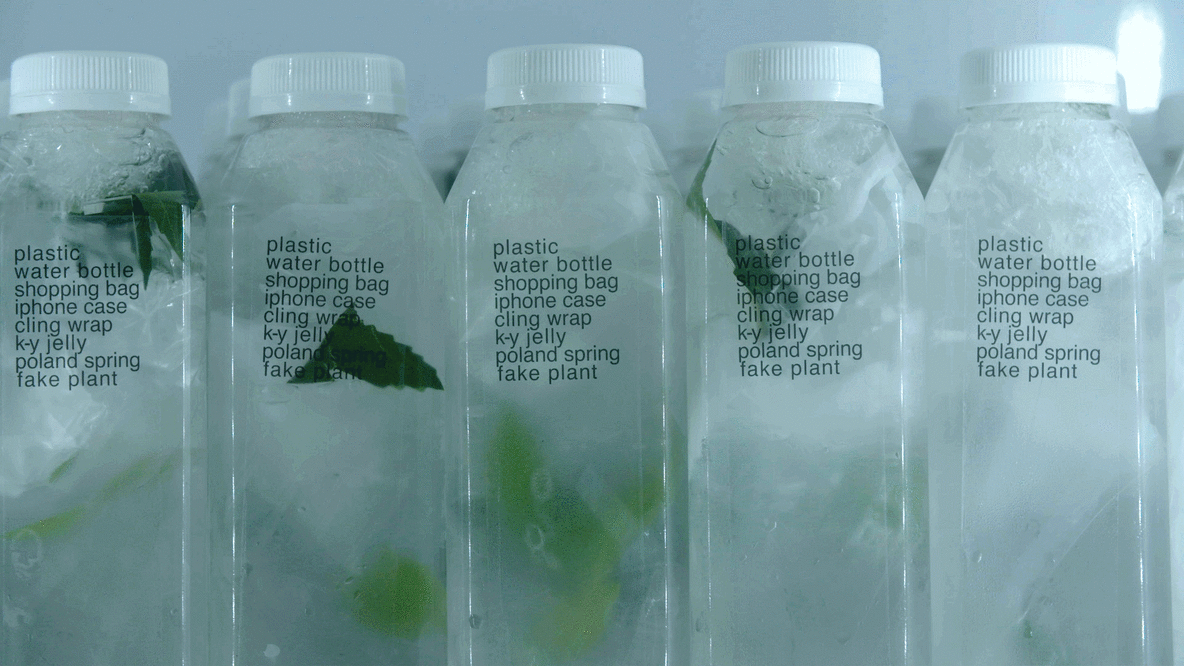 "Minimum Wage," "Condo," "Sick Day," and "Plastic" on display
All images taken from footage shot by Ben Effinger.
Skittles is on view in New Order: Art and Technology in the Twenty-First Century through June 15, 2019. The exhibition is organized by Michelle Kuo, The Marlene Hess Curator of Painting and Sculpture, with Lina Kavaliunas, Curatorial Assistant, Department of Painting and Sculpture. Buy tickets today.