A Close Look at Henri Matisse's Bather
Despite the apparent simplicity of Matisse's 1909 painting, there's more here than meets the eye.
This is our inaugural In Detail feature, in which a curator and a conservator take a close look at an artwork, exploring specific details about its making and meaning that might otherwise be hidden to us.
Michelle Kuo: We're looking at Bather, a work that Henri Matisse made in the summer of 1909—a really exciting and critical time in his life and career. He was visiting with his family in the South of France and preparing for a commission from the Russian collector Sergei Shchukin.
Just a few years before, Matisse had something of a breakthrough with the work Le bonheur de vivre, so by 1908 he was really at the height of his powers. What had happened in those years was an abandonment of divisionism and pointillism. Rather than tiny divided brushstrokes, he wanted to start using larger, more or less flat planes of color that would then cohere into some sort of whole.
For Matisse, color and drawing became totally inseparable. We might think of drawing as making a contour line and then filling it in with color. Matisse throws that out completely. He's experimenting with how to render forms, sensations, and experiences in new ways.
And if we look closely, we can literally see how the contours of this incredible bathing figure get dissociated from the color, and how all the parts of the picture almost seem to hover in motion—the whole picture seems to tremble.
Anny, as our senior paintings conservator, you've probably looked more closely than anyone else at Matisse's moves in this work.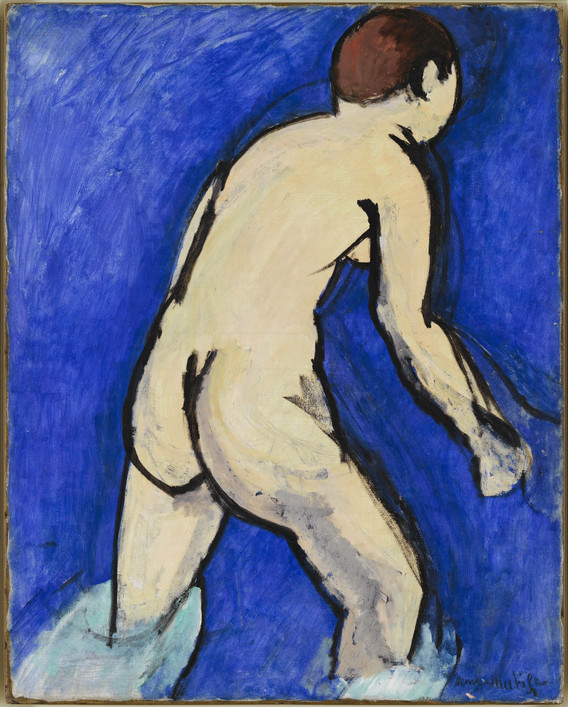 Henri Matisse. Bather. 1909
Anny Aviram: Matisse struggled a lot, in my opinion, with this painting. He always wanted painting to look effortless and to achieve these effects of apparent simplicity during this period. But in reality, you can see how he labored exhaustingly to achieve what he called an "art of balance." What's fascinating about this painting is that the process is very clear here. Even though he wanted this very apparent simplicity as the final product, you see the struggle.
MK: As Matisse was working on the composition, he made many adjustments in pencil and paint to the form and the pose of the figure; he's constantly changing the placement of the bather, modeling the body's volumes, as well as what seems to be water, and adjusting earlier contours with these very long, repeated brushstrokes. All these different campaigns and passes are almost like a dance—which Matisse is also performing in other experiments and in other mediums at the time.
AA: Yes—here, a few months after the Bather, he's doing the commission for Shchukin and makes two paintings titled Dance. Even though the version of the Dance in MoMA's collection is a study, it's a very finished painting. And the one he makes for Shchukin's house is even bolder, when he uses reds.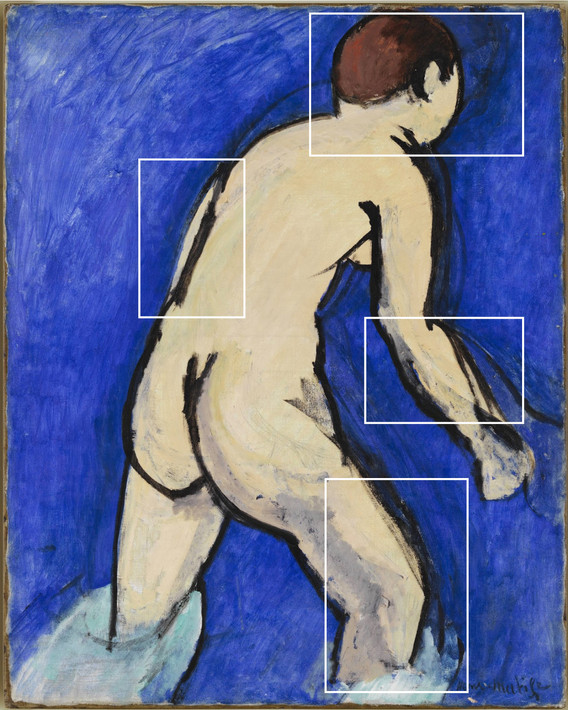 Bather (see section details below)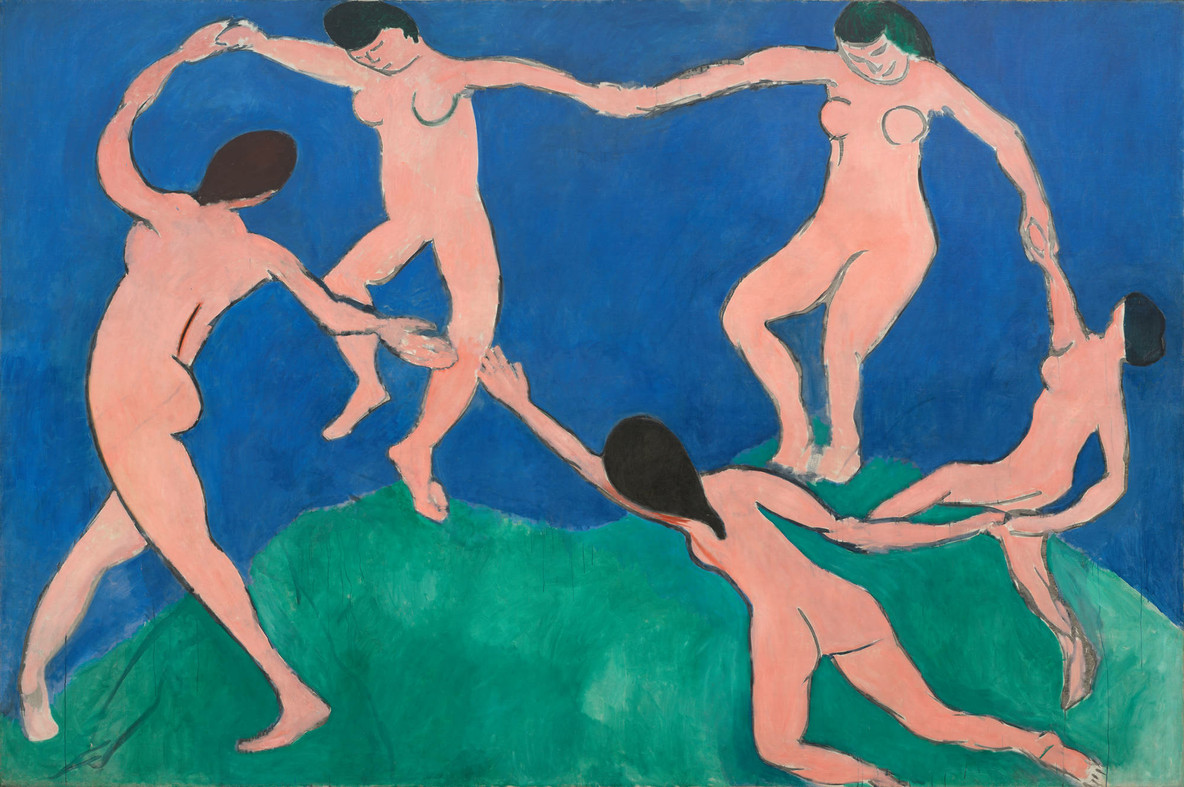 Henri Matisse. Dance (I). 1909
Matisse always wanted his paintings to look effortless and to achieve these effects of apparent simplicity during this period. But in reality, you can see how he labored exhaustingly to achieve what he called an "art of balance."
Anny Aviram
AA: At the time, Matisse was also making a series of bronze relief sculptures. They hang on the wall like paintings and are exhibited in MoMA's Sculpture Garden now. Recently, I was passing by the garden and it made me think, "Wow, here, [in The Back (I)] like Bather, the legs don't actually continue to the ground. They stop at the lower calf."
When we saw all of his changes, we thought, "Well, we should take an X-ray." We realized we needed to do a lot more investigation into the painting, to see if there was another composition underneath. An X-ray reveals different developments in a painting because the pigments containing heavier metals (such as lead white) will absorb into the X-ray more than other pigments and it will register changes. So an X-ray image could show us changes in composition, and further reveal Matisse's working methods [see below]. But, in the end, it didn't give us much more information.
MK: Is that because he was doing so much so quickly—there was so much immediacy to his process?
AA: He left all the evidence here for us to understand his working method, his struggle. And I think he created a masterpiece in many ways.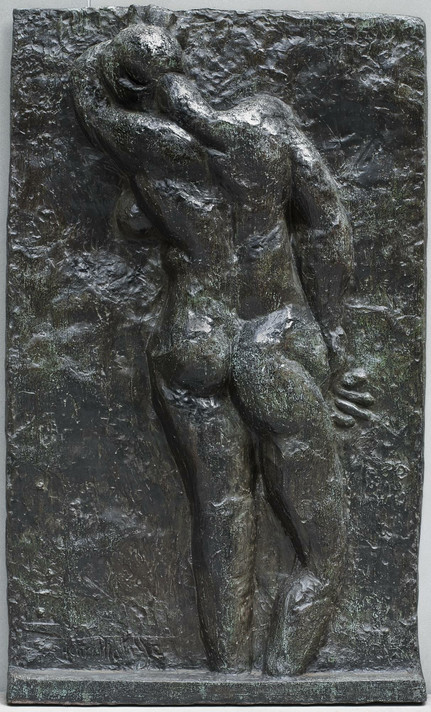 Henri Matisse. The Back (I). 1908–09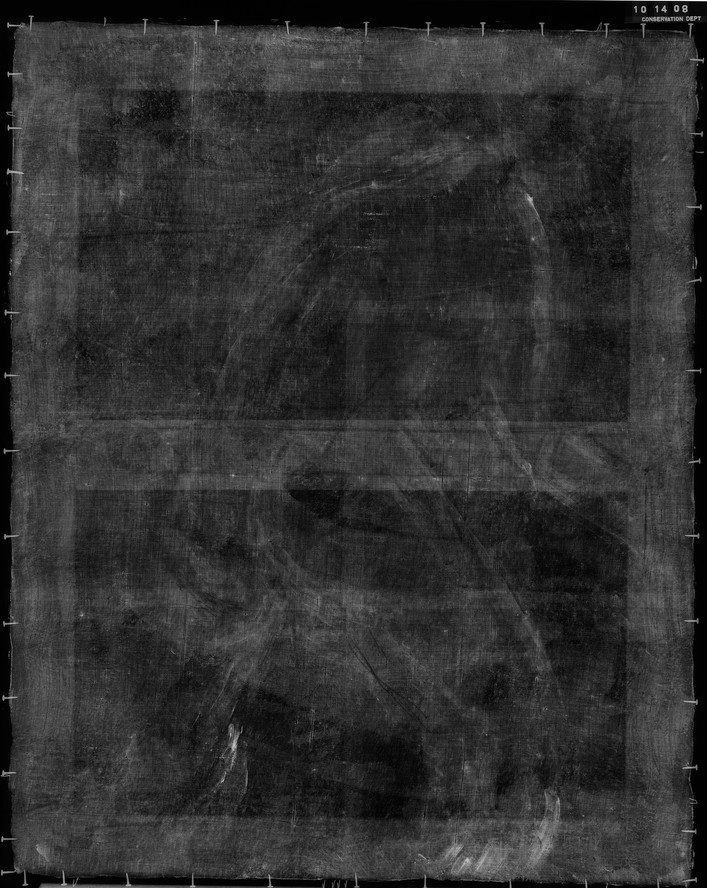 I do not repudiate any of my paintings but there is not one of them that I would not redo differently, if I had it to redo. My destination is always the same, but I work out a different route to get there.
Henri Matisse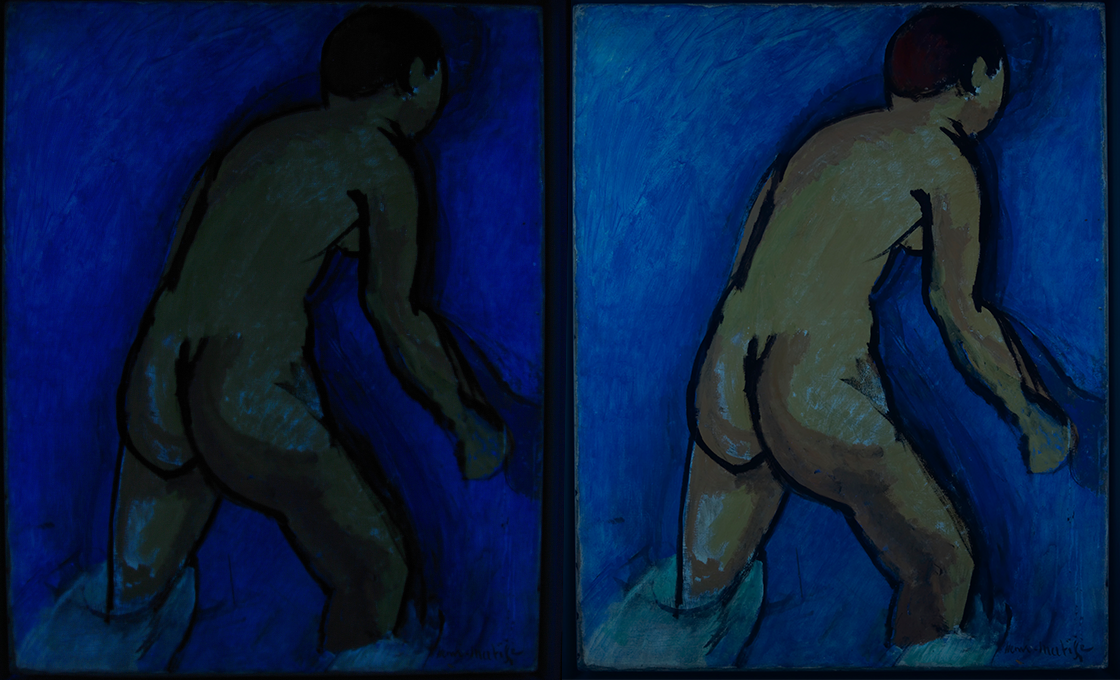 Images of Bather taken using ultraviolet (left) and infrared (right) light
AA: We also used an ultraviolet imaging technique with black light to help us identify any old retouching or different types of varnishes. In the UV image [above left], we see that he put another layer of paint on the buttocks that's darker, which means that he probably applied that paint later on, showing that he kept on reworking this painting.
And we have a special infrared camera that captures all these changes [above right]. In the case of this painting, it shows how we can see the pencil drawing clearly present in the leg, and in the right arm. He's not hiding the drawing, and we know by the presence of the pencil marks that he is drawing a lot, and with a lot of force and passion. The drawing is not just small lines. He's just drawing, drawing, drawing, and then trying to see how he's going to do the shadow.
You can already see how the drawings are done with force and how he's layering the paint. In the X-ray and in the infrared images, you can discern the different paints. In the torso/body/head, there's dark color and then he puts in lighter flesh tones. He's struggling with the volumes here, too. So you see the background and then the flesh tones. And then you see a layer of dark paint, maybe it could have been blue, and then he goes back with lighter colors.
MK: And in the crook of the knee, the black line is almost totally separate—the contours are done at the end, after the flesh color—reversing what we normally think of as the order of drawing an outline, then filling in.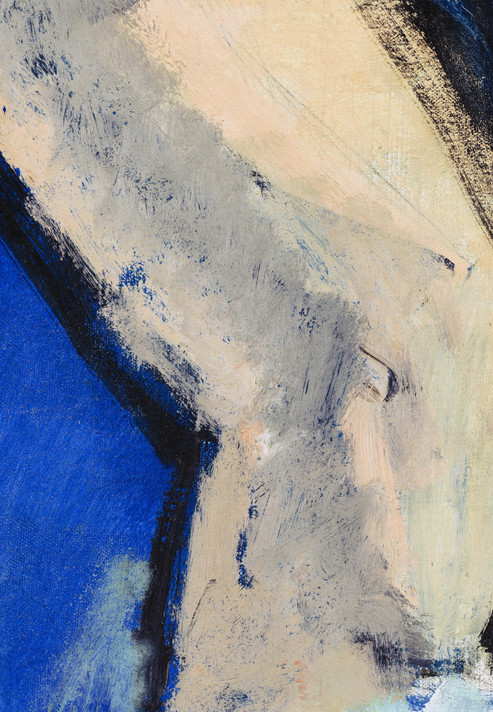 Bather, detail of figure's knee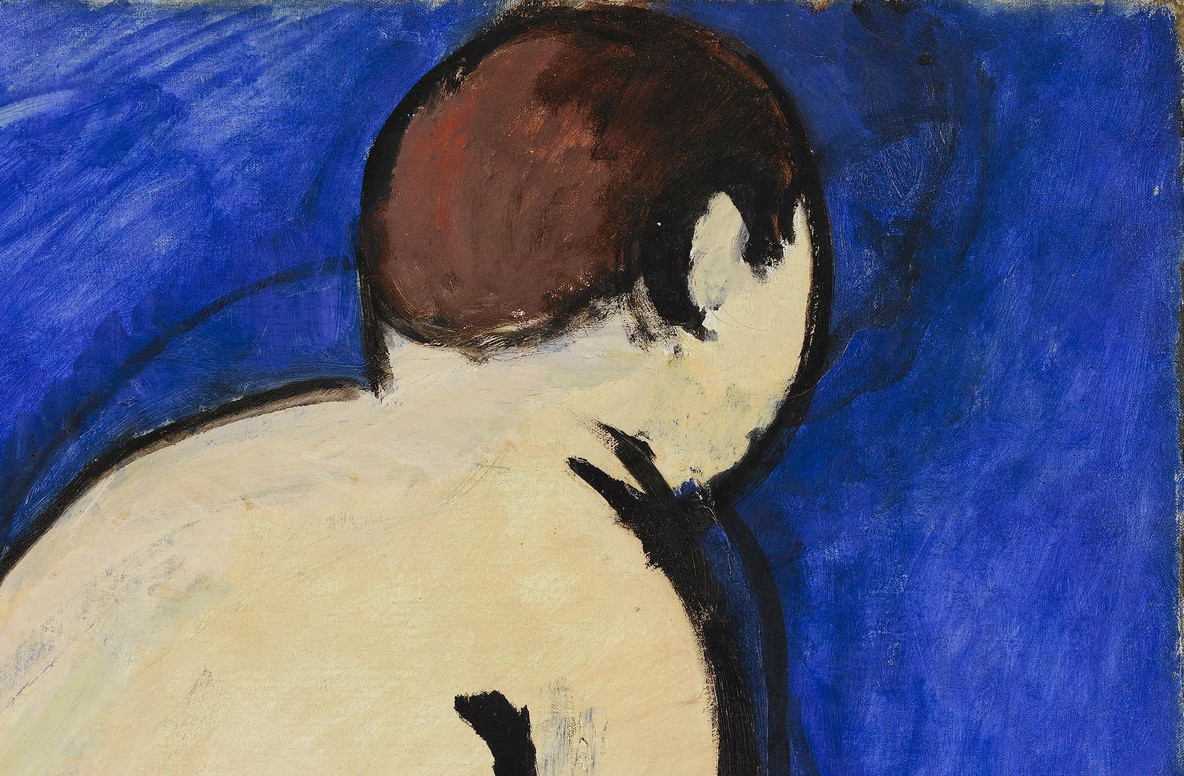 Bather, detail of figure's head
AA: You can tell that the face had a different profile, too. The face appears to be looking more down, gazing down, and then the shoulder was higher, like the figure was bent over a little bit more. The right arm is reaching forward but then Matisse decides to bring it back more.
MK: It's almost like in his woodcuts—where the density of marks would sort of radiate around a figure. Here, the blue is denser around the figure and then it starts to peter out, like it's escaping a center of gravity.
What you're saying is so incredible, Anny. Matisse had this illusion of effortless simplicity, but he also wants to show us how hard he worked. And so, for instance, even though the process is both revealed and effaced in the Bather, you don't even notice how the bather's hand is literally dissolving and totally unfinished.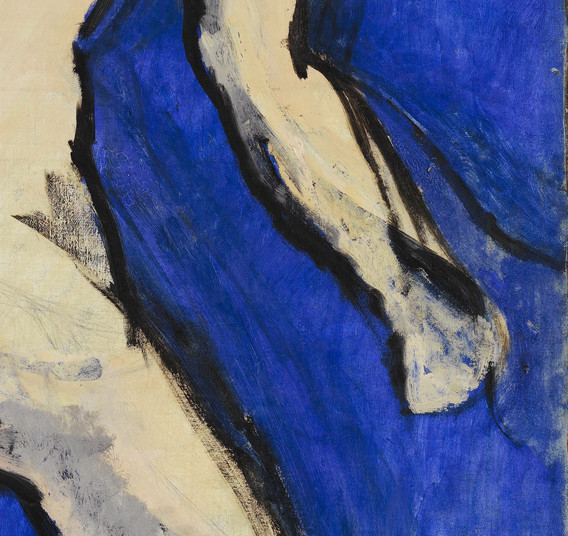 Bather, detail of figure's arm
Matisse is not painting an object, but the sensation of that object or that experience.
Michelle Kuo
MK: Later on, Matisse would exhibit photographs of himself at work with previous stages of a finished painting to just try and demonstrate to the audience, "See, I really did do a lot of work on this!"
You get the sense that the whole image is so tactile. There's this sensation, not just of what water looks like, but the feeling of wading through water, like some sort of pull or resistance. Matisse always paid attention to all the senses. The famous story is that when he wanted to paint oysters, he needed fresh ones—he would continually replace the oysters while he was painting them, just so he could smell them and have this total experience of the thing that he was trying to paint. It's not painting an object, but the sensation of that object or that experience.
AA: In the upper right, you see how he's trying to make a sort of circular motion going to the left, and to the right. And then he made small little drawings going to the bottom. It's possible that he did these drawings, and then either erased them or quickly covered them with paint.
MK: I think Matisse is always thinking about the totality of the surface to be covered, so what we're doing right now is almost counterintuitive! Because Matisse would never want you to look at a painting part by part in segments. He's always hovering over the whole picture. You see film footage of him almost dancing with his hand over the entire blank field before he even starts to lay down any marks.
AA: When you see how he makes this passage, it's so complex. On the other hand, it looks like it was just one color, and done in one second—very simple. But once you start looking, even in the paintings that appear very simple, the struggle, the complexity, is always there.
MK: I think that struggle writ large has been described (by the scholar Yve-Alain Bois) as his desire to render a full presence with total immediacy, which is bound to fail. When you're painting a picture of an external experience or of something else, separate from you, it can never be totally immediate—but that's what Matisse wanted. He's always going to have that catch-22.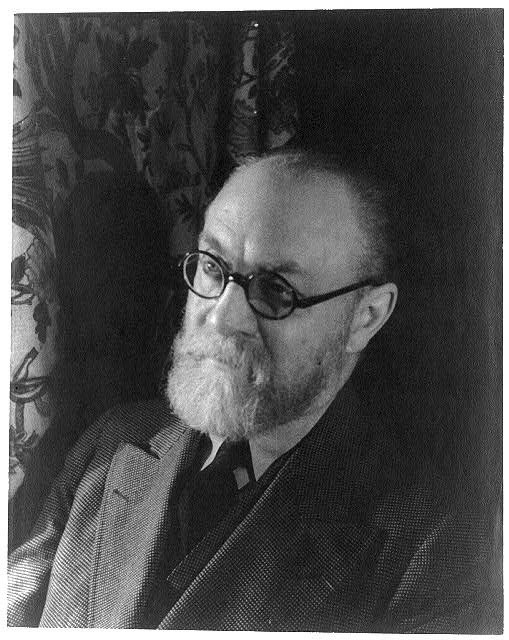 Carl Van Vechten. Portrait of Henri Matisse. 1933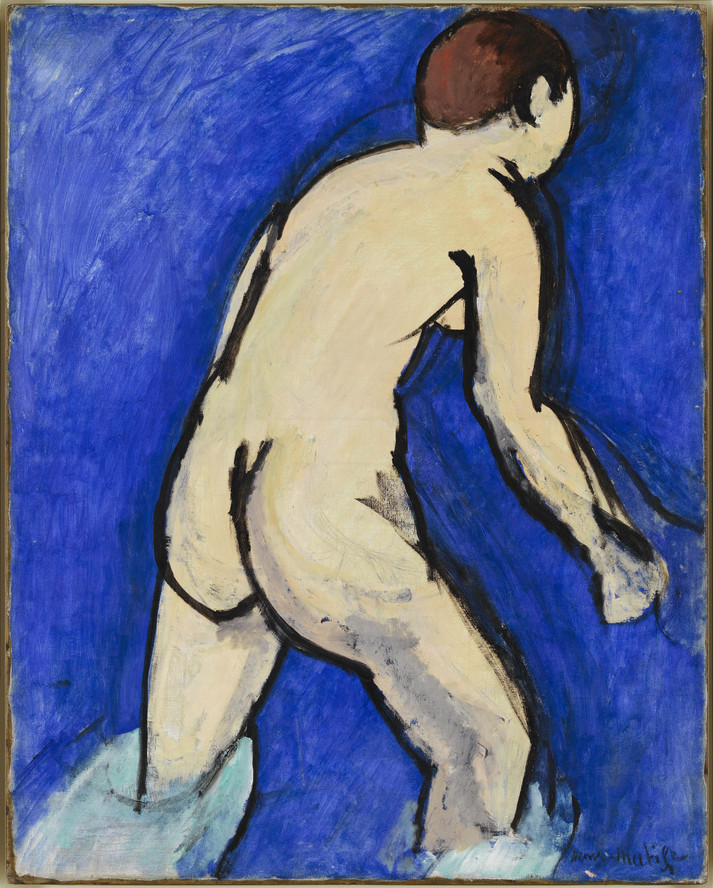 MK: To go back to the total composition, you see how everything is getting distributed. Your eye can never rest in one place. As you've noted so interestingly, Anny, the legs are cut off and then these waves of water are pulling down. I wondered if you could talk about the distribution of the blue and this lighter blue, which is a different pigment, right?
AA: When he mixes that ultramarine blue with a little bit of black, it appears to be a different color. He uses more pigment or he dilutes it. In the upper left corner, where you see the blue looking very light, he's diluting the paint.
Bather, detail of figure's left leg
This was an opportunity for Matisse to really experiment and, in some ways, go for broke.
Michelle Kuo
AA: Here [above], you see how thin the original canvas is because you see the threads going in different directions, and he applied the white priming layer very thinly. Then he applies this aquamarine blue, mixes it with white, and this area is complete. There are no changes. It is what it is. He wants to make a distinction: That's the water. The rest is not the water. He does add some yellow and a tiny bit of red in very, very small amounts, just to shade the flesh tone of the body.
MK: He's able to do so much with so little, such a limited palette, very few colors; and he even uses, as you've discovered, different types of sheen, areas alternating between matte and glossy, thickly worked paint and near translucence, to convey an astonishing range of volume and light and hue.
AA: The Bather is a small painting that allowed Matisse to experiment more. When he painted larger canvases, it was more difficult to experiment with so many details, because as you say, you have to always view those from a distance.
MK: Size and scale are so crucial to his work. The other thing that people say about him is that no matter the size of the picture that Matisse makes, it always feels big, buoyant. It's part of that swelling or expansive sensation. I think you're absolutely right—this was an opportunity for him to really experiment and, in some ways, go for broke.