Laura Brodie explores Confederate monuments, and how Kara Walker undoes these long-revered symbols of the South.
I used to blame Queen Victoria for all the Confederate monuments.
In 1861, when America descended into its most devastating bloodbath, Victoria suffered her greatest tragedy. Her husband, Prince Albert, died suddenly at age 42, launching Victoria into a lifetime of widow's weeds and memorial building. The results included Albert's monument in Hyde Park, the Royal Albert Hall, and the "Albertopolis" cluster of museums in Kensington, along with numerous Albert squares, streets, clocks, plaques, statues, and army bases. Charles Dickens famously lamented, "If you should meet with an inaccessible cave anywhere…to which a hermit could retire from the memory of Prince Albert and testimonials to the same, pray let me know of it."
This helps explain why New York's Riverside Park contains the largest mausoleum in North America. The Royal Mausoleum at Frogmore, begun for Albert in 1862, was the standard to match when Ulysses S. Grant died in 1885. So the Grant Memorial Association gathered a whopping $600,000 for Grant's Tomb, and Julia Grant and Queen Victoria visited their husbands' mausoleums until they were entombed beside their spouses—Victoria in 1901, and Julia in 1902.
The 19th-century cult of mourning was still going strong when the United Daughters of the Confederacy (UDC) was founded in 1894 as a Southern memorial association, so I assumed those women's enthusiasm for erecting hundreds of monuments copied Victoria's craze. But then I stood in Charlottesville on August 12, 2017, holding a "Standing on the Side of Love" sign while I watched Confederate and Nazi flags mingling. In the following weeks I learned much more about Confederate statues: how they'd been used to promote myths of a "heroic" Lost Cause; how they'd stood outside Southern courthouses, to cement the rule of white supremacy; how more were erected in the 1950s and '60s, to counter the Civil Rights Movement.
The Royal Mausoleum at Frogmore
But although most post-Charlottesville articles emphasized Jim Crow, I still thought Victorian influences, if not Victoria herself, were key. The foundations for the Lost Cause emerged in 19th-century medievalism, when Tory England became fascinated with myths of chivalry. Those myths transformed Victoria's dead prince into "Albert the Good," while Robert E. Lee became the "Saint of the South." I know because I teach English at Washington and Lee University, where Lee presided after the Civil War, and where the merger of Confederate and medieval myths still causes trouble.
So before the equestrian Lee finally comes down from his pedestal on Richmond's Monument Avenue, it's important to remember the cultural climate in which that statue was raised. And while W&L's trustees debate whether to remove Lee's name from the institution, those of us in Lexington, Virginia, will continue to contemplate his mausoleum, attached to the campus chapel. Lee's monument and mausoleum illustrate how the Victorians' passion for mourning and medievalism fueled chivalric fantasies manifested in today's white supremacists, who use medieval symbols to brand themselves as modern crusaders.
Meanwhile, Kara Walker's art offers a powerful antidote. Walker's charcoal triptych 40 Acres of Mules debunks myths of chivalry, showing the violence and sexual degradation behind the knightly veneer.

When Albert married Victoria in 1840, he joined a country besotted with nostalgia for a romanticized past. The previous year at the Eglinton Tournament, nearly 100,000 spectators watched wealthy, armored Brits jousting and parading. Bad weather transformed the revels into a muddy mess, but the medieval vogue continued in everything from Walter Scott's popularity to the art of the Pre-Raphaelites. Feudalism, Christianity, and chivalry offered a reactionary alternative to democracy, secularism, and feminism—promising that poverty could be managed through aristocrats' noblesse oblige, and women didn't need equality, so much as protection.
When Albert died it wasn't surprising that Tennyson memorialized him, in his Arthurian Idylls, as "my king's ideal knight…. Hereafter, through all times, 'Albert the Good.'" Henri de Triqueti presented Albert the Good in armor and chain mail in his effigy in the Albert Memorial Chapel, at Windsor Castle. For the Frogmore mausoleum Carlo Marochetti sculpted an effigy of a modern knight, sleeping in his uniform and Order of the Garter regalia.
In Virginia, Robert E. Lee's iconographic fate was similar. When he died in 1870, the Lee Memorial Association commissioned an effigy from Edward Valentine. Valentine was a Richmond sculptor whose Confederate statues included the standing Lee, recently removed from the US Capitol. For W&L's mausoleum Valentine sculpted "Recumbent Lee," uniformed and sleeping in an imagined battlefield tent, his left hand resting on the sword at his side.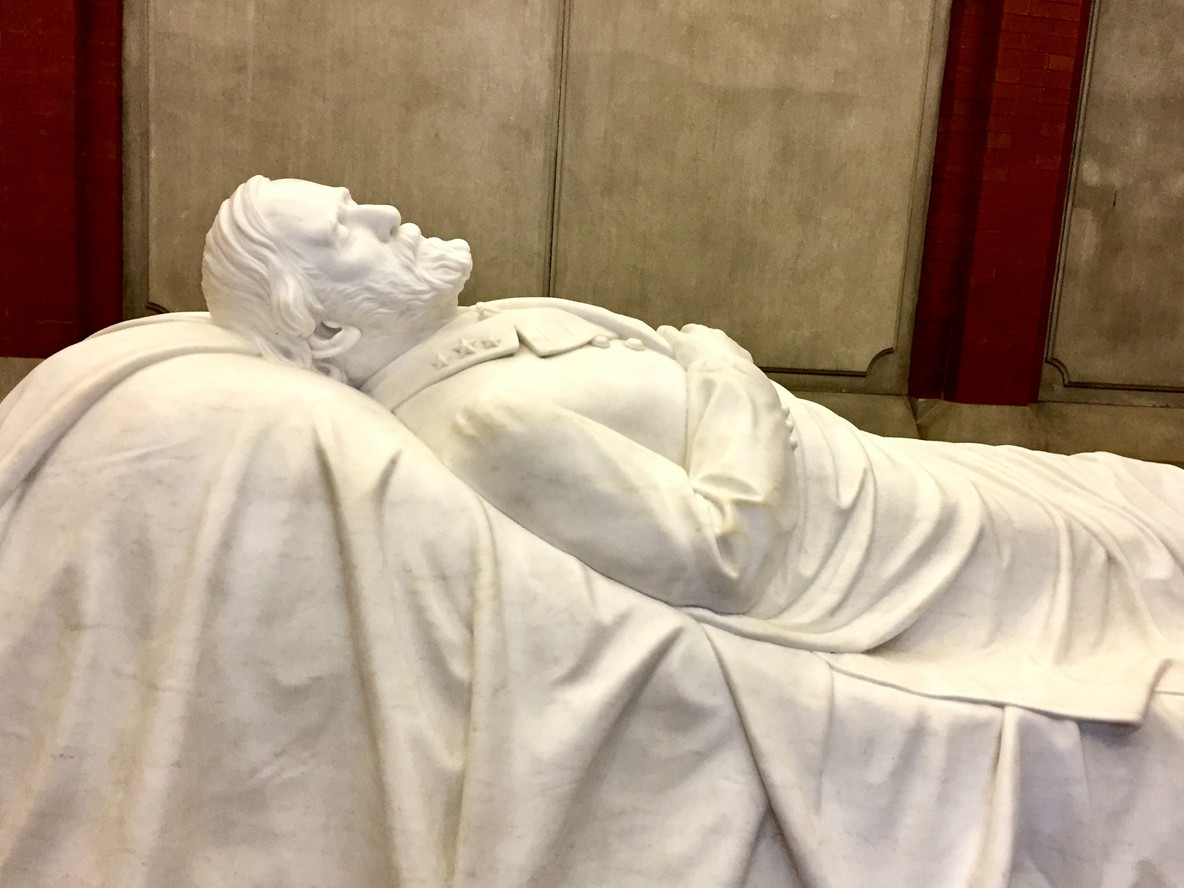 Edward Valentine's "Recumbent Lee" statue in the Lee Chapel, Lexington, VA
Although medieval-style effigies were common, "Recumbent Lee" contained curious twists. Lee's widow, Mary, wanted it modeled on the effigy of Queen Louise of Prussia, at Charlottenburg—a prescient choice, since Louise was posthumously honored as a female knight, later beloved among Nazis. In the 20th century, the Queen Louise League was the German equivalent to the UDC.
In her statue at Charlottenburg, Louise appears with crossed legs. Folk wisdom claimed crossed legs on medieval effigies indicated the knight was a Crusader, so Valentine crossed Lee's legs, suggesting Lee had fought in a Holy War. But Valentine went further, placing Lee on an altar-shaped sarcophagus. The idolatry continued when W&L attached Lee's mausoleum to the chapel in the usual location for an apse, presenting Lee on his altar as the Lamb of the South. At the 1883 dedication, one speaker compared Lee to Christ at Gethsemane. In coming years, Lost Cause devotees would celebrate Lee as a cross between "the realized King Arthur" (the words of a gushing female contemporary), and a militant Jesus.
In the same year as the mausoleum's dedication, Mark Twain attacked medievalisms, saying Walter Scott's novels had filled Southerners' minds with "sillinesses and emptinesses, sham grandeur, sham gauds and sham chivalries" (Life on the Mississippi). Northerners' minds were also susceptible (think Knights of Columbus and Pythias), but Southerners were extreme, with Confederate veterans forming groups like Louisiana's Knights of the White Camelia, and Virginia's Kappa Alpha "Order" of "Christian knights."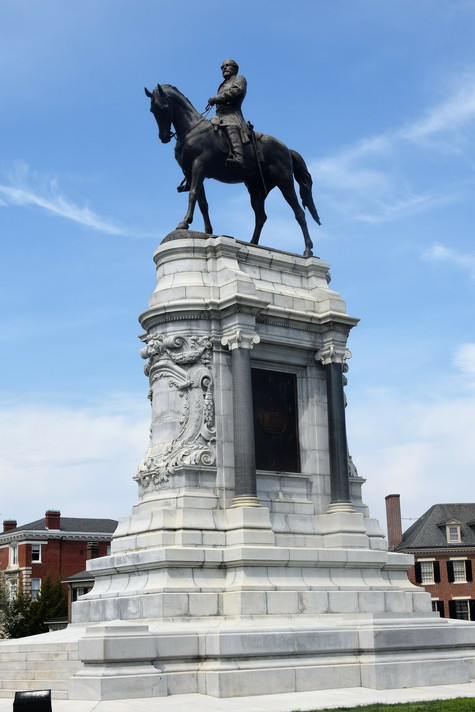 Robert E. Lee Monument in Richmond, VA
Begun at W&L in 1865, Kappa Alpha (KA) filled its fraternal membership manual with straight-faced pages about Templar Knights, Excalibur, and pure womanhood, and celebrated Lee as its "Spiritual Founder"—a "Gentle Knight" who declared only one requirement of students at his college: that each be a "gentleman." KA didn't add that in Lee's world "gentleman" was a class-based term for men who profited from the labor of enslaved people, and who espoused chivalry toward white "ladies" while engaging in, or tolerating, violence against Black women. Thus Julian Carr, in his dedication speech for the Silent Sam Confederate statue at UNC-Chapel Hill, boasted that in 1865, "one hundred yards from where we stand...I horsewhipped a Negro wench until her skirts hung in shreds because upon the streets of this quiet village she had publicly insulted and maligned a Southern lady." Chivalry was already dead when Lee ordered the whipping of three enslaved people in 1859, including a woman, because they had run away.
Nevertheless, when his 1890 statue was raised in Richmond, Lee was again heralded, in the dedication speech, for "knightly valor" and "honor that never brooked a stain." By 1920, the equestrian Lee on Monument Avenue would be joined by his bronzed lieutenants, poised to spend a century pretending that the Capital of the Confederacy had once been a Camelot. Five years earlier the Ku Klux Klan, which had flamed and fizzled in the 1860s and '70s, was reborn with a fully medievalized iconography, thanks to the film The Birth of a Nation, based on the novel The Clansman by KA's Thomas Dixon. Today, the legacy of sham chivalry continues in Klan chapters across America that have dubbed themselves "Loyal White Knights," "American Christian Dixie Knights," and "Honorable Sacred Knights."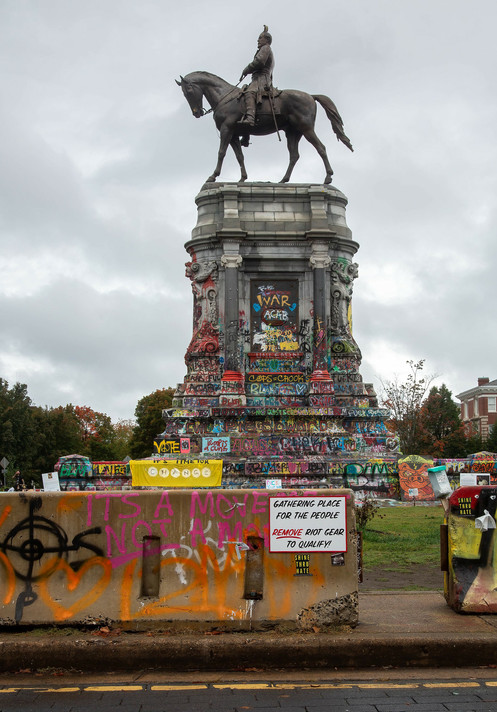 Gathering Place for the People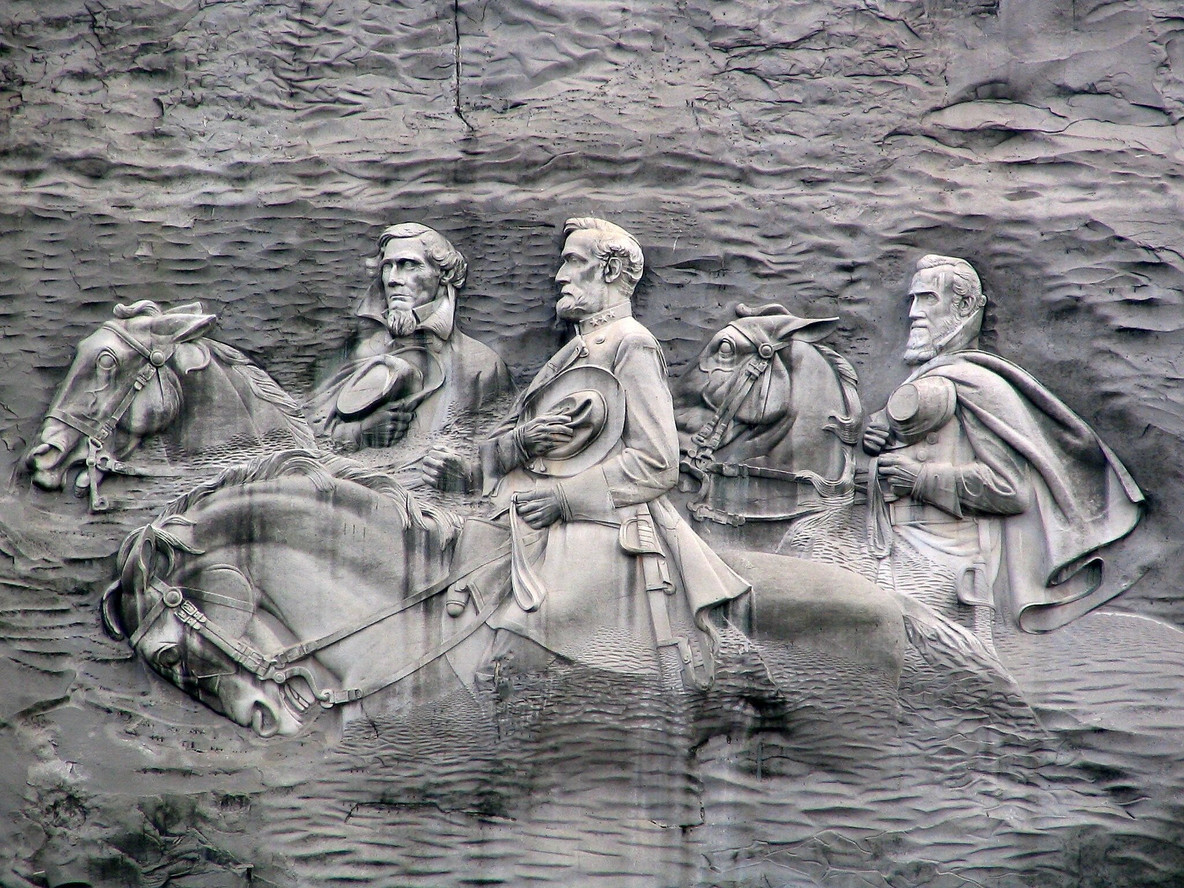 Stone Mountain Memorial Closeup
The Klan was still holding rallies at Stone Mountain, outside Atlanta, when Kara Walker's family moved to Georgia in 1982. Stone Mountain is the enormous granite rock that hosted the Klan's 1915 resurrection, and where the UDC commissioned Gutzon Borglum to sculpt a gigantic Confederate tableau, intended to feature over 60 horsemen. When that project collapsed, Borglum headed to South Dakota to sculpt Mount Rushmore. Georgia settled for a 1.5-acre bas-relief by Augustus Lukerman, begun in 1925 and completed in the early '70s, after a renewed interest in reaction against the Supreme Court's Brown v. Board of Education decision. The work features Lee, Stonewall Jackson, and Jefferson Davis riding their horses while pressing their hats to their hearts. Stacey Abrams has called for the image to be sandblasted, but it remains the backdrop for a "Lasershow Spectacular" in a 3,500-acre amusement park.
Kara Walker was a 13-year-old from Stockton, California, when her family settled near Stone Mountain. By 27 she was the second-youngest recipient of a MacArthur Genius Award, a Black artist known for exposing antebellum myths as obscenities.
Although Walker initially became famous for transforming 19th-century cut-paper silhouettes into 21st-century semi-pornographic paper shadows, some of her most biting work appears in her drawings. In 1996, her crayon sketch of a naked Black girl, crouched on all fours with a white man standing on her back, getting dressed in his Confederate uniform, reduced myths of chivalry to a tragicomic cartoon. But in 2015 Walker went further. After Dylann Roof murdered nine Black worshippers in Charleston, she produced *40 Acres of Mules*—a charcoal triptych begun as a parody of Stone Mountain. Walker's mural approximates the oval of Stone Mountain's bas-relief, and includes Lee, Jackson, and Davis tangled among a riot of horses, Black characters, and hooded Klansmen.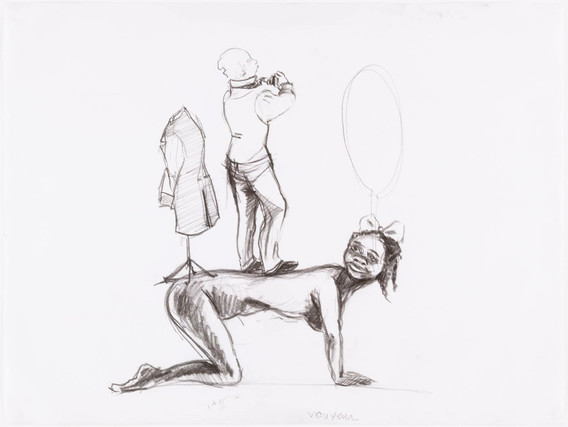 Kara Walker. Untitled. 1996
40 Acres resembles a Confederate Guernica in its chaotic motion and violence, and insistently unheroic depiction of war. Here, Walker upends three of chivalry's most-painted elements: Christian symbolism, courtly love, and horsemanship. Courtly manners and equestrian grandeur devolve into a mass of humans and horses engaged in scatological and sexualized acts. As for Christianity, Walker's right panel features the KKK's burning cross, while the middle displays the "Southern Cross" Confederate flag looming over a semi-crucified Black man. In her artist's statement Walker describes the Black man's suffering as "Christlike"—a more persuasive analogy than the Lee-as-Christ motif. Jefferson Davis grips the man's waist from behind, leering at the gash in the figure's side.
None of the images is more grotesquely unchivalric than Lee mounted on a naked Mammy caricature. But Black women aren't entirely victimized. Lee has the pained face, while a defiant Nanny of the Maroons, wearing only a headwrap and hoop earring, rides sidesaddle on his rump.
Walker resisted narratives of women-as-helpless-victims, condemning not only Confederate myths, but also chivalric pretenses among Black male artists. In a 2007 interview in W, she expressed discomfort with an early show in which she participated: "I remember being curious and perturbed by the way that African-American male artists in the show were portraying their role as protectors of women from injustices such as rape." This might explain why, in 40 Acres, when a Black man with a giant bow tie and a cross on his lapel rides a white horse, holding his hat to his heart like the Confederate icons, Walker places a naked Topsy at his shoulder, spewing feces across his clothes.
Chivalry claimed to protect the weak, but Walker reveals a bankrupt ideology. 40 Acres exposes a mythos ultimately dedicated to what she calls "the protection and protectionism of the American South or the protection of the white male American mind."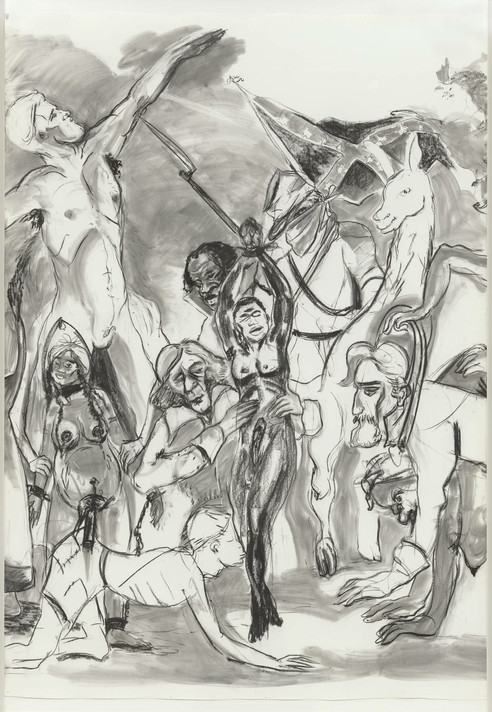 Kara Walker. 40 Acres of Mules. 2015