A Russian artist finds herself in the middle of a government crackdown on artistic expression.
The police were standing on the train platform waiting for her. It was early one November morning in 2019, and Yulia Tsvetkova, a 26-year-old artist and activist, was returning home from a feminist festival in St. Petersburg. The journey was a long one: it had taken Tsvetkova the better part of two days to make her way back to Komsomolsk-on-Amur, a rough-and-tumble manufacturing outpost in the Russian Far East, far closer to China and the Pacific Ocean than to the relatively cosmopolitan bustle of Moscow and St. Petersburg. Arriving home, she stepped off the train, into the bracing winter morning—freezing temperatures and snow come to Komsomolsk-on-Amur in October—and before she understood what was happening, she was told that instead of going home to her apartment she would be headed to the police station.
There, in an interrogation room, a police officer told her she was being charged with the distribution of pornography—a charge that, if she was found guilty, could send her to prison for as many as six years. The would-be pornography under question was a series of drawings of vulvas and other parts of the female anatomy that Tsvetkova had reposted on the Russian social network Vkontakte, part of a group that called itself "The Vagina Monologues," after the iconic Eve Ensler play from the mid-1990s. The point of the online community, as with much of what interested Tsvetkova in both art and activism, was to demystify and destigmatize the female body and the hushed, taboo discussions around it, especially in a conservative provincial city like Komsomolsk-on-Amur. Tsvetkova was used to strange looks and hostile comments on the street, and had long ago steeled herself to the possibility of fines levied by the local authorities—but a prison sentence was something she hadn't considered. "At first, I truly didn't understand that they can send you away for pictures," Tvsetkova told me, relaying those first confusing—and terrifying—moments at the police station. "I was shocked," she said. "And quickly I understood that things are indeed incredibly bad."
While she awaited trial, Tsvetkova was ordered to remain in her apartment under house arrest. In the coming days, more charges were filed: she was accused of two separate violations of Russia's notorious so-called "gay propaganda" law, passed in 2013 as part of a broader effort to use the country's own version of the culture wars to rile up Putin's conservative base. One of the charges stemmed from a drawing Tsvetkova showing smiling, happy same-sex couples holding their children, with the caption, "A family is where there is love."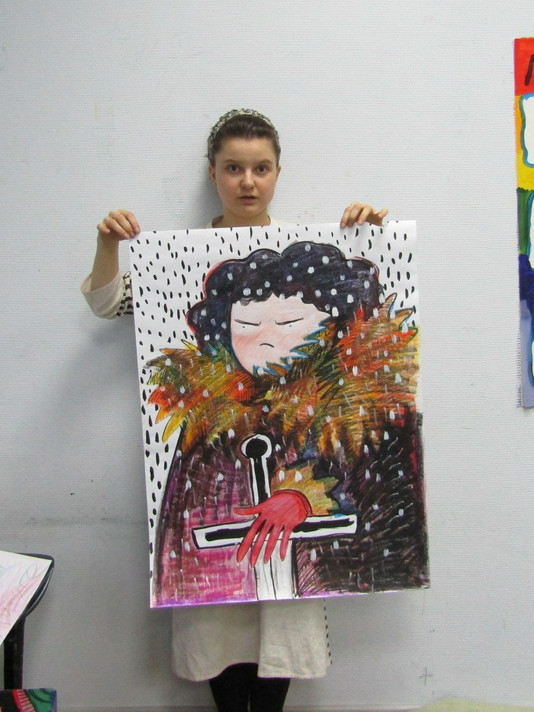 Yulia Tsvetkova holding one of her drawings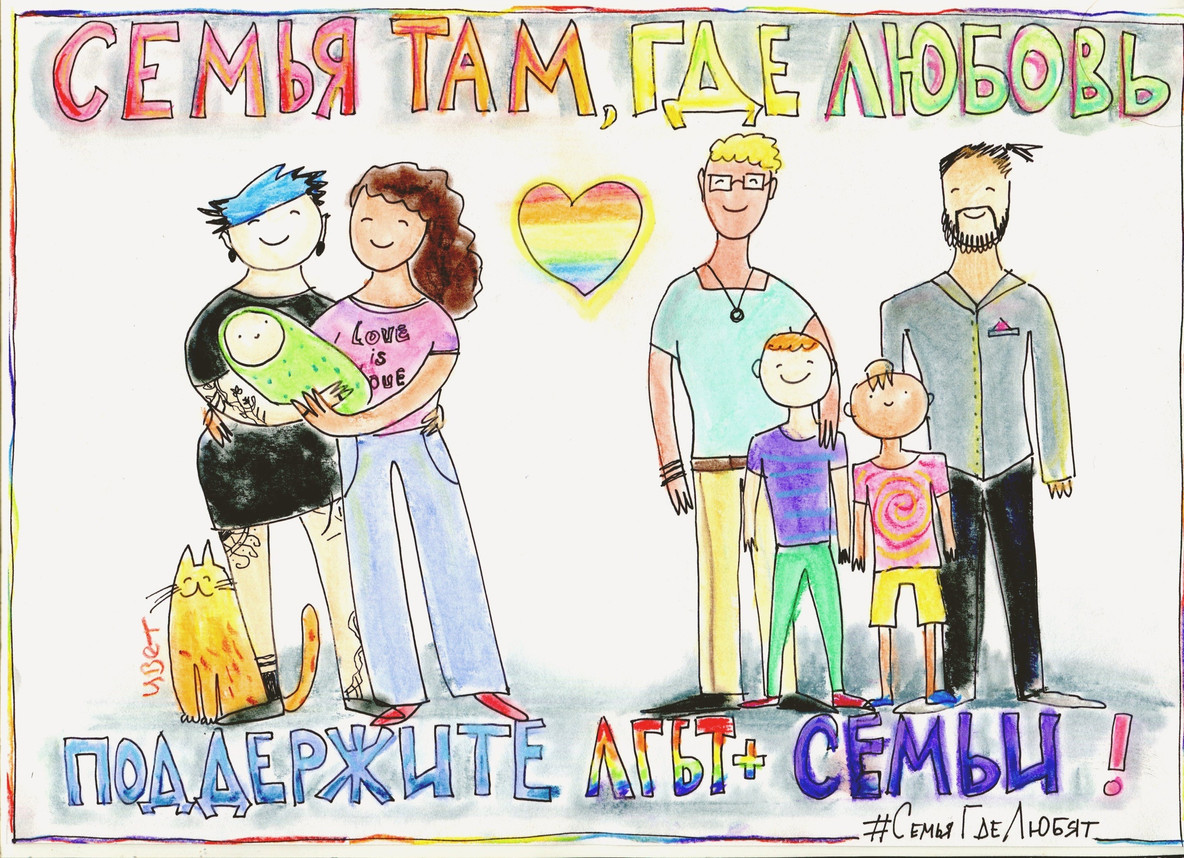 A drawing by Yulia Tsvetkova. The caption reads, "A family is where there is love. Support LGBT+ families."
Tsvetkova had found herself at the unhappy collision of Russia's top-down reactionary lurch in politics. It was manufactured and directed by the Kremlin's political "technologists," as they are known, and subject to the petty grievances, ambitions, and whims of local officials, who are left to interpret and act out the signals passed down from the federal center. The resurgent emphasis on conservative values dates to 2012, when Putin, facing reelection in the midst of the largest opposition protests of his rule, sought to establish a new base of legitimacy, drawing on a hodgepodge ideology drawn from anti-Western rhetoric, the Russian Orthodox Church, and skepticism about liberal values. It was also in 2012 that three members of the punk collective Pussy Riot were sentenced to two-year prison terms for their protest performance in a Moscow cathedral. The legislation outlawing so-called LGBTQ "propaganda" was passed the following year.
The mood further hardened after 2014, when a standoff with the West over Ukraine—Russia annexed the Crimean peninsula and backed a separatist war in eastern Ukraine—led to a further turn away from all things that could be labeled Western, whether in geopolitics, art, or civic values. Russian state television became inundated with scaremongering tales of louche debauchery and gay-pride parades in European capitals; cultural events that challenged the new orthodoxy were cancelled or, in some cases, stormed by nationalist activists. Political critics were painted as moral and cultural outcasts, while artists and performers faced pressure to keep the new red lines in mind.
Over this span, a number of Russian artists had been tried for performance pieces that took the form of political actions, like Pussy Riot's "punk prayer" in 2013 or artist Petr Pavlensky setting fire to the door of the FSB headquarters in 2015. But these were artists in the "actionist" tradition, whose artworks were classified by the state as vandalism, hooliganism, or unsanctioned protest. In the meantime, plenty of exhibits, plays, and operas have been cancelled or disrupted; a significant number of artists—like the theater director Kirill Serebrennikov—who fell afoul of the authorities on aesthetic or political grounds were formally tried for unrelated would-be crimes (such as embezzlement in Serebrennikov's case). But what is unique, and deeply troubling, about Tsvetkova's case is that it marks the first time that an artist is being criminally charged not for an action or protest, nor for some other legalistic pretext, but simply for the contents of her art.
When I spoke with Tsvetkova, she reflected on how her path as an artist ended up leading her, accidentally and inadvertently, to a confrontation with the state over values, rights, and aesthetics. "Some years ago, when, say, I was drawing pastels of women, I had this idea that I'm simply making art, and not doing anything political." Her mother, Anna, has long run a creative workshop and studio for children in Komsomolsk-on-Amur, and, beginning in 2018, Tsvetkova began organizing some of its older members into a theater troupe that staged expressive dances and performed in English. "Everything was neutral, childish, without controversy," she said. The teenagers gathered around her proved loyal and enthusiastic. "At that age, young people have something to say, opinions they want to express, and there aren't many places in our city for them to do that," she said. "But theater turned out to be exactly such a place."
At the same time, Tsvetkova was immersing herself in the online worlds of feminism and LGBTQ activism. As she explored her own identity, so, too, did she experiment with new forms of creative expression. "Feminism opened up a huge, limitless expanse," she told me. "It allowed me to understand myself in a more complex way, deal with my fears and doubts, and see myself as a strong woman, more capable and confident in what I choose to draw and how." Her art was driven by her new interests: domestic violence, a hidden epidemic in Russia that took on more urgency after a law was passed in 2017 that effectively decriminalized many forms of abuse; body positivity, an uncomfortable topic for many, especially in Komsomolsk-on-Amur; and LGBTQ rights, perennially under threat in Russia, whether through the notorious "propaganda" law or legal attacks against same-sex families. But what gave Tsvetkova renewed inspiration as an artist also put her at risk. "The moment when my art took on a political element became the beginning of my end," she said.
In the spring of 2019, Tsvetkova and the teenage actors in her troupe came up with the idea for a theater festival with a clear civic message. There would be a play on pacifist, antiwar themes; another on the harm of bullying; and one, called "Pink and Blue," on gender stereotypes. Such topics proved foreign, confusing—and thus threatening—to the local administration in Komsomolsk-on-Amur. City authorities banned the festival and pressured private venues not to host any performances; a number of children were called in for questioning by the police. If Tsvetkova had previously been an episodic subject of confusion, even hostility, she had now become a target. "Now it's clear to me that, in a way, I was participating in politics this whole time," she said. "In today's Russia, to make art with a feminist impulse is, whether you like it or not, to spark a conversation about society and, yes, politics."
Indeed, after news of Tsvetkova's arrest last fall spread, her case became one of the signal rallying cries for the country's disparate opposition movements and communities. Though most interesting was not just the reaction among feminists and other activists, but among those who previously paid little attention to political repressions—young women especially, but not only. They made Tsvetkova an instant cause célèbre. Her drawings were shared and reposted all over the Russian Internet, especially her series on the female body. In a series of inviting, good-natured sketches, Tsvetkova drew women with body hair, acne, full figures—with captions declaring all of their bodies "normal." Scores of Russian women photographed their own bodies and uploaded them to social media, a collective act of defiance, pride, and solidarity.
Tsvetkova speaking in front of her drawings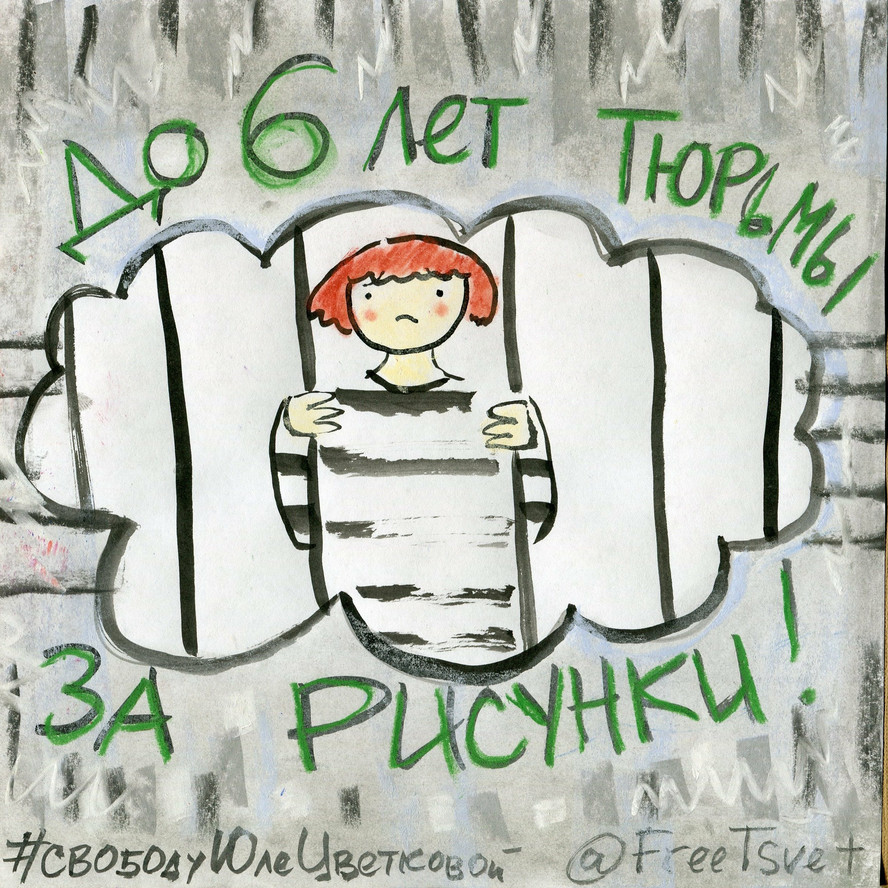 A card that reads, "Up to six years in prison for drawings!"
I spoke with Dasha Serenko, an artist and activist who has led online campaigns and real-word protests in Tsvetkova's defense. She spoke of a clash of generations, but also of mentality and worldview—in today's Russia, the rules are set by people who spent their formative years in the closed and cynical world of the late Soviet Union, with young people who grew up on the Internet left to bristle under those restrictions, many of which seem foreign and absurd. "There is a whole generation of women in Russia for whom discussing their bodies and their sexuality is a norm, almost automatic, it goes without saying," Serenko said. Tsvetkova's case demonstrated that these assumptions are in fact under question, which, as Serenko explained, angered and activated a wide swath of women who felt that the case against Tsvetkova was, in a way, an affront to the values and lifestyles they long thought of as natural and unquestioned. (In one example, surveys of Russian young people show a majority lack any sort of negative feelings toward LGBTQ people—not as high a percentage as in Western Europe, but far more than in older Russian generations.)
Pickets and flash-mob protests in Tsvetkova's defense cropped up around the country. This summer, an image of several dozen cheerful, smiling young women who had been detained and were being held in the back of an armored police van went viral, a visual testament to clash between the fundamentally optimistic sincerity of Tsvetkova and her supporters and the state's obtuse, knee-jerk resort to force. Serenko was herself detained at the same protest while holding a handmade sign that read, "Under this poster is a body." However darkly comic, it was telling that an assertion of basic fact was taken as a threatening political gesture.
These days, the pornography case against Tsvetkova remains open, with the investigation toggling back and forth between the court, prosecutors, and the police. ("They chose the crime well," Tsvetkova says of pornography charge. "It is not just a serious felony with a potentially long term, but it carries the whiff of shame, so that people get afraid and don't support me.") The trial could start at any moment, or never—the Russian justice system functions as a Sword of Damocles, capricious and unpredictable.
In the meantime, Tsvetkova's case has brought to the surface conversations on feminism, LGBTQ rights, and the state's claim to control over the bodies of its citizens; in some sense, the state has achieved the opposite of what it intended by prosecuting her, in that topics that once existed at the relative margins of Russian society have been given heightened attention. The Internet has allowed for not just the wide and rapid spread of Yulia's artworks, but also expanded the discussion of their fundamental themes; it revealed how in many modern authoritarian systems, it remains frighteningly possible to go after an individual, but far more complicated to squelch her ideas.
Scores of young women have been brought into activism and are likely to stay involved in social and political issues however Tsvetkova's case is decided. "Yulia's case has proven to be a point of entry for a lot of people," Serenko said. Yet, as many admirers as Tsvetkova has gained over the last year, she has also attracted no small number of enemies, who threaten her with aggressive messages and lodge ever more complaints against her. The prospect of a prison term remains ever present. Tvestkova has found something both encouraging and maddening in her ordeal. "The fact that you can be charged with a crime for something you painted shows that this painting must hold some kind of unique force," she told me. "That means art has real power, the potential to affect something."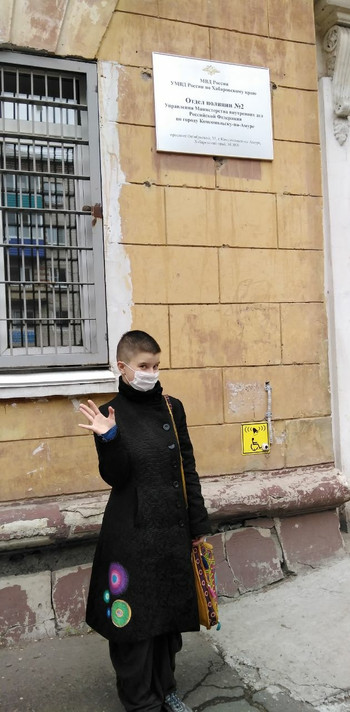 Yulia Tsvetkova at the entrance to a police station in Komsomolsk-on-Amur, Russia
Joshua Yaffa is a correspondent for The New Yorker and the author of Between Two Fires: Truth, Ambition, and Compromise in Putin's Russia.