Gerhard Richter's Enigmatic Cycle in The Long Run
The artist's mysterious 18 October 1977 series still holds power in contemplating the dangers of ideology.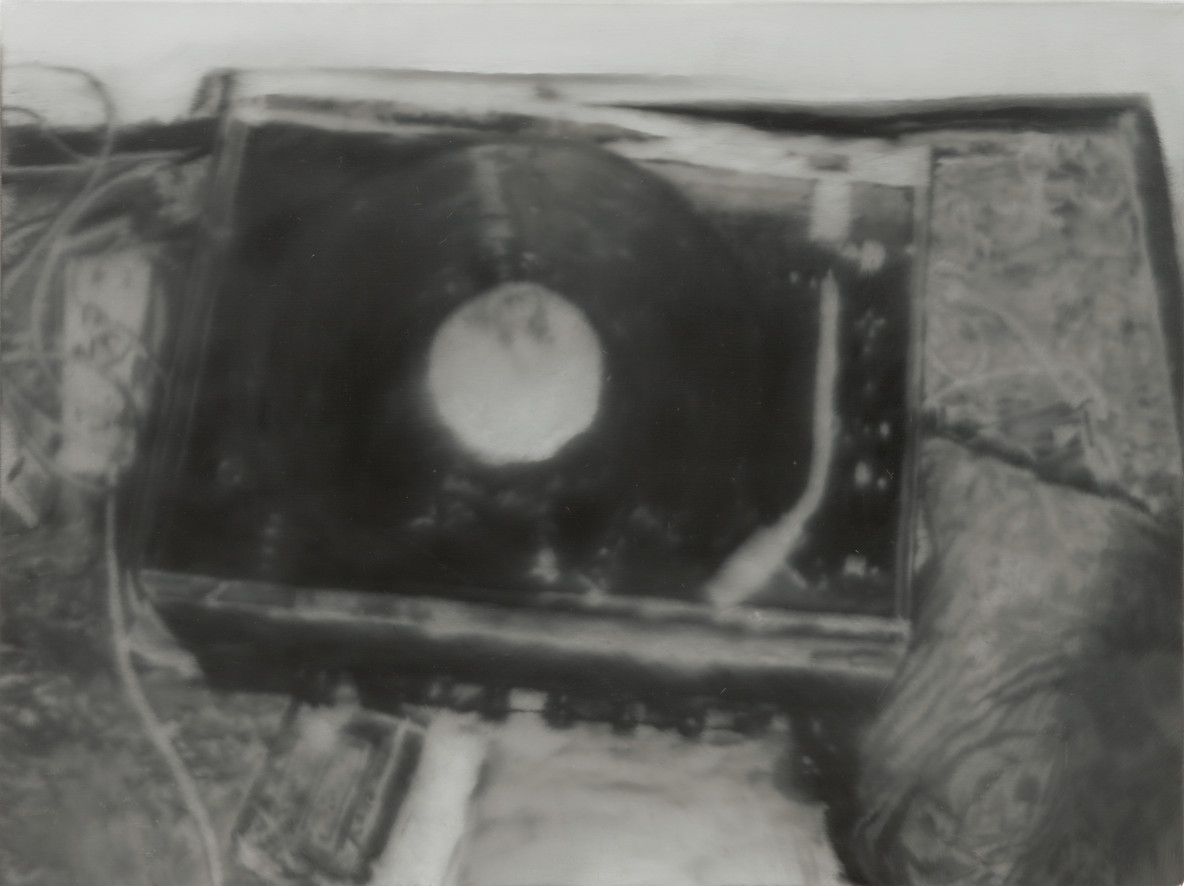 A panel from Gerhard Richter's October 18, 1977 (1988)
While we often celebrate the moment of an artist's emergence on the scene with a brilliant new voice, The Long Run explores work made later in an artist's career, the kinds of things that emerge after years of practice, of coming back again and again to the question of how to make a work that matters, and the summation of the powers of experience and wisdom. Gerhard Richter's 18 October 1977 is one such work, made a decade after Richter's dealer feared the artist had left trenchant political topics behind. Leah Dickerman, MoMA's director of Editorial and Content Strategy, discusses Richter's major, mysterious cycle of paintings, its power, and its significance in contemplating the dangers of ideology.
Gerhard Richter debuted his 15-painting suite 18 October 1977, concerning the radical left-wing Baader-Meinhof Group that had shaken Germany with a two-year campaign of terror, with more public ceremony than usual. At a press conference at the Museum Haus Esters in Krefeld, introducing the pictures before they were first shown in early 1989, he offered a curious speech, reflecting that, "I hope…there is purpose in looking at those deaths, because there is something about them that should be understood." If Richter's words recognized the particularly ambitious nature of these paintings among his growing body of work, it also gave listeners little guidance as to what it was that should be understood. Some of this furtiveness has always seemed to me to lie in the work itself: I find it one of the most enigmatic and compelling in the Museum's collection.
The October cycle brings to heightened purpose strategies for which Richter had already become well known. He had made multi-painting works before, but this was one of the largest, and Richter insisted that the group should not be broken and sold individually. Richter had begun making paintings based on ordinary photographs—rendering them in a palette of grays, as he did here—more than a decade earlier. Perhaps wryly, he pinned this interest on his experience as a photographic laboratory assistant: "The masses of photographs that passed through the bath of the developer every day may well have caused a lasting trauma."
You do not see less by looking at a field out of focus through a magnifying glass.
Gerhard Richter
Soon after, Richter began wiping across the still-wet surface of his photo-paintings with a squeegee to soften the edges and blur the image. This signature blur can evoke a range of things—the motion of the viewer or the camera, the passage of time, but also something more metaphoric, of the type suggested in the artist's 1971 musing: "My relationship to reality has a great deal to do with imprecision, uncertainty, transience, incompleteness." At times, Richter also suggested that this fuzzy gaze might serve a role in helping to focus the mind: "You do not see less," he wrote, "by looking at a field out of focus through a magnifying glass." In the October cycle, Richter seems to amp his blurring technique up a notch, so that the images are more obscured, more diffuse than usual, in some cases approaching the edge of recognizability.
The date of the title—October 18, 1977—marks the bloody denouement of a story that had played out over several years in front of a shaken German nation. From 1968 to 1977, the Baader-Meinhof Group led a campaign of shootings and kidnappings aimed at undermining the German state, leaving more than 30 people dead. The group's founders—Holger Meins, Ulrike Meinhof, Gudrun Ensslin, and Andreas Baader—and several other members of the group were arrested and held in Stammheim prison. On October 17, a plane was diverted to Mogadishu by hijackers who demanded the release of the members of the group from prison. Early the next morning, following the successful liberation of the plane by the German military, three of the Baader-Meinhof Group were found dead in their cells from apparent suicide—though the proximity of these events prompted speculation about their cause of death.
While Richter had previously chosen images related to Germany's recent history—he was among the first to introduce subjects from its Nazi past into artworks—he hadn't done so in many years. The October cycle was, as he put it, "a reversion" in both topic and technique. In remembering this particular episode he touched on a topic that was still raw, still taboo in public dialogue despite the omnipresent media images that served as source material for the paintings: the dead terrorists remained largely unacknowledged, unmentioned, unmourned. "I was impressed by the terrorists' energy, their uncompromising determination and their absolute bravery," Richter reflected on this cataclysmic climax of opposing forces. "But I could not find it in my heart to condemn the state for its harsh response. That is what States are like, and I have known other, more ruthless ones."
Richter may have felt this ambivalence particularly keenly. He was born in Dresden in 1932, the year before the Nazi rise to power, and witnessed the devastating bombing of that city as a young teenager. His first experience as an artist was in the newly founded German Democratic Republic, where he was trained in the propagandistic realism of the Soviet realm, but—with several trips to the West, including one to take in the great postwar showcase of international art at Documenta in Kassel—he crossed over permanently in 1961, the year the Berlin Wall was erected. His dual formation, split as it was between East and West Germany, left Richter highly attuned to the tensions, ironies, and fractures between two ideological systems, and harboring a deep skepticism about doctrines of any kind. It was, he wrote in 1988, "a profound distaste for all claims to possess the truth."
Richter acknowledged how profoundly unsettling he found the events around the Baader-Meinhof Group: "The deaths of the terrorists, and the related events both before and after," he reflected, "stand for a horror that distressed me and has haunted me as unfinished business ever since, despite all my effort to repress it." Perhaps as a way of processing things, Richter began to collect materials related to the group, holding onto "a number" for years before he began painting the October cycle, filed "under the heading of unfinished business." In fact, over 100 images related to the Baader-Meinhof Group appear in Atlas, Richter's ongoing scrapbook-like compendium of photographic source material.
When he began working in earnest on what would become 18 October 1977, Richter drew some of his source images from newspapers and magazines or snapshots of television coverage—markers of the pervasiveness of media coverage of the Baader-Meinhof Group during their violent reign and in its aftermath. But others, taken from police evidentiary photographs, were far less readily available, and serve as tokens of Richter's preoccupation with the topic and his determined research efforts in preparation for painting.
The cycle begins with a canvas based on a studio portrait photograph of Ulrike Meinhof, journalist turned radical ideologue, an image that shows her as young and vital, but also, as the artist described, "sentimental in a bourgeois way."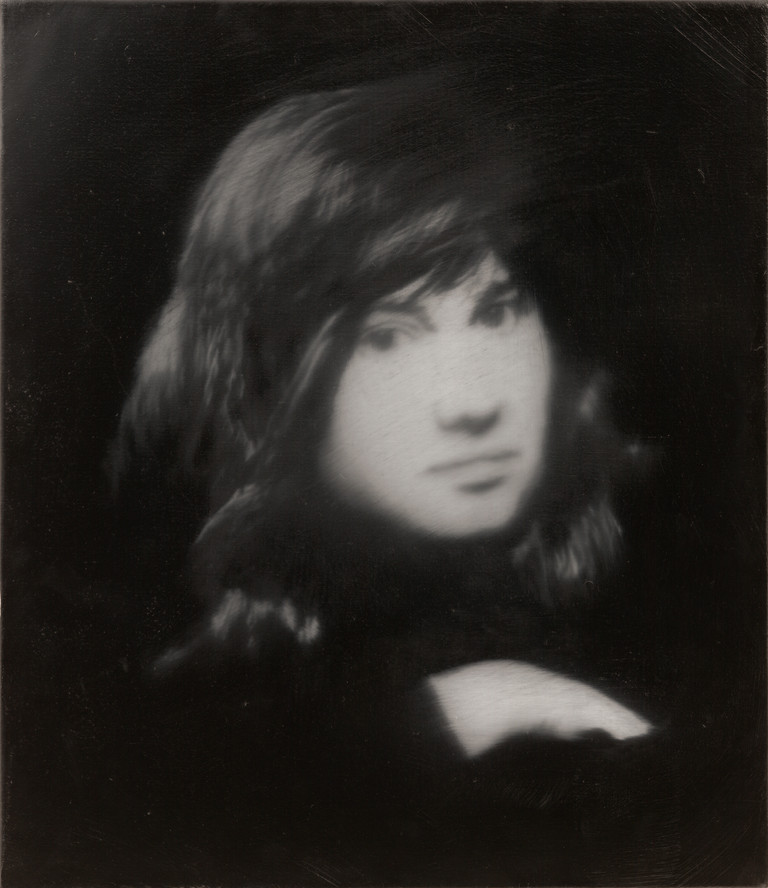 Paintings 2 through 7 shift tone abruptly, offering up the dead in paintings based on forensic photographs. There are three images of Meinhof, her body seen close-up, after she was found in her prison cell on May 8, 1976, the wound on her neck left by the noose visible, though softened by Richter's blur—as if he wanted to provide a buffer protecting us from the trauma of seeing it or offer her a modicum of privacy in death.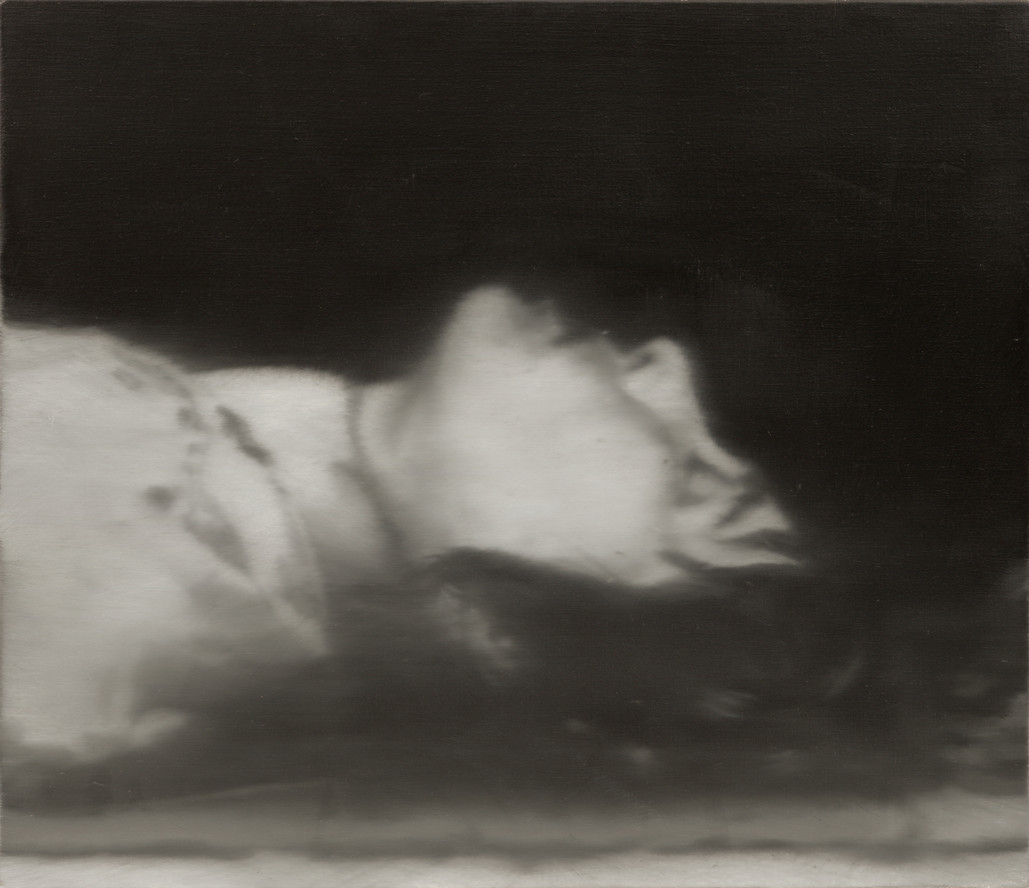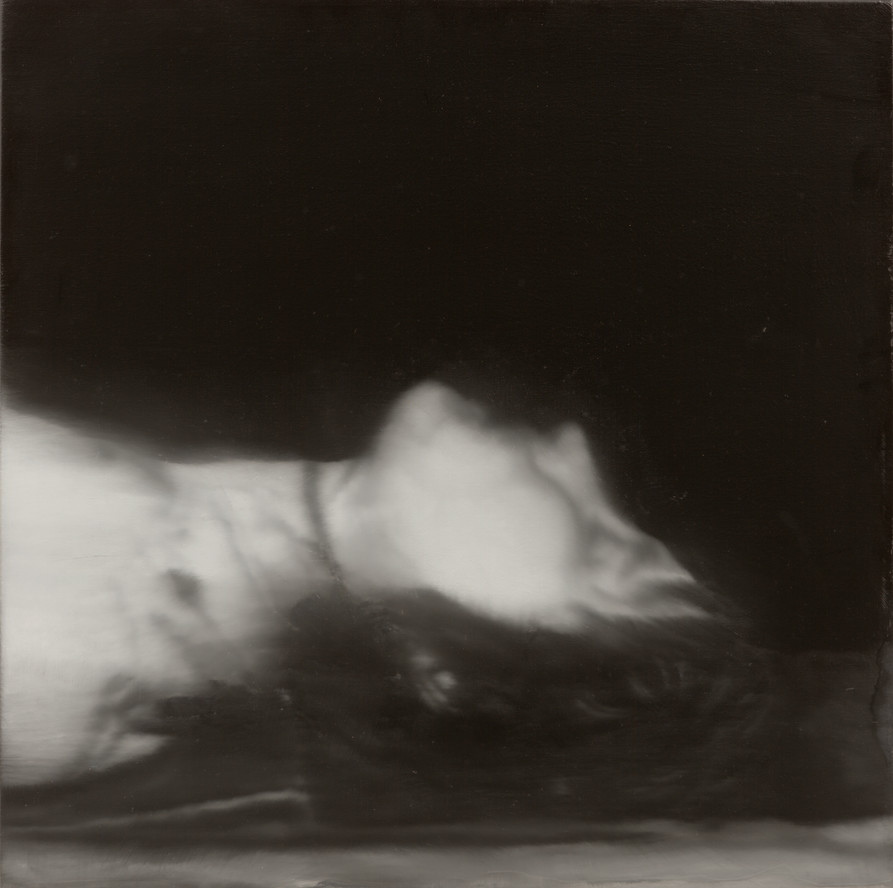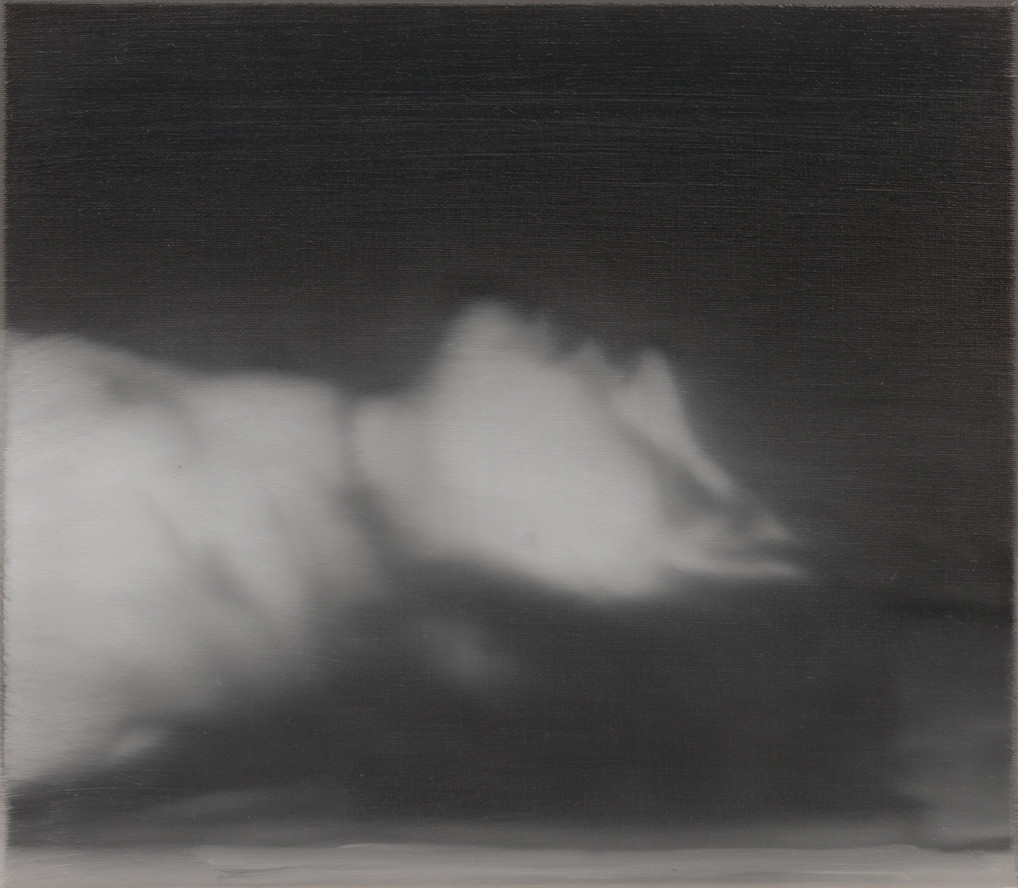 Two paintings show Andreas Baader, splayed on the floor of his prison cell, as he had fallen after shooting himself with a gun smuggled into the prison.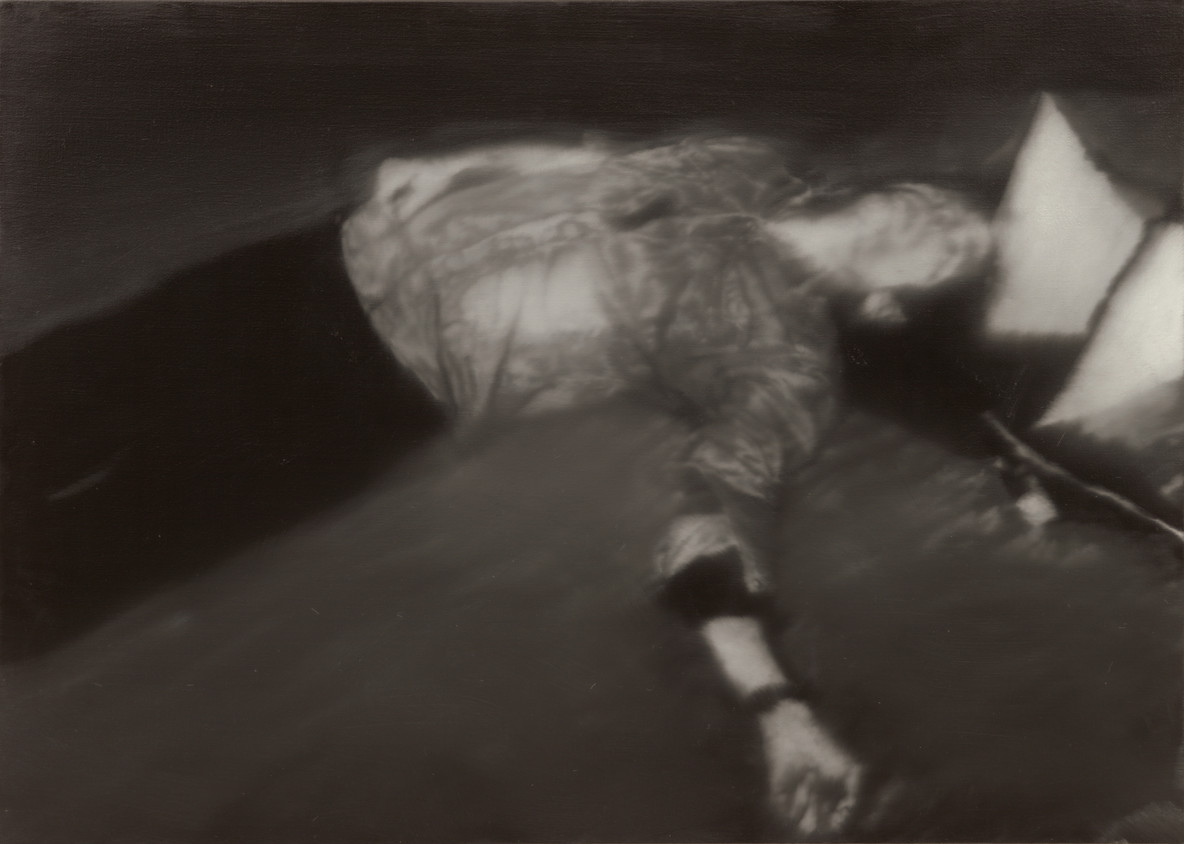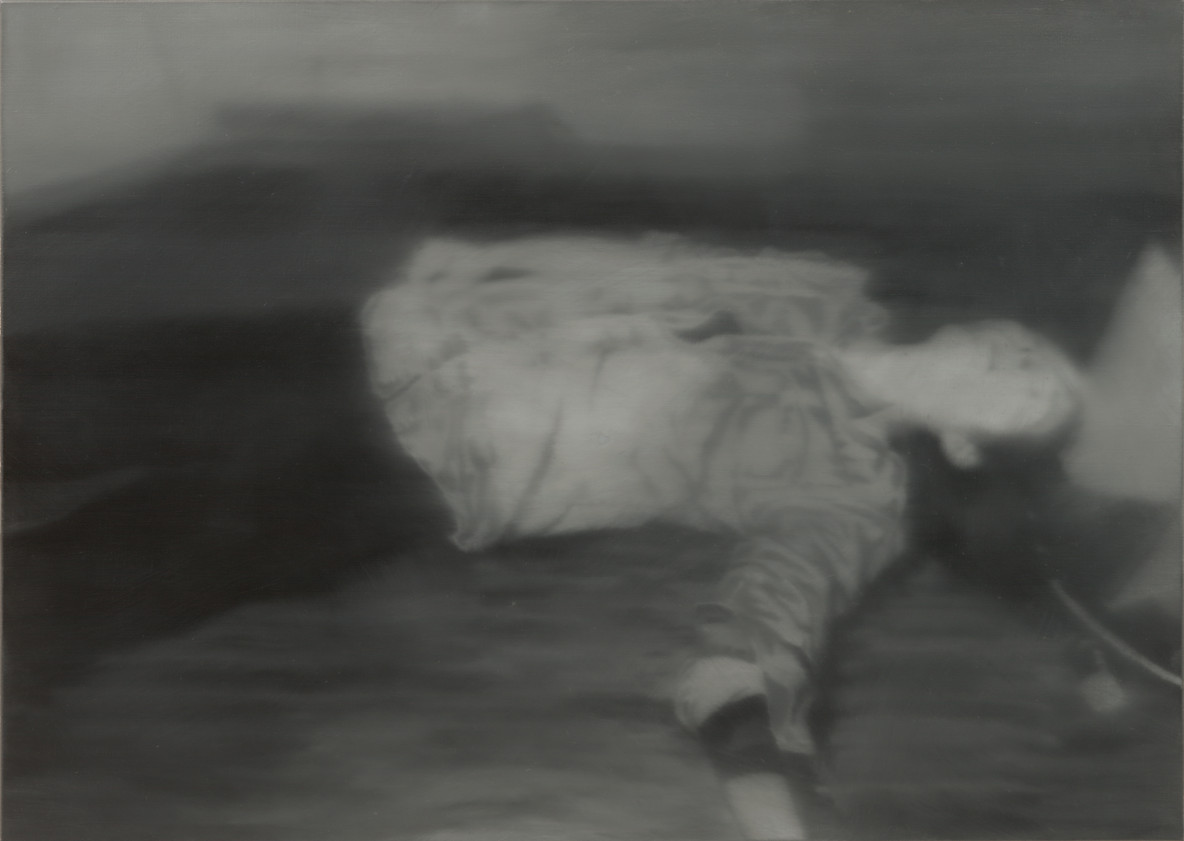 Paintings 8 and 9 depict the interior of Baader's empty cell, the first showing his overflowing bookcase, and the other the record player that was reportedly used to smuggle in the gun with which Baader shot himself, so that these tokens of a classical cultural inheritance and knowledge take on a malevolent aspect.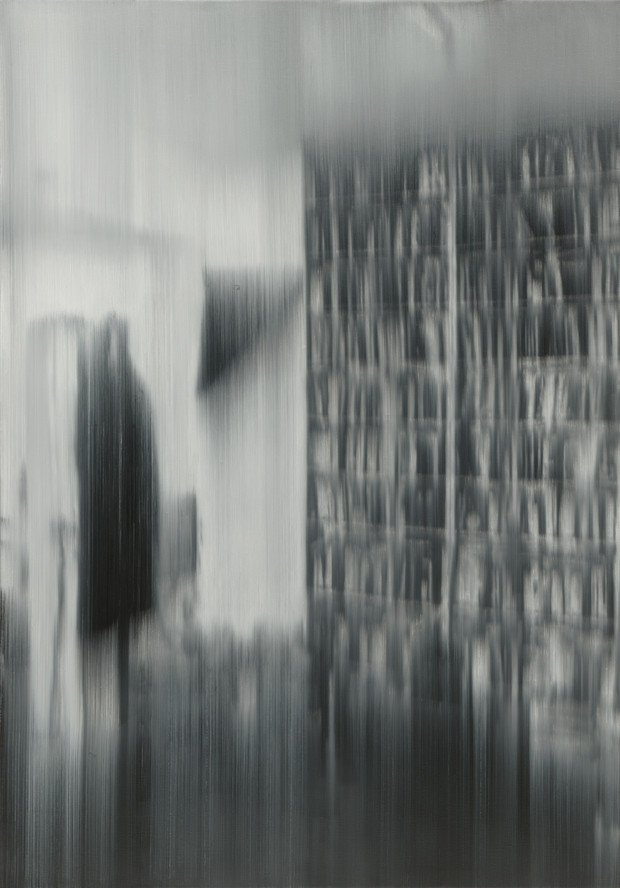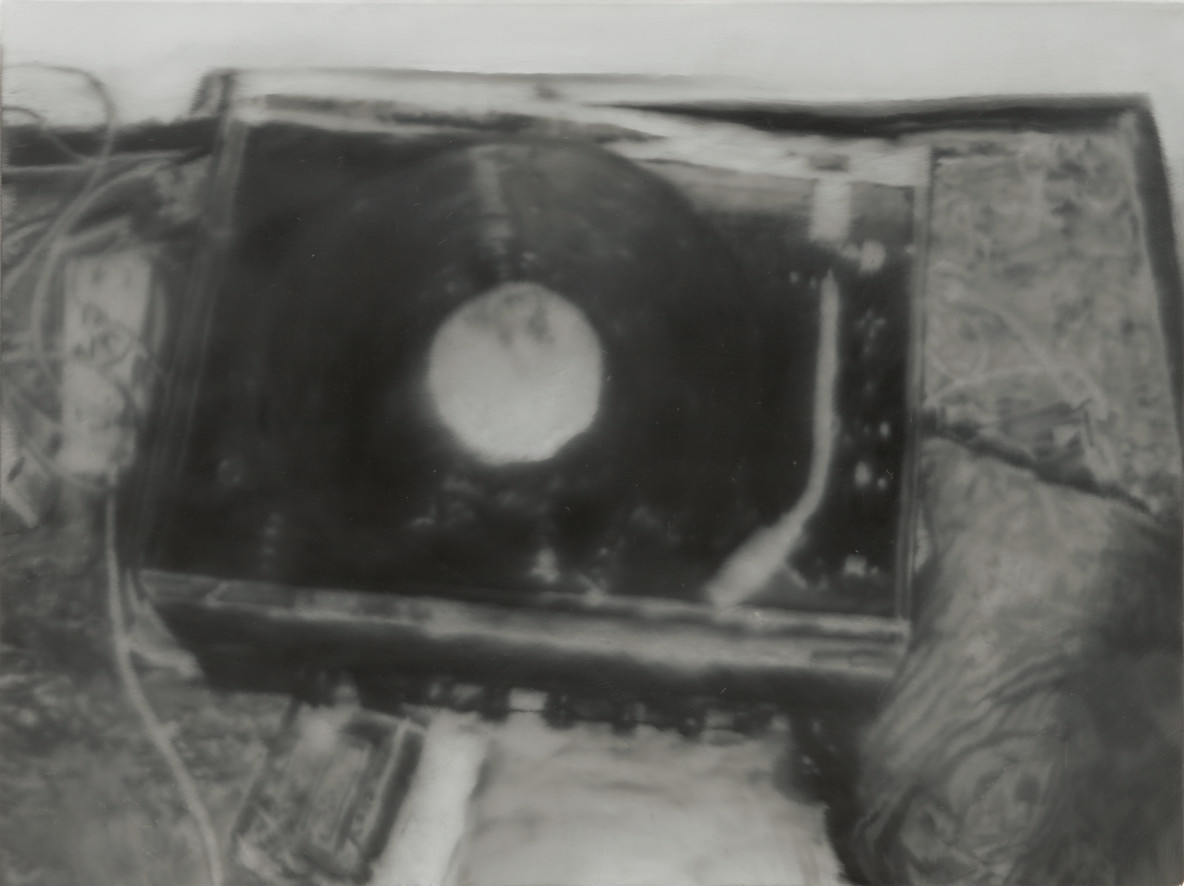 And one depicts Gudrun Ensslin, whose body, hanging from the bars of her prison window, was discovered on the morning of October 19. Our shock at seeing these corpses, bodies rendered lifeless from self-destructive violence, Richter suggests, may reflect the way we have weaned ourselves away from recognizing death with "our nice, tidy lifestyle."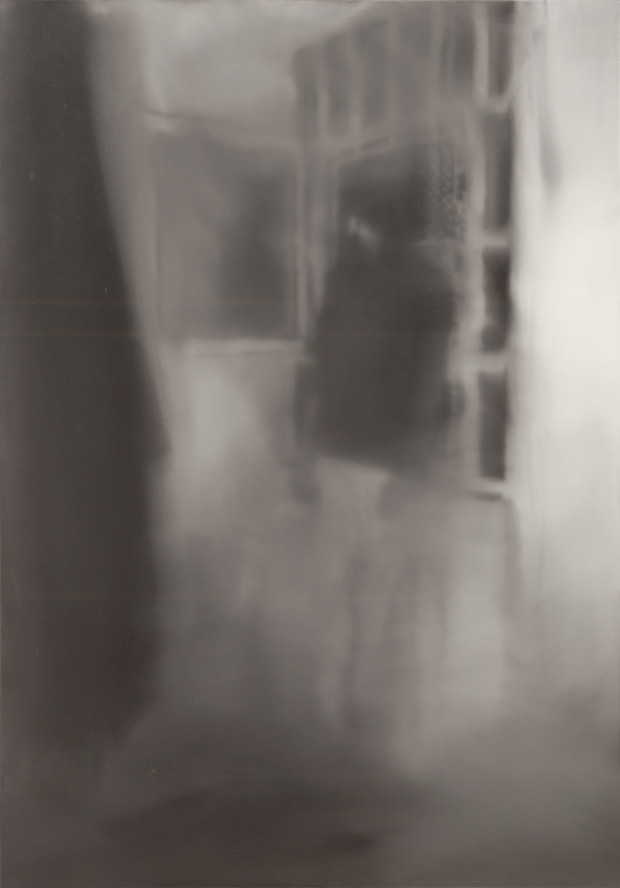 Paintings 10 and 11 show the arrest of Baader and Meins as it was broadcast on television to an audience of millions, with Meins forced to undress in front of the rolling cameras to show he was unarmed, the trace of his figure a tiny vertical blur in Richter's canvases.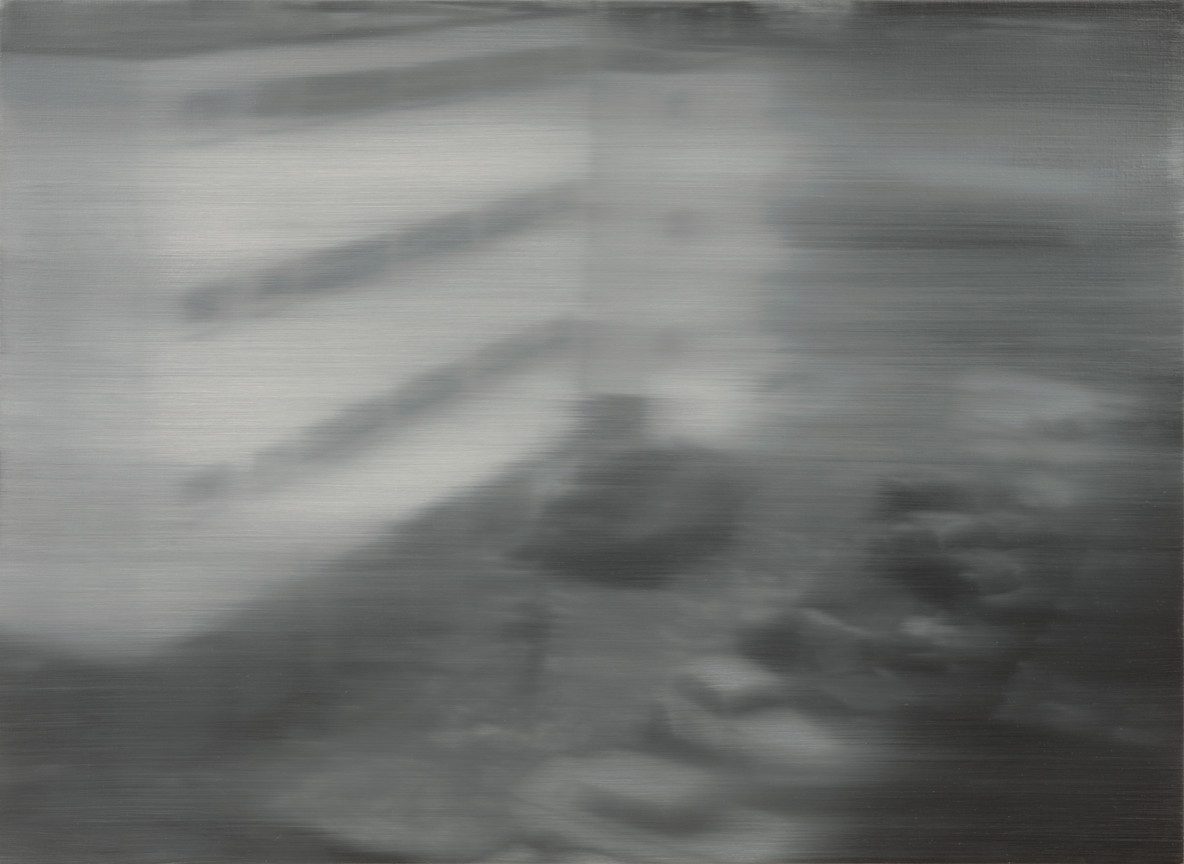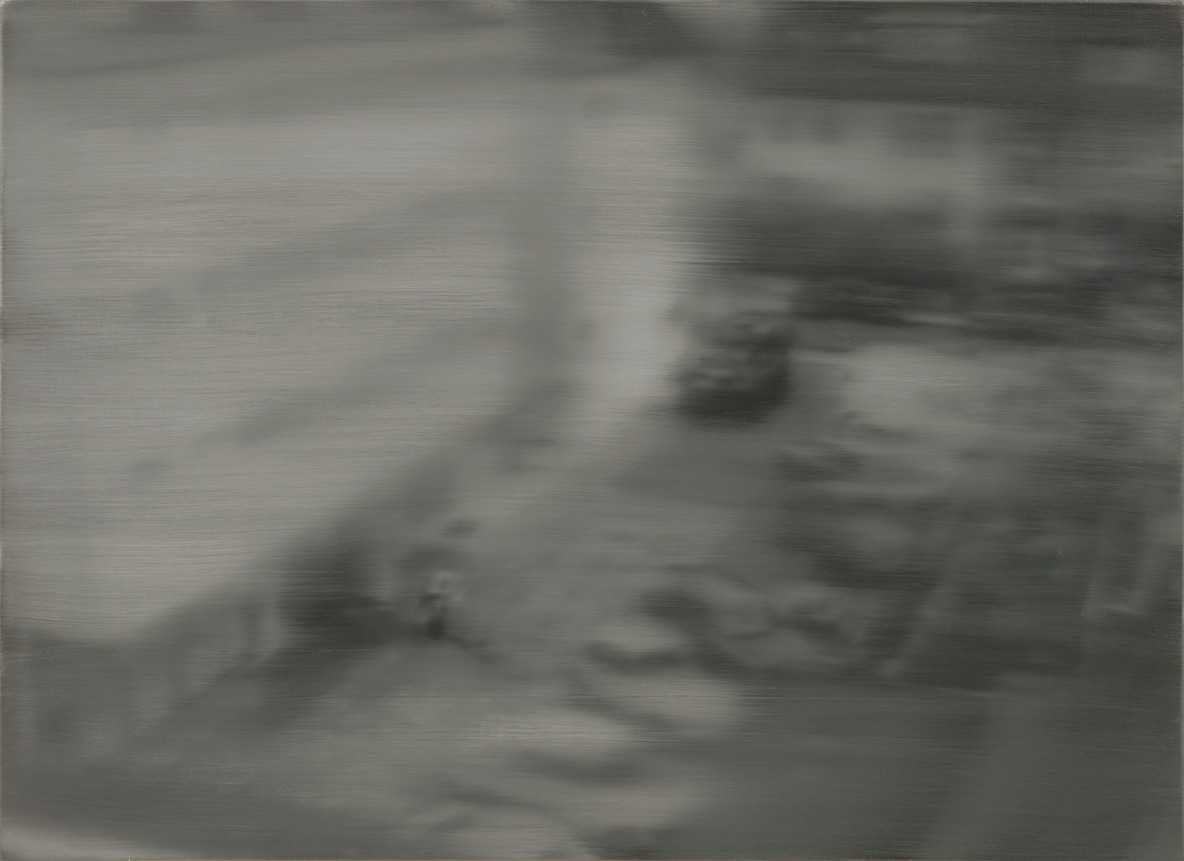 Paintings 12, 13, and 14 offer a trio of police images of Gudrun Ensslin in prison uniform in a photographic lineup, an enigmatic smile on her lips.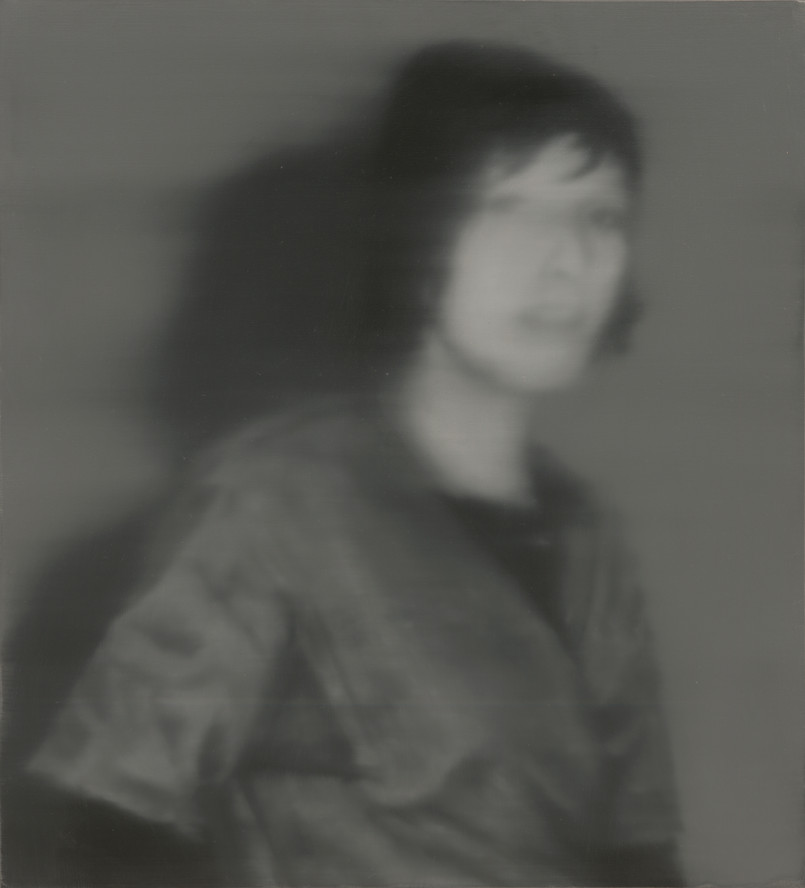 And, finally, 15, the largest, depicts the funeral and burial of Baader, Ensslin, and Jan-Carl Raspe, another leader of the group, who had taken his life on October 27.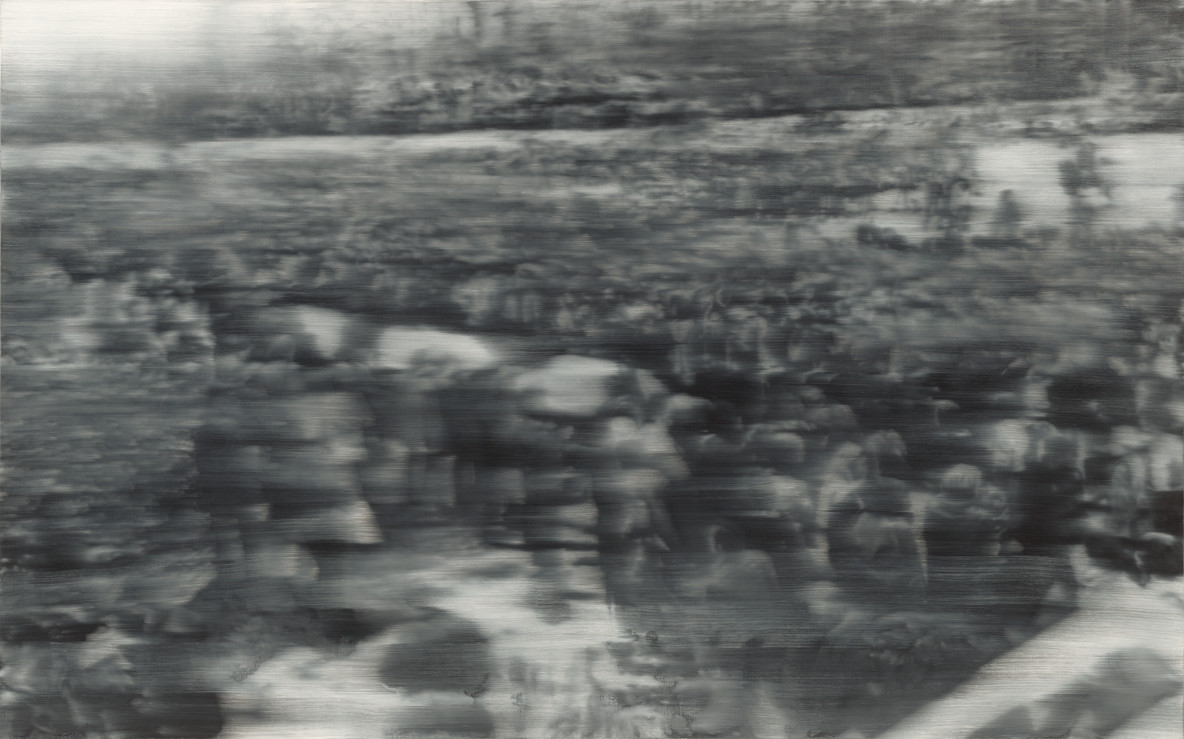 The narrative arc Richter creates begins in a banally sweet portrait image of a young woman and ends in a collective ritual of public mourning. Yet both, Richter seems to suggest, are inadequate to our understanding of what has taken place. What truth, he seems to ask, do photographs offer? Can violence or righteousness be discerned in the blur of grays?
But he declined to offer answers: "It is impossible for me to interpret the pictures," he concluded in notes made for the work's unveiling. "In the first place they are too emotional; they are, if possible, an expression of speechless emotion. They are the almost forlorn attempt to give shape to feelings of compassion, grief, horror (as if the pictorial repetition of events were a way of understanding these events, being able to live with them)."
18 October 1977 is currently on view in its entirety in The Long Run, open through May 5. Read MoMA's chief curator of Painting and Sculpture Ann Temkin's premise behind the exhibition.
Sources cited
Achim Borchardt-Hume, "Dreh Dich Nicht Um: Don't Turn Around. Richter's Paintings of the Late 1980s," in Gerhard Richter Panorama, edited by Mark Godfrey and Nicholas Serota, (London: Tate Publishing, 2016), pp. 163–175.
Benjamin H. D. Buchloh, "A Note on Gerhard Richter's 'October 18, 1977,'" October, vol. 48 (Spring 1989), pp. 88–109.
Benjamin H. D. Buchloh, "Divided Memory and Post-Traditional Identity: Gerhard Richter's Work of Mourning" (1996), in Gerhard Richter, October Files 8 (Cambridge, MA: The MIT Press, 2009), pp. 71–94.
Hal Foster, "Semblance According to Richter" (2003), in Gerhard Richter, October Files 8 (Cambridge, MA: The MIT Press, 2009), pp. 113–134.
Gerhard Richter, The Daily Practice of Painting: Writings, 1962–1993, ed. Hans-Ulrich Obrist, trans. David Britt (Cambridge MA: MIT Press), 1995.
Robert Storr, Gerhard Richter: Forty Years of Painting (New York: The Museum of Modern Art), 2002.