Warm Up 2020 artists reflect on the New York music community.
Music is inseparable from the way New York functions. Night life is not only inherent to its fabric; it creates and shapes community among the city's eight million residents. While New York is functioning differently these days as we learn to responsibly gather while staying apart, its music communities and event spaces, where many of us would find release and solace, have been hit hard by COVID-19 restrictions.
To help support these spaces and artists across the city, MoMA PS1 is presenting an all-day streaming edition of Warm Up and raising money for NYC Nightlife United, an emergency relief fund focused on supporting BIPOC-owned and led businesses that create safe spaces for BIPOC and LGBTQIA communities. Warm Up audiences will be encouraged to donate to the fund during the program. Through a merchandise program supported by Red Bull, attendees will be able to purchase T-shirts—designed by Willie Norris and incorporating Warm Up 2018 deadstock that was designed by artist Andrew Kuo—to benefit NYC Nightlife United.
While this year's Warm Up will be broadcast globally by Boiler Room, the lineup is focused on New York artists, and will stream at outdoor music venues across the city. The acts who will perform over the course of the day represent eclectic pockets of the city's music scene. In anticipation of Saturday's event, we asked the performers how their music has supported them, what they miss most about the pre-pandemic scene, and about their favorite parts of New York's music community.
Define the best part of the NYC music community in one word, and explain your choice.
Sazón Department (Diego Hauz, Sebastián Maria, Magnolia Polaris, Probablyourdaddy) / Sazón Department / New York, NY
Magnolia Polaris: "Freedom: The best part of the NYC music community is knowing that you have a few hours to free yourself of any troubles you might have, and that in turn you are also liberating others through music."
Oscar Nñ + Adam R. / Papi Juice / Brooklyn, NY
Radiant. Our community feels like a constellation; shining at different strengths and intensities in a network of stars in orbit around one another. There is literally a planet for every one. You can really admire it from afar but also be an integral part of it.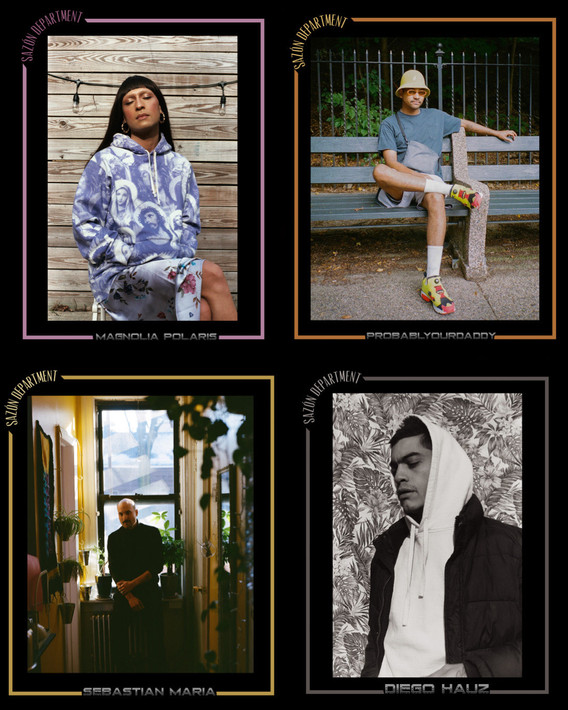 J.I. / Interscope / Crown Heights, Brooklyn, NY
Culture. I picked this word to describe our music community in New York City because our essence in music contributes to the melting pot of cultures that we have in NYC. We have all walks of life in this city with so many stories, influences, and values. I am proud to be part of it and contribute with my stories of who I am and how I grew up, and what influences me.
What do you miss most about the pre-pandemic NYC music community?
Chucky73, Dglo73, Fetti031, YoungKilla73 / Sie7etr3 / Bronx, NY
What we miss most is being able to interact with our fans physically in our shows. Being able to see our fans and hug them and make them feel more a part of our life was always part of our interaction with people.
Barbie Bertisch / Love Injection / New York, NY
I miss the physical coming together the most—the real stuff that happens at parties that livestreams can't reproduce. The way our bodies interact with one another when they meet with sound, lights, and movement, resulting in that state of euphoria, that out-of-body experience.
Analog Soul / Uzuri + Sublimate / Brooklyn, NY
Datkat: I miss the camaraderie!
Jacky Sommer: There's a sense of connectedness to the music and people in club culture that just doesn't feel the same without a dance floor.
Disco Tehran / New York, NY + Tehran, Iran
We miss the moments of togetherness. The way we used to dance together, and connect over sharing Iranian food. We also miss all the family of Disco Tehran, the musicians, the audience, the bartenders and bar backs and the folks who work the door.
How has your music/community continued to support and sustain you personally and professionally?
DJ Chill + Jo Vill / St. James Joy / Brooklyn, NY
Through our music we were able to organically create a block party that brought joy, helped build multiple friendships and provide a space for neighbors to grow closer. Professionally, we've been able to DJ for a broader, more diverse audience.
KeiyaA / Forever Recordings / Brooklyn, NY
I can honestly say that I've been pretty fortunate in receiving enough direct support for my art that has allowed me to sustain myself right now. Mutual aid programs have also helped with the circulation of resources for working artists around me.
AceMoMA / HAUS of ALTR / New York, NY
Our community has been, quite possibly, the only reason we've been able to sustain during this time. As artists we came together and tried to help each other as much as we could. Nothing we're doing could work without the community behind it!