The artist pens a letter to a late friend about the future.
This letter is a part of Performing at a Distance, an artist project that unfolds with one letter a week.
Aug 8, 2020
Hi Sam,
It was in April that Thomas and Ana gave me this assignment to write a letter about my vision of the future. I said yes. I am always late and I panic about being late. Sam, you were patient with me. Certain things need time. At certain times I need help. You helped me on such occasions. I almost wanted to call you. I have had this feeling many times. Let's call Sam. But you will not pick up. Your death left me with a particular void. And it is to that void that I am writing.
When you were in New York, did you know that I often hesitated to contact you?? I did not want to bother you too often. We were friends. Who wants to be too taxing to a friend? But now that you are gone, I don't know whether I should regret my hesitation.
My hesitation has continued in grappling with this assignment. I had tried to imagine several friends. I started writing to each of them to see how thinking of a particular person might direct me towards articulating my vision, which I was not sure about. I felt choosing one living friend over others was wrong.
Every conversation has to be unique to a particular relationship. In this time of uncertainty, this is particularly true. When I call friends, many tell me something new, drastic, or unsettling. I respond to their reports. It's too soon to discuss the future.
You passed away, so I will not ask you how you are. You will not tell me something new or upsetting. I can talk to you and think. Though I do not believe in the afterlife, I can count on your curiosity. Now that you have been gone more than two years, your death has become constant, and this teaches me about my future death. Sam, you continue to be helpful. Though I do not like it at all that you are not around.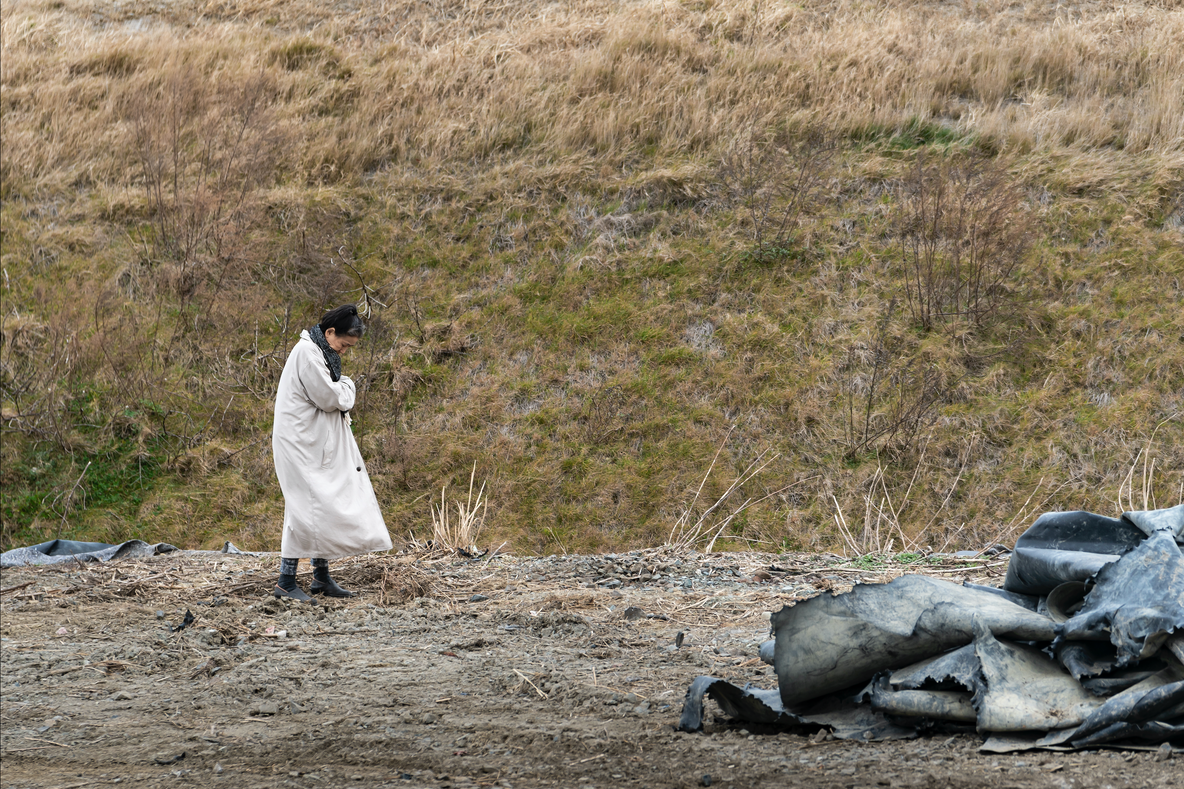 Eiko. A Body in Fukushima, Maebara, December 22, 2019, No. 38. Photo: William Johnston. Courtesy the artist
CURATION
Yesterday morning, I got a letter from Tonya Lockyer. It turns out you knew her. She is one of the participants in the workshop I am currently teaching over Zoom.
Dear Eiko,
In the early '90s I was in a Delicious Movement Workshop with you and Koma at Movement Research. It was in a walk-up on Ave A. I was 19. Yesterday I found my notes along with the handbill. This was before personal computers.
On the fourth page I found this:
"Your eyes are windows. Windows to a house, which has been empty for twenty years. No people. No furniture. No philosophy. So you can say 'Come to my house . . . I have nothing to offer. Come anytime you want.'"
I'm a 68-year-old who has performed and taught classes for the last 48 years, so it is not unusual to hear from people about what they remember about me (or us, Eiko & Koma) from decades ago. From the 100 pounds of unwashed potatoes we threw on stage and later gave away to audience members, to the handwritten addresses on envelopes floating downstream in the darkness of the river in the rain, to the oddness of a viewer being alone with our bare buttocks in the gallery where we performed naked for a full month, you were there or heard many of these stories.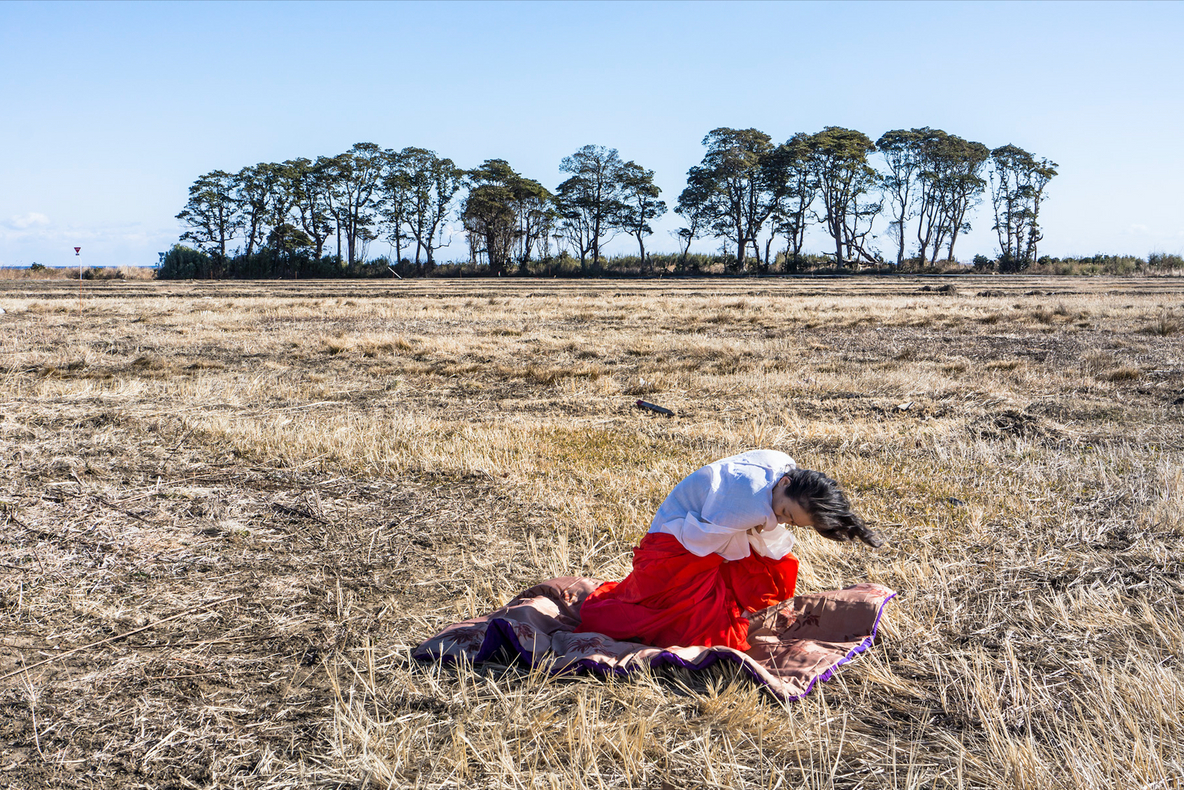 Eiko. A Body in Fukushima, Yaburemachi, January 15, 2014, No. 217. Photo: William Johnston. Courtesy the artist
"Your eyes are windows… Come to my house… I have nothing to offer." This indeed sounds like me—the vocabulary, the syntax, the attitude. This is what I said nearly 30 years ago in class. But that is not why I am writing to you. Once you said, " I have no taste for nostalgia." What's important is that I could have given this instruction today, and I can see myself giving it five or more years from now, if I am alive and working. Realizing this last part is crucial to me with regard to this assignment. During the biggest global health scare of my lifetime, and in the loudest call for social change since the end of 1960s, I have spent the last four months in exile from my home in Manhattan. Every conversation near and far ends with "we just do not know." We are flooded and choked with unacceptably ridiculous remarks and news of violence and wrongdoing. So I had trouble focusing on my vision. The future is always there, but constructing and articulating my "vision" has become impossible. I care about urgency. It has always been hard for me to focus on what I do not see as urgent.
Now, however, at least I can say one thing. There are certain things that I know I will continue to say. Not only about "the empty house," but also about how time is not even and how space is not empty. I do and will continue to work making the distance between me and others, here and other places, now and then, malleable. You might be tired of this as I have been saying it for some time, but there will be new people to whom I will say this with renewed passion. That is as much as I know about my future. This continuity is urgent to me.
Tonya had a full paragraph about you being her "mentor" and how you told her a lot about the work you and I have done together. I laughed. Sam, like this, you pop up in front of me as if on cue but without prompting from me. Much more so since you passed away two years ago.
This morning, Reggie Wilson called me. Given that hardly anyone calls me without an appointment these days and Reggie and I have never hung out before, I was delighted and puzzled. My 10am and Milwaukee's 8pm. "At a workshop you gave for Extended Life artists at LMCC years ago, you instructed us to move completely uselessly," Reggie told me, "I loved it and have since quoted you on that." He was calling from the Lynden Sculpture Garden, where he is an artist-in-residence, and where Koma and I performed in 2011. "I just feel Sam is around here now," Reggie mused. Yes, Sam, you put us together. He proposed and I agreed to do a public Zoom conversation in two weeks. The future tense! I embrace this warm feeling when a colleague I have respected begins to become a friend. William Johnston, Forrest Gander, C. D. Wright, Okwui Okpokwasili, John Killacky. You brought these artists to me and I have danced duets with all of them. There are many different ways to dance a duet. You know I do not often follow people's suggestions. But my self-curation is actually a co-curation with precious friends with whom I have built trust. My future depends on that history.
DYING
Tonya's letter made me think that when I die, someone will remember what I say and how I say it, or even what I do, for a little bit longer.
Humans remember the dead. Memories and traces. There are different futures in the future: one's lifetime, the time that one's traces remain, and the time when one's traces begin to be eroded. I remember what and how you said things. I miss your grin. In the missing, we continue to know you. In that, your dying takes my lifetime. You will always be dying.
The future is always about dying, that of someone close and one's own. And so it becomes about living until then. Dying takes some time. My birth took a long time. Eggs of eggs of eggs of eggs. All the way back since the dawn of time.
When I was a child, I was afraid of dying. I did not understand death and did not believe it would happen to me. I remember the day I had a realization about death. I was 10 years old. It was in the afternoon, not winter or summer. I saw a photo of my parents' wedding. They married on August 10, 1945, in the burned-down center of Tokyo, one day after the Nagasaki atomic bombing and five days before Japan surrendered. My mother said she knew about neither. No one in the photo, a very small group of relatives, is smiling. A handsome man and a very beautiful woman I know so well are seen in wartime clothes looking sad. It was expected that my father would be forced to return to the military within a month. This 1945 photo brutally showed me that the world existed without me, without my eyes and ears. It felt strange, unfair, and completely wrong, but I saw that these people existed on that day with that war drama without me. Therefore, I, the child, concluded: I can indeed die and the world would continue to exist without me. I felt proud that I answered on my own a very difficult question about death.
That did not make death feel easier. The clearer it became that I would die, the more worried about dying I became. I love living. I worried about clinging to living. And I still worry about it. So I have practiced dying in performing. I have practiced my future. Grain, Beam, Elegy, By the River, Snow, Land, Offering, Wind, River, Snow, Hunger. These are the pieces in which I dealt specifically with death. In Death Poem, I was dying center stage for 45 minutes. You were there. We had a long talk. You have gone to that future, everyone's future. In my solo, I practice forgetting and betraying my own choreography. You were there too. This will be forgotten after I am gone.
Earlier, when I said I was becoming weary of wearing kimonos, you said, "In your solo, these kimonos carry irradiated Fukushima. In the next project we will think about what to do." Anne, your wife, gave me two of your raincoats. She delighted me by showing up at the Cathedral for the preview performance of the Duet Project. It was the first time I performed in your raincoats. Did you ask her to check on you, the coats? When live performances become permissible, I will be wearing your oversized raincoats again. The black one and the off-white one.
On your cellphone, you wrote a poem letter to your friends and family members: "Gratitude is the last breath. Yours and mine. More mine." I, too, want to say and feel this when I die.
TIME
Now, due to the pandemic, I have been in Japan living in a small house my mother left me. It is filled with many things of the past. A little red aluminum cup I used when I was a preschooler. On it I see my name in yellow paint, written by my father. Sixty-four years later, I use it again while brushing my teeth. When I don't find it, I get upset. A renewed routine, an immediate future I count on in the absence of a longer continuity, is disturbed. Without a performance to prepare for, everyday life feels more fragile. My present in this house is bound by the past. From here I look toward New York. Sam, it is a bit complex.
For the first time, I was here in Japan the entire spring. Every day, every week, new leaves, new colors, new flowers. Movements. Whether I was here or not, the season has always moved with details. This will continue. But we humans have messed up many things. The resulting changes are upon us, articulated in the details.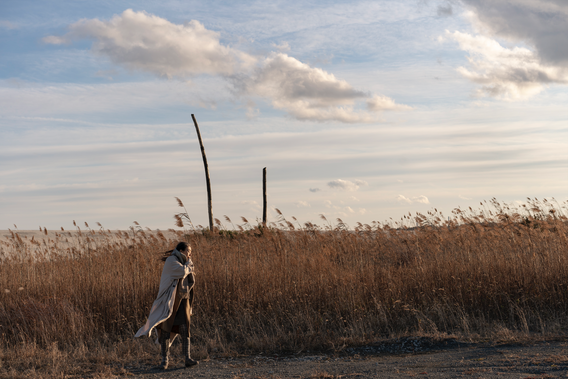 Eiko. A Body in Fukushima, Ukedo, December 24, 2019, No. 32. Photo: William Johnston. Courtesy the artist
Every breath we breathe now will be exhaled a moment later. That is the future tense. That future is already upon us. We will need to exhale. Then it will become now. We can touch it and smell it. Immediately now becomes the past. How fast time moves!
I dance slowly, people say. Dancing is lingering. Dancing is sabotage and resistance. I resist momentum. Momentum is seductive. It sometimes makes me embrace danger. Being brave can mislead.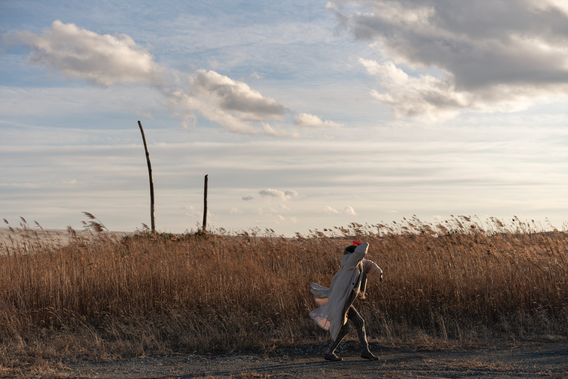 Eiko. A Body in Fukushima, Ukedo, December 24, 2019, No. 40. Photo: William Johnston. Courtesy the artist
Sam, the link between the immediate future and the distant future is harder to feel nowadays. One cannot live a life going to places sniffing out one's own way. Our schedule is merely a vague wish list with little room for willpower. My close friend Kyoko Hayashi, who experienced the atomic bombing in Nagasaki at age 14, wrote that even after growing up she would not, for many years, make any promise beyond the immediate future because she lived with radiation sickness. She could never assume being well. But I have not quite lived in this intense unknown before.
Since I was 20, I have always had performances scheduled, even if they are months away or in a faraway country. Now with no show dates, we only have possibilities to hang on. Not a tragedy. Just harder.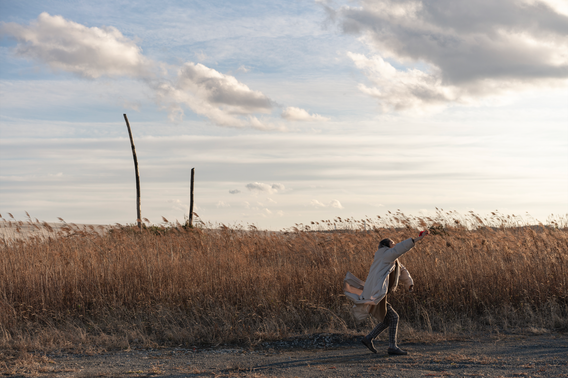 Eiko. A Body in Fukushima, Ukedo, December 24, 2019, No. 42. Photo by William Johnston. Courtesy the artist
LETTERS
I have been editing many small videos since I got here. Some are from old footage. During the quarantine, I worked through the night. I still do. This is my new dance. I love performing because during a performance I think more and make more decisions. With my performances cancelled, I had to create a different process, not least of which is ornamental. I let my mood in isolation lead the editing. I let my distance from New York desire intimacy. I do not send out too many of these to friends. People are busy. My politics of hesitation. I am being careful with people. I walk alone in the rain counting days. On June 9, I danced alone to remember whose funeral happened how many miles away. My little dances are my letters.
Two different viewers: myself and someone else. I look and change. I look again and change. This is a luxury that performing live does not offer. And someone who might not even be born yet might see the piece someday. She might feel my walk in the rain and my hand on the edit. Just a wish. All the pages of my Virtual Studio at Wesleyan are my letters. You did not see any of these.
In December last year, Bill and I went to post-nuclear-meltdown Fukushima for the fifth time. I would not have met this historian photographer if you did not send me to Wesleyan 15 years ago. I spent a month in China in January. I had to cut my stay there short due to the spread of the coronavirus. In February, when I left Tokyo for New York, Japan had far more COVID-19 cases than the US. But at the end of March, I flew back to Japan after a month of being home in New York. By then, I had been escape-fatigued. My body tightened by defense. With the pandemic and BLM, I could not focus on Fukushima anymore. But I cannot null my having been in Fukushima. The pandemic does not make nuclear matters less dangerous. All wrongs could become more catastrophic if we look away.
So I willed myself to finish my part of the Fukushima book manuscript. Following your instructions, the book will contain our essays along with selected photos of my performing alone in irradiated Fukushima from 2014 to 2019. Now that my part is done, it is hard for me to accept that the book will not be available until 2021. As a performer, I worry whether such a book betrays time. Time is to be betrayed, you might say. You are a book person as much as a performance person. We will dedicate the book to you.
You have seen many photos from Fukushima, but you have not seen the photos from our last visit. And in these, I did not wear kimonos. Fukushima is no longer the place I wanted to wear my grandmother's kimonos. Instead I wore your raincoat. We never discussed this. You in Fukushima.
My work in Fukushima is also a letter to the future. I get obsessed with endlessly editing a video I make from the still photos from Fukushima. When I choreograph these photos, I intentionally include the photos that will not be selected for an exhibition or a book. I like the photos that are "not quite right." I have a distaste for being "just right." Assigning a different time to each photo, I create dances, my letters from broken Fukushima.
Fukushima remains dire. I cannot change the situation. No return. But I will continue to write letters about that no return.
More soon. Love,
Eiko
Eiko Otake is a movement-based, interdisciplinary artist. She worked for more than 40 years as Eiko & Koma. In 2013 MoMA hosted Eiko & Koma's Caravan Project as a part of Performing Histories: Live Artworks Examining the Past. In 2015 Otake participated in a conversation with Sam Miller and Trajal Harrell as a part of Harrell's residency In one step are a thousand animals. In 2014 Otake started her solo project A Body in Places and A Body in Fukushima, and in 2017 she launched a multiyear Duet Project, an open-ended series of cross-disciplinary, cross-cultural, and cross-generational experiments with a diverse range of artists both living and dead.