Projects for an Open City
These New York projects, presented as part of Virtual Views: New York, Open City, illustrate the pitfalls and potential of modern architecture and urban planning.
The five projects below, chosen in conjunction with Virtual Views: New York, Open City, map the diversity of approaches used by architects over the last 70 years to design for an "open city." Considered today, these examples illuminate the pitfalls of modernism—especially the notion of a universal architecture that could be applied to seemingly any context—but they also serve as a reminder of architecture's potential to participate in the creation of more open, accessible, and ultimately equitable cities.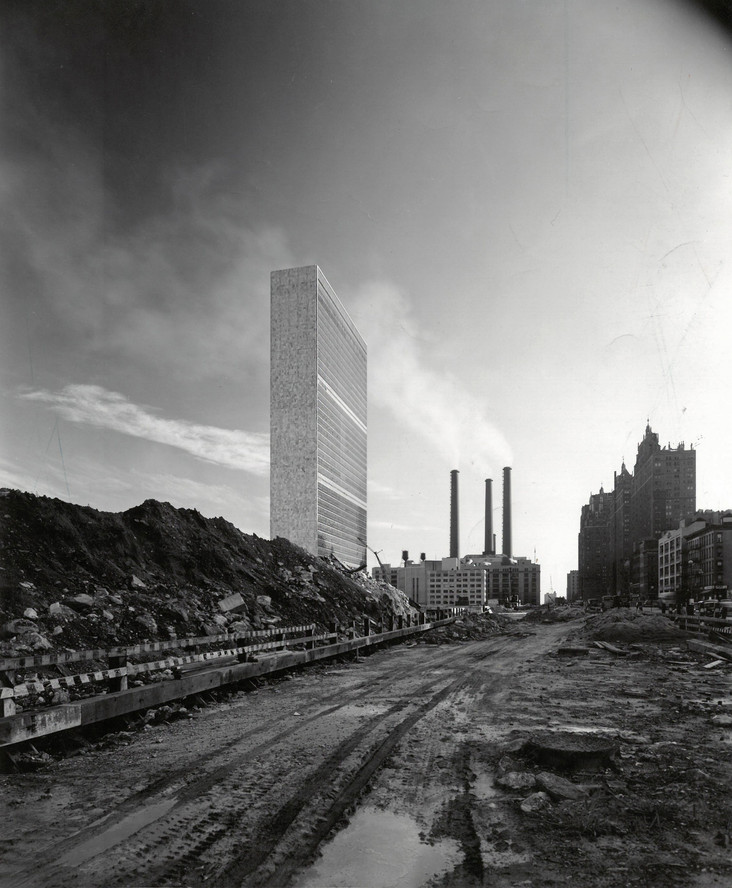 Ezra Stoller. UN Secretariat. 1952
United Nations Secretariat Building
The UN Secretariat Building was the first high-rise in the United States to employ a glazed "curtain wall" system across its entire facade, a system in which standardized windows are suspended on the exterior of a building. The use of green-blue tinted glass and aluminum produced two shimmering facades; their transparency levels and reflections transform throughout the day. Industrially produced glass made it possible to design buildings with vast, transparent surfaces. For modern architects, this represented an opportunity to create a new architecture for civic institutions that would appear not only inviting and accessible, but also symbolic of an open, democratic society.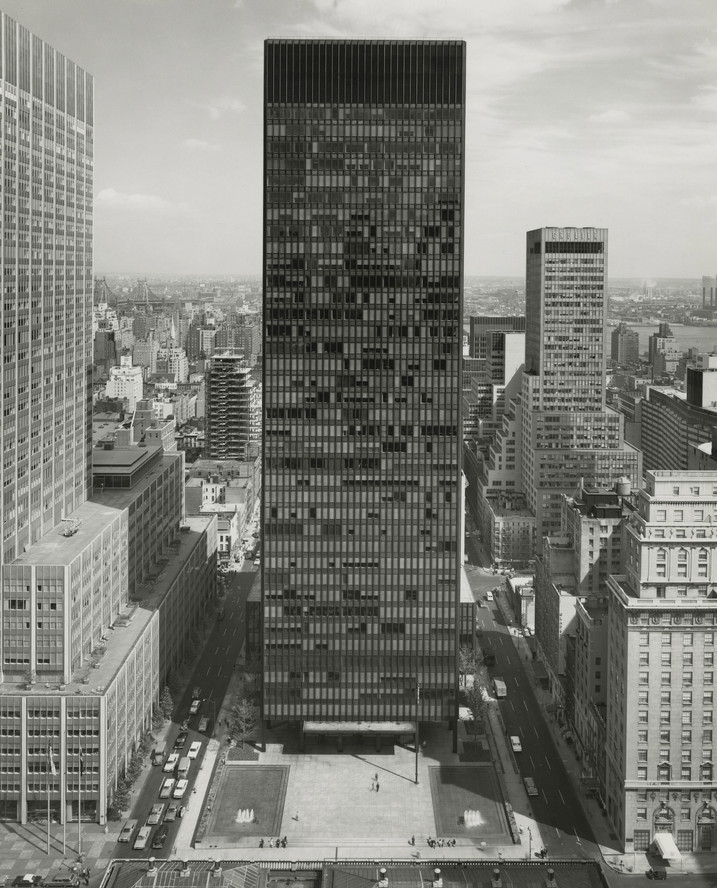 Ludwig Mies van der Rohe. Seagram Building, New York, NY (view from the west). 1957
Seagram Building and Plaza
When German-born architect Ludwig Mies van der Rohe was commissioned to design the corporate headquarters of the Canadian distillers Joseph E. Seagram & Sons on New York's Park Avenue, he knew from the start that it would be a steel-frame tower sheathed in bronze and glass. What he was most interested in exploring was the potential of pushing the volume of the building away from the sidewalk in order to create an open, publicly accessible space. The resulting granite plaza at the Seagram provided a gathering place of rest and repose in New York's densely built Midtown, as well as a model of "privately owned public space" that has been replicated in countless other high-rise developments throughout the city.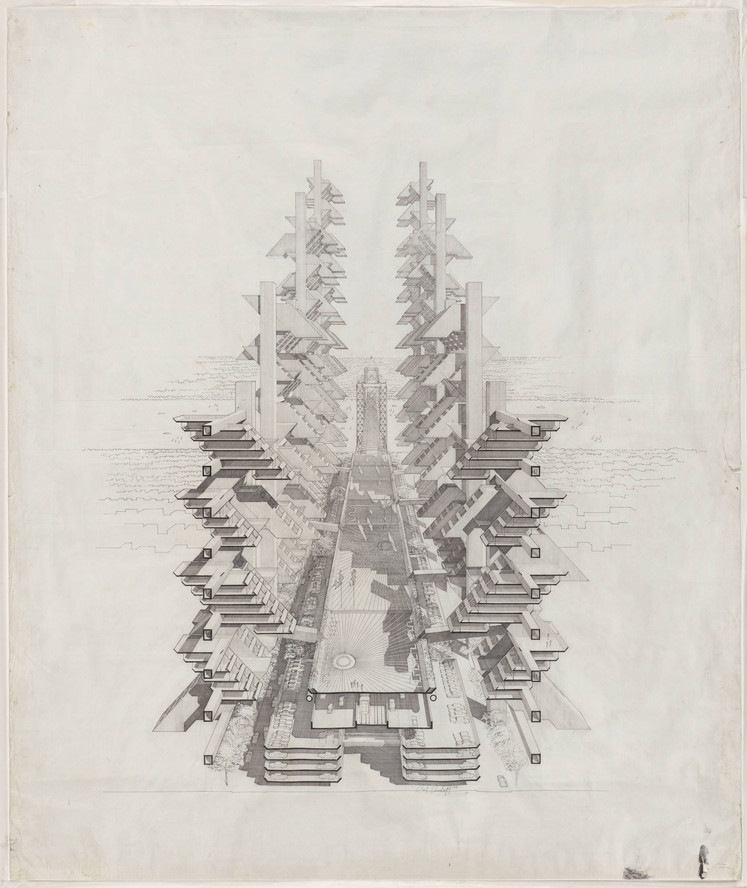 Paul Rudolph. Lower Manhattan Expressway Project, New York, NY (perspective to the east). 1967–72
Lower Manhattan Expressway
The Lower Manhattan Expressway, which would link New Jersey to Brooklyn, Queens, and Long Island via the Holland Tunnel and the Manhattan and Williamsburg bridges, was conceived of in the 1940s by the influential (and controversial) New York City urban planner Robert Moses. As a top-down project that prioritized car traffic over the communities it would disrupt, the massive project faced sharp criticism and protests from numerous groups and constituents, including the writer and activist Jane Jacobs. After years of public debate, in 1967 the Ford Foundation commissioned Paul Rudolph to produce a speculative study of the proposed expressway. Rudolph's proposed Y-shaped corridor suggested a new approach to city building, in which transportation networks could bind rather than divide communities. After more than a decade on the drawing board, the expressway project was finally abandoned in 1972.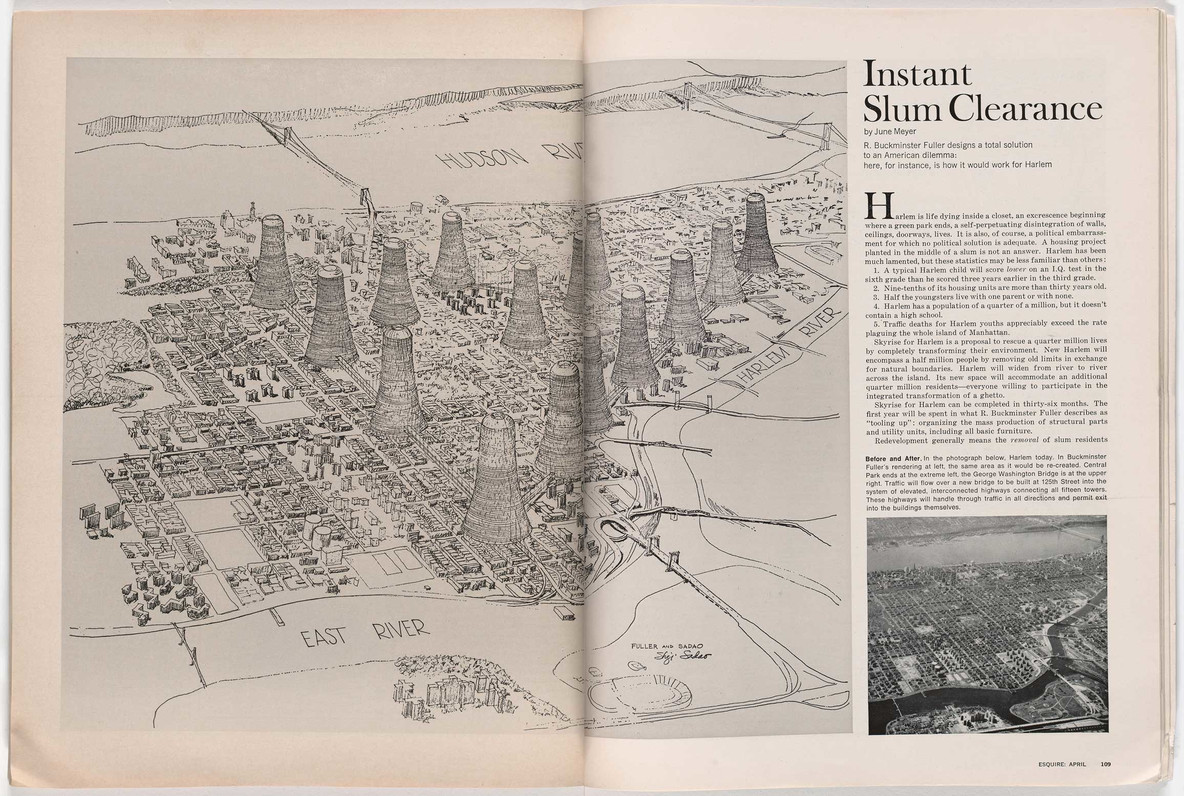 June Jordan and R. Buckminster Fuller, Skyrise to Harlem, 1965; reproduced in June Meyer, "Instant Slum Clearance," Esquire 63, no. 4 (April 1965)
Skyrise to Harlem
Who gets the right to decide the architecture of a city and its inhabitants? This question was central to a 1965 urban proposal for Harlem developed by architect and writer June Jordan with famed engineer and architect R. Buckminster Fuller. The speculative project was a sharp repudiation of the prevailing model of "urban renewal," which was based on the idea of "excising" New York's "unhealthy slums" and replacing them with the impersonal housing that has become known as "projects." Originally titled "Skyrise to Harlem," Jordan and Fuller's scheme imagined a series of communally and incrementally built conical towers with hanging gardens and public recreation facilities, which they described as "trees of life." Rising above rather than replacing the existing urban fabric, the 15 porous structures would accommodate half a million new inhabitants, while at the same time sparing Harlem's existing residents from the detrimental effects associated with mid-century urban "redevelopment."
James Corner Field Operations (Project Lead), Diller Scofidio + Renfro, and Piet Oudolf. The High Line, New York, NY. 2005
The High Line
The High Line, a 1.45-mile-long park created on a formerly abandoned spur of the New York Central Railroad, is one of New York's most utilized promenades. Conceived as an elevated, open-air greenway running through West Chelsea, the project has grown to become a much-imitated example of adaptive reuse. It is precisely the project's unprecedented success that in recent years has raised concerns, as the sharp increase in high-end housing construction activity around this human-scaled intervention threatens to outweigh its positive contribution to the southeastern edge of Manhattan.