What Do We Mean By Good Design?
Ten objects from The Value of Good Design highlight the democratizing potential of design.
Our latest exhibition, The Value of Good Design, gets to the heart of a question MoMA has been asking since its inception: What is good design and how can it enhance everyday life? From dinnerware to lounge chairs, knife sets to Slinkys, and table lamps to plumb bobs, objects of daily life have always played a unique role in the history of this museum. MoMA's Good Design initiatives from the late 1930s through the 1950s championed well-designed, affordable products through two series of influential exhibitions (Useful Objects, which ran from 1938 to 1948; and Good Design, which took place from 1950 to 1955). These exhibitions, coupled with a range of competitions for furniture, lighting, and textile designs, as well as fully furnished houses in the Museum Garden, helped to launch the careers of major designers, including Charles and Ray Eames, Eero Saarinen, Eva Zeisel, and Hans Wegner.
But the concept of "good design" extended well beyond the confines of the Museum at midcentury, finding purchase with government agencies, design organizations, institutions, manufacturers, retailers, and designers as a means of spurring economic development in a world still recovering from the ravages of World War II. Through a series of exhibitions, publications, and international expos, countries around the world promoted the promise of industrial production as a means of peacetime revitalization. At its core, The Value of Good Design explores the democratizing potential of design, and how this vast international network, including MoMA, played a vital role in transforming the global economy in the years after World War II.
Good design may mean different things to different people, but here are 10 of our favorite objects from the exhibition. We invite you to visit The Value of Good Design for yourself and select your own favorites.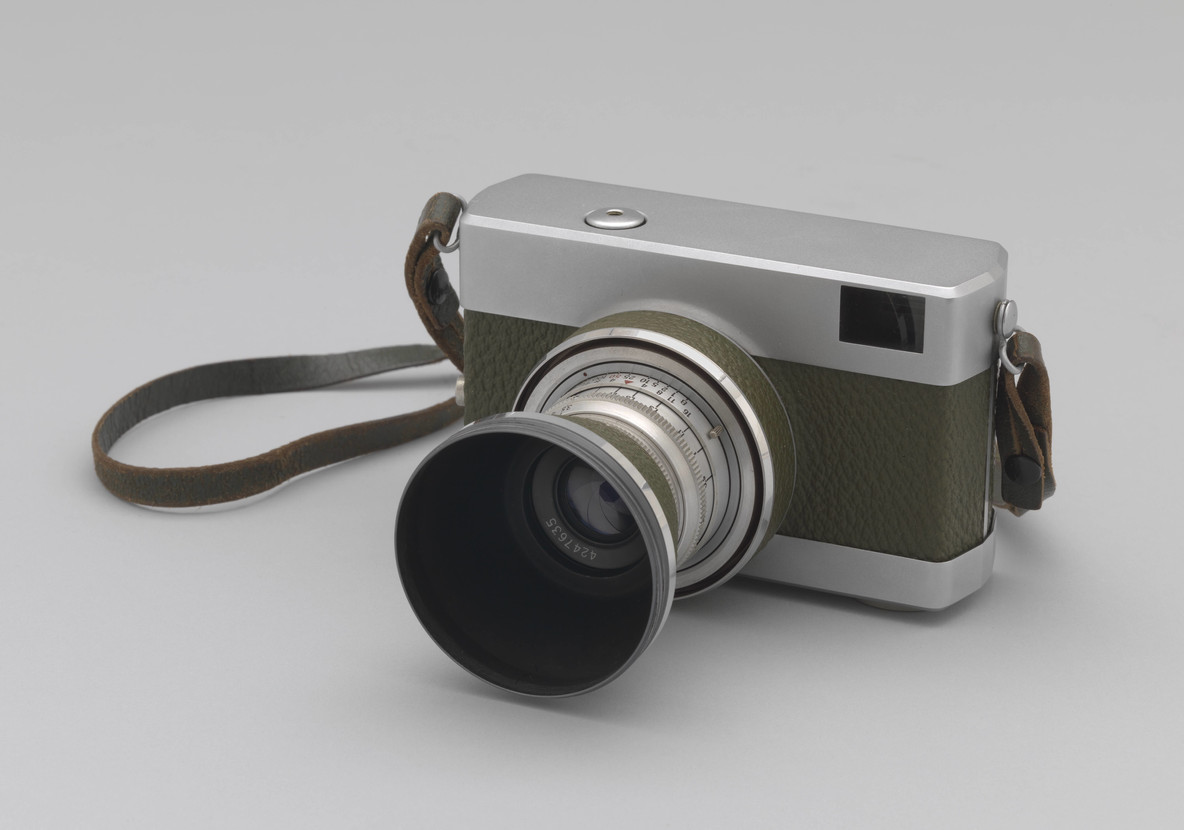 Zeiss-Werk, Jena, East Germany (DDR). Werra I camera. c. 1955–60
The Werra series of 35mm viewfinder or rangefinder cameras was promoted by the Design Institute of the German Democratic Republic as a textbook example of good design principles. Manufactured for a mass market, the camera featured a compact, ergonomic design. It offered a high degree of control with a minimum number of levers, knobs, and rings, making it both suitable for amateur photographers and less prone to mechanical failure. Over half a million Werra cameras were produced from 1956 to 1966, and sold throughout the Soviet Bloc.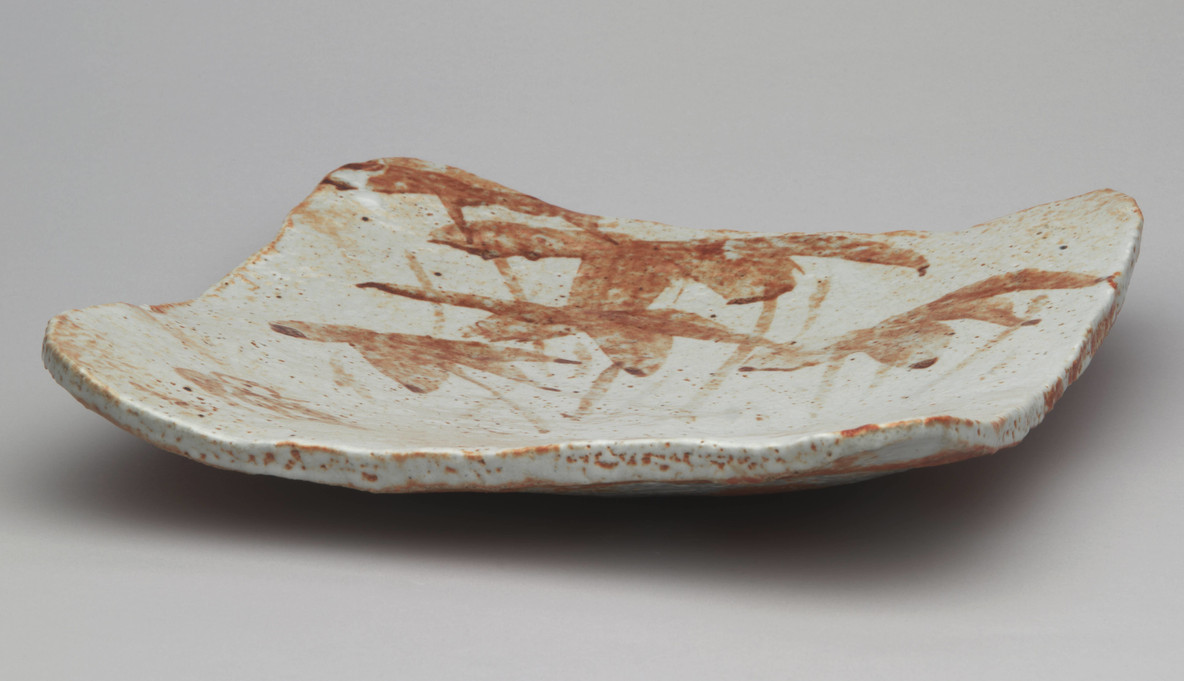 Kitaoji Rosanjin. Square platter with rounded edges. 1954
Renowned not only as a ceramicist but also as a chef, epicure, and calligrapher, Rosanjin referred to his plates and vessels as "the kimonos of good food." The dull glazes and rough, irregular shapes with chipped edges were designed to complement Japanese delicacies served in small portions. In 1946 Rosanjin opened a restaurant in the famous Ginza District of Tokyo. Patronage by American occupation forces helped establish his international reputation, leading to an invitation to exhibit his work at MoMA in 1954.
David Smith. Fireplace Set. 1939
Smith, a metal sculptor, was commissioned to create this fireplace set for the Members' Penthouse in MoMA's 1939 building, designed by Philip Goodwin and Edward Durell Stone. In the Penthouse, members experienced contemporary design firsthand, surrounded by pieces by Bruno Mathsson, Marcel Breuer, and Alvar Aalto, among others. The Organic Design in Home Furnishings exhibition of 1941 drew on the aesthetic principles set forth in the Penthouse space, furthering the Museum's mission to promote the most innovative contemporary design and craft.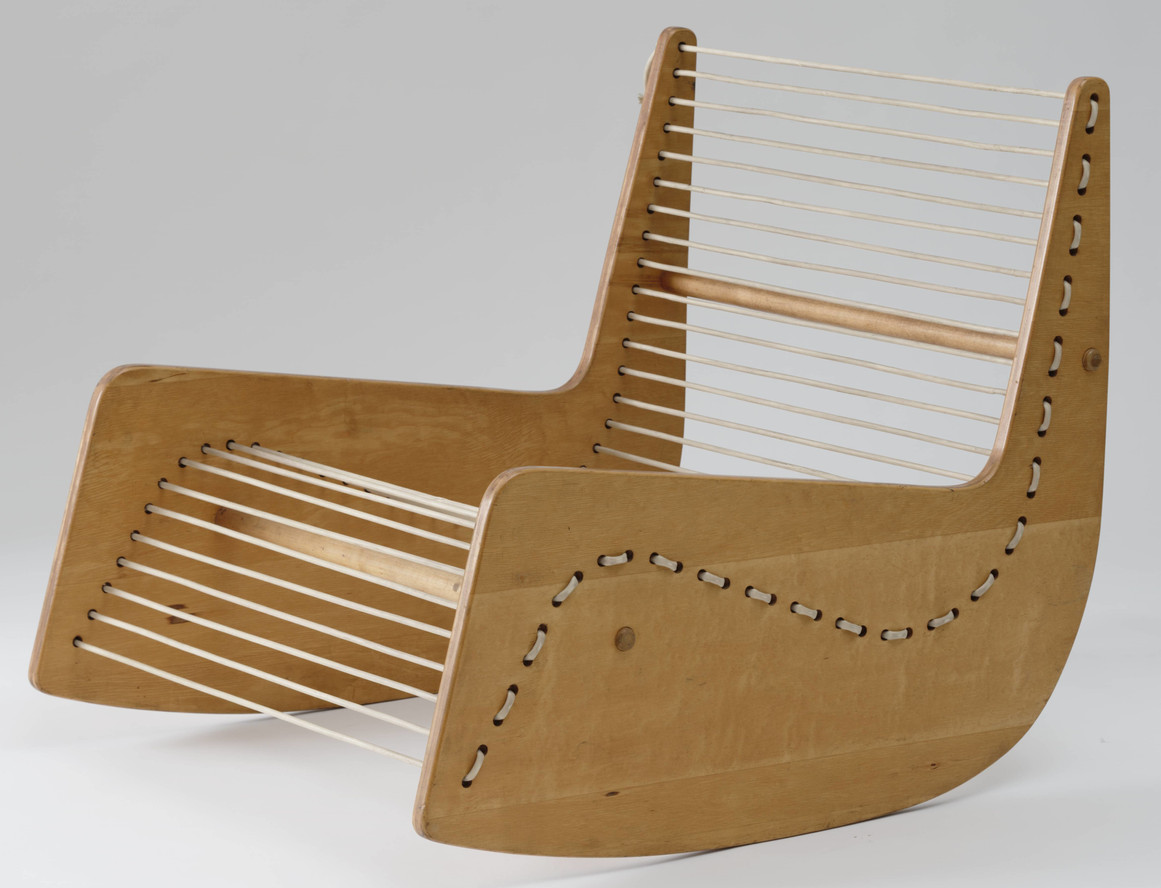 Alexey Brodovitch. Floor Chair (model 1211-C). 1948
Brodovitch, remembered for his successful career in fashion as art director at Harper's Bazaar, won third prize in MoMA's International Competition for Low-Cost Furniture in 1950 for this knock-down rocking chair. Described as "exceptionally simple and comfortable," it employs basic construction methods and inexpensive materials. Its parts can be cut from standard sheets of plywood with a minimum amount of waste, a precursor to the flat-pack IKEA furniture we know today.
Joel Robinson. Ovals printed fabric. 1951
Robinson is the first black designer to enter MoMA's design collection. His Ovals fabrics series was first shown in the 1951 Good Design exhibition at the Chicago Merchandise Mart and here at MoMA. Lauded at the time for his "strikingly original designs," he was featured in both Ebony and Jet magazines, two important publications dedicated to black culture. An article in the May 1952 issue of Ebony called Robinson "one of the most promising newcomers in the highly-competitive field of fabric design," and featured a picture of his sister, Mrs. Callie Middleton, wearing an original Ovals dress. Robinson's keen eye carried him through the ranks as a creative director at the New York advertising firm David D. Polon, which specialized in packaging and other graphic design work. By 1954, he was promoted to Executive Vice President at the firm, but little else is known about him after that date.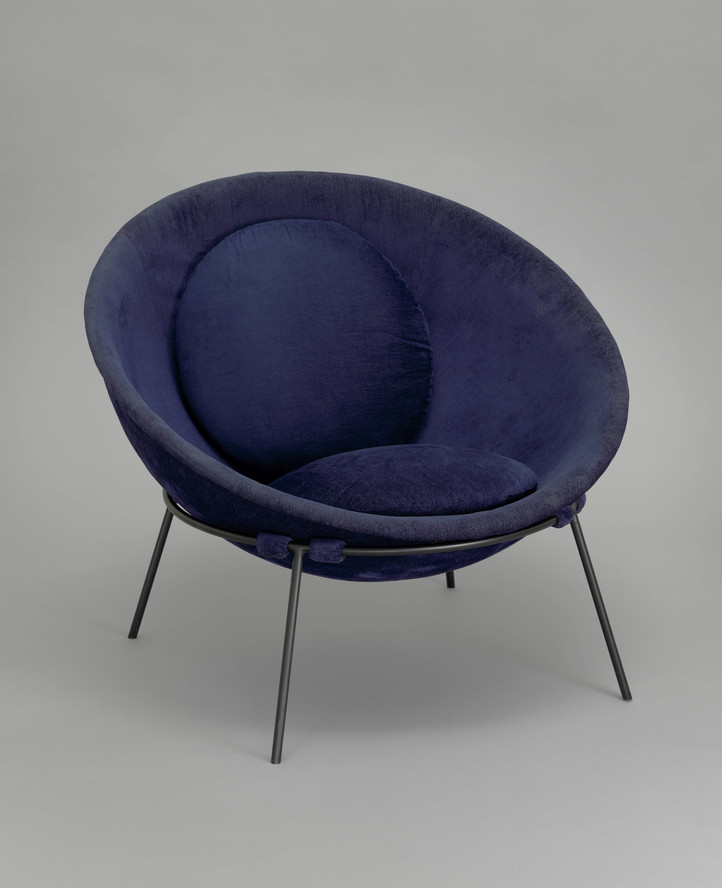 Lina Bo Bardi. Poltrona Bowl chair. 1951
The Poltrona bowl chair was first introduced in a 1950 issue of Habitat, an influential arts magazine cofounded by Bo Bardi, a Brazilian architect, designer, and art critic. The two-page spread included sketches and photographs of Bo Bardi herself, relaxing in the comfort of her own creation. Showcased both in her own home, the Glass House (1951), and in Brasilia's new prestigious Palace Hotel (1958), designed by Oscar Niemeyer, the chair quickly became a design staple for the modern Brazilian middle-class home. The removable bowl allows each sitter to adjust the angle of the seat in its metal ring to suit their desired posture and mood. This design's flexibility could be the key to the chair's lasting appeal, reflecting Bo Bardi's assertion in 1959: "This love for everyday objects is a vital necessity to be found in the origins of human life.... It is a way of being that extends to the way of looking at things, of moving, of placing one's feet."
Marcello Nizzoli. Lexikon 80 Manual Typewriter. 1948
In the early 1950s the Lexikon 80 typewriter was exhibited internationally as an icon of good design that unified the machine's many working parts within a sculptural and visually balanced outer casing. Two years after opening its first American office at 80 Fifth Avenue in 1950, Olivetti sponsored an exhibition at MoMA of the firm's office machines and adventurous company design policy, which was in line with the Museum's efforts to increase representation of well-designed products from Europe, Scandinavia, and Japan. The show was curated by Leo Lionni—a leading figure in the world of postwar graphic design as the art director of Fortune magazine as well as Olivetti's American advertising campaigns—who went on to illustrate many children's books that are popular to this day.

Albin J. Herek and Philip V. Leivo. Hunting Bow. 1947
Freed from the material restrictions of wartime, and against the backdrop of increasing economic prosperity in the US, more expressive kinds of household goods came to the fore in the 1947 Useful Objects exhibition at MoMA, including this hunting bow, a high-end novelty. The exhibition installation was designed by the architect Ludwig Mies van der Rohe—the former director of the innovative German art and design school known as the Bauhaus—whose work has been favored by MoMA since the Museum's early forays into exhibiting modern architecture.
Richard James and Betty James. Slinky. 1945
What started as a chance discovery went on to become an international bestseller that has helped generations of children ponder the principles of gravity and tension. "Slinky was once just a little old everyday spring on a ship," read a brochure describing the origins of the popular toy. "One day Dick took it home to show his family. His little boy, Tommy, surprised everybody by making the spring walk down the stairs—all by itself! That gave Dick the idea to make this little old spring into a toy. His wife named it Slinky!" Richard James, who began his career as a naval engineer, spent a few years perfecting his design before bringing it to market in 1945. It was Betty James, his wife, who brought Slinky its international success, marketing the cleverly named toy with a catchy jingle and playful television ads. When she died in 2008, The New York Times estimated that the number of Slinkys sold since the 1940s could circle the globe 150 times.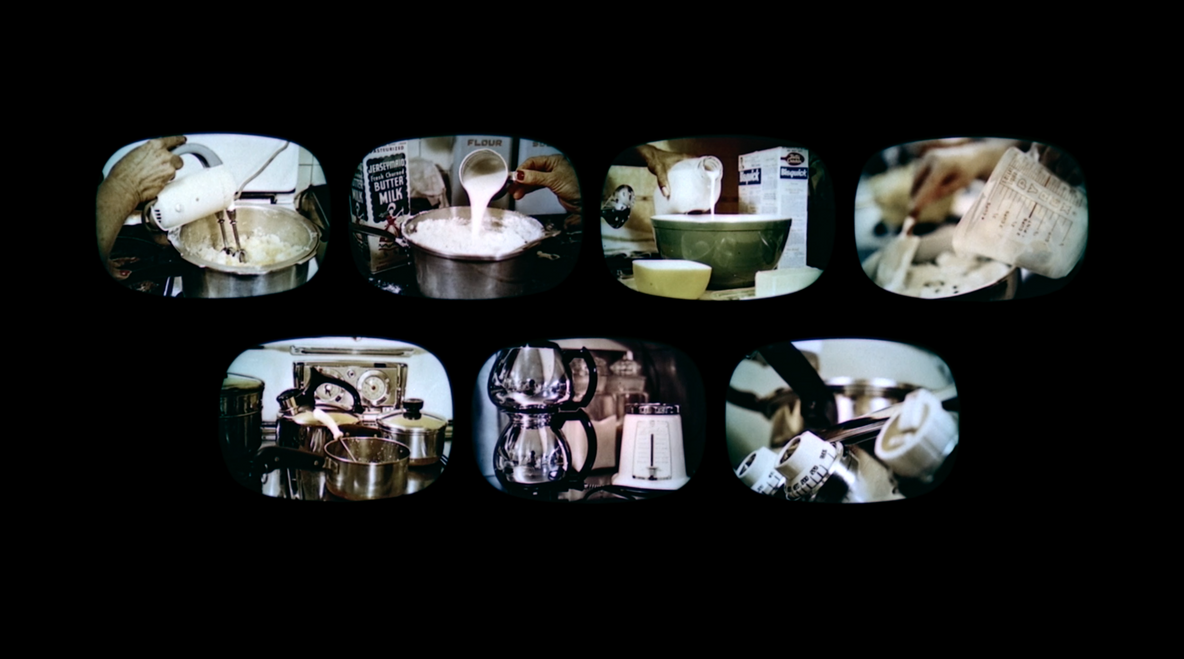 Charles and Ray Eames. Glimpses of the USA film. 1959
The United States Information Agency commissioned the Eames Office to make this film about "a day in the life of the United States." The film would serve as an introduction to the American National Exhibition held in Moscow in 1959. Taken together as a piece of propaganda, these impressions of a typical day in suburbia underscored the social values and capitalist infrastructure upon which the domestic lives of American consumers depended. Projected across seven 20-by-30-foot screens inside a geodesic dome designed by Buckminster Fuller, the film presented Soviet visitors with a dazzling audiovisual presentation of the American way of life.
The Value of Good Design is on view through June 15, 2019. Buy tickets today.