MoMA staff share artworks and images that speak to this critical moment in our history.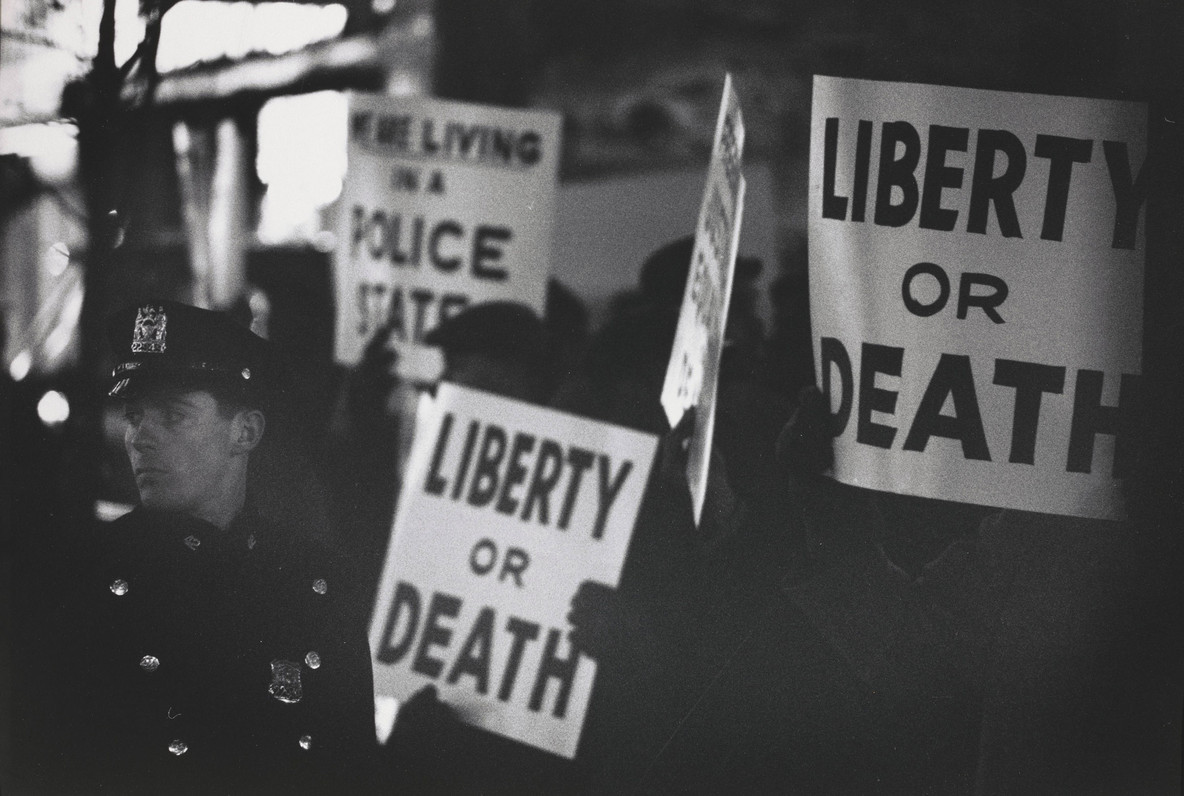 Gordon Parks. Harlem Rally, Harlem, New York. 1963
Outside of my work at MoMA, I have been a documentary photographer for over 20 years. The work of Gordon Parks has always held a special place. In the current climate, his work has become even more of a touchstone. It was his ability to both tell a story through his pictures, and the dignity with which he portrayed his subjects, that I have always tried to emulate in my own work. But his words carry just as much weight: "I saw that the camera could be a weapon against poverty, against racism, against all sorts of social wrongs. I knew at that point I had to have a camera."
–Robert Gerhardt, Collections Photographer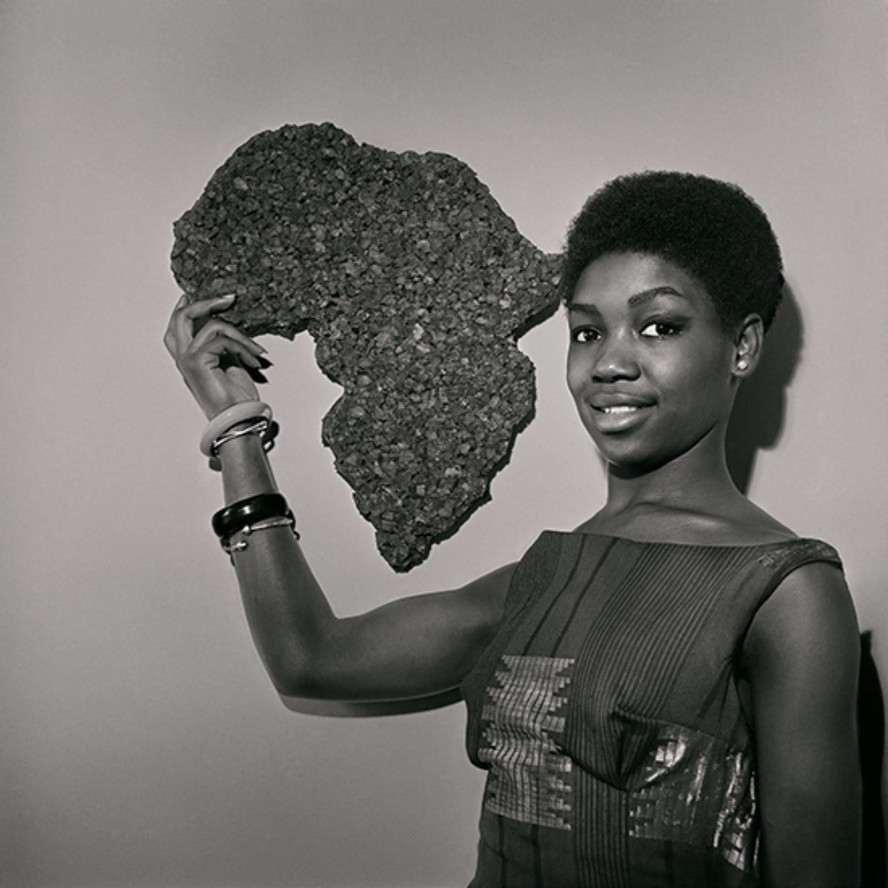 Kwame Brathwaite. Untitled (Nomsa with Africa). 1964–68
This picture by Kwame Brathwaite belongs to a history honoring the natural African American style identity that, in the early 1960s, gave rise to the Black Is Beautiful movement. It's a portrait of his sister-in-law, Nomsa Brath, one of the founding members of Grandassa Models, sporting natural Afro-hair and holding a map of Africa. Together with his brother Elombe Brath, Brathwaite was part of a growing community of Pan-African activists inspired by pioneering Black thinkers such as Marcus Garvey and Carlos A. Cooks. He fought against ideas grounded in white supremacy and played an influential role in the national conversation on race pride within the Black community.
–Roxana Marcoci, Senior Curator, Department of Photography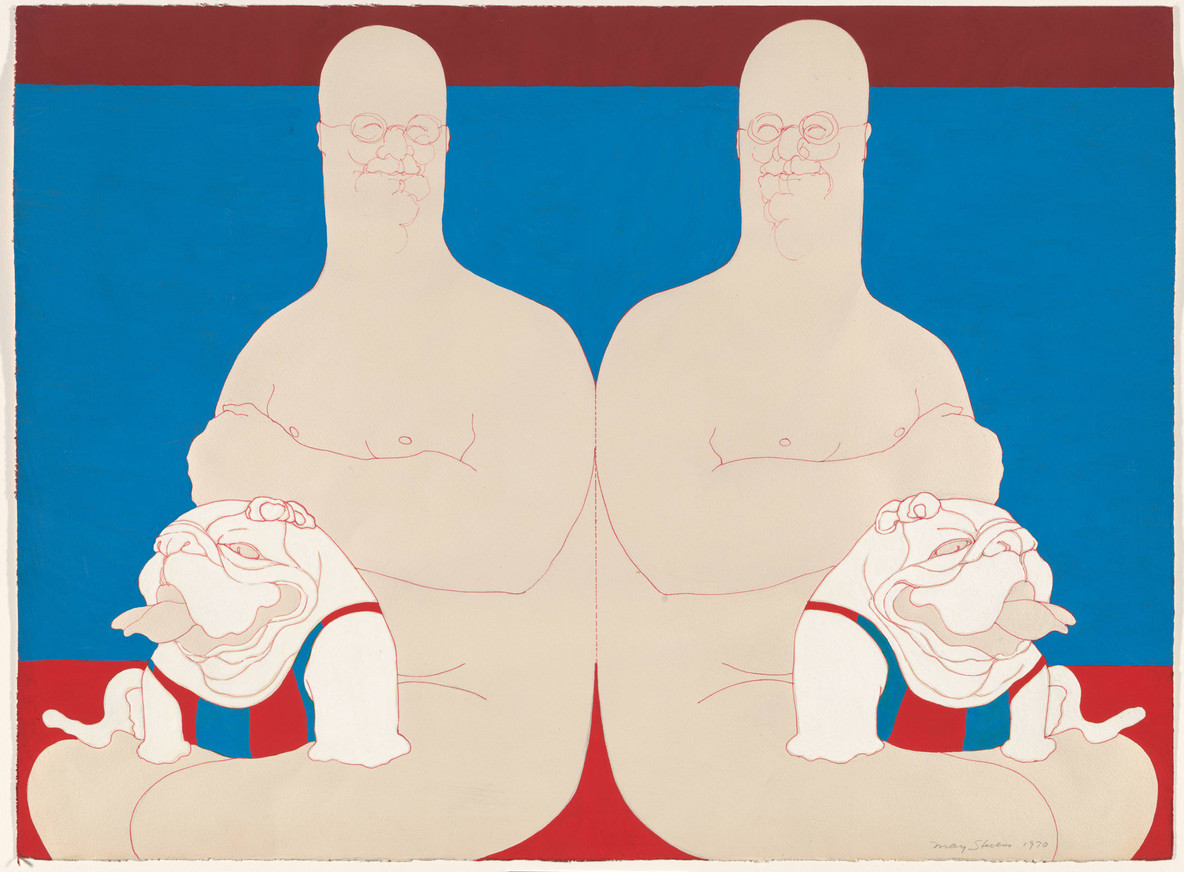 May Stevens. Big Daddy (Beach Scene). 1970
I think the pared-down, symmetrical composition of artist and activist May Stevens's 1970 Big Daddy (Beach Scene) effectively symbolizes the historical context from which the Black Lives Matter movement has sprung. The bald-headed figure—a caricature based on a photograph of the artist's father and an embodiment of patriarchy, racism, and militarism—stares approvingly, like Narcissus, at his own nude reflection. The current protests are like a pebble on the surface of that pond, disrupting the stasis of a world made in his own image, and producing wide, far-reaching ripples.
–Ana Torok, Curatorial Assistant, Department of Drawings and Prints
Art Workers' Coalition's "13 Demands." 1969
Widespread protests against racial violence, demands for systemic change, and a push for cultural diversity in the arts and entertainment industries are taking place. I see parallels to civil rights movements in the 1960s, when artist groups staged protests for peace, inclusivity, and social justice at MoMA. Particularly, this calls to mind the Art Workers' Coalition (AWC), which submitted a list of "13 Demands" to MoMA leadership to call for greater inclusion of and visibility for "the Black, Spanish and other communities" in the Museum's exhibitions and programming.
–Francis Estrada, Assistant Educator, School and Teacher Programs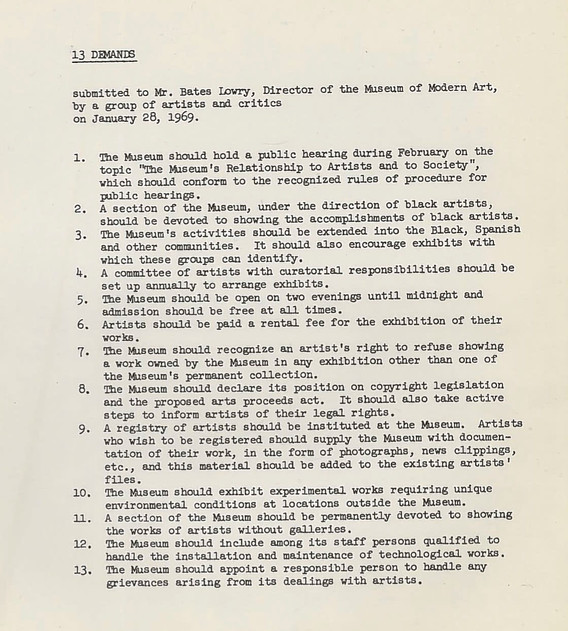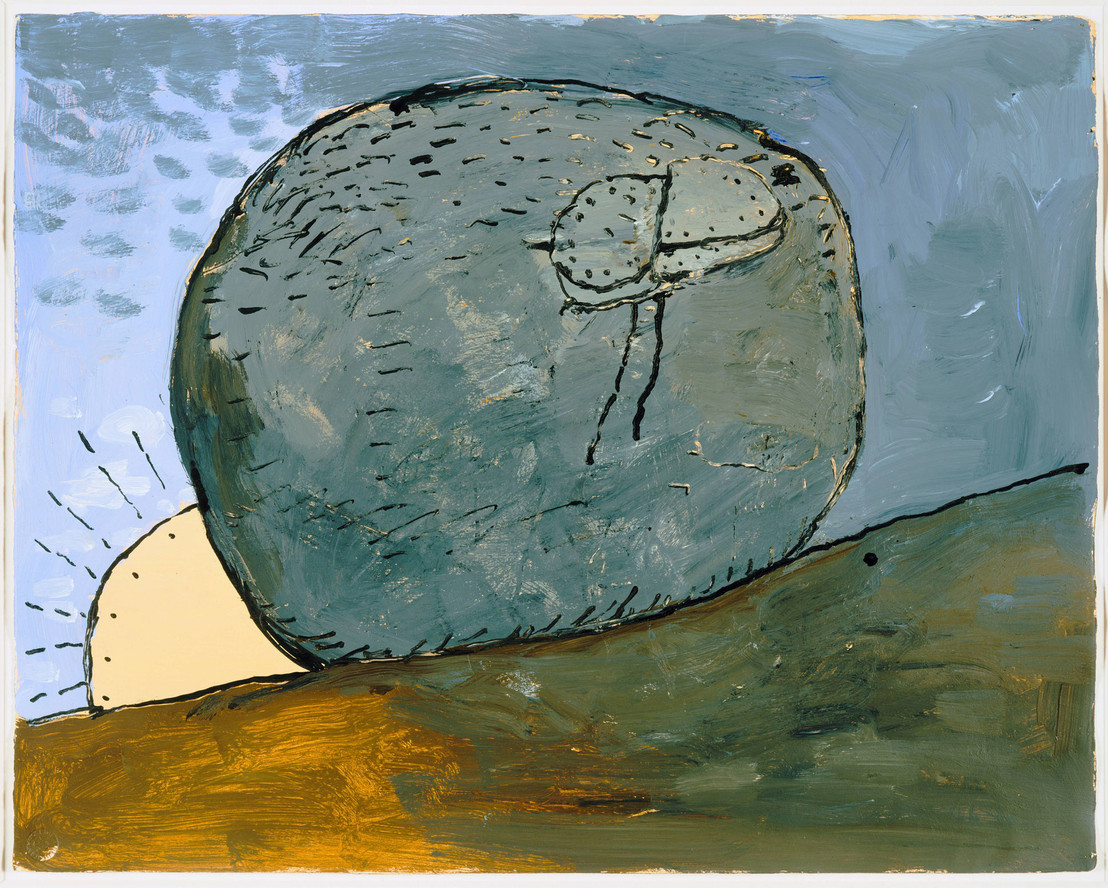 Philip Guston. Untitled. 1980
This work directly references the Greek myth of Sisyphus, a man condemned to roll a boulder uphill and have it roll back down, over and again, a punishment to last eternity. In Guston's picture, Sisyphus has been freed—the rock rolled right over him, his leg visibly embedded in its surface. Its message is pessimistic: We are caught in an endless cycle of meaningless tasks and then we die. In it, I find a directive to change my way of being in the world—something that Guston himself did in 1968. After nearly two decades of painting abstractly, Guston began to make figurative, politically engaged paintings. Many of these implicitly addressed the legacy of slavery and the contemporary complicity of white Americans in perpetuating racial injustice. He spoke candidly when reflecting on his decision: "What kind of man was I sitting at home, reading magazines, going into frustrated fury about everything and then going into my studio to adjust a red to a blue?"
–Paulina Pobocha, Associate Curator, Department of Painting and Sculpture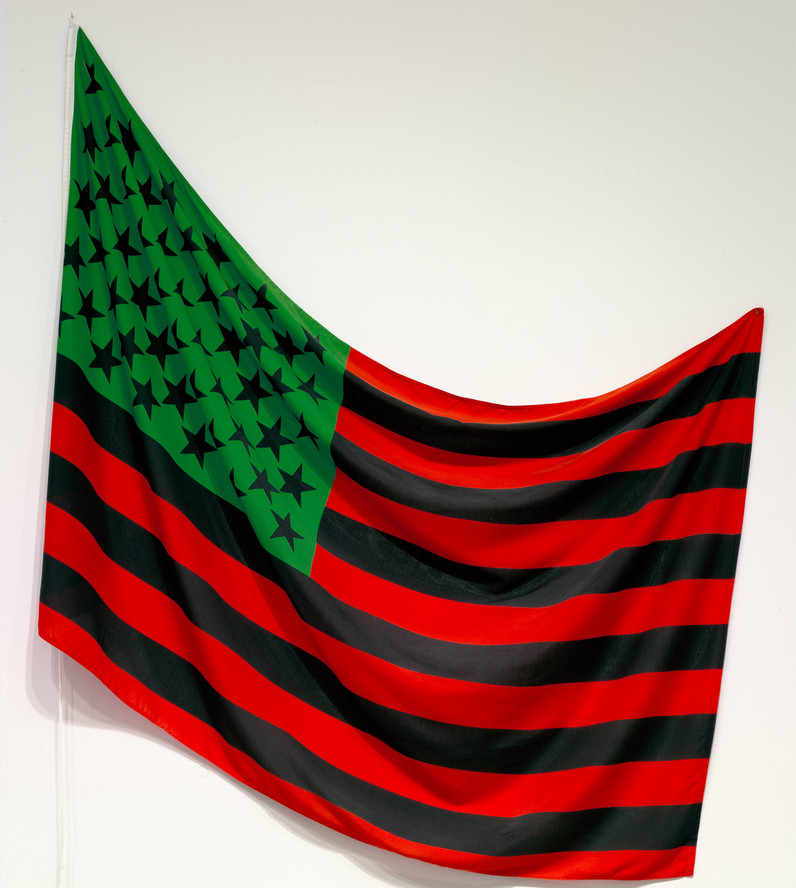 David Hammons. African American Flag. 1990
Hammons is everything. There is no other artist in MoMA's collection who speaks to me the way he does. His works are gifts that give without limit: inspiration, awareness, spirituality, community, and love. The African American flag is us, the people, who are rooted as deep as anyone in this place. The standard flag has not historically and—as recent events attest—does not currently represent me. I seek Hammons out daily, and meditate on his work as a reminder and anchor to be proud of us. He supports me to show up with love in an environment where my "position" is one of invisibility. Hammons sees me and I am grateful that his work continues to validate and humanize our experience. We Gold. With gratitude...
–Chet Gold, Security Supervisor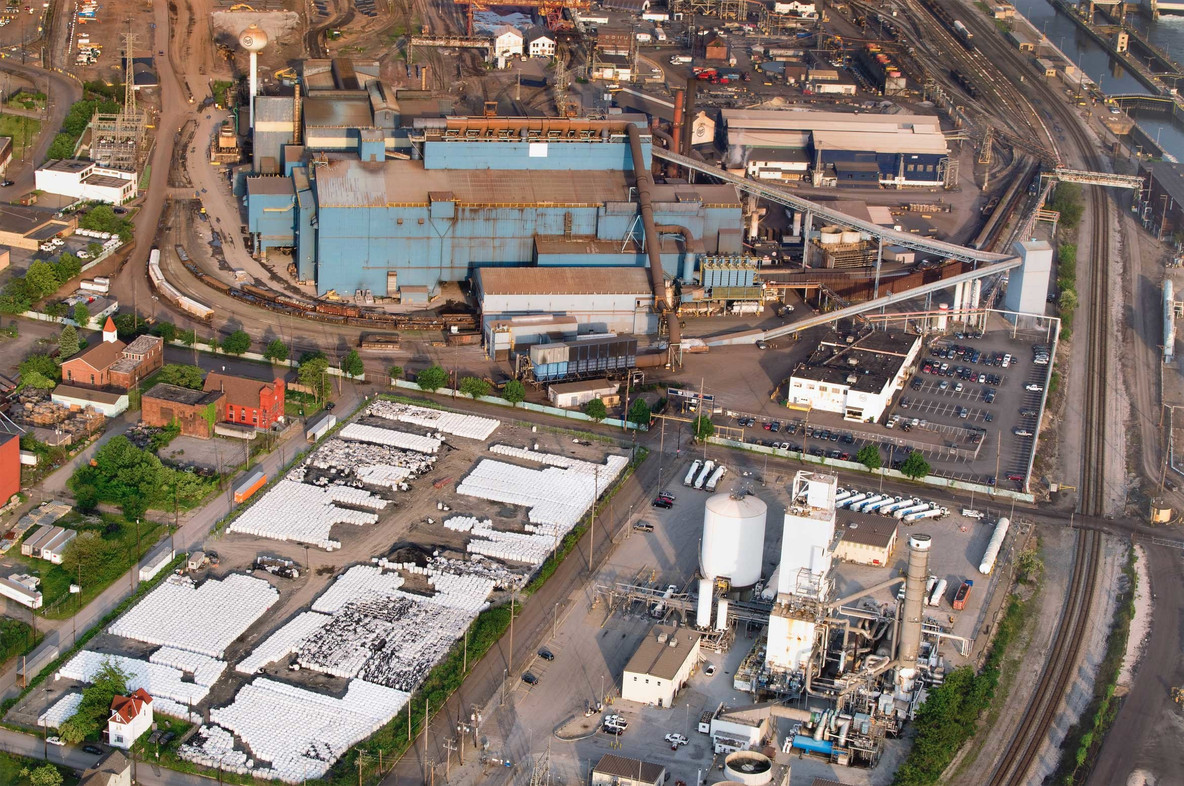 LaToya Ruby Frazier. Edgar Thomson Plant and the Bottom. 2013
If you've ever questioned what photographs can do in the world today, LaToya Ruby Frazier offers this answer: "Activism starts to take place because images become available of something that wasn't visible." Through her work, we confront the inequitable impact of greed, indifference, and ignorance, and having borne witness we are compelled to act. Frazier obtained this omniscient perspective by chartering a helicopter, helping us recognize the "Geography of Oppression." Note the red-roofed house menaced by a sea of white plastic bundles, each containing ignitable, crushed rubber tires whose fire could not be contained. Learn more by listening to Frazier's TED talk.
–Sarah Meister, Curator, Department of Photography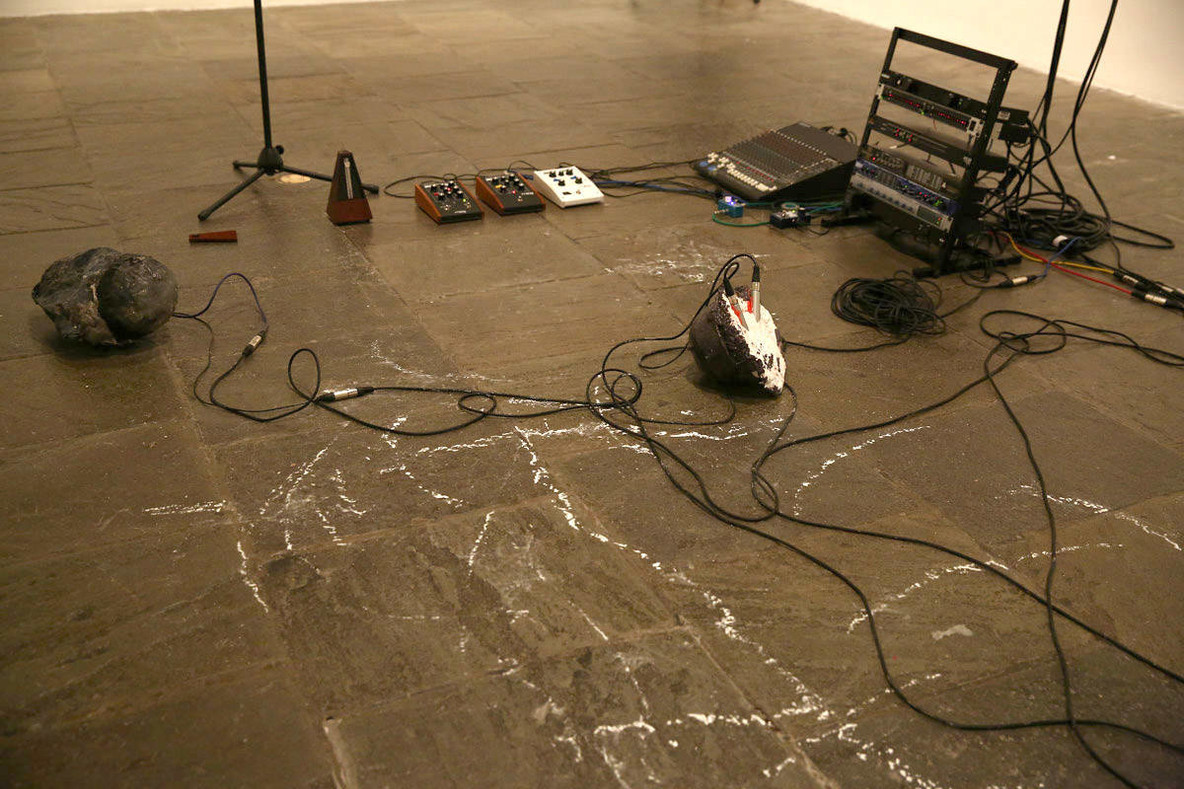 Kevin Beasley. Movement I: DEF/ACHE/CRYSTALLINE/SLEEVE. 2013–14
The starting points of Beasley's sculptures are objects that hold compressed traces of himself, or someone close to him. In Movement I: DEF/ACHE/CRYSTALLINE/SLEEVE, he connects his sculptures to microphones and moves them around, placing them in different arrangements that allow them to pick up new feedback in the gallery's surroundings.
Reflecting on this work in the present moment, I find myself grounded in the sculptural scope of sound, and silence. What do collective care, mutual aid, protest, grief—sound like? I'm reminded of the importance of exchange, in the movement of conversation, of our bodies, and of resources, as radical channels for care.
–Angelique Rosales Salgado, Curatorial Fellow, Department of Drawings and Prints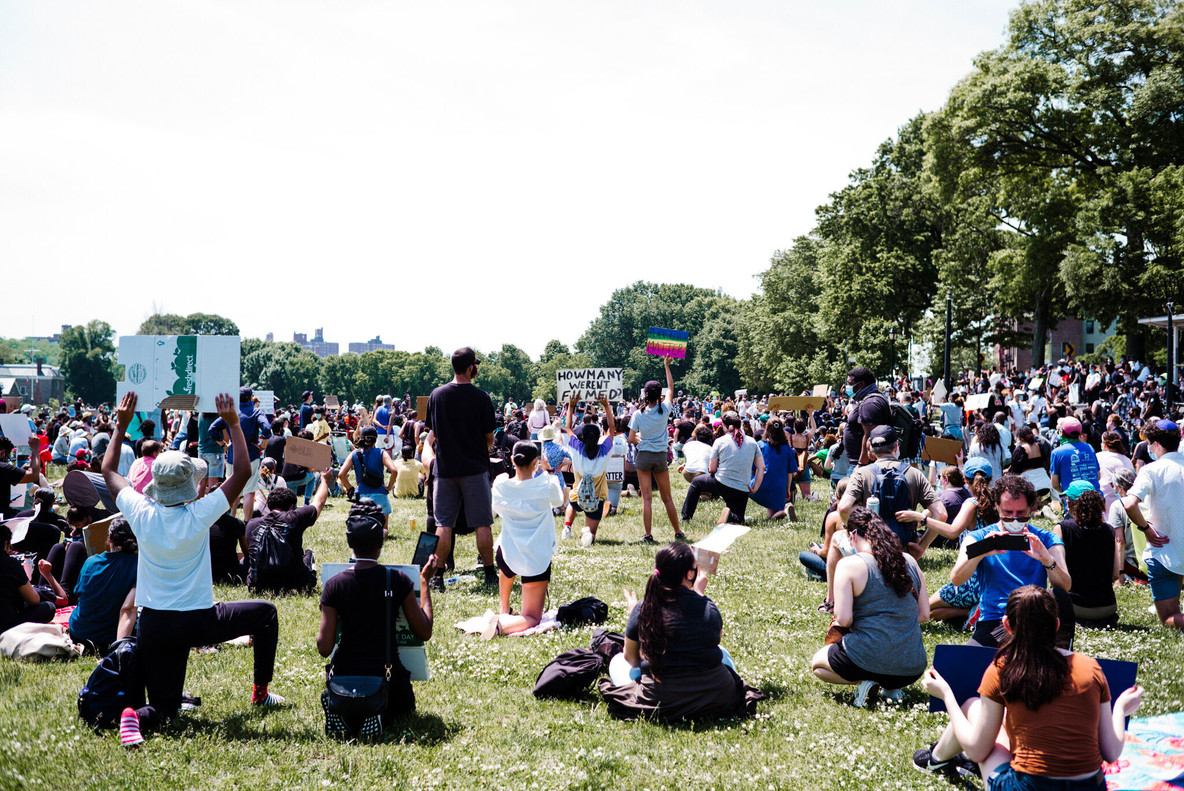 viewing an individual as less than just because of their skin color
is ignorant.
wake up.
These things are happening around the world and They will continue to happen
unless something is said
until something in this world actually changes...
the change has to come from the heart and minds of human beings and translate into action with changing and pushing mental health awareness, new policies, rules, regulations and education.
i have some hope
and i will try to find a way to see how I can make a contribution in some way as well.
–Text and photo by Lauren Marsh, Mac Support Technician, MoMA Client Services and IT Help Desk