Faith Ringgold's Long Fight
While creating her best-known works, the artist protested for inclusion at MoMA.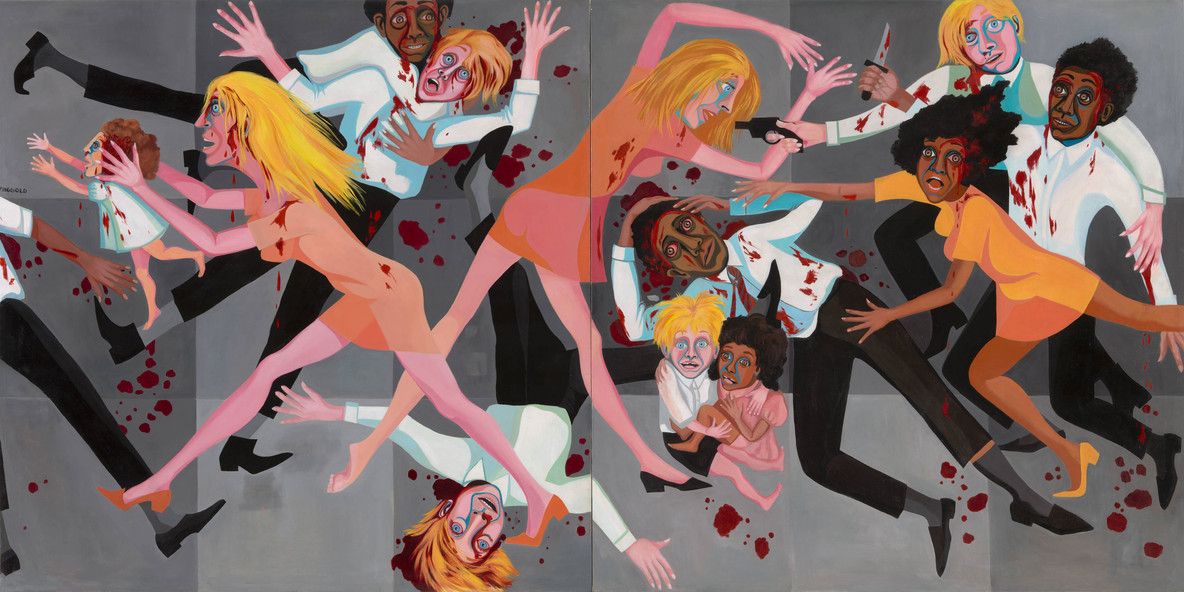 Faith Ringgold. American People Series #20: Die. 1967
This is a revised version of an article originally published on Inside/Out in July 2016.
As the nation is roiled by unprecedented protests against racism, police violence, and economic inequality, it can be instructive and inspiring to remember the long history of activism that has brought us here. Some of these political movements first sprang into public view in the late 1960s and early 1970s, another politically turbulent time. Like now, many of the frontline activists happened to be artists; they fought for more control and inclusion in cultural institutions, and agitated for justice, peace, and equality.
Faith Ringgold became one of the period's foremost artist-activists. "No other creative field is as closed to those who are not white and male as is the visual arts," she said. "After I decided to be an artist, the first thing that I had to believe was that I, a black woman, could penetrate the art scene, and that, further, I could do so without sacrificing one iota of my blackness or my femaleness or my humanity."
Ringgold and Tom Lloyd led a Black caucus within the the Art Workers' Coalition (AWC), a group that pressured New York's museums—while focusing much of its efforts on MoMA—into implementing economic reforms and exhibiting more women and artists of color. (It was the AWC that convinced MoMA and other museums to institute a free-admission day.)
In the meantime, Ringgold was working on her American People series (including the monumental, harrowing American People Series #20: Die). She showed these works at the cooperative Spectrum Gallery on 57th Street, not far from MoMA, where she led protests and other actions. The following documents, from the Museum's Archives, let us look back at the aspirations and vision articulated by Ringgold and other artists at this pivotal moment.
The AWC was born out of an action at MoMA on January 3, 1969, when the artist Takis removed his sculpture (owned by the Museum) from an exhibition, claiming that an artist had the right to control the exhibition and treatment of his work regardless of whether he had sold it. This action provided the catalyst for a group of artists, architects, filmmakers, critics, and museum and gallery personnel to coalesce into the AWC.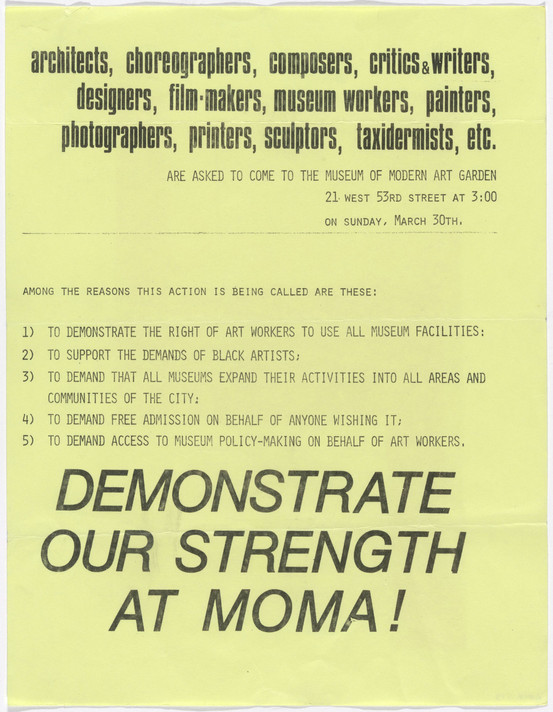 Flyer for demonstration on March 30, 1969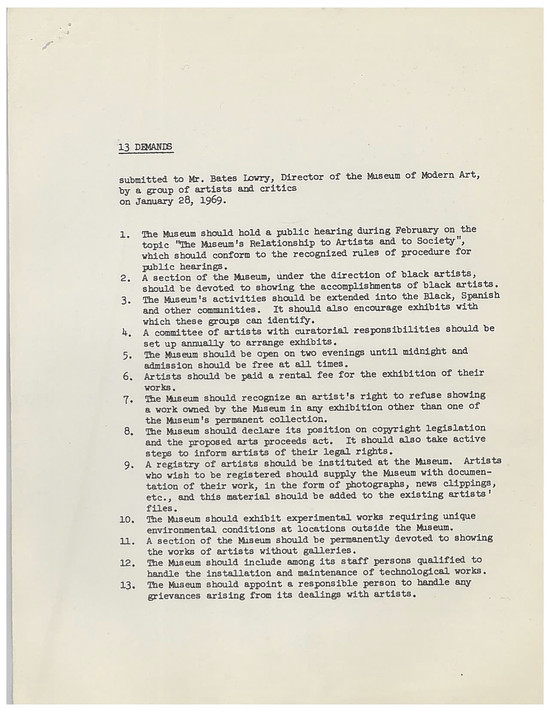 AWC submitted "13 Demands" to MoMA's director, Bates Lowry (no relation to the current director, Glenn D. Lowry), on January 28, 1969. The document included point #2: "A section of the Museum, under the direction of black artists, should be devoted to showing the accomplishments of black artists." And point #3: "The Museum's activities should be extended into the Black, Spanish and other communities. It should also encourage exhibits with which these groups can identify." Other AWC demands included free admission and the Museum's convening of a public hearing on the topic of "The Museum's Relationship to Artists and to Society."
On April 3, 1969, Ringgold and Lloyd sent a letter to Lowry informing him of their intention to bring a group to visit the Museum, in order to evaluate its program in terms of meeting and serving the needs of minority populations. They wrote, "The glaring shortcomings of the Museum vis-à-vis the black and Puerto Rican communities clearly require the setting up of a special Black Wing to enable the Museum to present a harmonized portrayal of black culture in America." They proposed naming it the Martin Luther King, Jr. Wing for Black and Puerto Rican Art at The Museum of Modern Art.
This proposal was not adopted. Instead, MoMA's Board of Trustees convened a subcommittee to consider the AWC's concerns. As Ringgold and Lloyd wrote in their letter, "Yet, there is little to be accomplished by remonstrating over the sins of omission and commission in this area visited upon generations of the past. What is important is that the Museum has now the opportunity to accomplish something in the way remedying those injustices in the present and the future."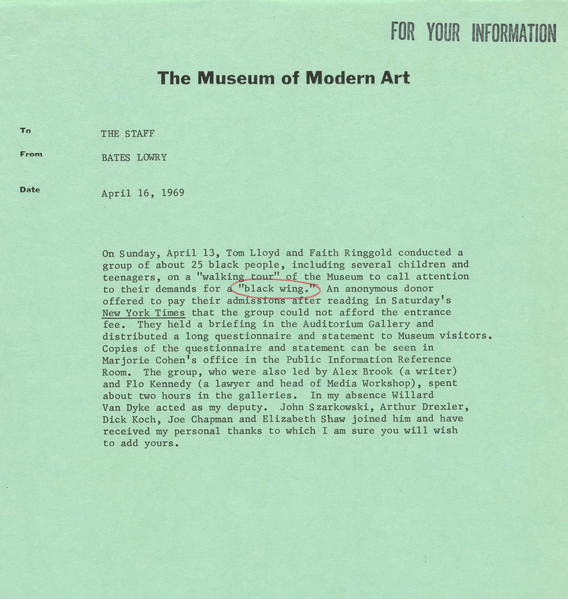 Memorandum Bates Lowry to Museum Staff, April 16, 1969