Herbert Danska's Right On!
The restoration of this pioneering film of the original Last Poets offers a rare look at radical Black sentiment in 1960s America.
We presented Herbert Danska's Right On!, with a special recorded introduction from Felipe Luciano of the original Last Poets, June 11–30, 2020. The film is no longer available here for streaming, but you can watch Luciano's introduction below.
Billed as "a conspiracy of ritual, street theater, soul music, and cinema," Right On! is a pioneering performance film, a compelling record of radical Black sentiment in 1960s America, and a precursor of the hip-hop revolution in musical culture. It features the original Last Poets—Gylan Kain, David Nelson, and Felipe Luciano—performing 28 numbers adapted from their legendary appearance at New York's Paperback Theater in 1969, shot guerilla-style on the streets and rooftops of lower Manhattan. Opening months after the better-known music documentary Woodstock and almost simultaneously with Melvin Van Peebles's Sweet Sweetback's Baadasssss Song, Right On! was described by its producer as "the first 'totally black film,'" making "no concession in language and symbolism to white audiences."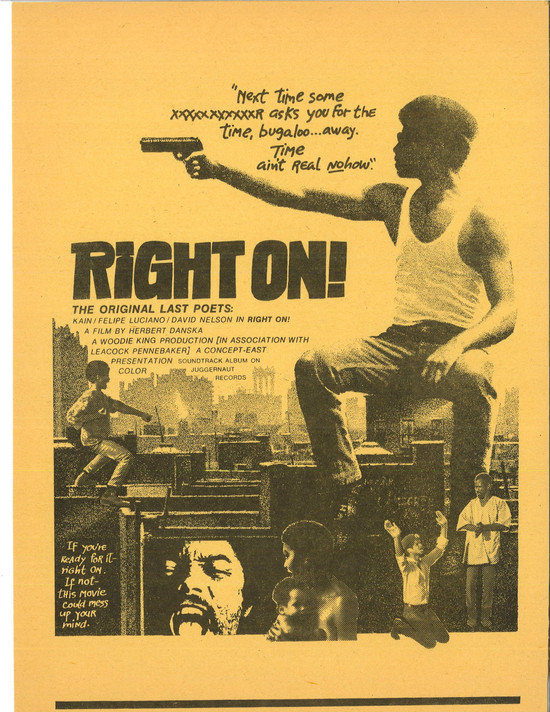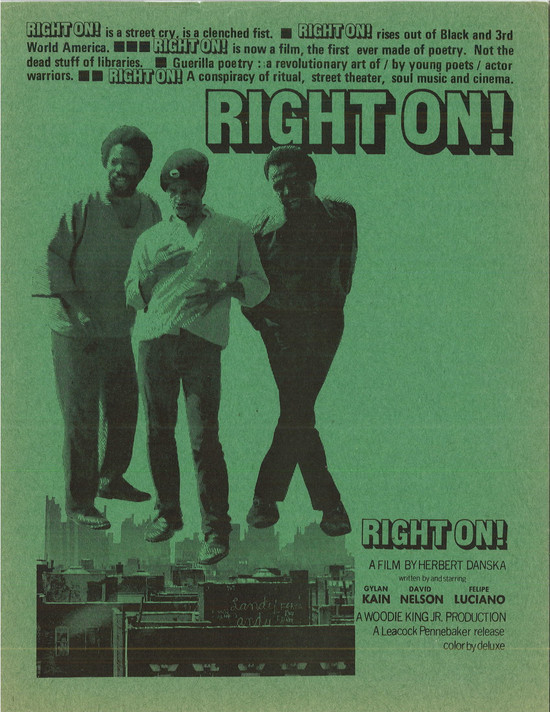 The Last Poets became instrumental in shaping hip-hop, a debt acknowledged by artists like Public Enemy, NWA, and A Tribe Called Quest. "People say we started rap and hip-hop, but what we really got going is poetry," group member Abiodun Oyewole has said. "We put poetry on blast." In the years since the film's release, the Poets' legacy has grown, enriched by an evolving company of outspoken, politically engaged voices including Oyewole, Umar bin Hassan, and Jalal Mansur Nuriddin. They have explored jazz, funk, and hip-hop on over a dozen albums, collaborating with Common, Kayne West, Nas, DST, the Welfare Poets, and others.
Right On! has rarely screened after its original release in 1970, when it played largely on festival and university film circuits, and was often thought to have been lost. We are presenting MoMA's new restoration, made from the recovered 35mm negative, which premiered at the Museum in 2013. This restoration was completed with support from the Celeste Bartos Fund for Film Preservation and Paul Newman (San Francisco).
On the occasion of this special screening, Felipe Luciano offers an introduction at the beginning of the video. Right On! will screen through Thursday, June 18.
Film at MoMA is made possible by CHANEL.
Additional support is provided by the Annual Film Fund. Leadership support for the Annual Film Fund is provided by Steven Tisch, with major contributions from Jo Carole and Ronald S. Lauder, Association of Independent Commercial Producers (AICP), The Brown Foundation, Inc., of Houston, and The Junior Associates of The Museum of Modern Art.